NADA General Satellite Control Building
Panorama by Nathan J. Hunt
In May 2015, during field guidance visit from Kim Jong Un, North Korea unveiled a new General Satellite Control Building[1] in Pyongyang, replacing the old General Satellite Control and Command Centre and serving as the central headquarters for the DPRK's National Aerospace Development Administration (NADA). The newer facility greatly expanded and modernized the North's ability to track and monitor satellite launches.
Construction began on the General Satellite Control Center in Pyongyang around May 2014 and was still underway when Kim Jong Un made his site visit to in May 2015. The center was externally complete by August 2015 and was the location of a CNN interview of NADA officials in September 2015.
In February 2016, a documentary was released on Korea Central Television, showing the facility in greater detail, as well as providing more information about North Korea's space and satellite programs.
By May 2016, a new entrance was added and two new towers were constructed. Around June 2017, construction on a new facility near the General Satellite Control Center began. It is unclear whether this will be part of the control center, but its proximity and perimeter suggests that it might be.
Figure 1. Construction continues on the General Satellite Control Center in Pyongyang.
Panorama
The following panorama of the control room at the General Satellite Control Building in Pyongyang was based on a compilation of imagery and footage of the facility from 2015-2016.
Details were carefully modeled to match those seen in imagery to give the viewer an accurate firsthand look inside the control room.
Explore this new interactive panorama here.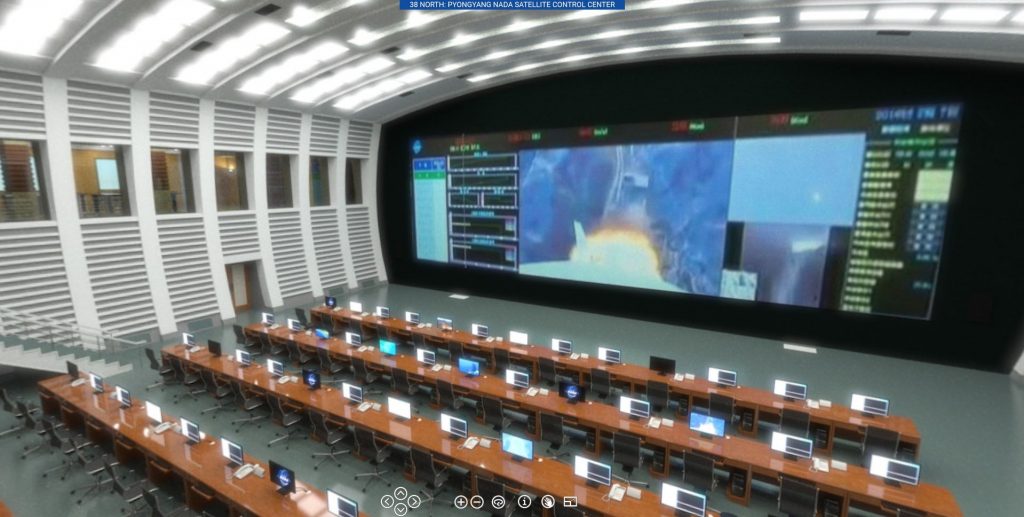 ---
[1]

39° 2'33.67″N 125°42'34.19″E.
---