Japanese Foreign Minister's Reports of Tunneling at Punggye-ri: What Commercial Satellite Imagery Shows
On March 31, 2018, Japan's Foreign Minister, Taro Kono, in a lecture in Kochi city, is reported to have said that North Korea appears to be "working hard to get ready for the next nuclear test," and the associated reporting claims that he had added that soil had been "removed from the tunnel at the nuclear test site where past tests were conducted." The reporting also suggested that his remarks "may be based on satellite imagery provided by the United States."
While it is unclear whether the Foreign Minister was referring to activity observed over the last few days or from earlier work conducted after North Korea's September 2017 nuclear test, commercial satellite imagery from March 23 shows quite a different picture: namely, that activity at the test site has been significantly reduced compared to previous months. Tunneling at the West Portal, a site not associated with any of North Korea's previous tests, had been active earlier this year but has slowed down significantly as has other personnel and vehicular movement around the site. (It appears that only a small amount of new spoil has been excavated from the tunnel recently).[1]
Figures 1 & 2. Significant slowdown in tunnel excavation at West Portal.
Before image © 2018 DigitalGlobe, Inc. All rights reserved. After image Pleaides © CNES 2018, Distribution Airbus DS. For media options, please contact [email protected].
Nevertheless, it is highly likely that the North Koreans continue to maintain the readiness of the nuclear test facility—one indication is recent roadwork—to allow nuclear testing in the future should Pyongyang decide to do so.
Figure 3. Recent roadwork at Security Forces Support Area.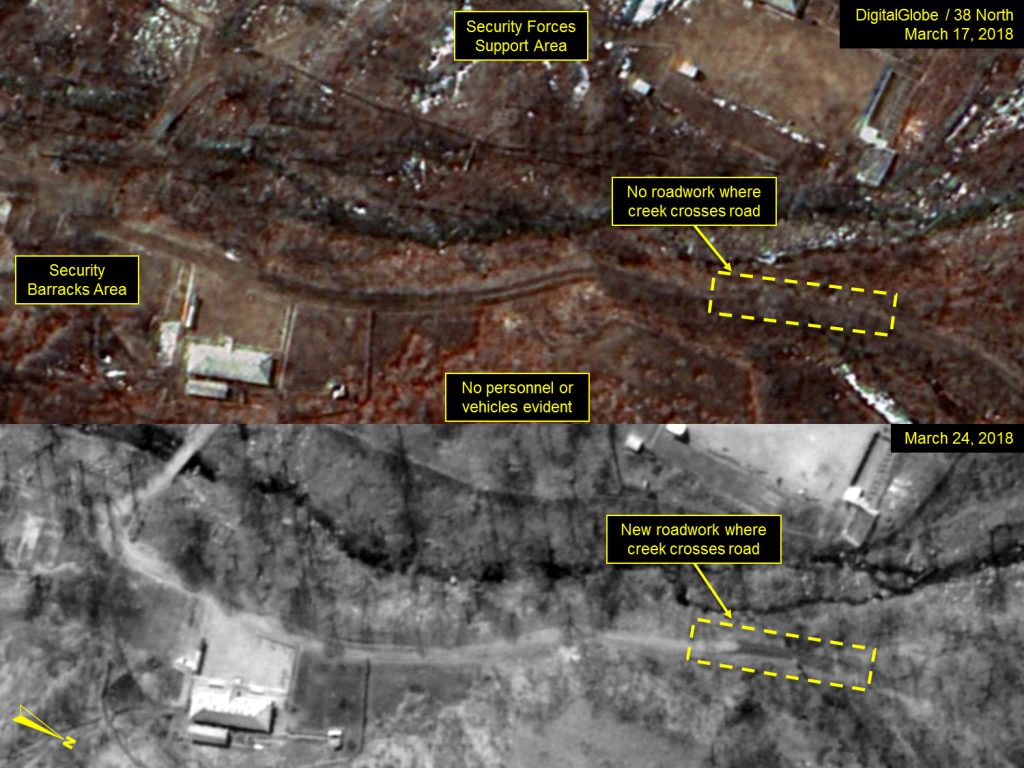 ---
[1]

Precise determination of the extent of new spoil accumulation is made difficult from March 17 to 23 due to variations in the imagery deriving from different sensors on different satellites from different vendors having different look angles and slightly different amounts of melted snow together with vegetative shadowing.
---