North Korea and the Internet: Building for the Future
Construction of the new Internet Communication Bureau headquarters (평양인터네트통신국건설) in Pyongyang appears to be near externally complete, more than two years after it first broke ground.
The purpose of the agency is unclear, although it appears to be focused on the global Internet and not North Korea's national intranet and implies that Internet usage and access is growing in the DPRK, although still at a low level.
The new headquarters is located on the bank of the Taedong River, just a couple of blocks south of Kim Il Sung Square. Commercial satellite imagery shows a steady pace of construction on the building since its groundbreaking ceremony in November 2015. As of July 12, 2018, the building seems to be near externally complete. However, construction appears to have started on another new building in a neighboring plot to the south sometime between April and October 2017, and continues to date. The purpose of this second building is yet unknown.
Figure 1. Commercial satellite imagery show the Internet Communication Bureau headquarters site prior to and the progression of construction from May 2015 to October 2017.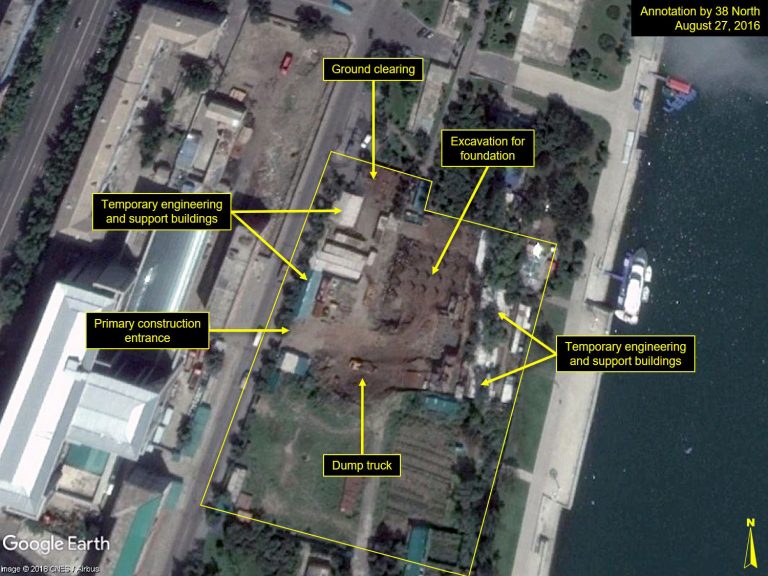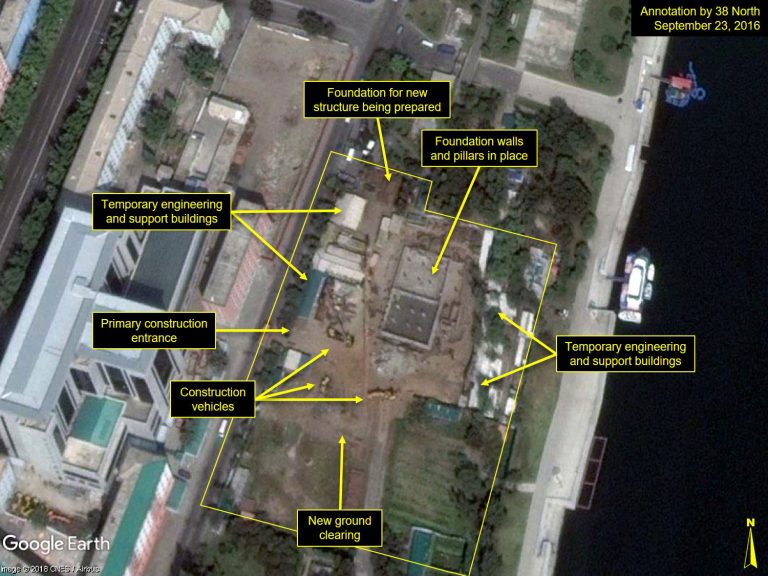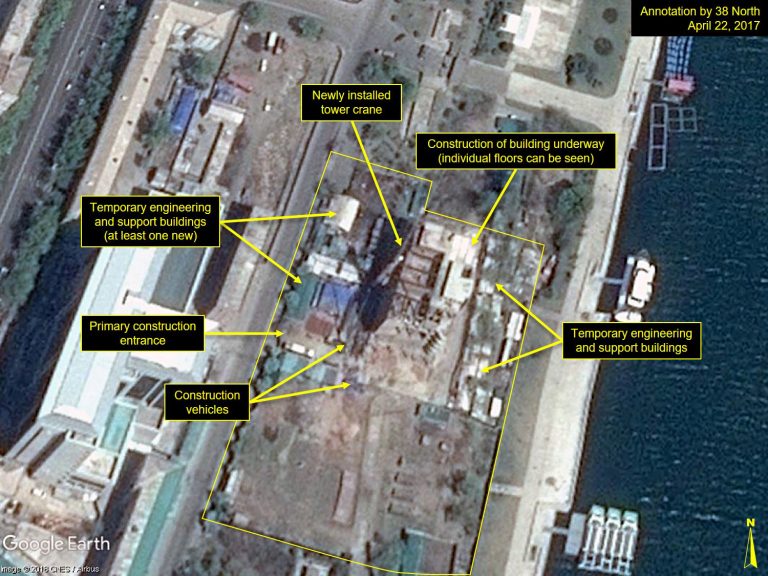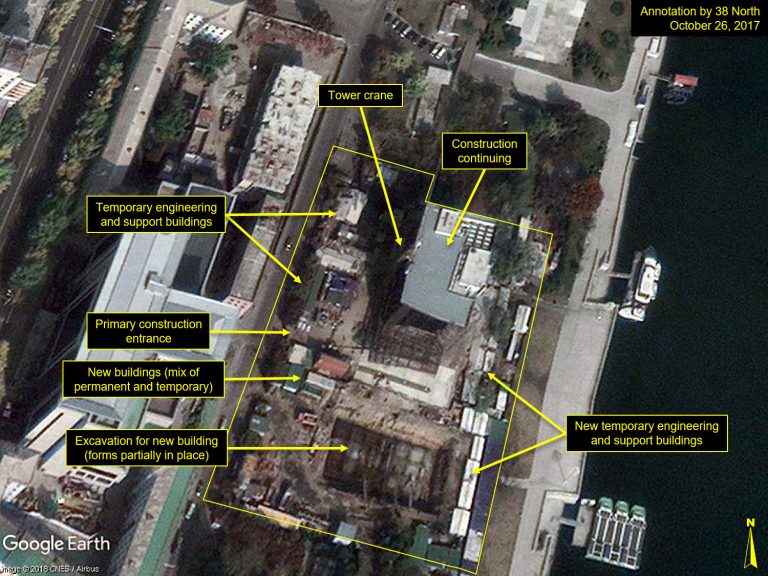 Figure 2. Overview of the Internet Communication Bureau headquarters and continued construction activities as seen on July 12, 2018.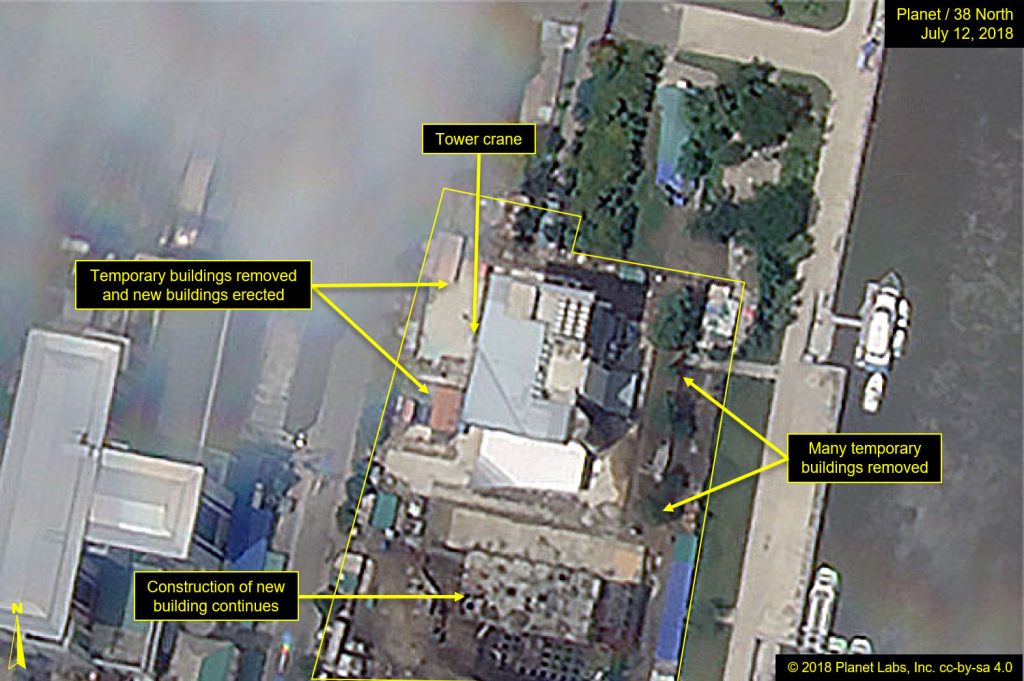 A photograph shot by Matt Pointon on September 9, 2017, shows the general shape of the building: a covered entrance way, five floors tall with the roof rising to a lip in one corner at the front.
Figure 3. Pyongyang's Internet Communication Bureau building is seen in the foreground of this photo.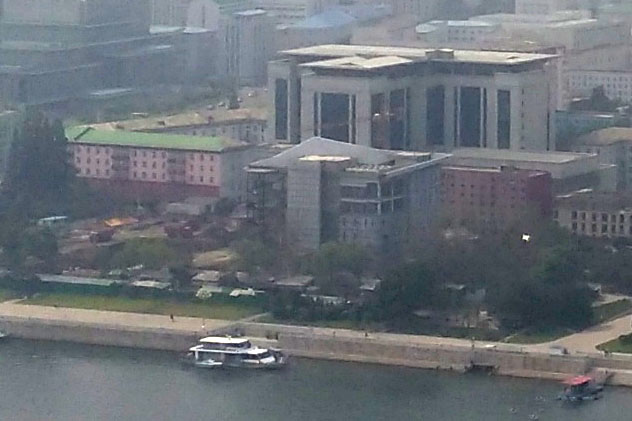 The groundbreaking ceremony for this building took place on November 25, 2015. The importance of the project was underlined by the attendance of Kim Kwang Chol (김광철), the DPRK's Minister of Posts and Telecommunications, and Ri Kwang Gun (리광근), the country's Vice Minister of External Economic Relations, according to state media.
Kim Kwang Chol spoke at the groundbreaking and said the Internet Communication Center would help modernize the communications network in the country.
Also in attendance was Tit Shan Sandy Cheng, chairman of Thai Loxpac, which is also known as Loxley Pacific, and is responsible for running the Internet in North Korea. Star, the sole North Korean Internet provider, is a joint venture between Loxley Pacific and the Ministry of Posts and Telecommunications.
Figure 4. Groundbreaking for the Pyongyang Internet Communication Bureau on November 25, 2015.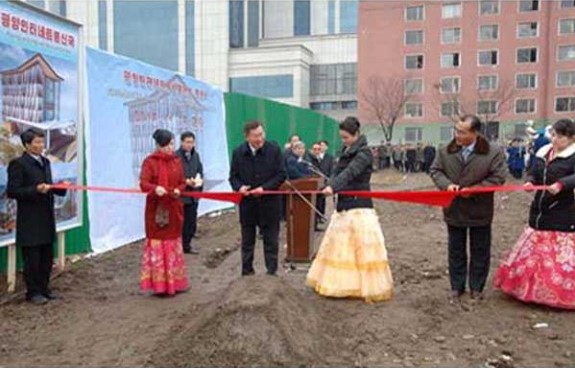 Figure 5. Groundbreaking for the Pyongyang Internet Communication Bureau on November 25, 2015.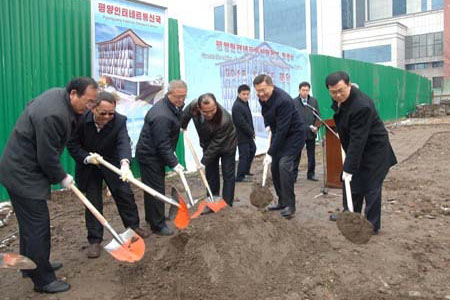 It appears the new building plays a part in facilitating Pyongyang's connection to the greater global Internet, but its exact role hasn't been reported. It could perhaps be meant to hold servers that provide the handful of sites that Pyongyang has on the web or as a gateway center to monitor and help control all traffic flowing between North Korea and the rest of the world.
We can probably rule out any subversive purpose—such as a hacking center—as such a facility is unlikely to have been publicized by state media and involve a foreign company. However, subversive online activities launched from North Korea would likely still flow through here if everything we know about the North Korean Internet is correct.
While the average North Korean doesn't have access to the Internet, connections are available in some government departments, trading companies and universities. Access is monitored, and users don't have complete freedom to visit any site they wish, but foreign technical databases, such as World Bank indexes, can be particularly useful. Some content is downloaded from the Internet and made available to a wider audience on the country's national intranet service.
With Kim Jong Un's new focus on building the economy in 2018 and his trips to China, it is tempting to think that some relaxation of the restrictions on Internet access could be coming for North Korea. If that happens, it will almost certainly continue to be focused on using the network to gain information and knowledge from overseas and for commercial trading. Kim's regime still relies on tight information control to keep public order and so any change there would have to be accompanied by a major shift in how the country operates and how the government controls its people.