The Real Agenda of Xi Jinping's First Trip to North Korea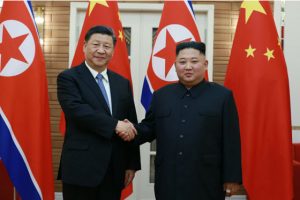 After many years of speculation about a visit to the DPRK by Chinese President Xi Jinping, the suspense finally came to an end last week with the Chinese leader's two-day state visit to Pyongyang. The timing is curious. The trip happened at the peak of the US-China trade war and one week before what is expected to be a showdown over trade between Xi and President Trump during the G20 Summit in Osaka. The first reaction to the trip when it was announced was, therefore, understandable: Beijing would use it to leverage Pyongyang in its trade war with Washington. But judging from Chinese statements during and after the trip, Xi's agenda went beyond whatever immediate tactical gains he hoped to achieve on the trade issue. In fact, Xi's primary goals were to use his visit to restore China's pivotal role in negotiations over North Korea's denuclearization and peace and security arrangements on the Korean Peninsula and to stabilize the increasingly turbulent US-China relationship.
The "linkage" between North Korea and trade was first made by President Trump in 2017. Although Trump launched the trade war a year later despite China's cooperation on the North Korea sanctions, the Chinese side nevertheless categorized the US-China cooperation on this issue as a sterling example of the great cooperation between the two countries and their leaders. (高层引领大国合作) . Despite the escalation of the trade war since the summer of 2018, China did not try to play the North Korea card in its negotiations with the US. China cannot dictate North Korea's behavior or push it to engage in provocative behavior when the North is seeking reconciliation, and Chinese open violation of UN sanction resolutions would solicit further American retaliation on trade. Most importantly, at a time when Beijing's top priority was resolution of the trade war, why complicate these negotiations by injecting Chinese support for North Korea into the equation?
So why the high-profile Xi visit to North Korea? China's ability to use North Korea as trade bait depends on its ability to induce good or bad behavior from North Korea. History shows that China is not able to deter or prevent confrontational North Korean behavior (including six nuclear tests in defiance of China's warnings), to deliver North Korea to the negotiation table, or to instigate provocative North Korean acts, primarily because Pyongyang has its independent calculations and Beijing is neuralgic about instability. Considering that Pyongyang is currently more interested in security and sanctions relief to promote economic development, it's unclear what incentive Beijing would have to encourage North Korean intransigence.
Indeed, the deliverables from Xi's trip are mostly symbolic and rhetorical. China vowed solidarity with the DPRK, and reiterated its support for Kim Jong Un and his new priority of economic development. However, Xi offered no specific commitments on economic cooperation despite widespread speculation prior to the trip of increased agricultural and development assistance and new economic deals. He clearly signaled, however, the importance he places on diplomacy and a political process for the solution of the issues related to the Korean Peninsula, which China sees as the precondition to denuclearization of the whole peninsula. By vowing to support North Korea's "reasonable concerns," Xi has offered a thinly veiled message of a potential security guarantee for North Korea.
But the most important message from Xi's visit is the renewed claim China staked out to a central role in solving the North Korea nuclear problem and its interest in settling issues through multilateral arrangements instead of bilateral negotiations. China is determined to play this role on all issues related to the future of the peninsula—ranging from a declaration of intent to end the Korean War, conclusion of a peace treaty and denuclearization to the reconciliation of the two Koreas and international assistance for North Korea's economic development. In China's eyes, the failure of the Hanoi Summit dramatized the infeasibility of a US-DPRK bilateral solution, the deep distrust between the US and North Korea, and the serious risk that both sides will renege on some of their commitments. Beijing also firmly believes that the special relations between China and North Korea and Pyongyang's dependence on Beijing for political and economic support and, most importantly, security entitles China to a seat at the negotiating table that cannot be replaced by any other country. Xi Jinping's trip to North Korea is the most recent manifestation of the special role that China intends to play as a key guarantor of peace and security on the peninsula.
These calculations are deeply embedded in Beijing's vision for the G20 meeting in Osaka, the future direction of US-China relations and the priority Xi attaches to stability and cooperation in US-China relations; it is also reflected in his view that Sino-American competition need not poison cooperation on issues where the two countries have shared interests. By visiting Pyongyang and asserting China's essential role in the future political solution of the problems on the Korean Peninsula, Xi is signaling to Trump that China cannot be marginalized in its own backyard and the US should seek China's cooperation in addressing an issue that it cannot solve independently. China's relationship with North Korea—which itself is not free of suspicions and conflicting interests—offers no leverage in trade negotiations with the United States. And Xi has bigger fish to fry: restoring cooperation between the US and China in solving their North Korean problem and hopefully providing some ballast to an increasingly unstable relationship.