Failed Attempts at Cross-Border Economic Integration: The View from Dandong
This two-part series aims at deciphering the irreconcilable Chinese and North Korean economic integration strategies, using the Dandong-Sinuiju area as an analog for the larger bilateral economic relationship. Part one focused on North Korea-led experiments in Sinuiju; this part examines how China tried, unsuccessfully, to impose its own views on economic integration without Pyongyang's support, dooming the prospects for joint economic cooperation.
As discussed in part one, following the Sinuiju Special Administrative Region (SAR) fiasco in 2002, China embarked on an economic integration strategy towards North Korea that was to be implemented according to the following slogan: "government-induced, enterprise-led, market-operated, and mutually beneficial" (政府导引,企业为主,市场运作,互利共赢). Interestingly, towards the end of the last decade, Beijing replaced the "government-induced" formulation with the more assertive language "government-led" (政府主导), as it was ready to enter a stage of institutionalized economic interaction with North Korea under the guidance of the "Joint Steering Committee for Developing China-DPRK Two Economic Zones" (中朝共同开发和共同管理罗先经济贸易区和黄金坪、威化岛经济区, "steering committee," for short). As it is well-known, the steering committee was headed on the North Korean side by Kim Jong Un's uncle, Jang Song Thaek.
The steering committee was tasked with the development of one Special Economic Zone (SEZ) split in two areas in the vicinity of Dandong, the Hwanggumpyong-Wiwha (Wihwa) SEZ. As satellite imagery and numerous trips to the area show, this SEZ has been dormant since its opening in 2011. However, while often framed as yet another attempt at an opening to North Korea, Hwanggumpyong-Wiwha is the only SEZ in the Sinuiju area, as explained below, that was developed in close cooperation with Chinese state institutions and private entities. The failure of this relatively ambitious SEZ prompted local authorities of Liaoning Province to prefer smaller-scale and unilateral development initiatives, especially tax cuts for bilateral trade or free trade zones that aim at accelerating already existing trade patterns. With the DPRK acting de facto as a supplier of cheap natural resources to China, North Korean economic actors have, not surprisingly, shown very limited interest in these economic integration initiatives, effectively making the Dandong-Sinuiju area a graveyard of economic cooperation projects between countries that are otherwise often believed to be close allies and major economic partners.
Islands Development in the Sinuiju Area
Since 1997, the island of Sindo, facing the Donggang port, sporadically emerged in reports as a potential location for investment by Chinese or South Korean companies; however, the first detailed plan to develop the mostly desert islands of Hwanggumpyong and Wiwha was not published until 2011. In order to avoid repeating the mistakes that led to the Sinuiju SAR fiasco, the development of this SEZ was coordinated by both sides within the framework of the "steering committee," but its economic model was significantly different from the Sinuiju SAR, reflecting to a certain extent a much more Chinese-centric view on cross-border economic cooperation. The desert islets are North Korean territory located on the "Chinese side" of the Yalu River, and constituted the first type of borderland SEZs that later proliferated in North Korea between 2013 and 2016. The relative isolation of these islands from the bulk of North Korean territory and their sectoral focus on manufacturing and processing industries suggest that the economic model behind this territory reflects a compromise between China and North Korea. Contrary to the grandiose ambitions of the Sinuiju SAR or even the current Sinuiju International Economic Zone, which both encompass an already existing city with its economic infrastructure and population, Hwanggumpyong and Wiwha were designated as "territorial extensions" of the Dandong economy; accordingly, they were developed to meet the needs of Chinese companies rather than North Korea's government-imposed policies.
In fact, the development plan for this SEZ bears structural similarities with the Kaesong Industrial Complex, where one company, called a "developer enterprise" in North Korean law, undertakes all necessary infrastructure development for other companies and manages the zone and relations with North Korean institutions. This type of SEZ facilitates the outsourcing of production capacities from the Chinese side, alleviates unemployment in North Korea and generates much-needed hard currency for the DPRK. At the same time, however, this pattern of economic engagement focuses on labor-intensive industries that have become less profitable in China, enshrines North Korea's position as a follower of China's industrial up-scaling and institutionalizes existing trade patterns that Pyongyang has tried in vain to alter for decades. Available development plans indeed seem to display a stronger focus on textile processing or manufacturing, although they also refer to an undefined IT sector.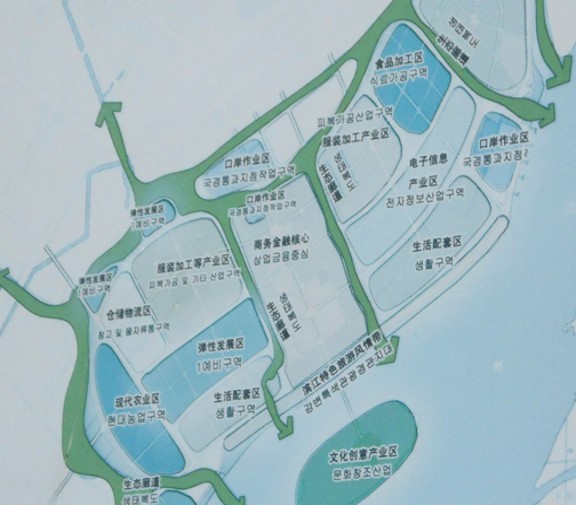 The de facto geographical separation of Hwanggumpyong and the rest of North Phyongan (Pyongan) Province limits influences unwelcomed by Pyongyang, such as "ideological contamination," and non-state-sanctioned smuggling. In addition, there are also modest opportunities for infrastructure development as well as foreign direct investment, such as technology transfers, skills upgrading and export diversification. The purge of Jang Song Thaek was, without doubt, the main cause of the project's failure, but another contributing factor was the zone's vulnerability to flooding and the high costs "developer enterprises" faced in building dikes and drain areas.
The failure of joint economic cooperation initiatives in this area has led both sides to go back to unilateral economic engagement strategies, resulting in the proliferation of SEZs in North Phyongan Province after Kim Jong Un took power. On the Chinese side, local actors made a virtue out of necessity and moved forward with integration strategies that were mostly uncoordinated with North Korea and did not take its needs nor political will into account.
China in the Lead?
The development of many different types of zones with various degrees of preferential treatment is a major trend that is evident in every province of China. SEZs, "dry ports" and logistical hubs proliferated along Chinese international borders in the context of the Belt and Road Initiative. In this regard, Dandong, with its recent proliferation of government- or private sector-led initiatives aimed at increasing trade with North Korea, is no exception. However, while Hwanggumpyong-Wiwha was jointly designed with the North Korean side and promoted an integration pattern based on investments, most recent Chinese ventures are much more limited in scope and intended to facilitate existing trade patterns between Dandong and Sinuiju. For instance, the Guomenwan Trade Zone (GTZ), which officially opened in 2015, focuses on small-scale trade for Dandong-based and North Korean traders: residents living within a 20-kilometer radius benefit from tax cuts on daily orders below 8,000 RMB (1,250 USD).
GTZ officers told the author that the project was a "joint initiative," but it was entirely funded by provincial and local authorities. Although physically divided into two areas (one for Chinese and the other for North Korean traders), it appears that only the area dedicated to Chinese sellers is being used. The author was able to witness North Korean construction workers in Guomenwan in 2015; however, no significant business activity in the "North Korean" side of Guomenwan has been witnessed during three visits to the area. The most plausible explanation for the visibly slow business activity is the one-sided aspect of the initiative. The DPRK has been struggling to alter its trade relations with China, and this kind of initiative tends to enshrine China's dominance as a supplier of value-added goods, and thus North Korean dependence. Revealingly, the size of the area dedicated to North Korean traders is significantly smaller than the one dedicated to their Chinese counterparts.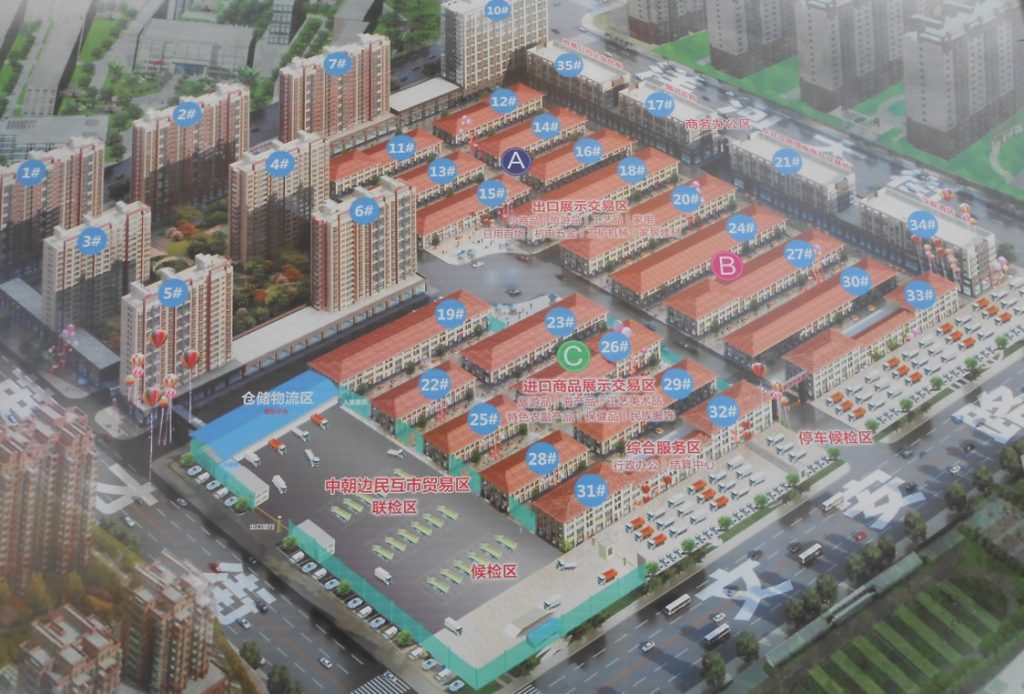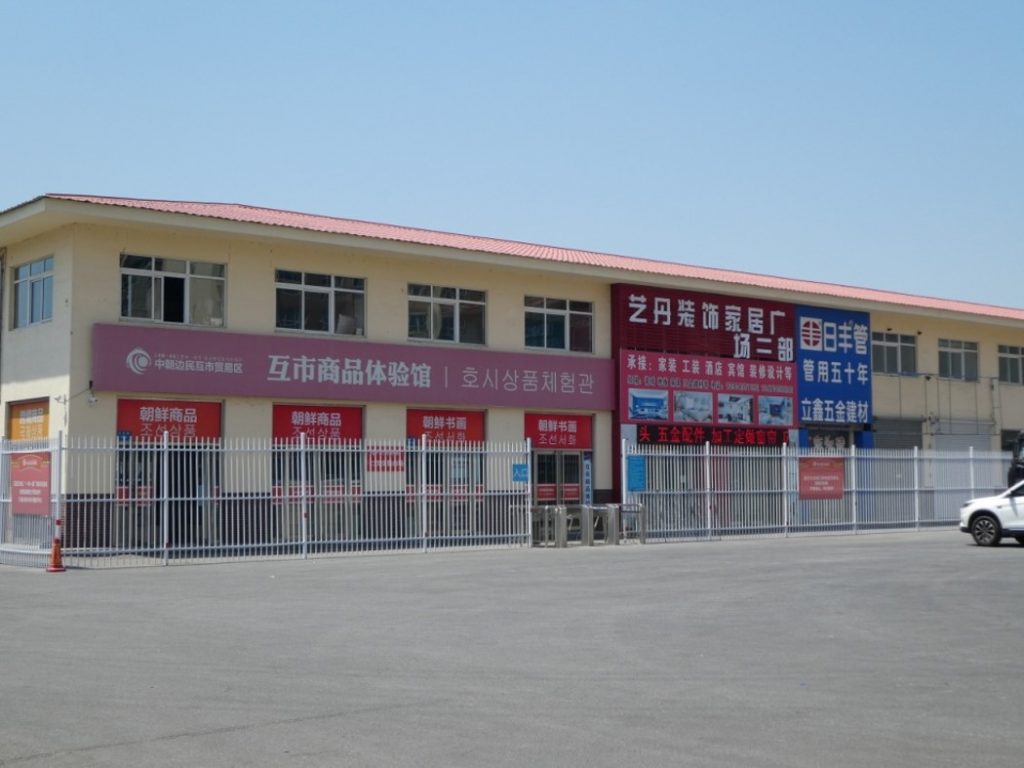 Other attempts at developing economic integration initiatives on the Chinese side of the border, such as the Dandong Border Economic Cooperation Zone (丹东边境经济合作区) and Defeng Times Square (德丰时代广场), which were advertised at several trade fairs in Pyongyang over the last few years, have had disappointing results promoting bilateral economic cooperation. Marketed as a "one-stop" hub for PRC-DPRK trade,[1] the Defeng Times Square opened in 2018 as a mall for Chinese customers. Reports of yet another project for bilateral trade, the Dandong Zhongkai International complex, have recently surfaced.[2] There is no evidence to suggest, however, that the North Korean side was involved in the project or supports it, and it remains unclear how these initiatives address the main weaknesses of existing zones such as Guomenwan.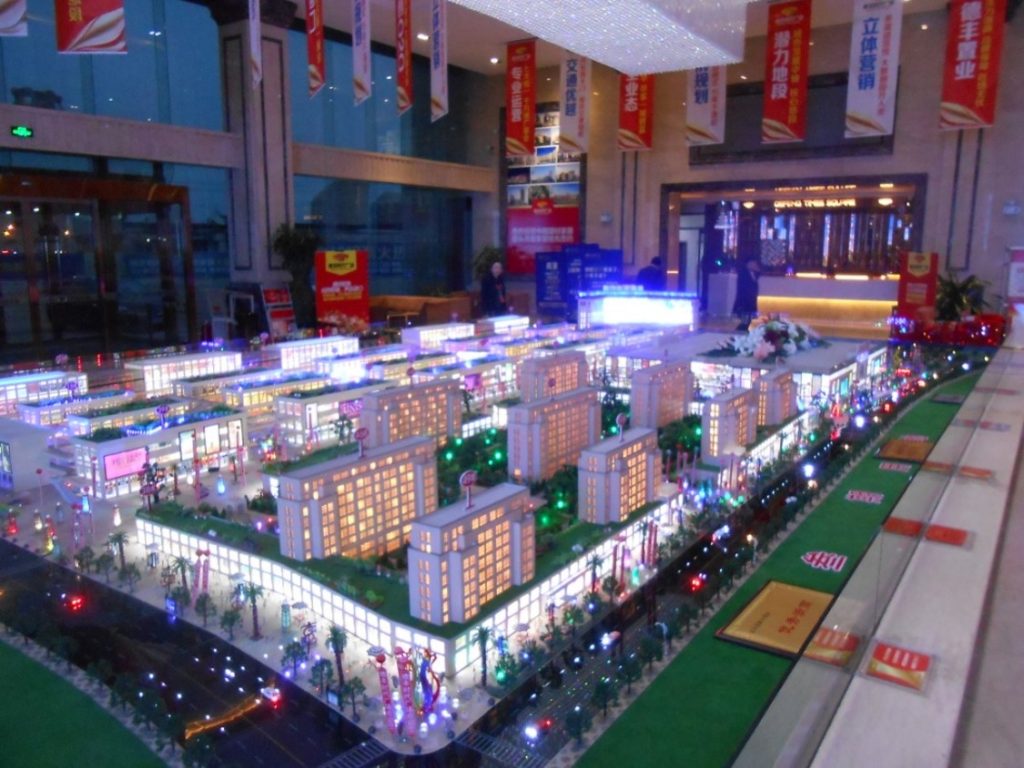 Is Compromise Possible?
While the Singapore Summit definitely raised hopes among the business community in Dandong, wishful thinking and simplistic teleological perspectives on North Korea's future opening have led to a proliferation of half-baked attempts to benefit from increasing trade flows with what is basically a captive market. Firm-level surveys and the author's field research do indeed seem to confirm that trading with North Korea is a lucrative activity for private businessmen and an important source of economic development leverage for China's Liaoning Province. It should nonetheless be noted that this economic engagement strategy seeks to maintain the DPRK in a state of economic dependence on China—precisely what all North Korean leaders, including Kim Jong Un, have advised against.
North Korean economic cooperation initiatives have had limited success primarily because of an extremely difficult business environment and a very self-centered and cautious approach to economic integration. As Benjamin Katzeff-Silberstein has correctly pointed out in 38 North, China remains by far the most important economic partner of the DPRK, and some recent developments suggest that the Chinese may be actively preparing for further economic integration with North Korea. Developments in Sinuiju warrant close monitoring, as several Chinese companies have openly stated their plans to once again develop a free trade zone and trade-related facilities in Sinuiju, although projects still seem to be in their very early stages. While the main obstacle for successful North Korean economic integration in global value chains is often considered, with some reason, to be the lack of economic reform in the DPRK, it should be noted that China has so far done little to entice Pyongyang to open its borders. In a potential future competition between Seoul and Beijing over the North Korean market, these repeated structural failures should be taken into account to design economic integration scenarios that do not only bet on the DPRK's strategic location or cheap workforce, but also provide Pyongyang with real, sustainable development alternatives.
---
[1]

Author's multiple visits to Pyongyang in 2015, 2016 and 2017, and interviews with Defeng managers in Dandong, November 2015.

[2]
---