Multi-Year Expansion of North Korea's Yongbyon City
While activities at North Korea's Yongbyon Nuclear Scientific Research Center have been well documented over the years, serious efforts to upgrade and expand the adjacent Yongbyon City[1] have also been underway since 2002, including the addition of several new housing and apartment complexes and the construction of leisure and entertainment facilities.
Rewarding scientific communities with new, more modern housing has been common since Kim Jong Un came to power, reflecting his emphasis on the importance of science and technology to North Korea's future. At the same time, there is no evidence that the older housing complexes at Yongbyon City are being demolished, giving the impression that the number of personnel living there now or expected in the future is increasing. This would suggest a growth in the numbers of personnel at the nuclear complex as well.
Expansion of Yongbyon City
Yongbyon City is home to the personnel who work at the adjacent nuclear research center. It is comprised of several housing units and leisure facilities.The oldest commercial satellite imagery freely available via Google Earth of this area is from April 2002.[2] Figure 1 provides a timeline of the city's expansion over the past 17 years.
Figure 1. Timeline of Yongbyon City expansion.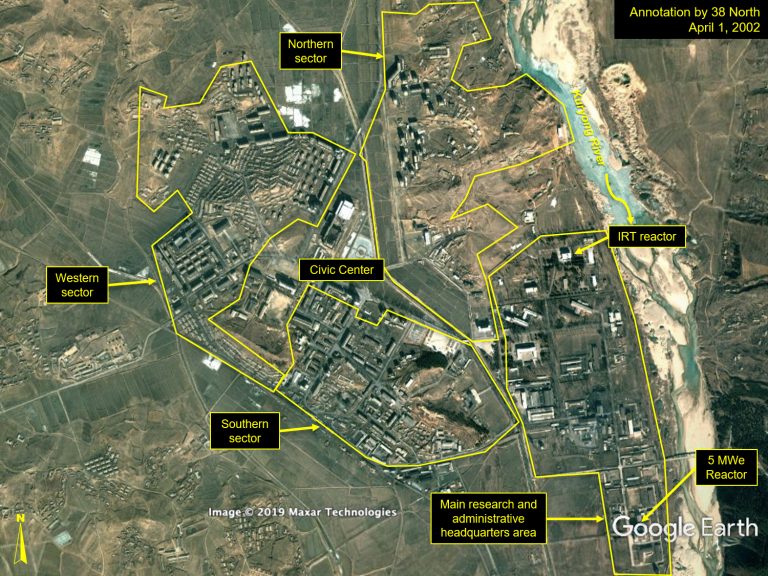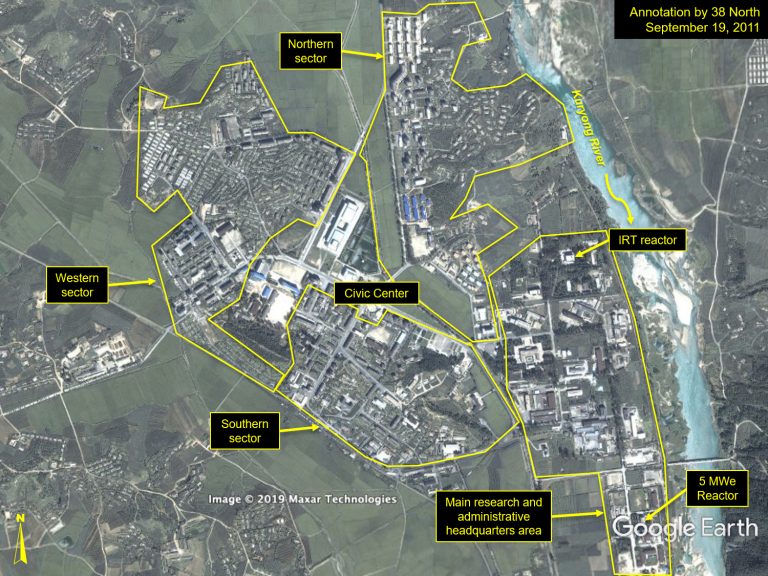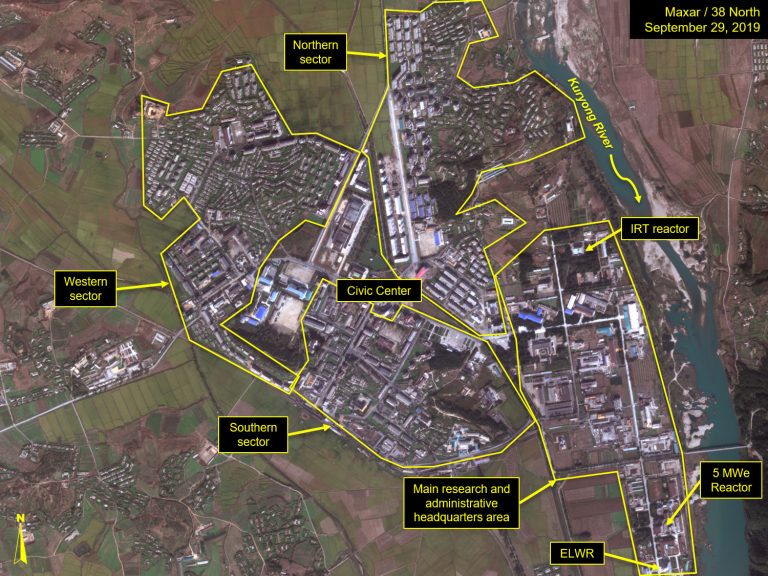 The city is divided into three personnel housing and logistical support sectors—north, west and south—which surround a city center comprised primarily of large civic buildings. Significant construction can be observed in the housing sectors over the 17-year period.
Within the city center, there are several amenities. The largest of these central buildings is made up of two massive meeting halls covering approximately 400 square meters. One of the halls was constructed before 2002, and the second was nearing completion in April 2002. Around the corner from the meeting halls, a probable performance hall was constructed between 2007 and 2010. Next to that, a probable cultural center (based on the historical Korean architectural style) was completed by late 2011. Construction began in 2018 for a newer civic building, but then was quickly abandoned. It restarted in June 2019 and has proceeded rapidly since then.
Figure 2. Construction of city center facilities.
Left: Image: Google Earth, annotation by 38 North. Right: Satellite image © 2019 Maxar Technologies. All rights reserved. For media licensing options, please contact [email protected].
Throughout this time period, several houses, apartment blocks and more ornate apartment towers have been added in all three personnel housing sectors.
Figure 3. Rapid progress on a major apartment project in the northern housing sector between March and September 2019.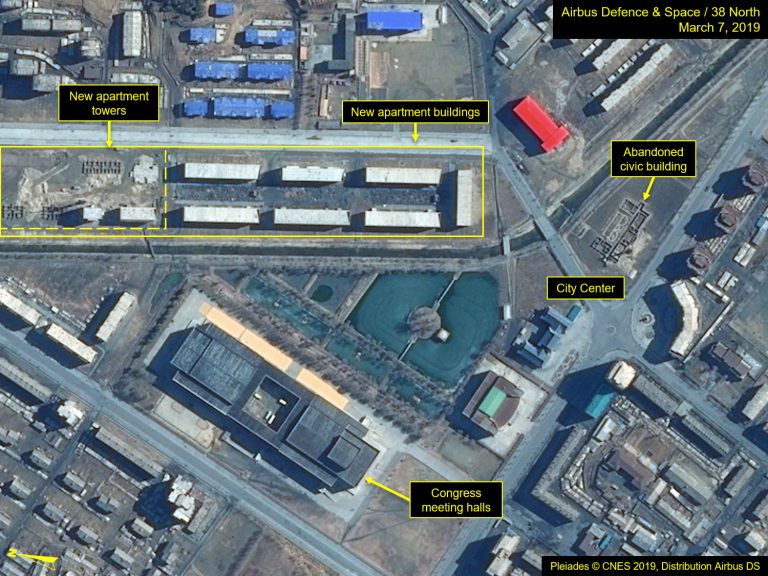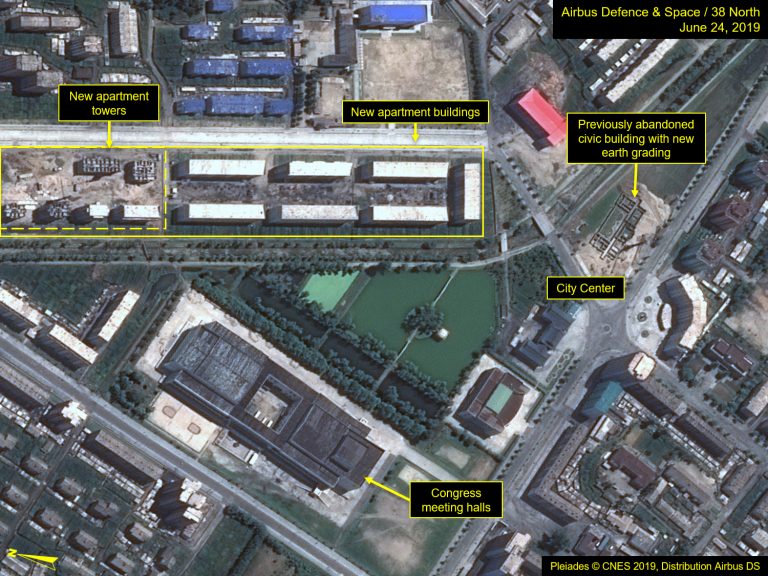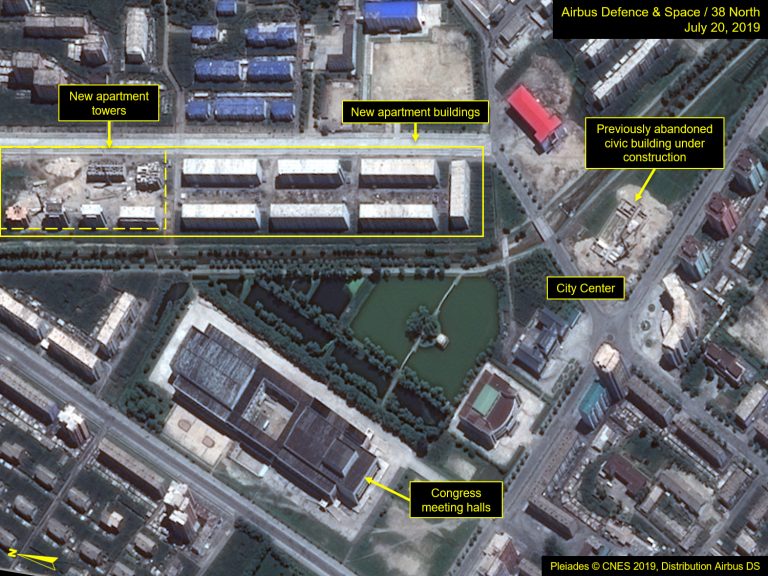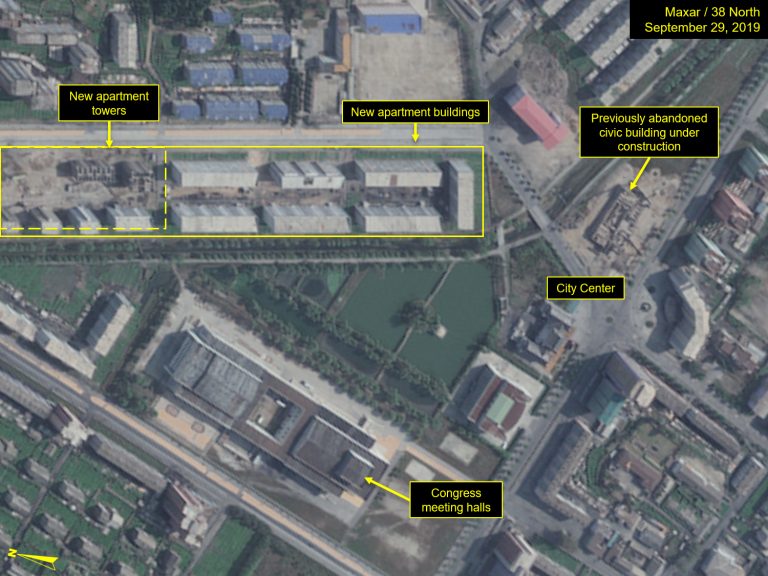 Figure 4. Close-up of a monument area south of the main road between Yongbyon City and the Nuclear Scientific Research Center. The portraits of Kim Il Sung and Kim Jong Il can be seen across this 25-meter-wide monument.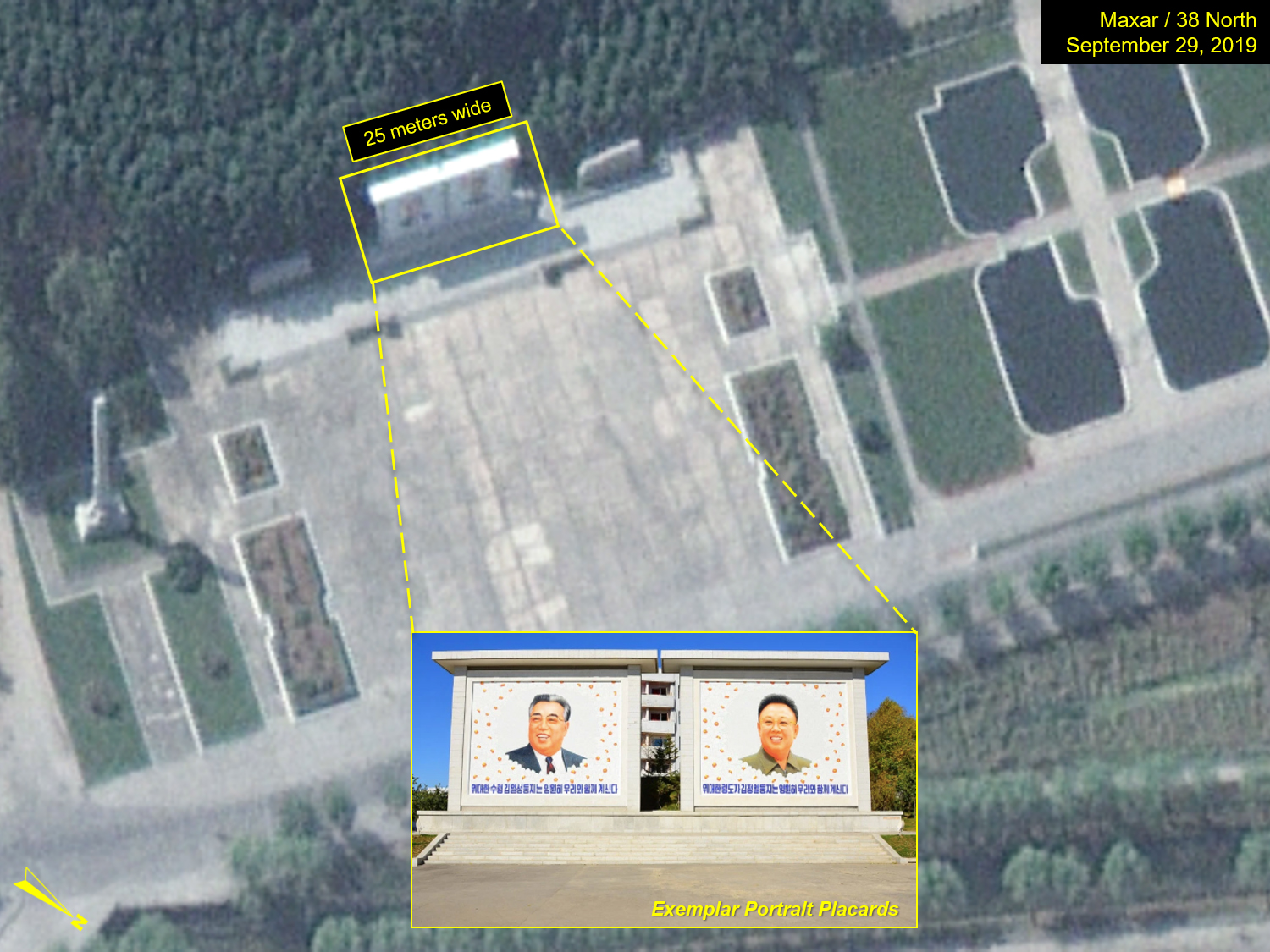 ---
[1]

Sometimes referred to as Bungang.

[2]
---