Wonsan Beach Resort: Unique Design Features and Details of Construction Revealed
Recent commercial satellite imagery has provided unusually high-resolution quality and a low, oblique viewing perspective revealing a host of unique design features being incorporated into the Wonsan-Kalma Beach Resort. 
Background 
In 2013, North Korea announced that Wonsan would become the country's summer destination for vacationers, complete with world-class resort amenities and entertainment. By 2017, construction had begun in earnest and rapid progress was made throughout most of 2018. However, when Kim Jong Un visited Wonsan-Kalma in October 2018, he conveyed disappointment with the site, expressing dissatisfaction with the design and layout of the resort. His main critique was that the construction was boring, lacked unique design qualities and that there were insufficient high-rise hotels. Kim reportedly called for additional attractions to be included in the project as well, such as game arcades, theaters, a stadium, a water park and a funfair. He also wanted more 30-plus-story hotels, luxury inns and condos constructed. 
By late 2018, the changes he directed began to appear and multiple images taken throughout 2019 revealed the addition of these directed features. However, the details and unique designs associated with those changes have only been fully observable in imagery from November 14 and December 4. 
New Design Features 
The original layout and design of the resort incorporated a repetitious building theme, replete with a series of pyramid-shaped hotels, multiple condos laid out in a quarter-arc footprint, and multiple, unremarkable resort buildings, which incorporated circular building extensions at one or both ends.
Figure 1. Overview of Wonsan's beach resort design.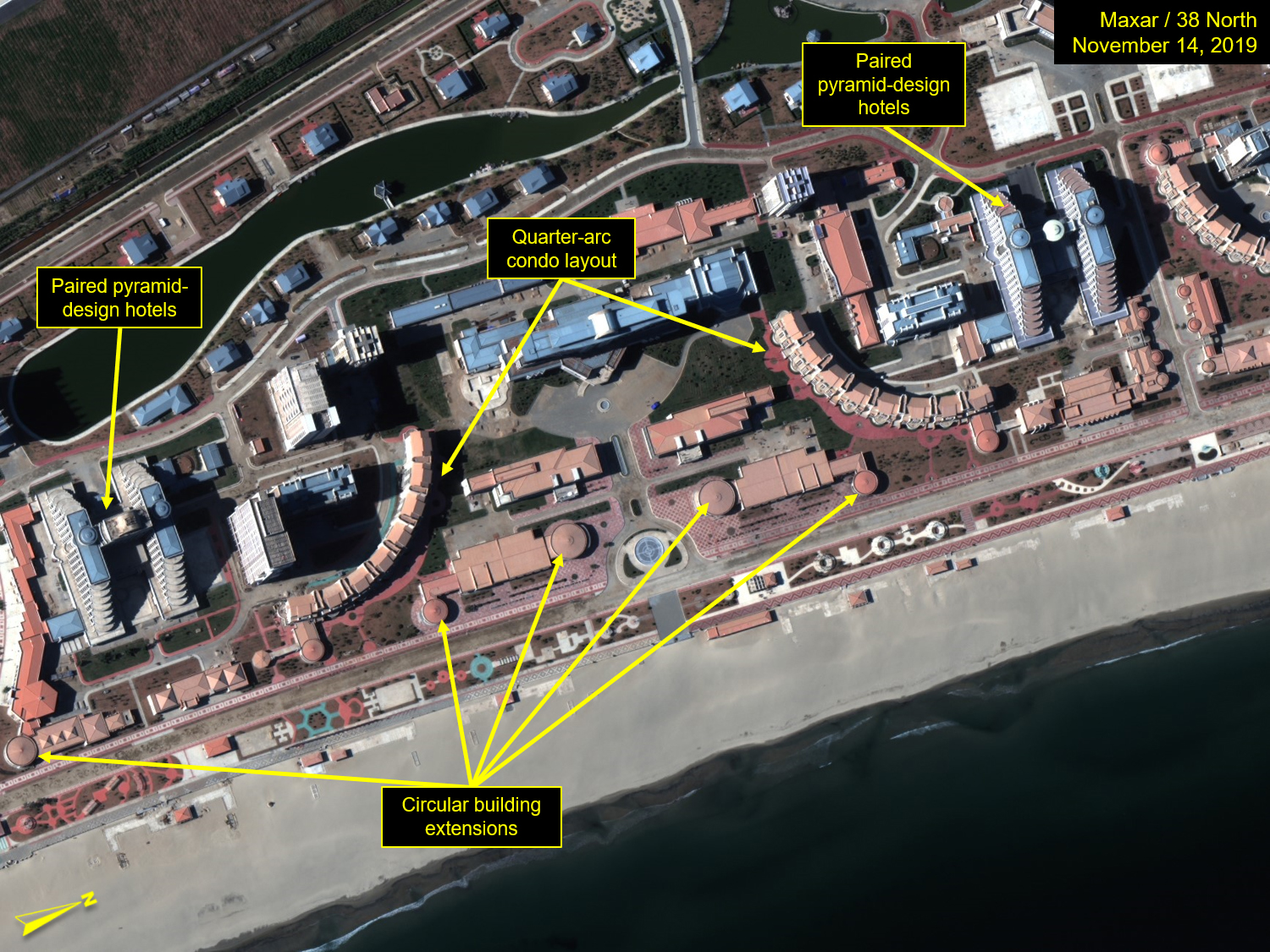 However, in imagery from December 4, the oblique view of several of the newly incorporated high-rise hotels reveals their unique design.
Figure 2. Newly incorporated, uniquely designed high-rise hotels.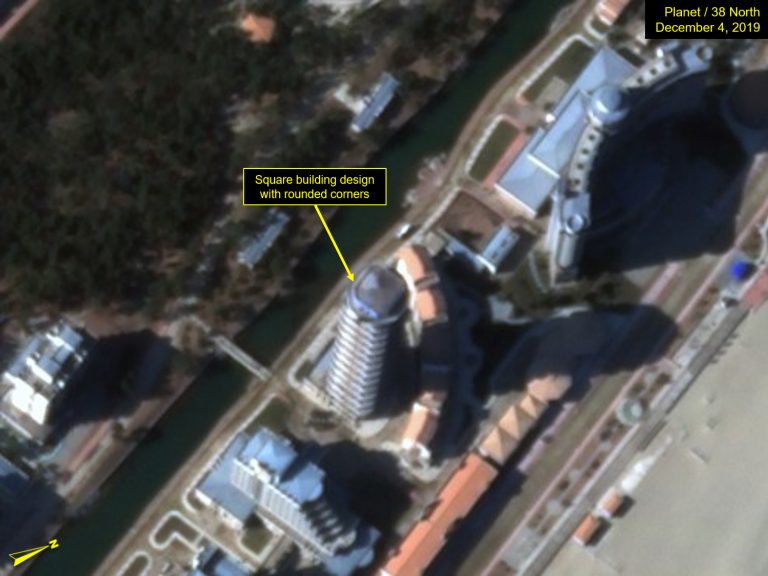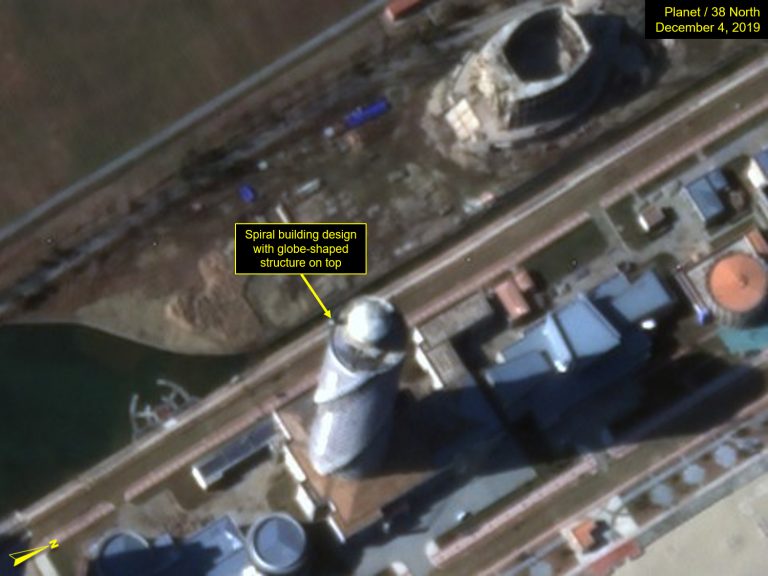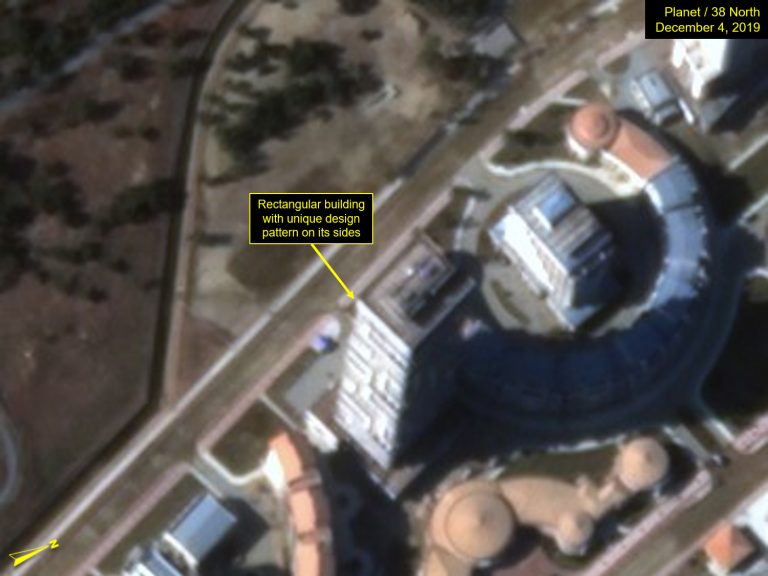 In addition, the exceptional quality of imagery from November 14 revealed greater detail than previous images of each building's design, and the artistic layout and designs incorporated into the walkways and amenities of the new resort. Sidewalk patterns along the streets and the beachfront promenade and amphitheater are clearly intended to provide an upscale ambiance to the resort.
Figure 3. Overview of beachfront promenade and amphitheater.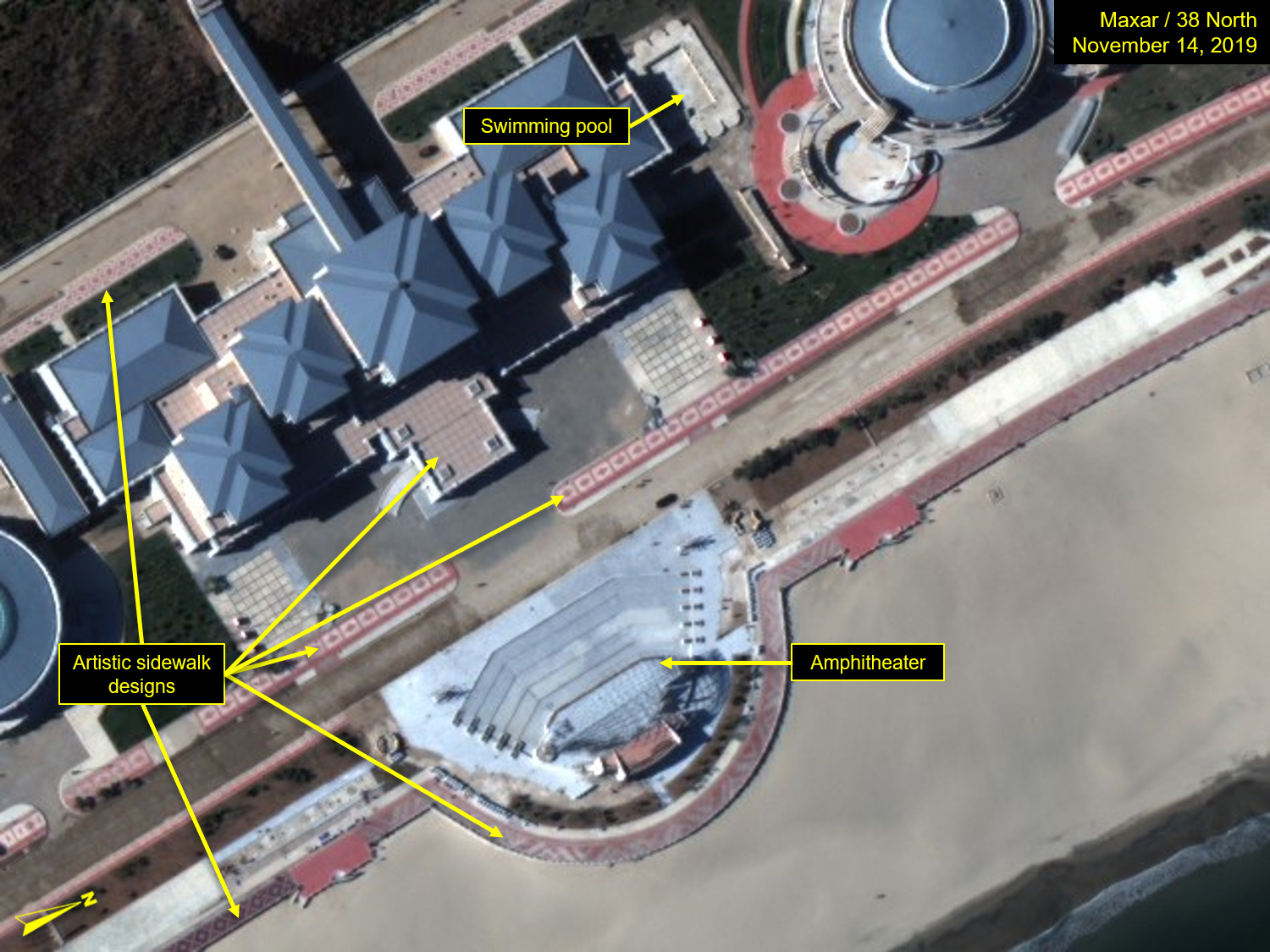 A new water park is taking shape in the southern beach area, where a lazy river pool has been constructed, and a possible wave pool and other water features are being added. Work also continues on an outdoor venue, a stadium–like structure, which appears to have a stage located within its confines.
Figure 4. New water park taking shape, southern beach area.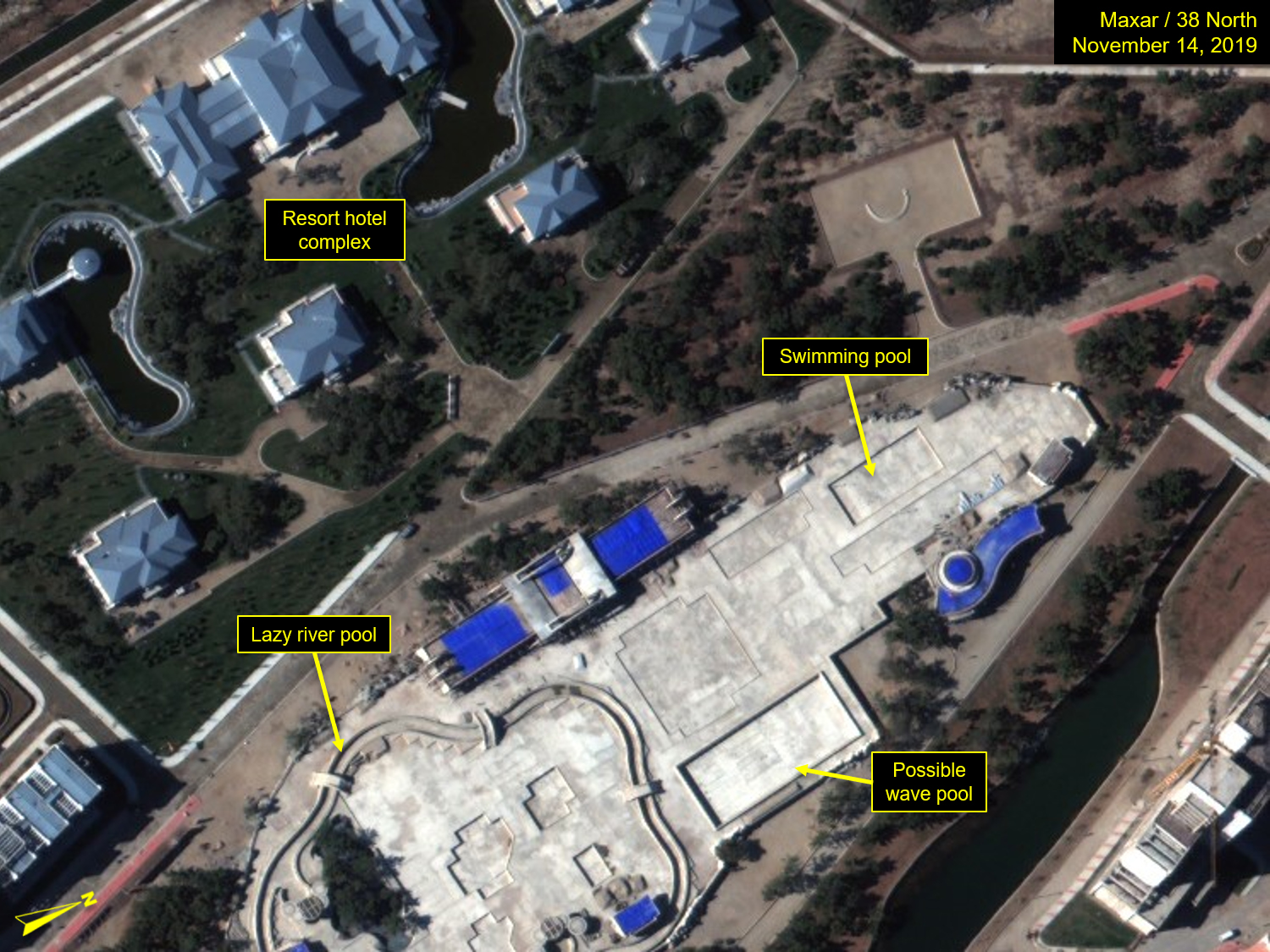 Figure 5. Overview of construction of stadium-like structure.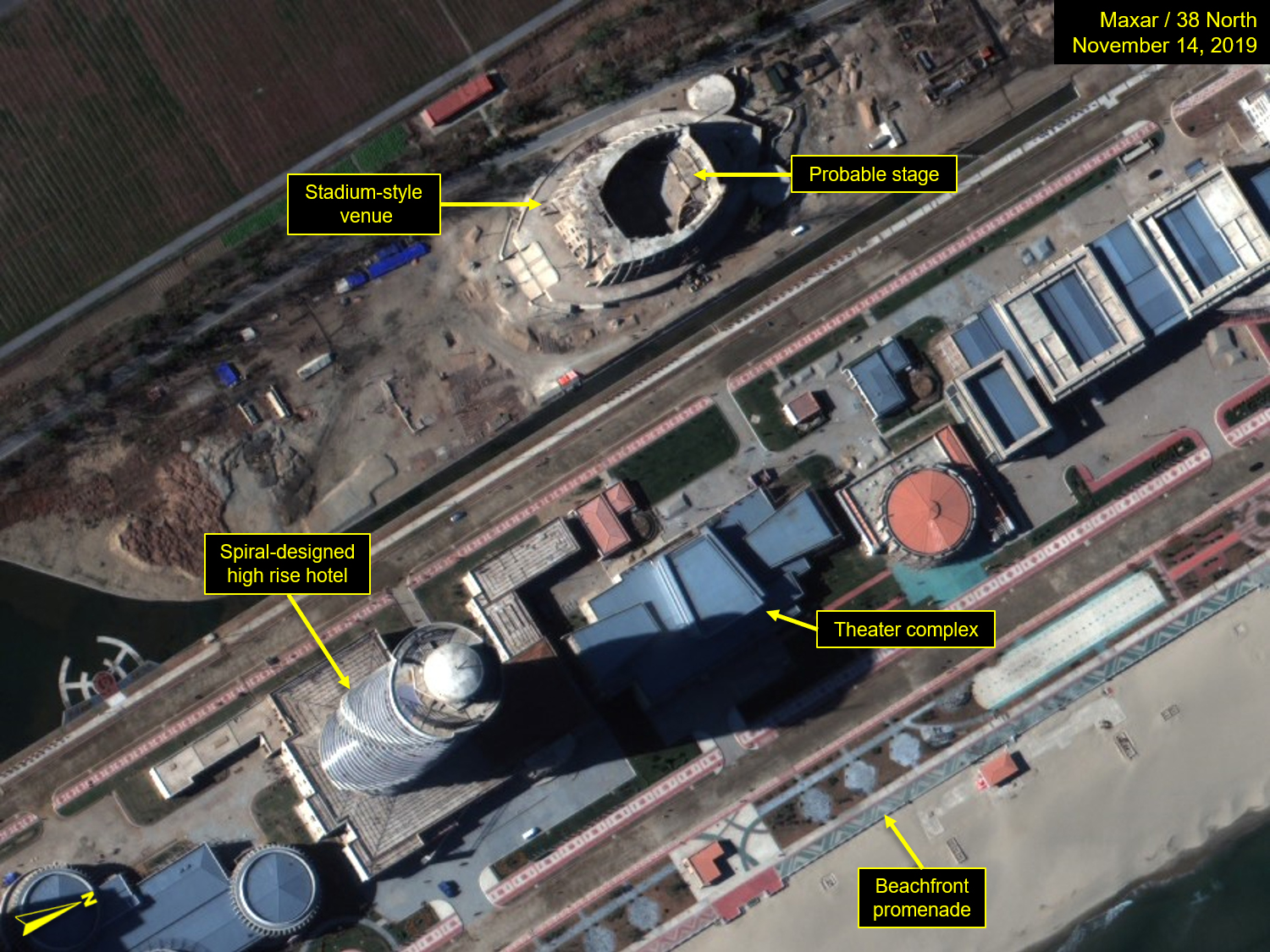 Throughout the resort, outdoor construction finishing activity continues on pace in anticipation of winter setting in. Work vehicles including trucks, buses, other equipment and personnel can be seen throughout the area. Cranes are still in place on one of the tallest high-rise hotels, and construction at the faux-island resort hotel is nearing completion. The northern marina also appears complete, save for minor work on a secondary support building, and the man-made island portion of the ferry port is complete, although the anticipated paving of it has not begun.
Figure 6. Vehicles and work personnel visible throughout construction zones.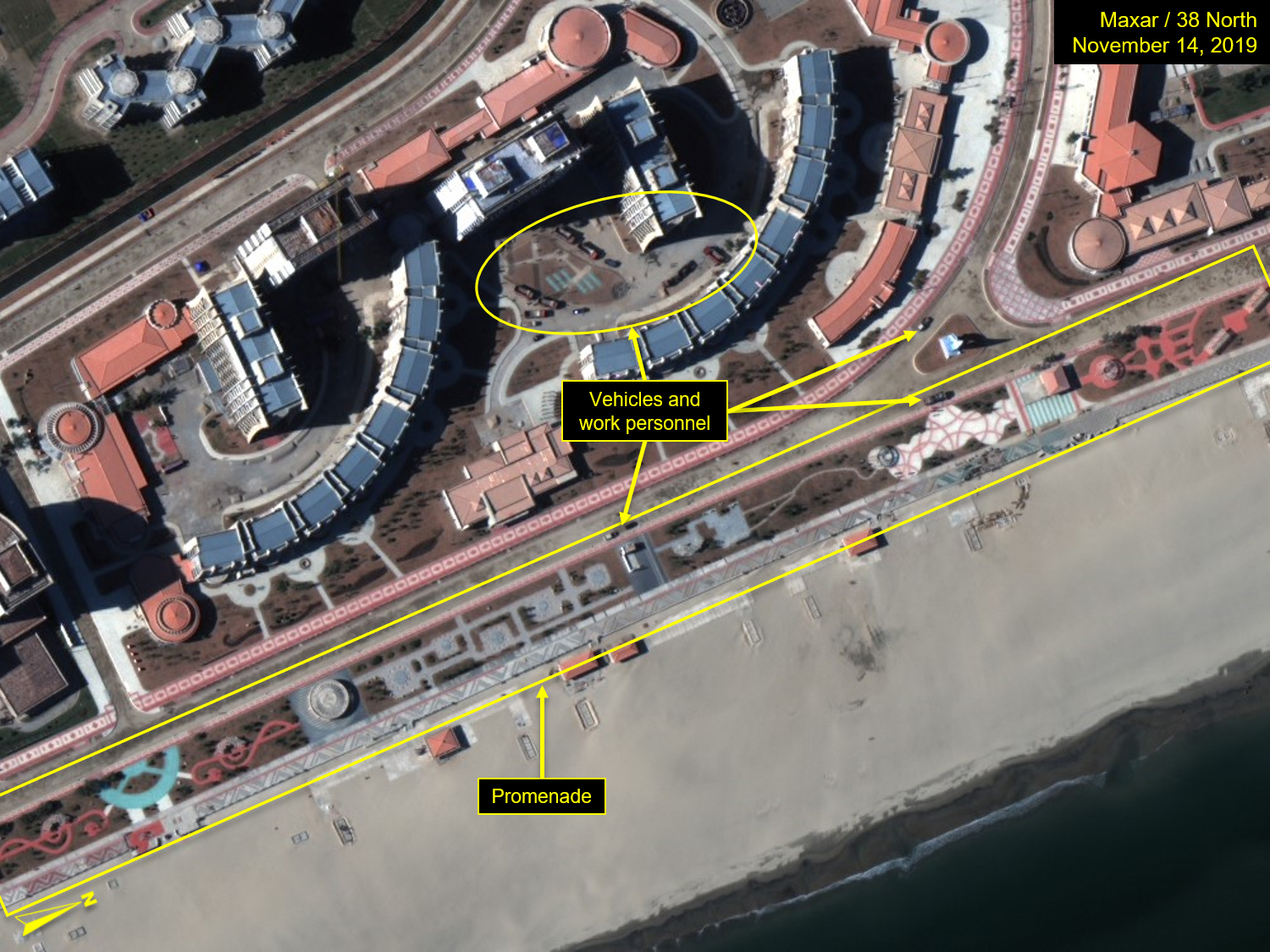 Figure 7. Cranes visible on top of tallest high-rise hotel.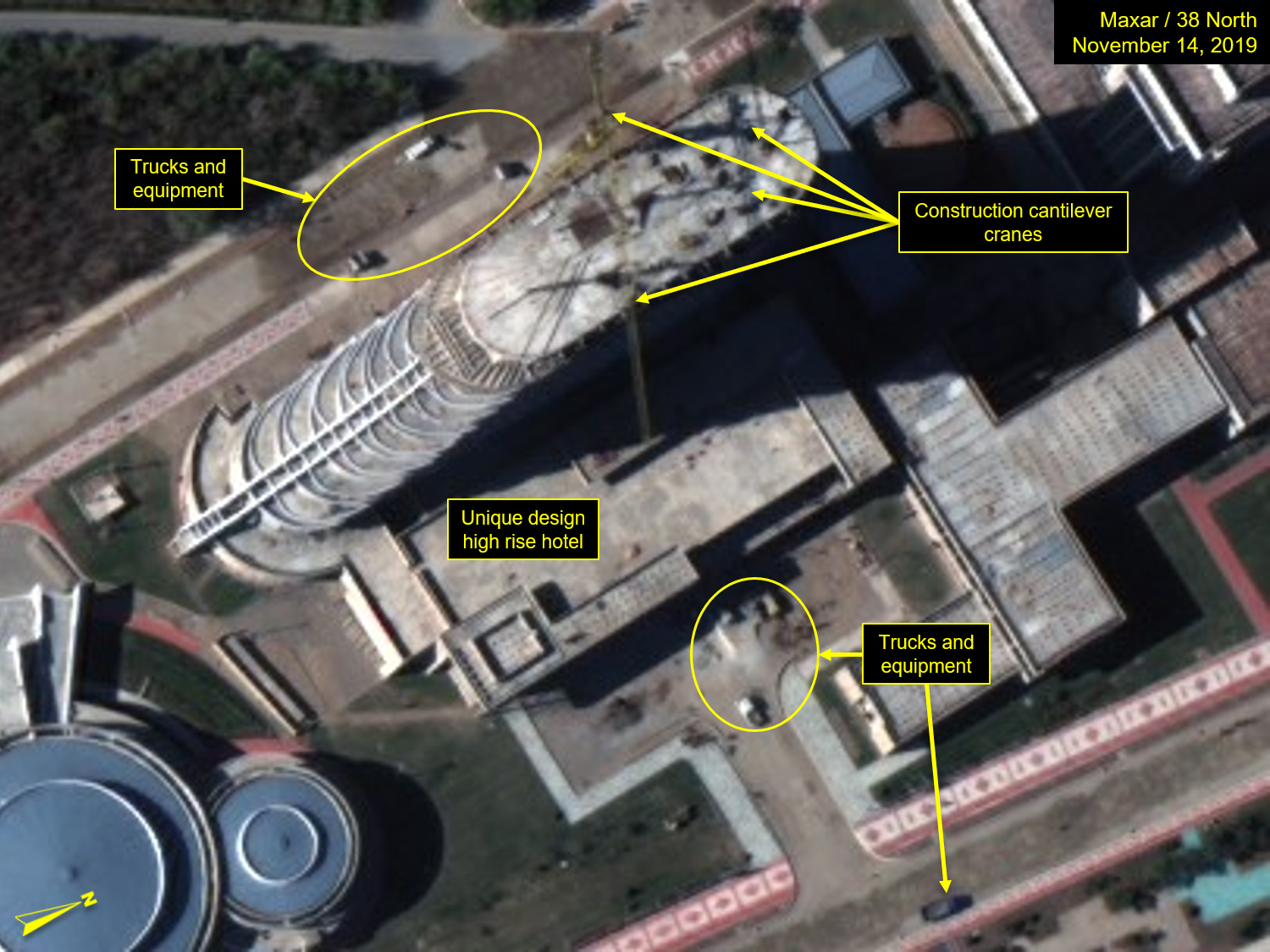 Figure 8. Overview of faux-island resort hotel complex construction.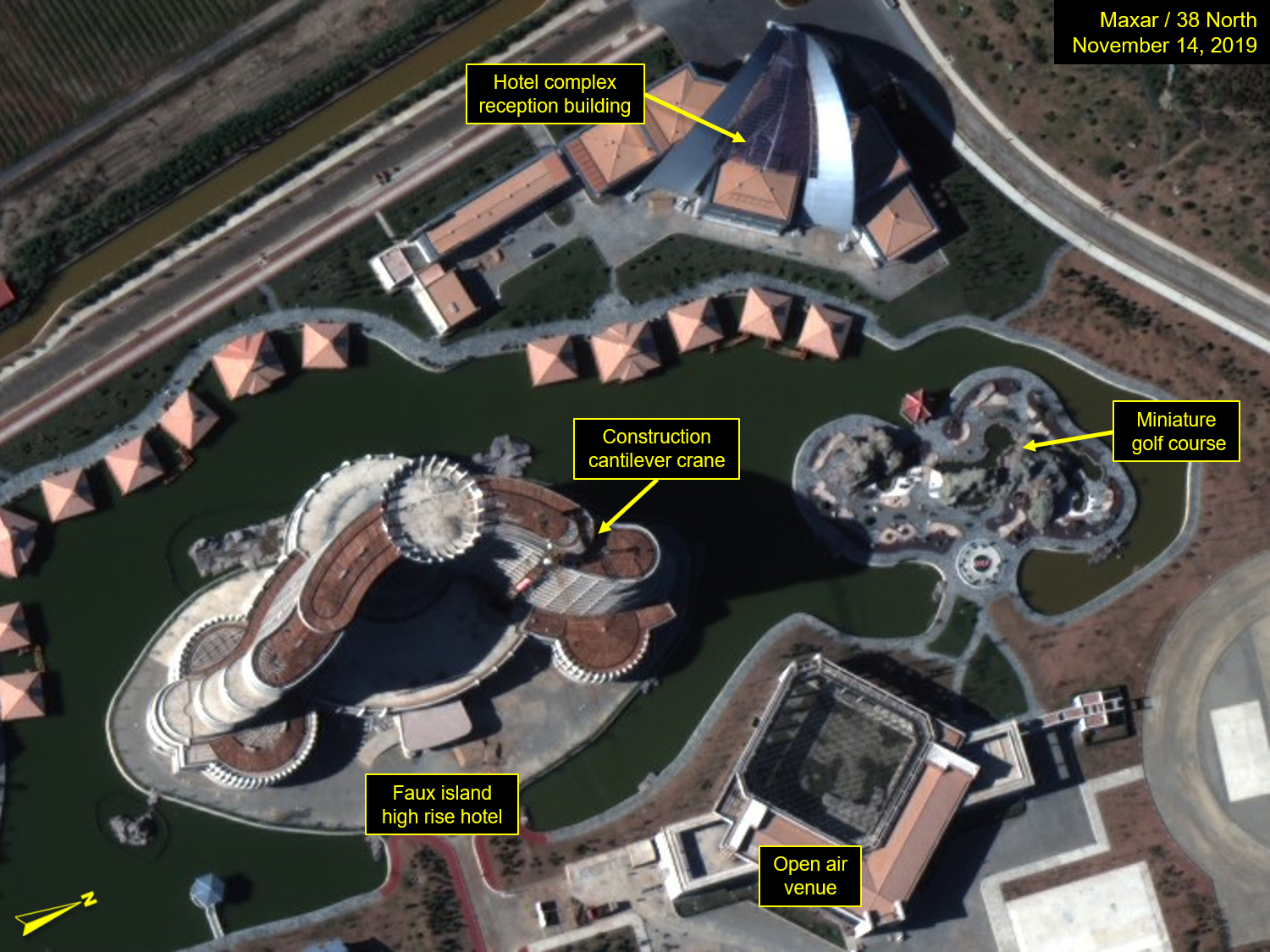 Figure 9. Overview of near-completed marina.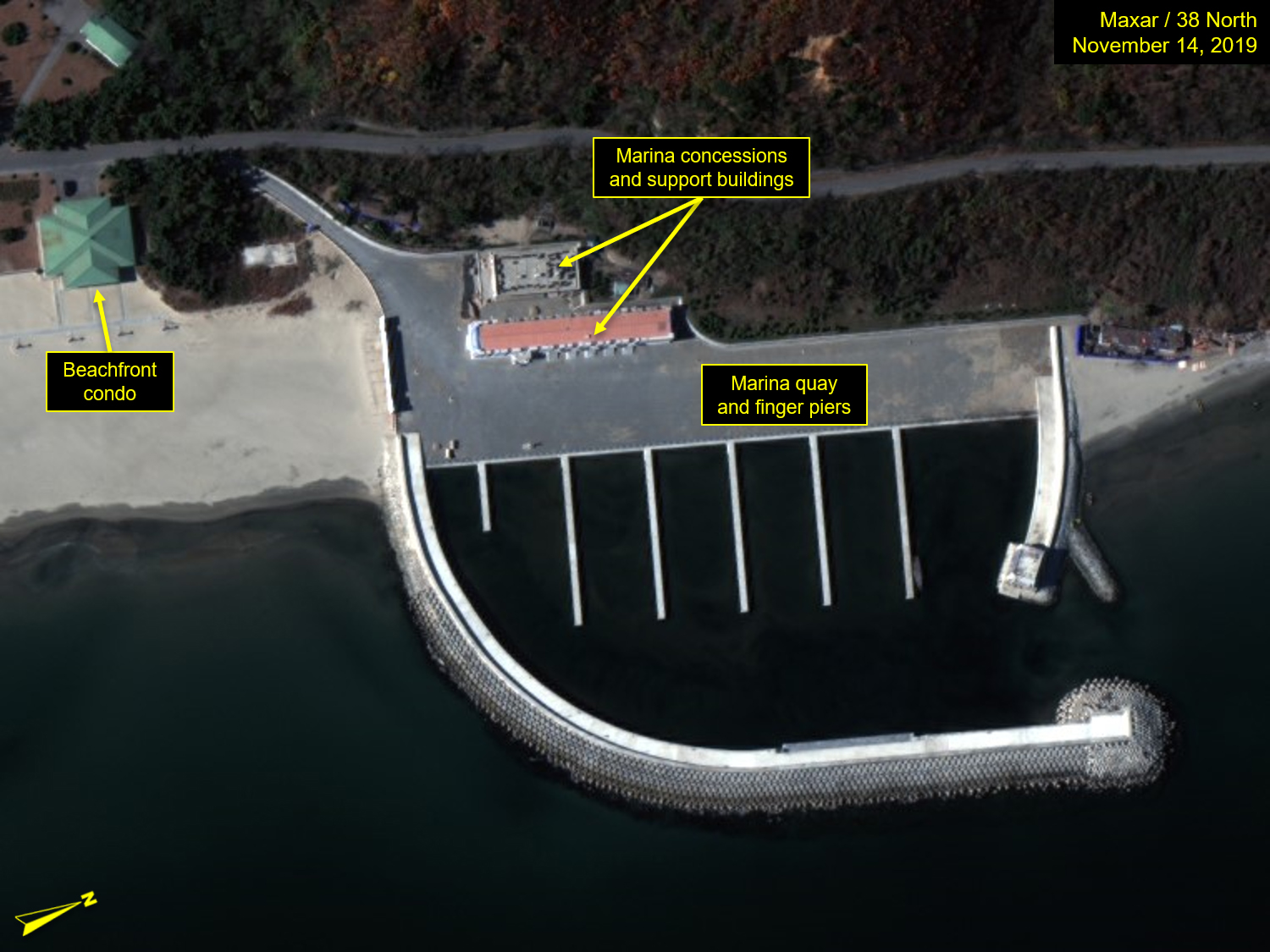 Figure 10. Overview of ferry port with man-made island portion completed.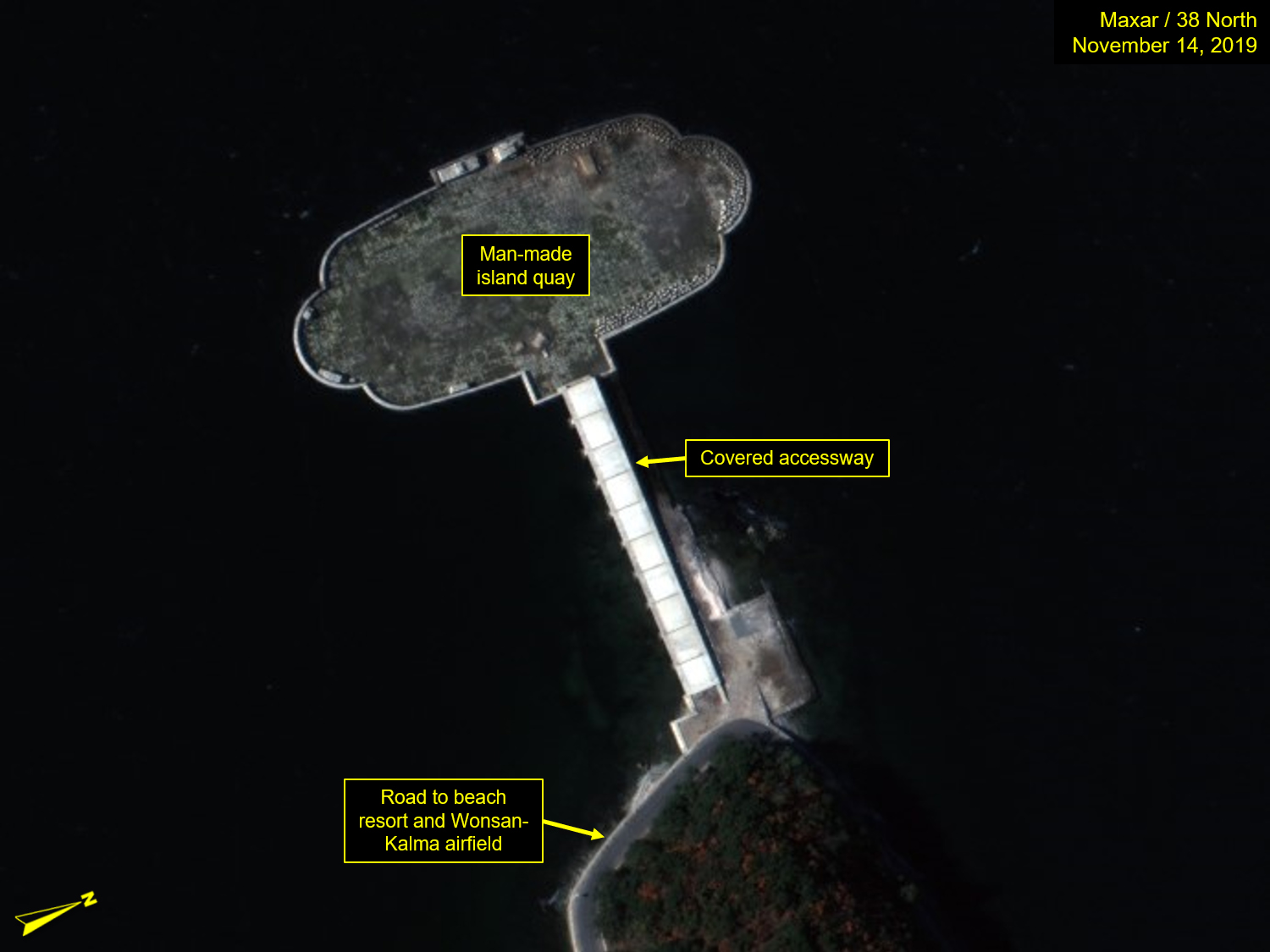 The planned opening of the resort is scheduled for April 2020 to coincide with the "Day of the Sun," Kim Il Sung's birthday, and it appears the grounds and building construction will be completed by then. However, reports have surfaced that claim many of the finishing materials needed to complete the project are subject to the United Nations embargo levied on the country. Whether the DPRK has been successful in procuring those materials is unknown, but if not, the resort's opening could be impacted.