Wonsan-Kalma Beach Resort: April Opening Feels Doubtful
Recent commercial satellite imagery of the Wonsan-Kalma Beach Resort suggests plans to open the resort in April 2020 may be delayed, as construction appears to have dramatically slowed since the end of 2019. While sanctions are believed to have hindered sourcing necessary finishing materials, the ongoing COVID-19 pandemic is likely having a greater impact on the resort's construction schedule, as tourism has been suspended.
Background
During an April 2019 site visit to the Wonsan-Kalma Beach Resort, Kim Jong Un postponed the construction deadline for completion from October 2019 to April 2020, to coincide with the "Day of the Sun" (Kim Il Sung's birthday). Kim justified the delay as wanting to avoid hurrying construction, giving the workers enough time to "perfectly finish" the tourist area in time for "sea-bathing season," and focusing on quality over speed. This delay may also have been a face-saving gesture, as construction was behind schedule, with reports suggesting that sanctions were hindering the acquisition of many of the finishing materials. During that site visit, Kim also instructed the integration of more compelling building designs, more leisure facilities and amenities and inclusion for more greenspaces and decorative elements—instructions that required changes to the resort's master plan. Construction efforts were accelerated from April through the end of the year, with unique design features, new high rises, improved leisure facilities and beautification efforts observed nearing completion by end of year.
Construction Activity
The most significant observable change since the beginning of 2020 has been the application of the final roofing and siding materials to several of the resort's buildings, making all but two appear externally complete. The two exceptions are a large high-rise structure, where an additional story is being added (Figure 1), and the faux-island high-rise hotel, where the building's top story, a circular floor that will likely serve as an observation deck and/or restaurant, still needs a roof (Figure 2).
Figure 1. Construction activity ongoing at high-rise building.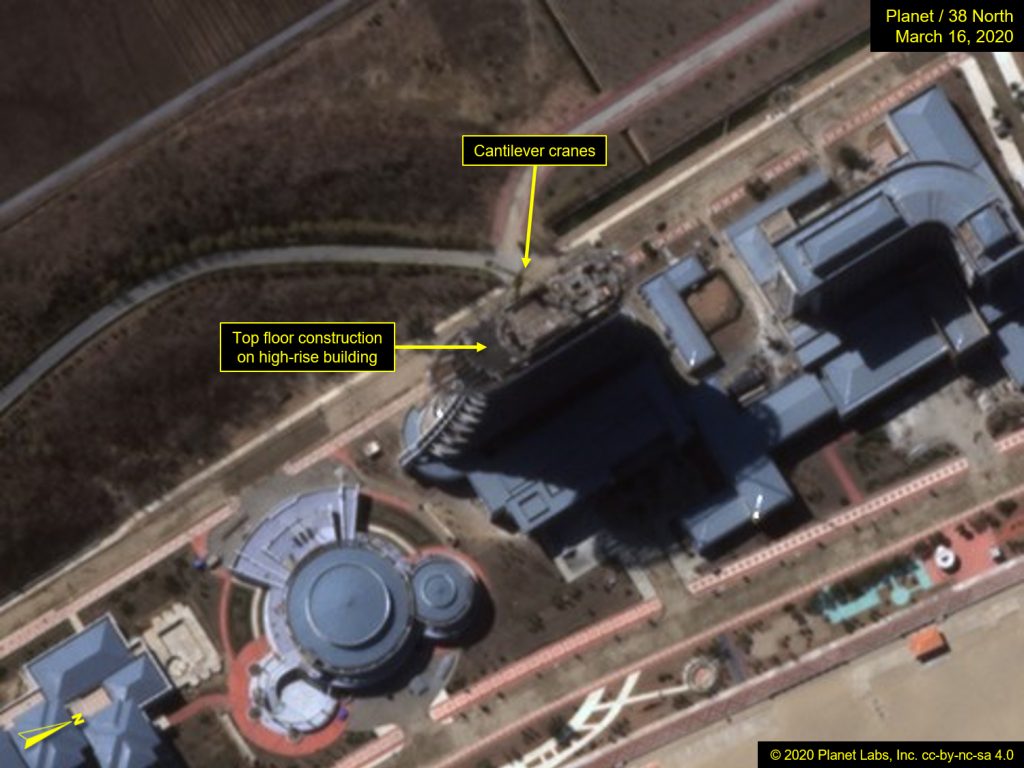 Figure 2. Construction of top floor of faux-island high-rise hotel ongoing.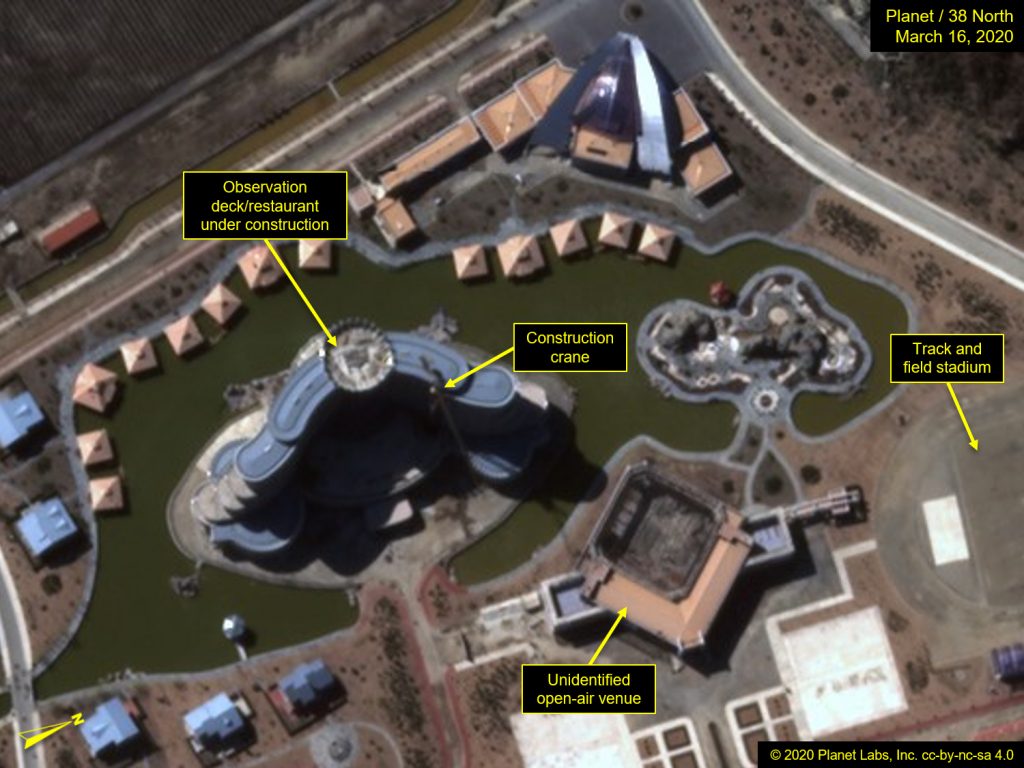 Significant work is still needed on several leisure facilities. At the water park, roofing of its concession buildings appears finished, but all other work seems to have been paused since December 2019 (Figure 3). Initial work on the arena-style entertainment venue made it appear to be an open-air "stadium-style" venue, however, imagery from January 31 showed the framework for a roof being installed, and by March 16, the roof was in place. While work on the arena's exterior seems to be nearing completion, ground scarring and foundation preparations for unknown purposes were ongoing just north of the arena, and grading activity, perhaps for a garden area, has begun on the grounds to its south (Figures 4, 5, & 6).
Figure 3. Roofing of water park concession buildings appear finished.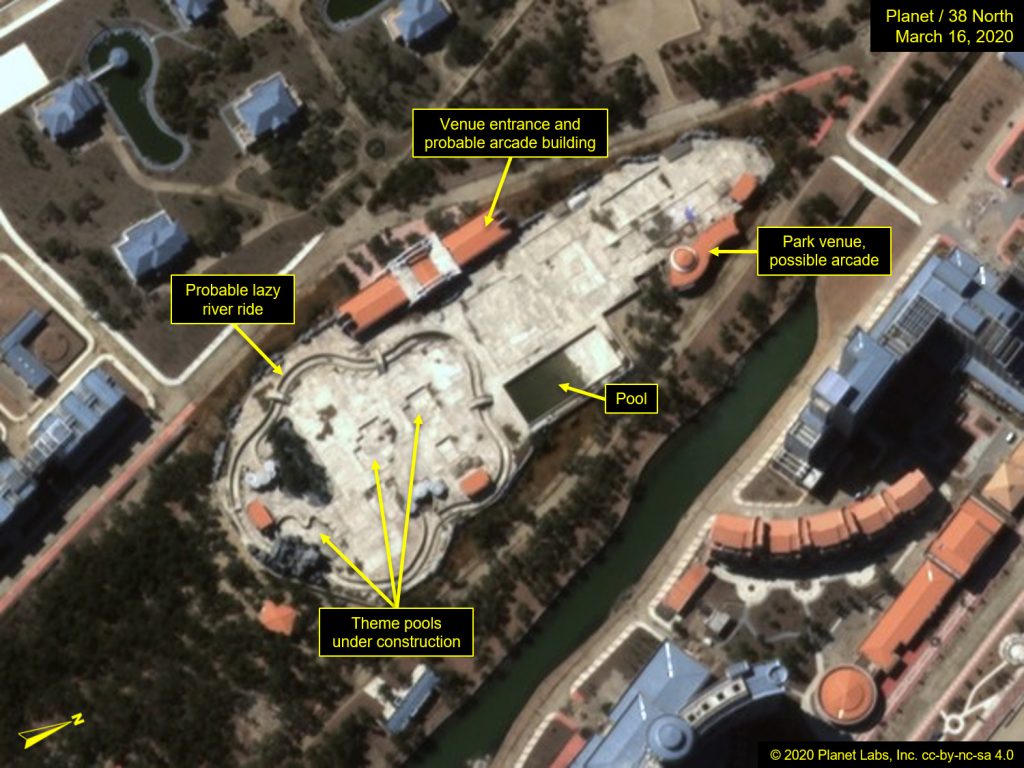 Figure 4. Roof installed over an arena.
Note: Hover over slideshow and click on left/right arrows to navigate.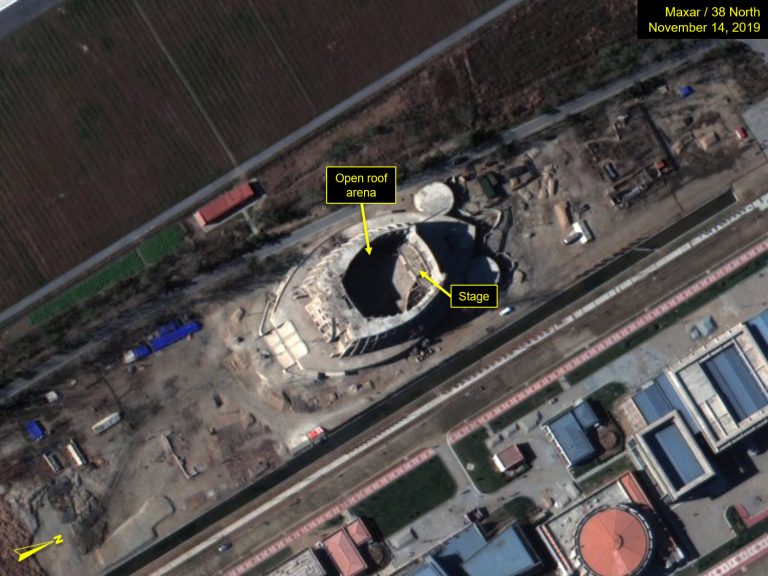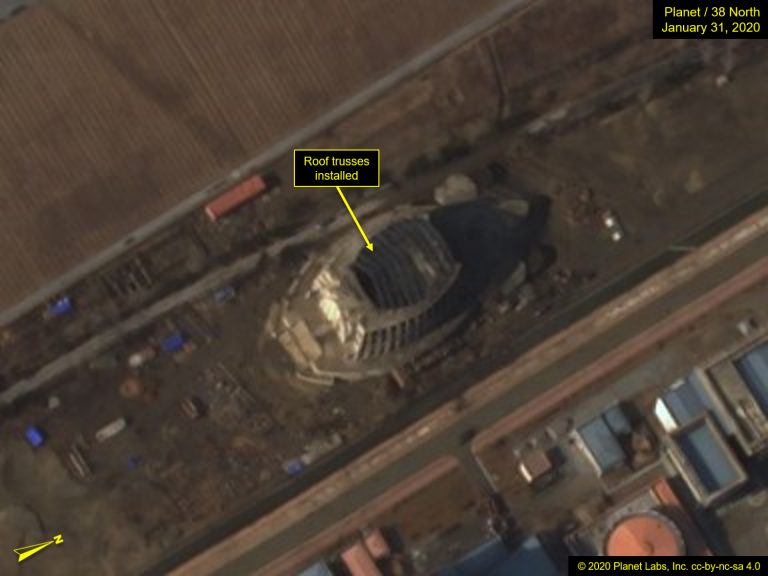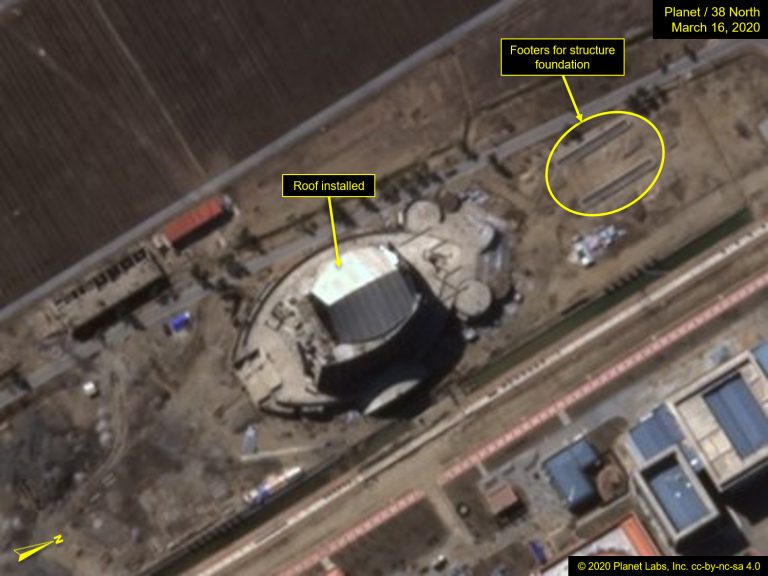 At the marina, a roof was installed on the smaller of the two support buildings by January 31 and three small boats were docked at its northern-most pier. On March 16, a dredge and two barges were located just inside the breakwater protecting the marina piers, although ongoing dredging operations cannot be determined (Figure 5).
Figure 5. Barges and a dredge observed at the marina.
Images © 2020 Planet Labs, Inc. cc-by-nc-sa 4.0.
Construction on the man-made island quay, located at the northwest end of the peninsula, appears unchanged since December. The quay will likely serve as a port for ferries crossing over from the waterfront of downtown Wonsan. In addition, no work has advanced on the venues located in the north beach area of the resort either, which includes a track and field stadium.
While outside construction has lagged, at least 30 vehicles—a mix of cargo trucks, vans and a few automobiles—and numerous personnel are observed throughout the resort area. Many of the vehicles are parked near completed buildings, suggesting work continues on their interiors and surrounding amenities.