The Inter-Korean Liaison Office at Kaesong: Still Standing, Although Clearly Damaged
Commercial satellite imagery of the Kaesong Industrial Zone shows the inter-Korean liaison office remains standing after a massive explosion tore through it at 2:50 p.m. (KST) on June 16. Imagery from June 19 shows significant damage to one section of the roof and a debris field around 100 meters to the north and south of the building.
Figure 1. Close-up of the inter-Korean liaison office at Kaesong.
Before: Satellite image © 2020 Maxar Technologies. All rights reserved. After: Image Pleiades © CNES 2020, Distribution Airbus DS. For media options, please contact [email protected].
The explosion was clearly not a controlled detonation as the building was not leveled and there was significant collateral damage to the adjacent buildings. Based on a review of a video released by the South Korean Ministry of National Defense (MND), a video from Korean Central Television (KCTV) and satellite imagery, it appears that munition explosives were placed in a single location within the building.
The majority of energy from the blast appears to have been directed outwards as a result of the largely glass façade being much weaker than the internal floor structures. However, while the satellite image shows the building still standing, it is likely to have suffered major damage and the satellite imagery confirms at least a portion of the roof collapsed.
North Korean TV Report on Demolition of North-South Liaison Office 
Explosion of Kaesong Liaison Office
The taller Kaesong Industrial District Management Committee office building sits about 70 meters away. A large portion of its all-glass façade was heavily damaged by the explosion, although that damage was likely unintended. A large debris field is visible in imagery from where the glass façade collapsed.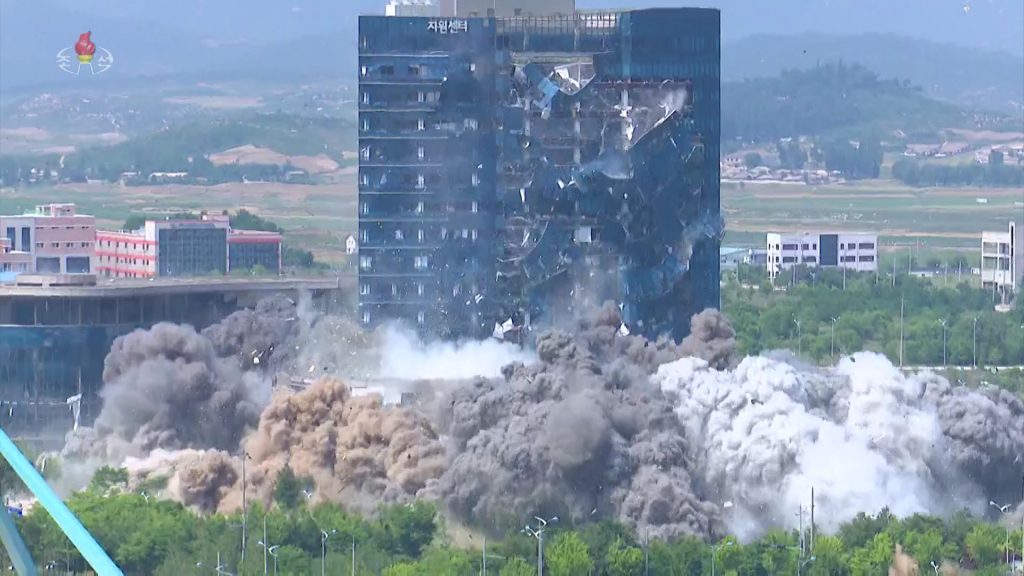 After the demolition effort, the Korean Central News Agency (KCNA) reported the building was "tragically ruined with a terrific explosion," while the Rodong Sinmun called the building an "eye-sore," and said it was "unnecessary and useless."[1]
---
[1]

See "North-South Joint Liaison Office Completely Ruined," KCNA, June 16, 2020; "We Will Never Sit Face to Face with S. Korean Authorities: Director of United Front Department of WPK Central Committee," Rodong Sinmun, June 17, 2020; and "Display of Will to Punish Enemies Most Thoroughly and Mercilessly," Rodong Sinmun, June 18, 2020.
---