Progress Made on Mirim Parade Training Ground: Paving of Roads and Interior Areas
New commercial satellite imagery indicates construction work at the Mirim Parade Training Ground in Pyongyang is focused on building five large buildings and a new access road.
In just over a month, five probable garages or storable buildings have been erected that appear capable of storing a considerable amount of military equipment. Paving of the interior areas of the complex is underway along with the paving of what appears to be parade assembly roads on the facility's north side. Additionally, a new access road has been built connecting Mirim to Taehak Street, which is suitable for large vehicles with a wide turning radius that will facilitate easy transfer into the city.
Figure 1. Overview of Mirim Parade Training Ground.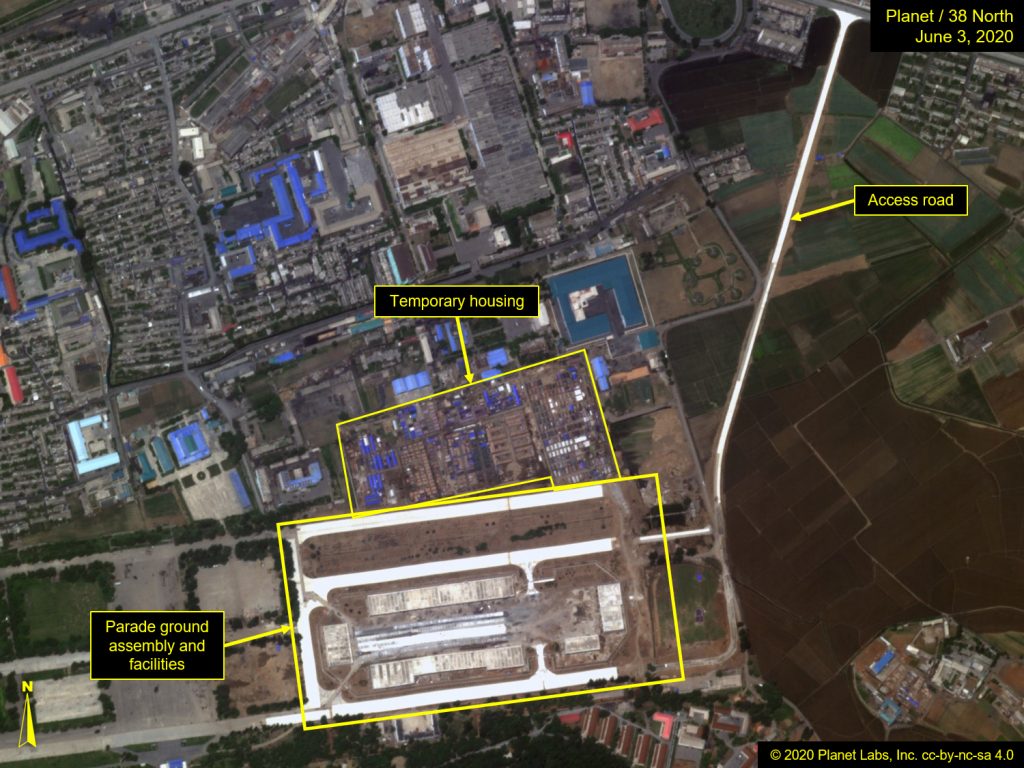 Background
The Mirim compound is used as a staging point for vehicles ahead of North Korean military parades. During the parade training, temporary shelters used to be erected in the area where the five new buildings are under construction, to store large equipment, such as transporter-erector-launchers (TELs). It appears that the new buildings are permanent garages large enough to store large vehicles and weaponry out of satellite view.
Construction Progress
In imagery from May 1, early in the construction process, footers for walls and circular holes for roof-support pillars had been dug, indicating roughly 100 stalls within the five new probable garage or storage buildings.
The largest building is about 250 meters long and at least 26 meters deep. At one end it extends to about 40 meters deep. North Korea's Hwasong-15 intercontinental ballistic missile (ICBM) is estimated to be about 22 meters long, making the 40-meter-deep portion easily capable of accommodating multiple TELs depending on how it is divided inside.
Imagery from May 13 showed a security fence or wall was being built around this new complex.
In addition to the new garages or storage buildings, concrete roads have been constructed, flanking both sides of the complex with two roads running parallel to one another on the north side. Given their width and the incorporated wide turns, these roads will likely serve as parade assembly areas and for pre-parade practice.
Concrete is also being applied within the compound. The concrete is being laid down in strips and will cover the interior areas between the buildings. The pouring of the concrete in this area had begun by May 30 and made considerable progress by June 6.
Figure 2. Progression of construction activity at Mirim.
Hover over slideshow and click on left/right arrows to navigate.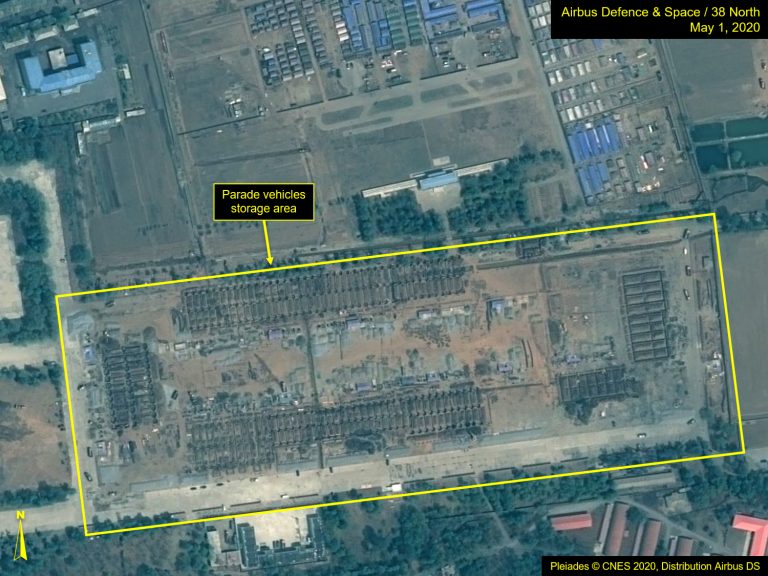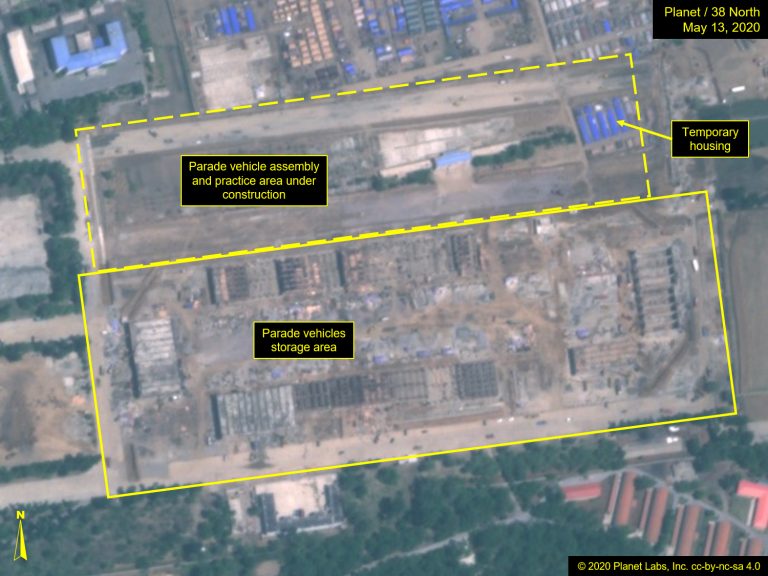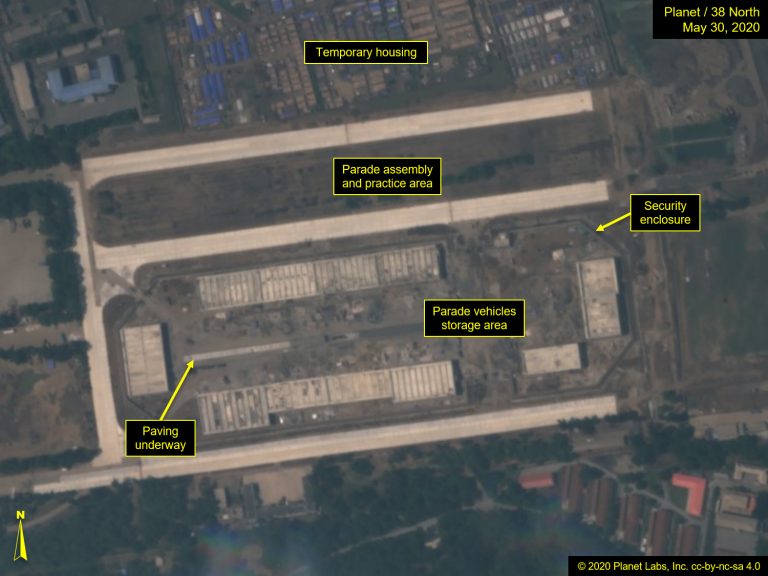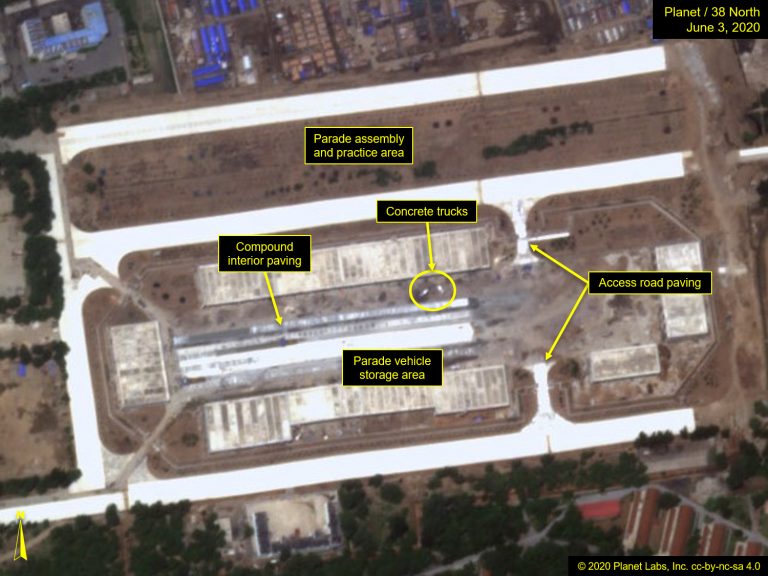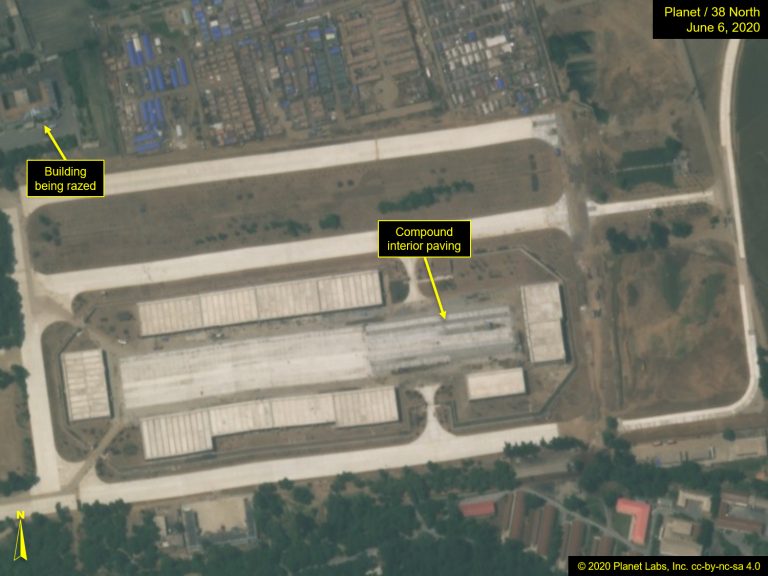 Figure 3. Close-up of concrete paving and road construction activity.
Images © 2020 Planet Labs, Inc. cc-by-nc-sa 4.0. For media licensing options, please contact [email protected].
A new access road has been constructed from the site to Taehak Street, which runs past the site and into Pyongyang. The access road has gentle curves and wide corners where it meets Taehak Street. That should enable large vehicles to more easily make the journey from Mirim to central Pyongyang. Imagery from June 6 shows the paving of the road to be nearly complete, with just a small stretch near the parade facilities left to be done.
Elsewhere at the site, a paddock or display area has been constructed in the center of the Mirim Riding Academy. The construction started around the same time as the vehicle storage area but it is unclear what, if any, relationship it might have to the new parade training facilities. This may be part of general upgrades to the entire site.
North Korea is expected to hold a major parade on October 10 this year, which is the 75th anniversary of the Workers' Party of Korea. Several major construction projects are due for completion in time for the anniversary and Kim Jong Un may use the parade to unveil the "new strategic weapon" he referenced in his party plenum speech last December.
Figure 4. Close-up of new access road connecting site to Taehak Street.