Nampo: A Tale of Two Ports
Recent commercial satellite imagery of the Nampo Naval Shipyard indicates that North Korea's second submersible test barge is berthed at the secure boat basin, but reveals no activity that would suggest it has been or is being prepared for submarine-launched ballistic missile (SLBM) testing. Meanwhile, there has been an upsurge of activity at the Nampo Coal Port over the past couple of months. On July 22, for instance, coal penstocks were full and three ships were observed taking on cargo.
Nampo Naval Shipyard
Imagery from July 22 showed no activity associated with North Korea's second of two submersible ballistic missile test stand barges,[1] acquired in 2017 and subsequently refurbished. To date, there is no evidence it has been used in conjunction with the North's SLBM program.
The barge is moored in a secure boat basin and berthed between a modified NONGO-class special effect ship (SES) and the east basin wall. The modified NONGO SES is a non-stealth version of the craft, with its armament removed and painted a light color, not the traditional battle gray of warships. It was first observed outside the secure boat basin adjacent to the quay, where the test barge was fitting out, on May 30, 2018. Imagery shows that both the test barge and the modified NONGO SES were then paired and moved into the basin by October 2018, where they have remained ever since.
Besides the submersible test barge and NONGO SES, a small, coastal cargo vessel and two to four other small craft have been routinely observed within the basin. Over the last few winters, five to six small fishing boats have been observed in the basin usually from late December to early spring, this past winter included. However, unlike prior years, two additional fishing boats were allowed to enter the basin around mid-March, and instead of departing during the fishing season, a total of 16 small boats were present by June 8.
Figure 1. Close-up of secure boat basin at Nampo Naval Shipyard.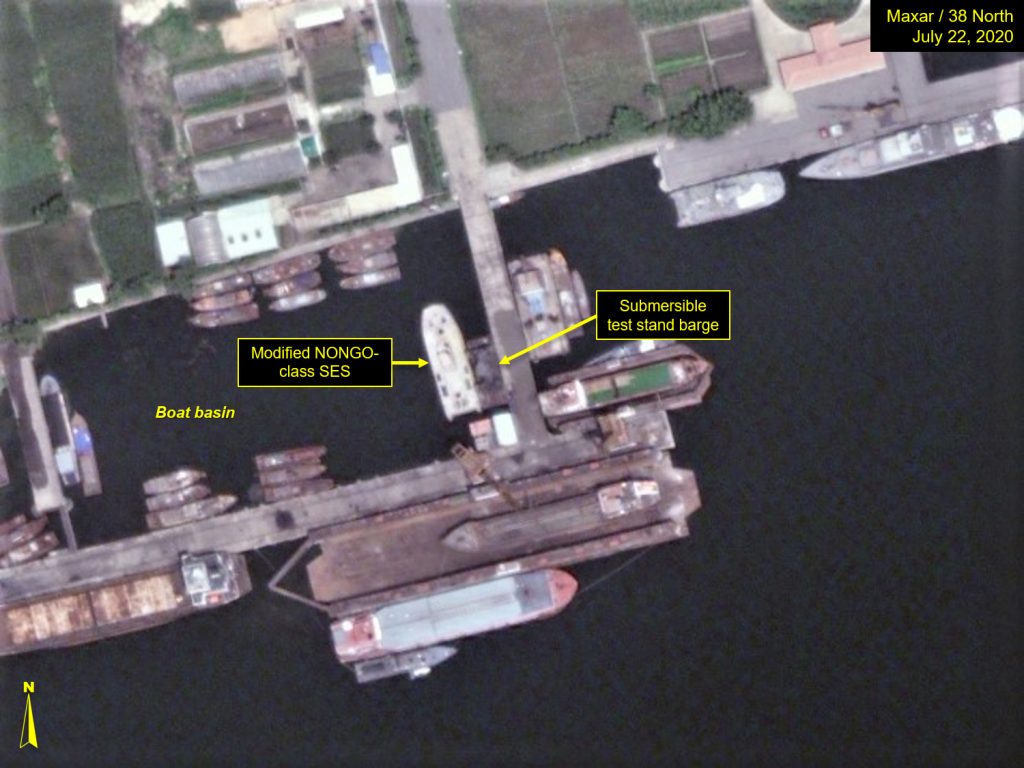 Nampo Coal Port
Activity at the Nampo Coal Port, unlike the Naval Shipyard, has picked up in recent months. In January, before the country closed its borders due to the pandemic, a single bulk carrier was observed at the Nampo Coal Port on three separate occasions. In a subsequent period from March through early May, only one large cargo ship and two coastal freighters were observed at the coal quay taking on stores. Since June, however, a mix of vessels, large coastal barges and a bulk carrier were observed here on multiple occasions, with an increasing number of these vessels in July. Most recently, on July 22, one medium and two large bulk carriers were located at the docks taking on coal. The recent upsurge in activity at the coal port and the plentiful coal stocks in open storage areas suggest that illicit coal trade has likely resumed.[2]
Figure 2. Bulk carriers docked at the Nampo Coal Port.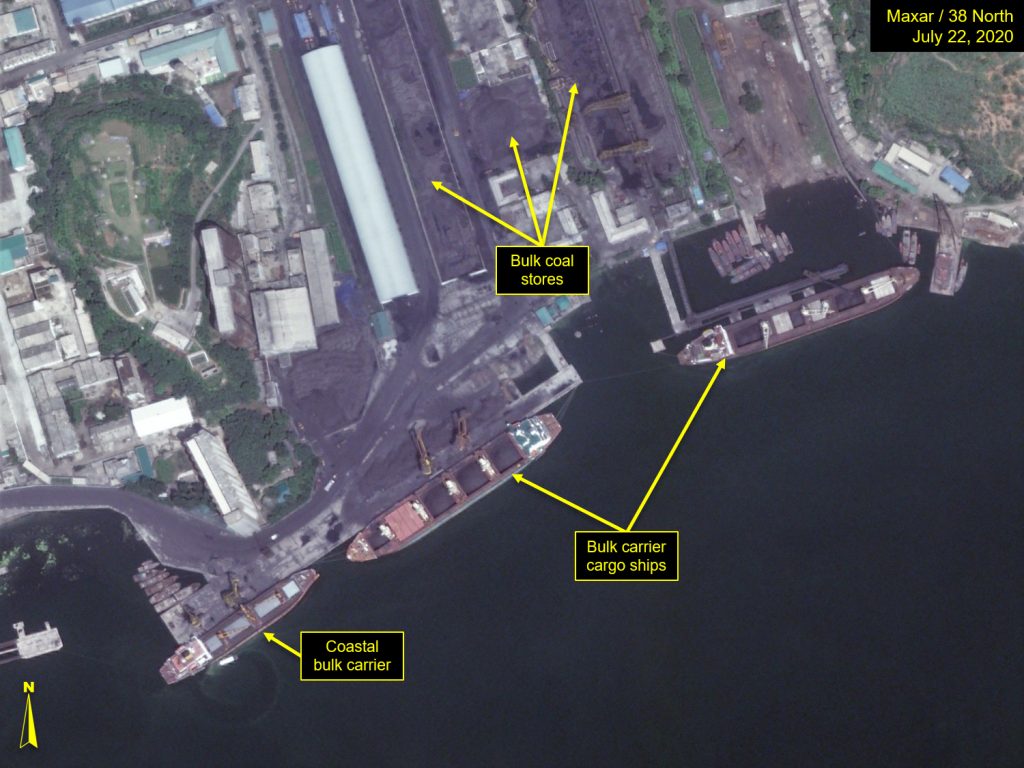 ---
[1]

The first submersible test barge is berthed at the Sinpo South Shipyard and has been used to test submarine-launched ballistic missiles.

[2]

It should be noted that the supply, sale and transfer of coal, iron, iron ore, seafood, lead and lead ore were banned in UNSCR 2371 (August 2017). The only exception to this ban is the transit of coal that has originated outside the DPRK and transported for export through the Port of Rajin (Rason).
---