The Rise of Women Leaders in North Korea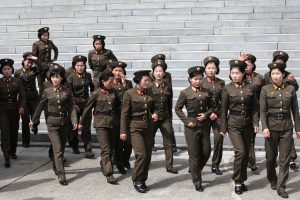 Since Kim Jong Un came to power, North Korean media has carefully curated the public image of both his wife and sister, a departure from how women were portrayed in the Kim Jong Il era. But they aren't the only women in Pyongyang's inner circles—several have been promoted to powerful political and diplomatic roles in recent years. While it may not have much impact on his policy decisions in the long run, the fact that Kim Jong Un has opened doors to some women is particularly striking given the historically male representation of power and politics in North Korea.
The Kim Dynasty as the Source of Women's Leadership
North Korea's national history abounds with images of women as revolutionaries—whether as soldiers, workers or symbolic "mothers" to the nation, especially the mothers, wives and consorts of the Kim dynasty. Official history calls Kim Il Sung's mother the "mother of Choson," upheld as pure legend in the cult of the Kim family. Kim Jong Suk (Kim Il Sung's first wife and mother to Kim Jong Il) and Kim Hwak Sil (called "the Woman General" of the Anti-Japanese Guerrilla Army) were exceptional women in the independence movement who fought alongside men in battle, upheld as unshakeable and committed revolutionaries (Park 1992-1993).[1]
Kim Il Sung's second wife, Kim Song Ae, was officially introduced to the public in the 1960s, and received titles such as chairman of the Democratic Women's Union and held meetings for foreign female delegates.[2] She sought to expand her political clout—positioning her children as possible heirs—making her a formidable challenger to Kim Jong Il's claim to leadership. By the 1970s, she lost her position as head of the women's committee and in 1981, as Kim Jong Il consolidated power, was placed under house arrest.[3]
Kim Jong Il, on the other hand, never appeared with his wives and consorts—Hong Il Chon, Song Hye Rim, Kim Yong Suk and Ko Yong Hui—because he reportedly did not like them to be involved in political activities.[4] A notorious womanizer, he largely kept his partners in secluded mansions and apartments, and purportedly preferred them to focus on their motherly duties.[5]
Kim Jong Un's Rule and Female Leadership
It seems that Kim Jong Un has taken a different tack than his father or grandfather, and is surrounding himself with notable women in high-level positions, suggesting a potential shift for women among a new generation of leaders. These include (listed in alphabetical order):
Implications of Elite Female Leadership
It is sometimes assumed that greater inclusion of women may change policy content. That may be the case in democracies, but the increased participation of North Korean women in elite politics does not necessarily indicate change to the broader social or political systems. Studies of political influence in other authoritarian and hybrid regimes suggest that women's inclusion in national politics actually reproduces—not challenges—norms, representation and control mechanisms that reinforce existing political institutions.
In North Korea, successful female political leaders have toed the party line closely. Choe Son Hui has drawn a tough line on the possibility of dialogue with the United States. One of the "prime authors" of the plan for sanctions relief, Kim Song Hye, reportedly worked closely with Kim Yo Jong in the lead-up to the Hanoi Summit and the visit to South Korea during the Winter Olympics. Hyon Song Wol leads North Korea's cultural diplomacy activities, bringing delegations of North Korean artists to South Korea and China. And Kim Yo Jong worked as a hardline counterbalance to Kim Jong Un's earlier engagement with US and South Korean leaders, sending confusing messages via the Korean Central News Agency (KCNA).[7]
North Korean women have played a strong role in neighborhood politics since the founding of the country and have been at the forefront of changes in the local economy since the Chollima movement started in the 1950s, not to mention their important role in marketization following the Great Famine. For now, it is noteworthy the extent to which women do work in high-level positions in varied sectors of politics, diplomacy and the economy. It seems that at the very least, being female is not a disqualifier for gaining influence in Kim Jong Un's regime.
---
---