India-ROK: The Search for a Post-Pandemic Comprehensive Partnership
This two-part series discusses India's ties to North and South Korea as well as strategies for further engagement with the two countries. Part one focused on the status and challenges of India-DPRK relations. This part will address the evolving India-ROK relationship.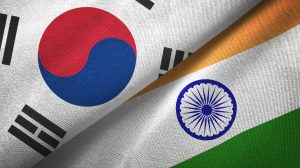 India-ROK ties have gained new momentum in the past few years. As part of their "Special Strategic Partnership," regular dialogue, exchanges of visits and increased trade, economic and defense cooperation are fast becoming commonplace, creating a "new normal" in their bilateral engagement. Looking ahead, the two countries are well-positioned to overcome obstacles on the path to establishing a much deeper relationship.
Impediments to Partnership
Although India and South Korea seek to develop a comprehensive partnership, there are a few impediments they will have to overcome to achieve this goal. First, there are India's diplomatic ties with the Democratic People's Republic of Korea (DPRK), which have led South Korea to adopt a more hesitant approach towards India. Second, India's commitment to promoting its Special Strategic and Global Partnership with Japan has made the ROK more cautious about viewing India as a partner, given the historical antagonisms between Japan and South Korea. Finally, the ROK's strong economic relations with China have made Seoul wary of endorsing the Indo-Pacific regional framework and joining any initiatives that are aimed at containing China from Beijing's perspective. All this said, India and South Korea have numerous opportunities to strengthen the bilateral relationship.
Shifting Regional Dynamics and India-ROK Relations
As two of Asia's largest economies, the expansion of ties between India and South Korea could contribute significantly to regional peace and security. Until now, their relationships with China, a major trading partner for each, has made them more cautious about adopting an anti-China rhetoric. But the recent downturn in India-China relations and South Korea's acceptance and participation in the "Quad Plus" (a loosely organized coalition of Australia, India, Japan, the United States, and South Korea) may give both countries diplomatic cover to deepen their bilateral relationship even if that causes greater tensions with China. A stronger and united India-ROK approach towards the PRC would allow both states to develop economic and security models that other Asian nations could follow.
Further, as partners of the US, they can help ensure a sustained American presence in the region via collaboration in various sectors. The "Quad Plus" and the recent invitation by US President Donald Trump to both India and ROK to attend the next Group of Seven (G7) meeting would provide additional opportunities to broaden the scope of India-ROK relations. Moreover, New Delhi has the chance to deepen its partnership with Seoul as a result of South Korean President Moon Jae-in's New Southern Policy (NSP), which prioritizes greater engagement with ASEAN and India and is in strategic alignment with India's Act East Policy (AEP). Both countries view their ties as a way to promote regional prosperity, peace and security by expanding trade, commerce and supply chain diversification, and cooperation on infrastructure development, defense and digital technology.
Moon's "New Deal" and India's Strategic Alignment
Although Seoul's response to the pandemic has been exemplary, the nation continues to struggle with its economy, which shrunk by 2.9 percent in the second quarter of 2020—the worst since the 1998 Asian Financial Crisis. To overcome the economic setback and create jobs, Moon has announced the "K-New Deal," which commits a total of 160 trillion won (or $132.6 billion USD) for projects over the next five years. This initiative features a "Digital New Deal" and "Green New Deal," which offers opportunities for greater interaction and cooperation with India.
India, too, has entered an economic slowdown, which has been exacerbated by the coronavirus pandemic. Prime Minister Narendra Modi, in an effort to revive the economy, has advocated greater self-reliance and less dependence on China-driven manufacturing supply chains by boosting domestic production and integrating India with new or emerging global supply chains. The South Korean "New Deal" is in sync with India's plans for digital innovation, smart cities, foreign direct investment (FDI), strategic trade ties in the region and beyond, domestic defense technology production and sustainable development.
Diversifying Supply Chain Networks and Enhancing Trade
South Korea and India, both anxious over China's growing assertiveness, are increasingly looking at alternative supply chain networks emerging post-pandemic. As a consequence, both states hope to intensify their trade relationship, which has been somewhat stagnant since the Comprehensive Economic Partnership Agreement (CEPA) was signed in 2009. Over the past decade, India's trade with South Korea grew from $12 to $21.5 billion USD, but still saw a 6.5 percent increase in its trade deficit with South Korea. In 2018, Modi and Moon agreed on a framework (the Early Harvest Package) to improve trade ties against the backdrop of an escalating US-China trade war. However, difficult negotiations have stalled trade expansion. To boost trade, both states will need to recognize the extent to which increased economic growth can be driven by supply chain diversification and greater foreign direct investment. India's Korea Plus platform will further these goals by facilitating Korean investments while promoting greater bilateral economic collaboration.
Increased business ties also looking promising. Indian firms like Tata Motors, Mahindra, Novelis, Wipro, L&T and Jindal have a prominent presence in South Korea, while Hyundai, LG Electronics and Kia Motors have built a strong footprint in India. Samsung is reportedly looking at investing almost Rs. 5,370 crore ($706 million USD) in a smartphone manufacturing plant in Uttar Pradesh which will potentially create 1,300 jobs. It is also one of 22 companies that have committed 110 billion rupees ($1.5 billion USD) in cell phone sector production in India. In fact, South Korean Ambassador to India Shin Bong-kil highlighted that Korean conglomerates were increasingly viewing India as a potential site for a second headquarters and many more small- and medium-sized enterprises (SMEs) were looking to expand to the Indian market.
Towards Digital Collaboration
The digital sector can also serve as an excellent area for cooperation between the two Asian democracies. Seoul has previously expressed interest in partnering with New Delhi in the digital sector, and Korea has already established itself as a global leader in information and communication technology (ICT). With the digital aspect of the K-New Deal, it seeks to further cement its data, 5G network and artificial intelligence (AI) infrastructure and create a digitally powered society with an investment of 58.2 trillion won (or $48.6 billion USD) in cutting-edge technology development. India's initiatives like "Digital India" and "Smart Cities Mission" also look at establishing and upgrading digital infrastructure in the country's rural and disadvantaged regions. Cooperation can be advanced by boosting these flagship initiatives in areas like digital economy and 5G, smart cities and green innovation.
Deepening Infrastructure Cooperation
Seoul has been increasingly exploring ways to increase its infrastructure development in the Indo-Pacific region, where connectivity can facilitate cooperative development and aid projects. There are opportunities for India and the ROK, for example, to launch new infrastructural connectivity projects, such as the joint improvement of waterways, shipbuilding and smart transportation, along with maritime safety and security projects like the blue economy and renewable energy. Making more extensive use of platforms such as the ASEAN Connectivity Coordinating Committee (ACCC) can help further cooperation by merging initiatives of both countries for mutual benefits—for example, by turning the India-Myanmar-Thailand Trilateral Highway and the Kaladan Multi-Modal Project under the ACCC into trilateral ventures between ASEAN, India and South Korea.
Expanded Defense Collaboration
India and South Korea have conducted joint drills in the South China Sea and Indian Ocean maritime regions to improve the security of sea lines of communication. Last July, India's Defense Minister Rajnath Singh and the ROK's Minister of National Defense Jeong Kyeong-Doo declared their joint commitment to boost defense industrial and technology cooperation. Artificial intelligence-enabled military technology, in particular, offers promising opportunities for such collaboration. India is the second-largest buyer of weapons from the ROK; its importance to the South Korean defense industry was highlighted by the 10 firms that were represented at the Indian Ministry of Defense's DefExpo 2020. As India grows, it is likely to purchase large quantities of equipment from Korean companies: It has already inducted Hanwha's K9 Vajra-T, a self-propelled howitzer, in the Indian Army, 80 percent of which is manufactured in India. Companies such as Hanwha and KIA are reportedly looking to expand collaboration. Defense equipment supply chains can emerge as a key area for both states to reinvigorate their trade and security ties. The 2019 military logistics agreement between them was a step in the right direction.
An India-ROK Green New Deal?
Ecologically sustainable growth is quickly becoming a priority for India, which suffers the most economic losses in the world due to climate change. Recent studies suggest that climate change has stunted India's economic growth by 31 percent over a 50-year period (1961-2010) and may further wipe out 10 percent of its income by the end of the century. This will impact India's security environment as well. There are opportunities for expanding India-ROK cooperation in establishing green economies. The K-New Deal highlights advancing technologies for a green transition in key sectors. This includes plans to manufacture 1.13 million electric cars and create 230,000 energy-saving homes amidst an overall aim of shifting to 35 percent renewable energy by 2040. India could not only offer a major market for these products but also potentially provide manufacturing sites as the sector expands. Moreover, there is considerable room for both countries to devise synchronized strategies, share knowledge and build capacity for reducing greenhouse gas emission and boosting sustainable production.
Conclusion
Amidst changing political dynamics in Asia, India and South Korea are looking to carve out a greater role for themselves in establishing peace and security in the region. As South Korea expands its horizons beyond the Korean Peninsula and explores additional avenues for greater involvement within the Indo-Pacific region, India has the potential to emerge as a critical democratic partner.