Thousands of New Dwellings Declared Complete in Samjiyon
According to North Korean state media on November 14, thousands of people moved into newly built dwellings in the villages around the edge of Samjiyon City. Commercial satellite imagery of the Samjiyon region from November is consistent with this reporting, showing hundreds of new houses and apartment buildings completed in at least 11 villages around the city.
Construction of this housing has been ongoing throughout the year, despite COVID-19 anti-epidemic measures, as part of the third stage of North Korea's multi-year project to renew the Samjiyon region. It is unclear how much remains to fulfill the master plan for the region, although it appears several more houses are planned.
Figure 1. A signboard shows an illustration of Sinmuson-dong that includes several houses that are yet to be constructed (highlighted in yellow).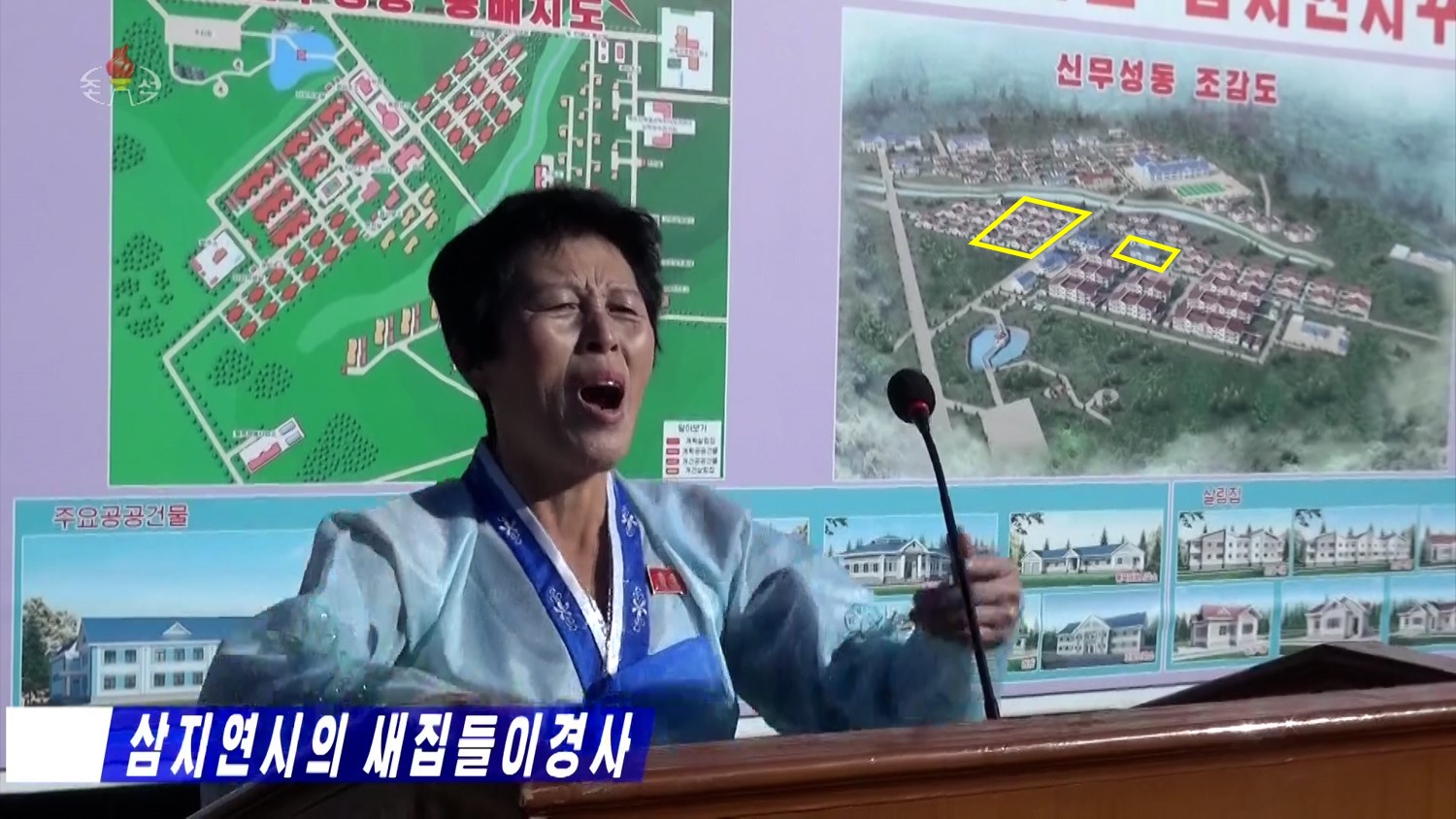 Background
The Samjiyon region in Ryanggang Province is in a remote part of the country that borders China, but is ideologically important as the home of Mt. Paektu (Paektusan), the mythical birthplace of the Korean people.
Work to renew the area began in 2013 after a visit by Kim Jong Un, first with a new railway line and electricity grid and then with the renewal of Samjiyon. The opening of the renovated Samjiyon City was one of Kim Jong Un's last official duties of 2019, during which he upgraded it to city status and declared it a socialist "utopia."
New Housing Areas
Satellite imagery indicates that as of November, housing projects in the following villages appear complete: Paektusanmilyong-dong, Sinmusong-dong, Rimyongsu-dong, Phothae-dong, Poso-ri, Hunggyesu-ri, Junghung-ri, Ohomuldong-dong, Sobaeksan-ri, Paeksam-ri and Thongsin-ri.
Figure 2. Overview of housing projects in the Samjiyon region.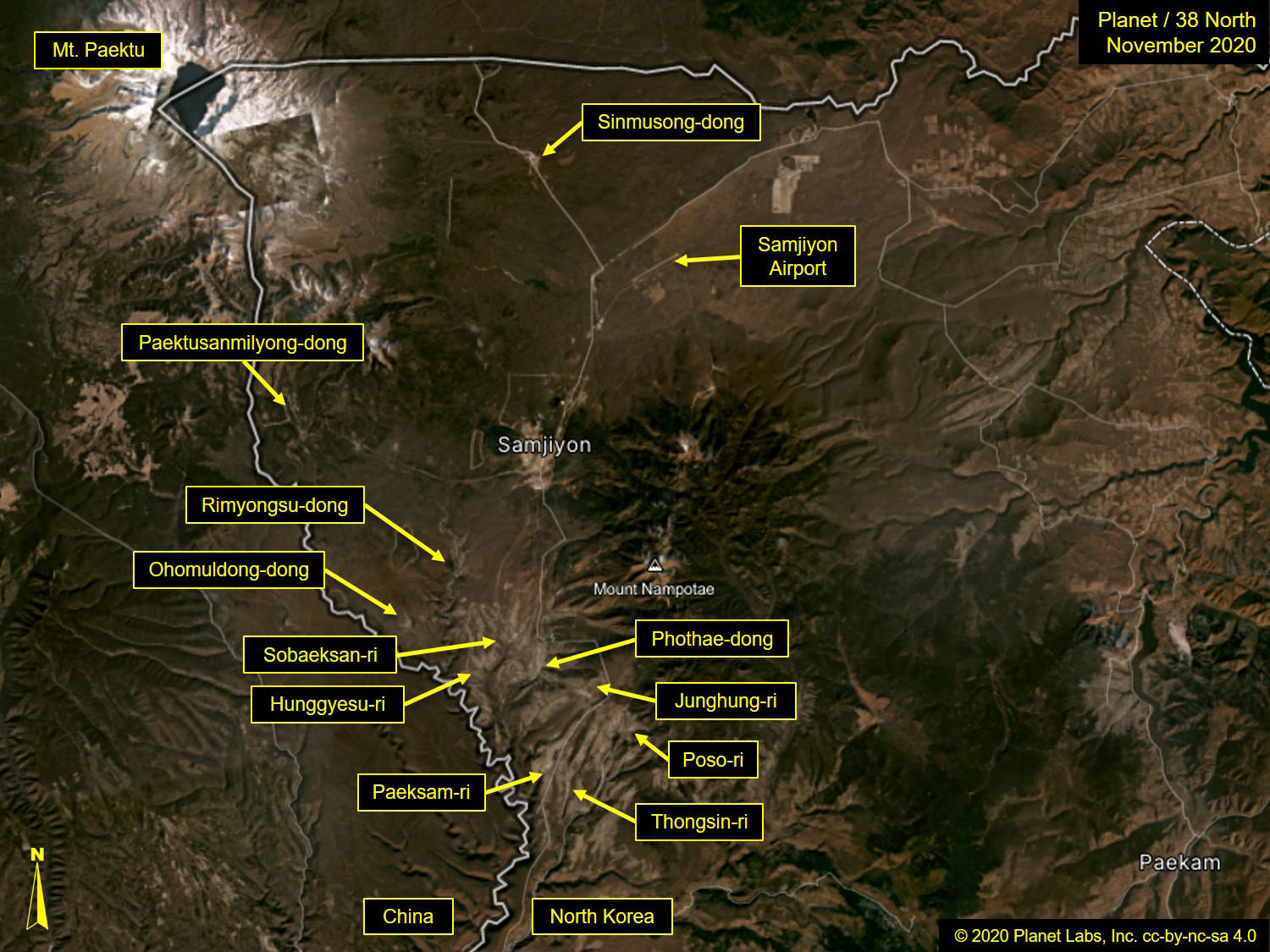 Among the villages, several were featured in coverage on Korean Central Television (KCTV) on November 14. The TV images provide a glimpse at the finished buildings and, in some cases, large new housing projects that include scores of houses and other buildings.
Sinmusong-dong
One of the largest renewal efforts took place in Sinmusong-dong, which is about halfway on the road from Samjiyon City to Mt. Paektu. The center of the village was gutted beginning in November 2019, and single-story homes were replaced with two-story apartment buildings built during 2020.
In addition, a new park and children's play area were developed alongside a group of apartment buildings near the center of the town, and what appears to be a cellular telephone mast was installed on the edge of the town near the road to Mt Paektu.
Figure 3. New buildings, houses, apartments and a park constructed in Sinmusong-dong.
Note: Hover over slideshow and click on left/right arrows to navigate.
Paektusanmilyong-dong
Two new housing areas have been erected in what was once a forested area in Paektusanmilyong-dong, a small community near the foot of Mt. Paektu. The two-, three- and four-story buildings likely include several apartments on each floor.
Figure 4. New apartments built in Paektusanmilyong-dong.
Note: Hover over slideshow and click on left/right arrows to navigate.
Rimyongsu-dong
A number of three- and four-story apartment buildings have been constructed in the center of this small town on the Rimyong River.
Figure 5. Apartments constructed in new housing areas, Rimyongsu-dong.
Note: Hover over slideshow and click on left/right arrows to navigate.
Phothae-dong
The majority of the center of Phothae has been redeveloped with a number of low-rise apartment buildings. This has the effect of substantially increasing the number of people who can live in the center of the town. KCTV images show most were four-story buildings.
Figure 6. Phothae's redeveloped town center.
Note: Hover over slideshow and click on left/right arrows to navigate.
Junghung-ri
The work at Junghung-ri has significantly expanded its center and led to the creation of a new community, including several scores of houses on a hillside above the village. The community includes single and two-story housing units, several community buildings and a monument.
Figure 7. New housing areas constructed in Junghung-ri.
Note: Hover over slideshow and click on left/right arrows to navigate.