Samjiyon Construction Spreads to Several Towns Across the Region
Recent commercial satellite imagery indicates that stage three of North Korea's project to redevelop the Samjiyon area is well underway. Despite its relatively small population, Samjiyon County has always played an outsize role in North Korean propaganda as it is home to Mt. Paektu (Paektusan), the mythical birthplace of the Korean nation.
The redevelopment project began in 2013, after a visit by Kim Jong Un when he outlined a wish for significant infrastructure upgrades to the remote but ideologically important province. Stage one started in 2015 with a railway line extension and electricity grid upgrade. Stage two carried out a complete renewal of Samjiyon Township and was mostly complete by the end of 2019, when Samjiyon County was officially upgraded to city status, and declared a "socialist utopia." Now in stage three, construction is focused on building up the surrounding areas including Rimyongsu, Phothae and Sinmusong.
Figure 1. Overview of Samjiyon area.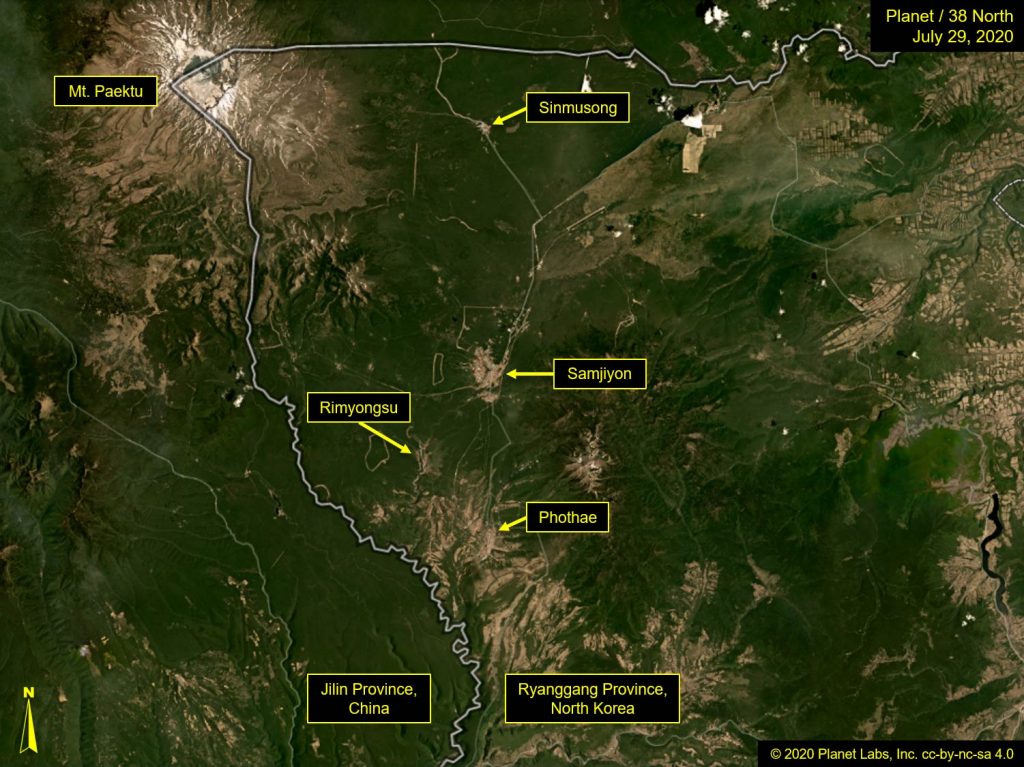 Sinmusong is a small village along the road from Samjiyon to Mt. Paektu. Imagery from July 14 shows that several new buildings have been constructed and improvements are being made to the roadway. At the center of the village, about 30 houses were demolished to make way for what appear to be multi-unit apartment buildings.
A garden has been built behind the new apartment buildings. A concrete pad sits at the rear of the garden, likely for a future statue or monument.
Numerous other buildings have been constructed around the edge of the village. Some of them appear to be support buildings for the construction and workers' housing. If the state is making Sinmusong into more of a destination or stopping point on the way to Mt. Paektu, some might be tourist facilities, although not on the scale of other tourism projects like the Wonsan-Kalma Beach Resort.
Figure 2. Substantial construction at Sinmusong.
Image before © 2020 Planet Labs, Inc. cc-by-nc-sa 4.0. Image after Pleiades © CNES 2020, Distribution Airbus DS. For media options, please contact [email protected].
On May 7, North Korean state media reported on the progress of stage three, mentioning Rimyongsu and Phothae specifically, and said, "frames of hundreds of dwelling houses, public buildings, all kinds of facilities have been built and interior plastering of tens of thousands of square meters completed by the end of April."
High-resolution images of the two villages are not available but medium-resolution images show several large buildings have been constructed in each village so far this year.
Phothae has undergone a transformation on the same scale as Samjiyon: Most of the city has been rebuilt except for a few houses around the edge of the town. In Rimyongsu, several large buildings have appeared in the center of the town.
Figure 3. Phothae largely rebuilt within the past year.
Images © 2020 Planet Labs, Inc. cc-by-nc-sa 4.0. For media licensing options, please contact [email protected].
Figure 4. Several new buildings constructed in Rimyongsu.
Image © 2020 Planet Labs, Inc. cc-by-nc-sa 4.0. For media licensing options, please contact [email protected].
Redevelopment is also underway in several other towns and villages in the Samjiyon area including Hunggyesu, Paeksam, Thongsin, Poso, Junghung, Sobaeksan and Paektusan Milyong.
The observations from satellite imagery reinforce state media reports that said the redevelopment project would involve the construction of "more than 750 structures in 10-odd districts and farms of the city," with an "official" explaining the project should be finished within the year. A KCNA report in February said several hundred kilometers of electricity distribution lines are also being added and tens of kilometers of roadway is being paved.
Despite the December opening of central Samjiyon, some final construction work continues there. On the west edge of the town, two hotels close to the speed skating center are still under construction. Trucks are visible around the sites and paving to the hotels is yet to be built.
Figure 5. Hotel construction ongoing at Samjiyon.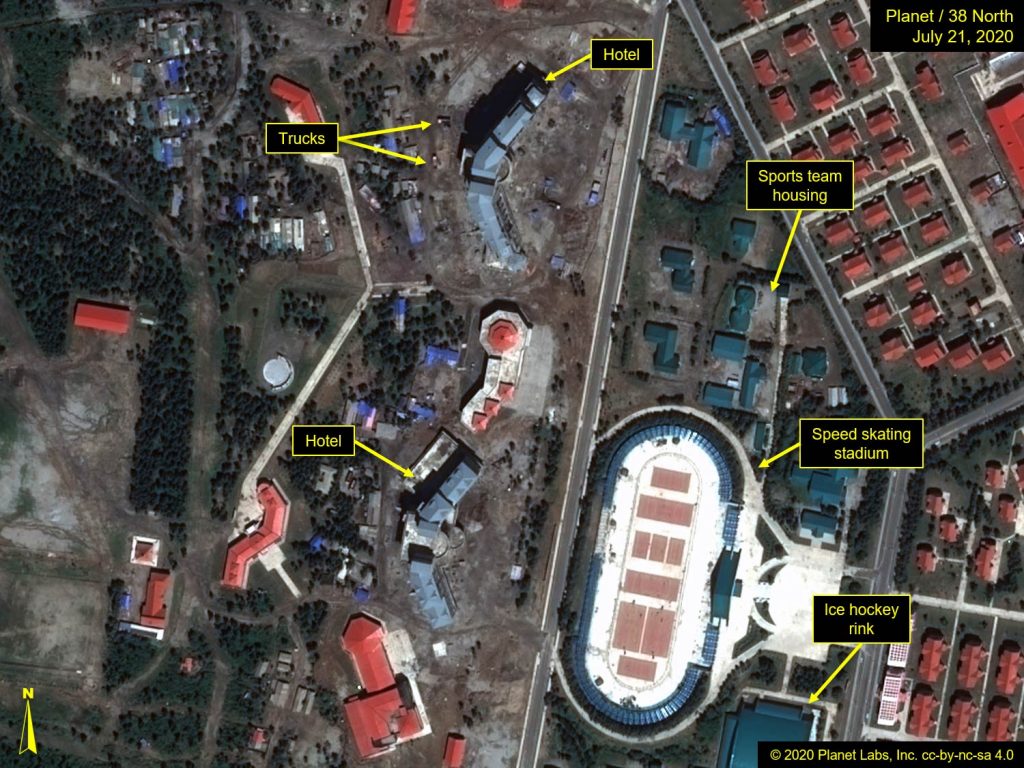 Original plans for the project showed a horse riding center was planned for a site adjacent to the new hotels. It appears that won't be happening as another building stands in its place.
Figure 6. Building stands in place of originally planned horse riding center.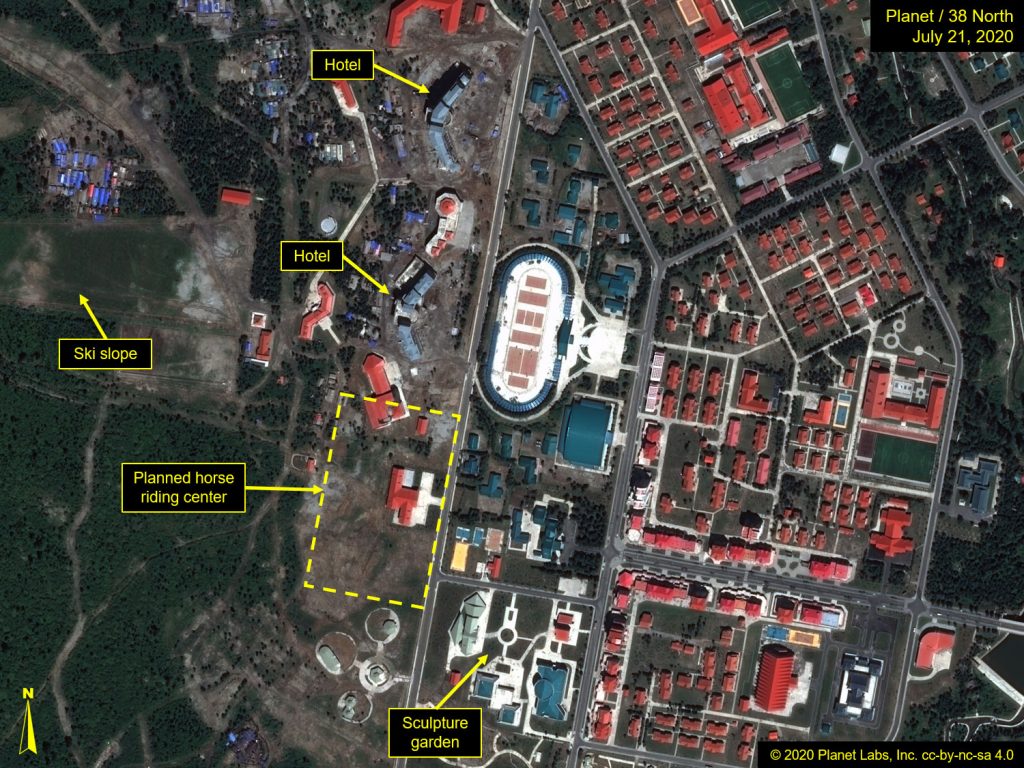 The construction at Samjiyon stands in contrast to another large-scale construction project, the Wonsan-Kalma Beach Resort. Imagery of Wonsan has shown that construction has essentially been stalled for several months now, with no signs of when it might resume. The deadline for that project has already been delayed three times and there is no sense of when a new target date may be set for its completion.