North Korea's Ever-Expanding Red-Light Camera and Traffic Light Network
Commercial satellite imagery indicates that a network of traffic cameras that first appeared in 2014 has continued to expand and now covers most major intersections in central Pyongyang and some in other cities.
The cameras can be observed at intersections that are controlled by traffic lights, and their purpose appears to be catching drivers who ignore red lights. They are mounted on gantries above the road approximately 25 meters before the stop line at each intersection and face the direction of travel, imaging the rear of vehicles.
Figure 1. Modern intersection layout in Pyongyang with traffic cameras ahead of the junction and horizontally mounted traffic lights.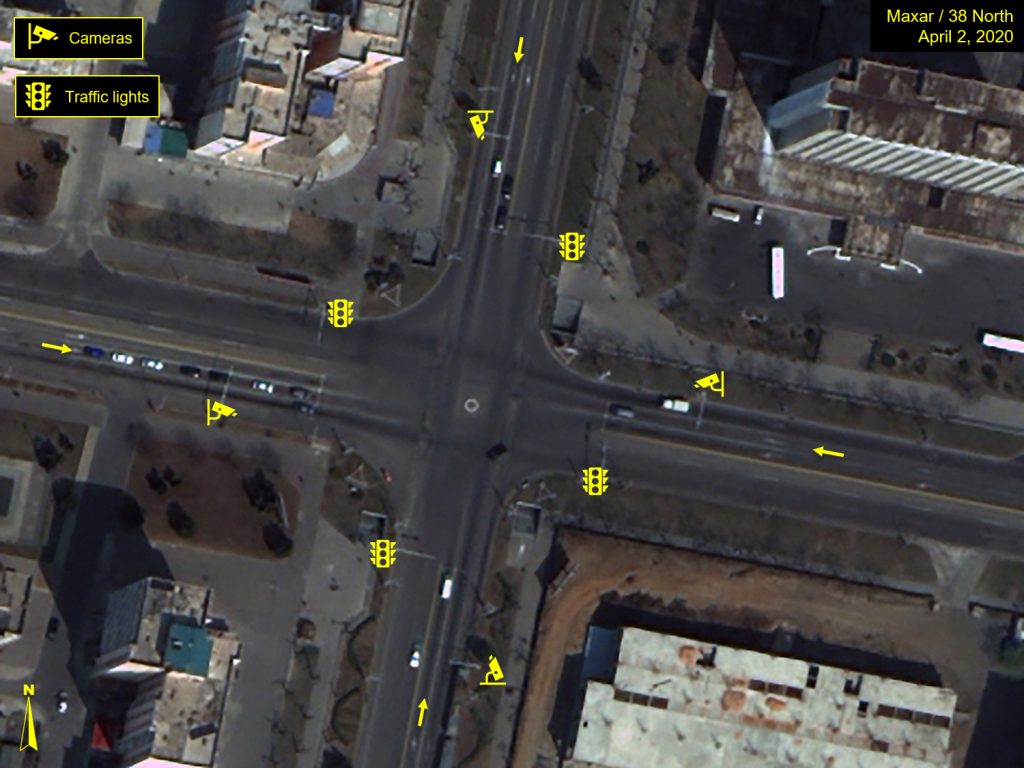 Alongside the cameras are strobe lights that flash to provide the illumination needed to get a good image during all kinds of weather and at day and night. Additional devices that appear to be radar detectors are also installed at some intersections. These might be used to judge the speed of vehicles or their location.
Figure 2. Cameras outside the April 25 House of Culture photographed on May 27, 2016.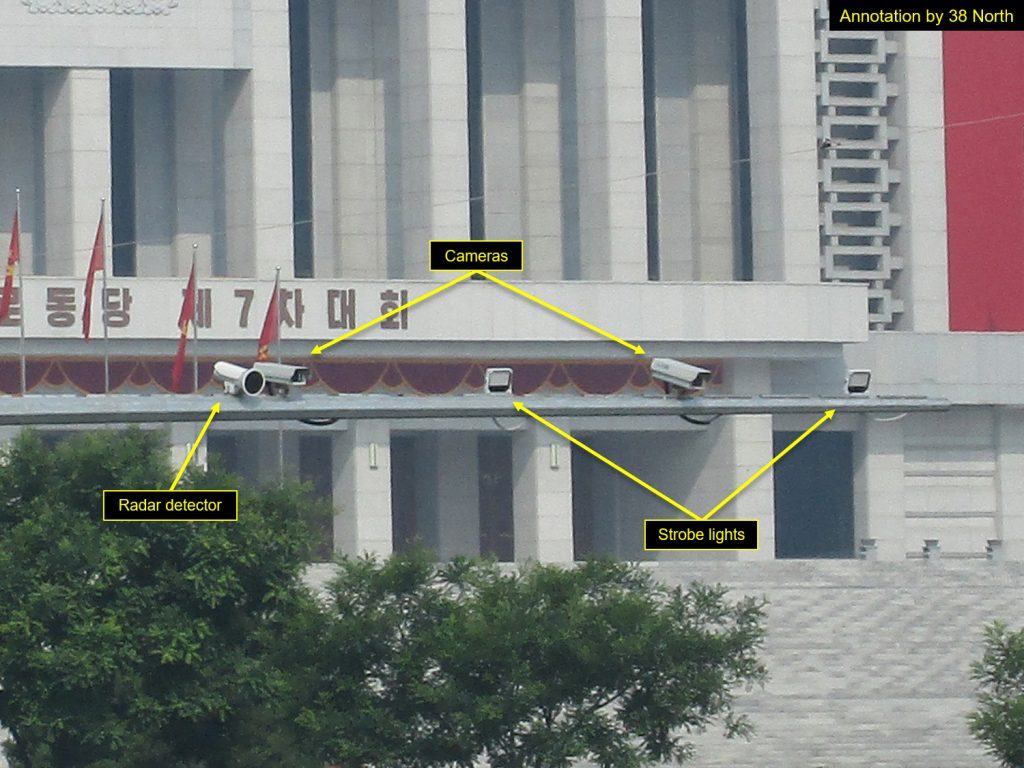 Both the hardware and their placement at intersections controlled by traffic lights indicate their red-light function. While broader vehicle tracking or surveillance purposes cannot be ruled out, such a network would likely have cameras also installed at roundabouts and on main routes in and out of the city center. That does not appear to be the case at present.
Growth
The cameras can be first observed on satellite imagery of Pyongyang from 2014 at five intersections in the vicinity of Kim Il Sung Square. In 2016, another intersection near Kim Il Sung Square was added along with five intersections on the northern side of the city. These cameras can be verified in a YouTube video published by Singaporean blogger Aram Pan and reported by NK News at the time.
Figure 3. The traffic camera network across Pyongyang as of late 2020.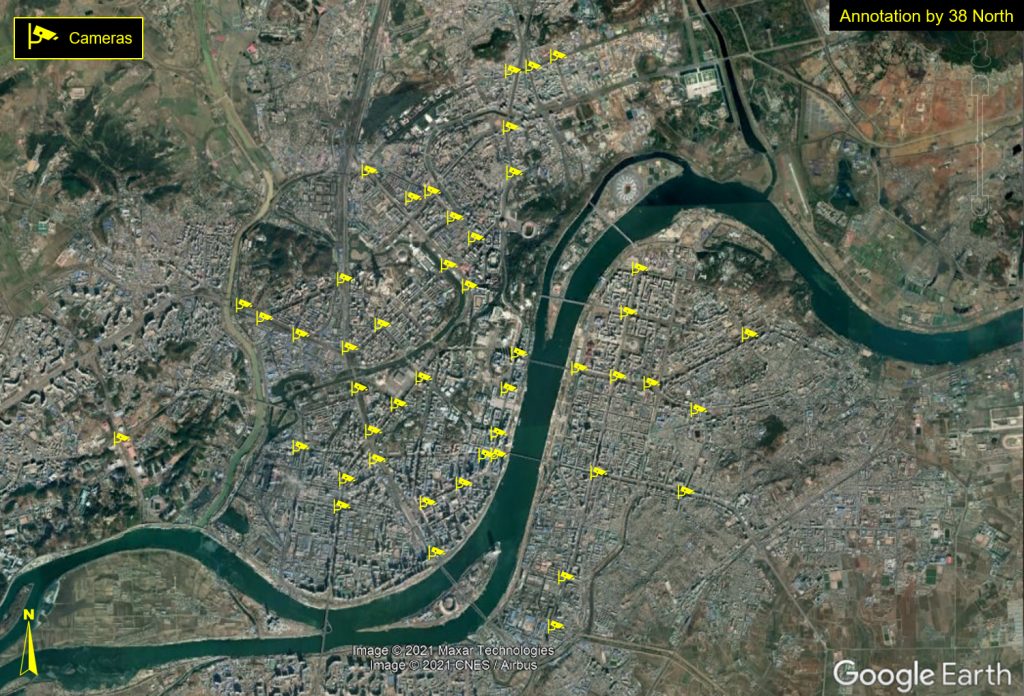 In total, 46 intersections in Pyongyang now have these cameras.
Figure 4. A camera and strobe mounted above a road in Pyongyang, shown on Korean Central Television (KCTV) on July 13, 2020.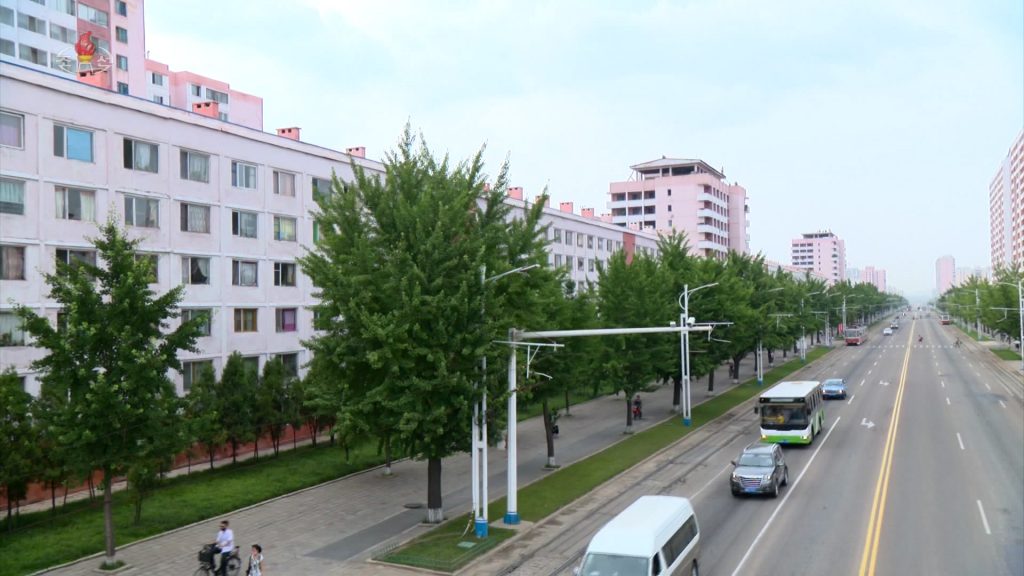 Traffic Lights
Their appearance at intersections has gone hand-in-hand with a steady expansion of traffic lights in Pyongyang and the gradual removal of the so-called traffic ladies that directed traffic from a raised platform in the center of the intersection.
At most intersections with cameras, new-style traffic lights are being used that are mounted horizontally over the road rather than vertically at the side of the road.
Figure 5. Horizontally-mounted traffic lights in Pyongyang seen on Korean Central Television on February 4, 2021.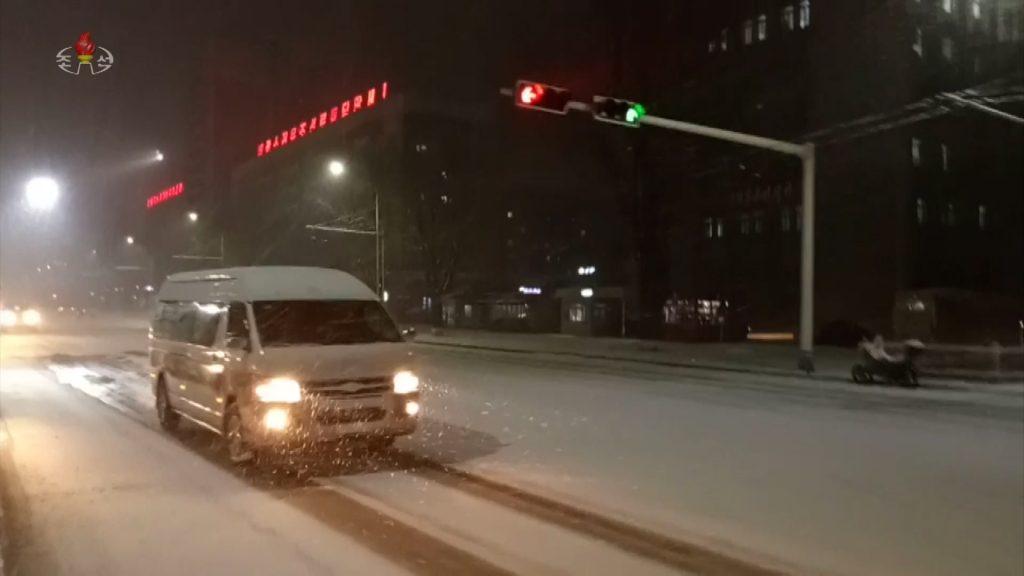 Beyond Pyongyang
Outside of Pyongyang, most of the busiest intersections are regulated with roundabouts. Although there are few that are busy enough to demand traffic lights, these cameras are appearing along with new traffic lights in the provinces anyway.
North Korea's second-largest city, Hamhung, got them at a single intersection a kilometer from the main railway station in 2019. A set of cameras and traffic lights appeared at an intersection in Chongjin in 2017, and a second set was installed in that city in 2020.
They were also installed at three intersections in Pyongsong in 2018 and this year at intersections in Nampo and Sinuiju as well. A Korean Central Television report on road improvements in Sinuiju from September 2020 captures the support before the cameras were installed.
Figure 6. A support for traffic cameras can be seen in this Korean Central Television video from September 2020.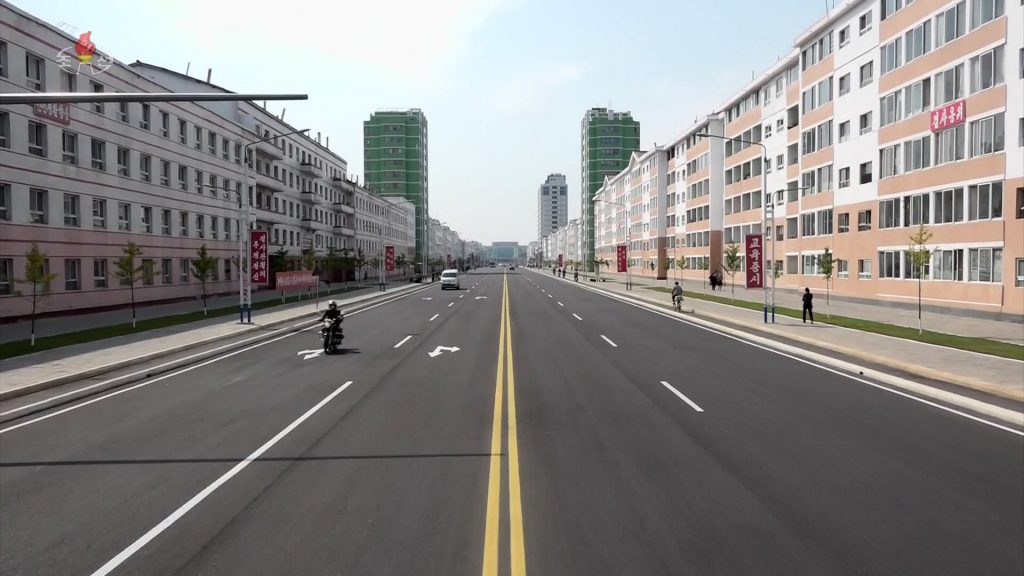 The cameras have also been installed in the recently renovated city of Samjiyon and are visible on both satellite imagery and television pictures. In Samjiyon, the cameras and traffic lights have been installed on a single support.
Figure 7. A traffic camera and traffic light installed in Samjiyon seen on Korean Central Television images from June 2020.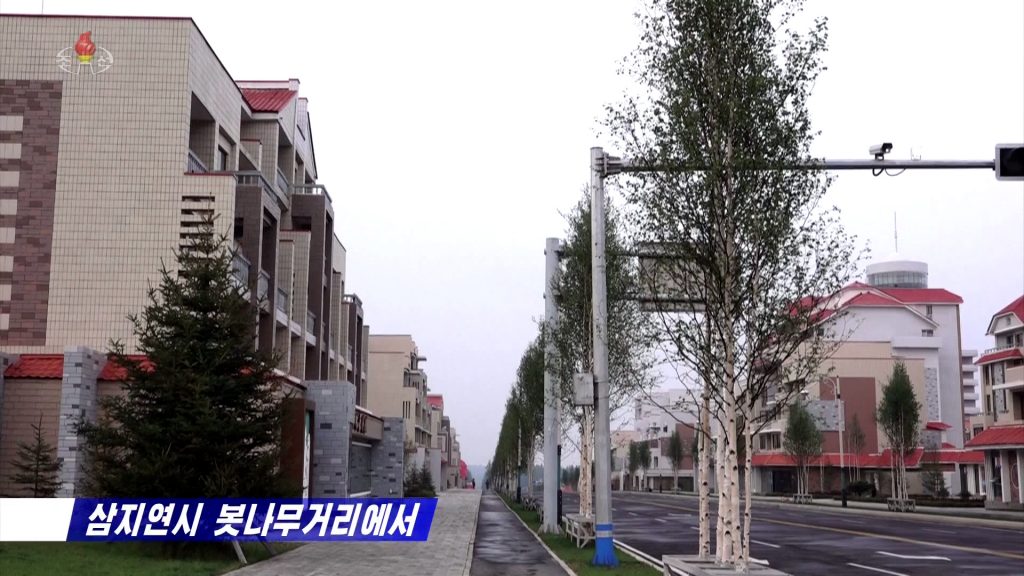 Figure 8. Overview of intersection with traffic cameras in Samjiyon.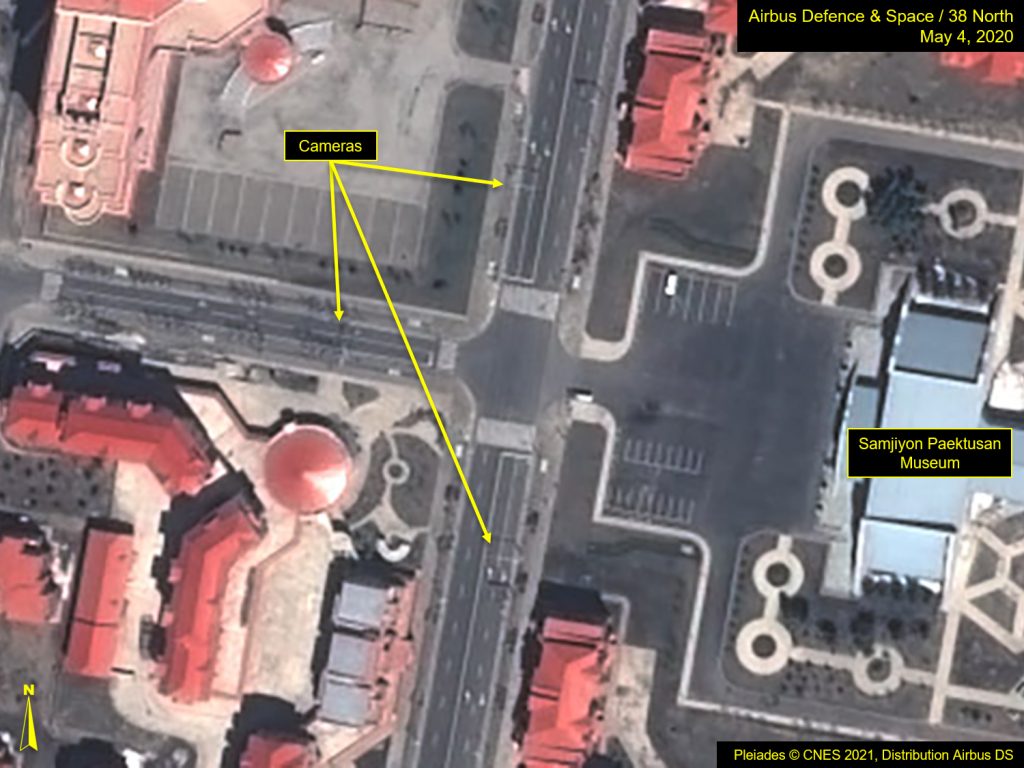 The expansion and upgrading of the traffic light network point to increasingly busy roads in Pyongyang and the need to regulate traffic and enforce rules. Foreign residents of the capital city have spoken about the increased road traffic over the past several years, which can also be observed via commercial satellite imagery and video footage. This trend now appears to be spreading into other provinces. While cities such as Hamhung, Sinuiju and Nampho aren't as busy as Pyongyang, traffic volumes seem to be rising throughout the nation. At least for now, the system doesn't appear to be an extra level of surveillance on citizens, but this trend should be monitored in the future.