Remembering Michael Elleman
Like many of our colleagues, we were shocked and deeply saddened when we heard about the passing of our good friend and colleague, Michael Elleman, on February 20, 2021. With so much hardship and loss over the past year, this news has hit hard for those of us at 38 North.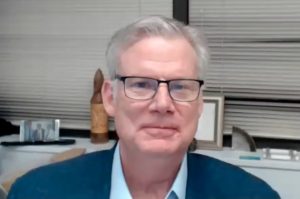 Our collaboration with Mike started in 2014, when he participated in our working group to assess North Korea's nuclear and missile capabilities and how they might progress over the next five years. It turned out to be great timing because shortly after that, North Korea started ramping up its missile testing, which over the next few years felt like a weekly affair (especially Friday nights). At the height of North Korea's missile tests, Mike spent many odd hours working with 38 North staff to assess the key takeaways of each launch, no matter how small the development or how much disregard the North Koreans showed for our schedules here in Washington.
Mike's credentials spoke for themselves. Just look at Mark Fitzpatrick's warm tribute. His two decades at Lockheed Martin Research and Development Laboratories, his research work at Stanford University's Center for International Security and Arms Control, his on-the-ground experience managing inspections of Iraq's missile infrastructure under the United Nations Monitoring, Verification and Inspection Commission, his comprehensive threat reduction work at Booz Allen Hamilton and of course, his impressive body of research and leadership at the International Institute for Strategic Studies. Mike was a true expert who infused our work with informed, practical and thoughtful analysis on North Korea's missile program development.
"Mike brought a sound technology and engineering basis to open-source analysis of North Korea missile issues that all too often was characterized by hyperbole and worst-case analysis, all too often performed by people with limited technical expertise," recalls Vann Van Diepen, former Principal Deputy Assistant Secretary of State for International Security and Nonproliferation and frequent 38 North contributor. "At the same time, Mike was open to differing analyses (including mine on occasion) and always conducted himself in an open and friendly manner that promoted coming out with better answers to hard questions."
As others have noted, Mike possessed the rare combination of superior technical knowledge and the humility to be willing to explain his work with enthusiasm for discussion and debate. While he was firm in his convictions, he was fully prepared to discuss them with his peers and respectfully listen to their arguments and assessments, knowing that limited photographic and video footage of missile systems and tests can leave much room for interpretation.
Working with Mike over the past six years was a pleasure. There were always multiple demands for his time, but he made time for us as much as North Korean actions required. And even at times when I had to urge him to write faster, which happened now and then, our conversations would end with a chuckle and promise to get drinks soon. Though he often boasted about his love of wine, we'd usually end up at some local dive bar drinking vodka, catching up about North Korea, his beloved son Nikita and the latest craziness of DC life.
I fondly remember one year at the Armed Forces Day reception at the South Korean Ambassador's residence, Mike and I were talking with a young professional in the tech industry who had no affiliation with the policy world or the work that we do on North Korea. In response to a question from this individual about how he built that kind of expertise, Mike quickly noted, "It's just rocket science, that's easy. Policy, now that's hard."
That was Mike. No ego. Just a pure, genuine love of science and an openness to engage with anyone willing to learn, no matter how much or little they knew about the topic.
Mike's knowledge, experience and friendship will be greatly missed by all of us at 38 North, and we are honored to have been even a small part of his incredible legacy.