Return of the Foreign Ministry: Choe Son Hui's Message to the US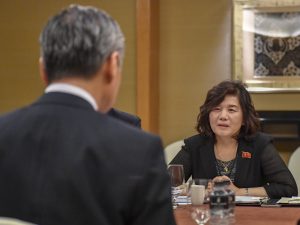 Following Kim Yo Jong's March 16 statement, which had signaled the door was open for US-DPRK engagement at some point, First Vice Foreign Minister Choe Son Hui issued a statement on March 18 focusing on the current state of US-DPRK relations.[1] Given that there has been nothing from the Foreign Ministry on relations with the US since July 2020, Choe's comments suggests, first and foremost, that the Foreign Ministry is preparing to become the channel for interaction with Washington once again.
As usual, Choe's statement is laden with eye-catching but vaguely worded threats. More important are the numerous formulations, all carefully drawn, that signal North Korea is still in wait-and-see mode, jaundiced but still not really closing the door. In short, the statement signals that Pyongyang is giving itself—and Washington—room to maneuver. The key formulations are laden with qualifiers that reinforce that point. A few examples that indicate the game is only beginning include (note in all case, emphasis is added):
"We have already declared our stand that no DPRK-U.S. contact and dialogue of any kind can be possible unless the U.S. rolls back its hostile policy towards the DPRK. Therefore, we will disregard such an attempt of the U.S. in the future, too."
"In order for a dialogue to be made, an atmosphere for both parties to exchange words on an equal basis must be created."
"The U.S. State secretary during his visit to Japan spoke loudly of various pressurizing means and some stubborn means, claiming they are all now under reexamination, only to seriously rattle us." (Note: being "rattled" is not the same as being threatened.)
"It seems the U.S. has not yet dropped the habit of doggedly faulting the DPRK…If the U.S. wants so much to sit even once with us face to face, it has to drop its bad habit and adopt a proper stand from the beginning."
"We will keep tabs on all the ill deeds the new regime in the U.S. is engrossed in."
"It will only be a waste of time to sit with the U.S. as it is not ready to feel and accept new change and new times."
(Literally the bottom line) "We already clarified that we will counter the U.S. on the principle of power for power and goodwill for goodwill."[2]
It should be noted that there are no references in Choe's statement that are directed personally to either President Biden or the "Biden administration." This is typically a good sign that the North is holding off from major policy decisions toward a new US administration.
Choe's statement does include a packet of complaints about comments by US officials and US government actions over the past couple of months. None of that, however, is surprising. All it tells us is that, in typical North Korean fashion, Pyongyang has been keeping track and collecting a bulging file, just waiting for the right moment to make known its complaints.
However, while the door to diplomacy seems to be still open, it does not mean it will stay that way or that a return to negotiations is guaranteed. The administration's moves in the coming weeks and months will be watched closely and examined for opportunities to achieve different outcomes. The messages coming from Secretary of State Antony Blinken and Secretary of Defense Lloyd Austin in recent days may be nudging that door shut.
---
[1]

"Statement of First Vice Foreign Minister of DPRK," KCNA, March 18, 2021.

[2]
---