The North Korean-Syrian Partnership: Bright Prospects Ahead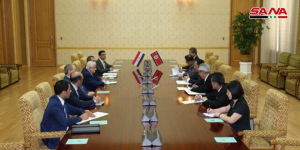 As the Syrian civil war passes its tenth anniversary, President Bashar al-Assad is seeking to escape international isolation and preserve Damascus's wartime partnerships. While Syria is primarily focused on returning to the Arab League and courting reconstruction investments from China, Russia and Iran, it also wishes to preserve its historic relationship with North Korea. Under Kim Jong Un's leadership, the Democratic People's Republic of Korea (DPRK) has consistently defended Assad from international criticism, provided military assistance to the Syrian Arab Army and supplied Syria with missile and chemical weapons technology. These displays of solidarity ensure that the Syria-North Korea partnership will continue to strengthen as the Syrian civil war transitions into its reconstruction phase.
North Korea's Diplomatic Support for Syria
The Syria-North Korea partnership originated during the Cold War, when North Korean fighter pilots aided the Syrian Air Force during its 1967 and 1973 wars with Israel, and strengthened after Bashar al-Assad became president of Syria in 2000. North Korea's flagship 5 megawatt reactor at its Yongbyon nuclear center, which produces fissile material for its nuclear weapons, served as a template for Syria's Al-Kibar nuclear reactor outside of Deir ez-Zor. The Al-Kibar site possessed an "identical configuration" to Yongbyon and included "the same number of holes for fuel rods" as the North Korean plant. Israel's September 2007 strike on the Al-Kibar allegedly resulted in the deaths of ten North Korean nuclear scientists who assisted in the nuclear reactor's construction.
This diplomatic partnership has endured and thrived throughout Syria's decade-long civil war. In 2012, Kim Jong Un praised Assad's defense of Syria's sovereignty. North Korean election observers certified Assad's victory in Syria's June 2014 presidential election and Kim was among the first world leaders to congratulate Assad on his win. North Korean media outlets have also defended Assad against allegations of chemical weapons use and condemned US military activities in Syria. The Pyongyang Times described the 2017 US missile strikes on Syria's Shayrat airbase as a "sordid plot of the current US administration to overthrow the Assad government."[1] Syria has reciprocated North Korea's solidarity with Damascus. In August 2015, Syria inaugurated a 9,000-square-meter park honoring Kim Il Sung in southwestern Damascus. In June 2018, the Korean Central News Agency (KCNA) reported that Bashar al-Assad wished to visit Pyongyang and praised the "outstanding political caliber and wise leadership" of Kim Jong Un.
In return for North Korea's loyal support for the Assad regime, Syria continues to defy United Nations (UN) sanctions against the DPRK. In June 2019, Syria and North Korea's foreign ministries signed a memorandum of understanding (MOU) to bolster bilateral economic relations and coordinate their resistance to international sanctions. Syria's refusal to comply with UN sanctions against North Korea reflects the enduring strength of its partnership with the DPRK. In August 2020, a UN Panel of Experts report revealed that at least 800 North Korean military personnel and laborers arrived in Syria in the second half of 2019. Some of these workers were likely destined for the construction sector in response to an unnamed Syrian construction company's request in October 2019 for at least 800 North Korean workers. The admission of these workers violated UN sanctions, which mandated the repatriation of all North Korean overseas workers by December 22, 2019 and banned countries from accepting North Korea's military-technical assistance.
North Korea's Military Support for Assad During the Syrian Civil War
Beyond its rhetorical support for Assad's regime, North Korea has been credibly accused of providing military support to the Syrian Armed Forces, supplying ballistic missiles to Syria and aiding the country's illicit chemical weapons program. While the extent of the North's military role in Syria is unclear, reports of North Korean military involvement in Syria have circulated since 2013. There is anecdotal evidence that DPRK military advisors aided the Syrian Arab Army's May 2013 offensive on Al-Qusayr, which resulted in a decisive victory for Assad's forces. In 2013, Burhan Ghalioun, the former president of the Syrian National Council, alleged that North Korean pilots were fighting in the Syrian Air Force. The North Korean Foreign Ministry denounced these accusations as part of a "foolish plot" to discredit the DPRK and emphasized the North's support for a political resolution of the Syrian civil war.
With the exception of reports about the Islamic State (ISIS) seizing North Korean man-portable air defense systems (MANPADS) in Ksesh in August 2014, new information about the DPRK's involvement in the Syrian civil war dissipated from 2013 to 2016. In March 2016, the Saudi-aligned High Negotiations Committee of the Syrian opposition informed an international delegation in Geneva that two North Korean units, Chalma-1 and Chalma-7, were present in Syria. Chalma-1 was reportedly deployed to Jobar, a neighborhood in Damascus, and actively took part in combat missions. Chalma-7's responsibilities were more ambiguous. Reports also circulated of a Korean battalion in Syria ranging from 300 to 3,000 personnel. North Korean military personnel were allegedly deployed to Jabal Qasioun, which is located on the outskirts of Damascus, and DPRK officers participated alongside Syrian Arab Army forces in the battle of Aleppo. Syria's recruitment of North Korean military support against domestic unrest may have had its roots in the participation of Korean People's Army (KPA) personnel in the 1982 crackdown in Hama and the Arabic-language training afforded to select North Korean officers.
North Korea's Ballistic Missile and Chemical Weapons Assistance to Syria
Throughout the Syrian civil war, Pyongyang has supplied Damascus with missile technology. In September 2017, the UN singled out Syria in a report documenting how North Korean nationals facilitated the prohibited trade of surface-to-air missile systems in the Middle East and Africa. A February 2018 UN report listed Syria and Myanmar as two major destinations of North Korean missile technology. The relationship between North Korean missile suppliers and the Syrian Arab Army dates back to the Cold War. In 1991 and 1992, North Korea delivered 24 Scud-C and 20 mobile launchers to Syria. North Korean arms brokers have also supplied Syria with graphite, specialty steel and nozzle throats. These parts allow Syria to indigenously produce short-range and medium-range ballistic missiles. The Korea Mining Development Trading Corporation (KOMID), which saw two of its representatives in Syria blacklisted by the UN Security Council in 2016, has been Pyongyang's most consistent missile supplier to Damascus over the past few decades.
North Korea's missile shipments to Syria are also intertwined with its support for Damascus's chemical weapons (CW) program. In May 2005, Syria test fired a Scud-B and two Scud-D missiles in order to ascertain how North Korean missile technology could deliver air-burst chemical weapons. This link between Damascus's purchases of missiles and CW has persisted throughout the Syrian civil war. From 2012 to 2017, North Korea shipped 40 batches of material for CW production, such as "acid-resistant tiles, valves and pipes." The Syrian Scientific Studies and Research Center, which operates Syria's chemical weapons program, has used North Korean industrial equipment to build new CW facilities. These allegations were strenuously denied by North Korea, which called it a "nonsensical argument," and Russian Foreign Minister Sergei Lavrov, who claimed not to know about the February 2018 UN report on North Korean CW assistance to Syria.[2]
Prospects for Future Cooperation
Looking ahead, three trends in Syria-North Korea relations are especially noteworthy. First, the Caesar Syria Civilian Protection Act sanctions, which restrict international investment in Syria's process, could open the door for North Korean participation in the country's rebuilding efforts. In May 2019, North Korean Vice Foreign Minister Pak Myong Guk visited Damascus to pledge Pyongyang's support for Syria's reconstruction and tighten Syria-North Korea bilateral cooperation against economic sanctions. In July 2019, Syrian Foreign Minister Walid al-Moallem claimed that North Korean workers could assist the "construction and redevelopment" of Syria. The June 2019 Syria-North Korea economic agreement and transfers of North Korean workers to Syria, which were reported throughout 2019, could result in reconstruction-related cooperation between Pyongyang and Damascus.
Second, Syria could facilitate North Korea's military cooperation with Iran and its proxies, such as Yemen's Houthi movement. According to a recent UN Panel of Experts report, North Korea transferred "critical parts" for Iran's long-range missile development in 2020. The Houthis possess North Korean-made Scuds, which are called Hwasong-6s, in their military arsenal. There is also evidence of Syria's willingness to act as a hub for engagement between North Korea and Iranian proxies. On July 13, 2016, a Houthi representative wrote a letter inviting North Koreans to visit Damascus in order to discuss the "transfer of technology and other matters of mutual interest." Hussein al-Ali, a Syrian arms trafficker, serves as North Korea's main interlocutor in its outreach to the Houthis; he has also brokered North Korean light weaponry transfers to Libya and Sudan, creating the potential for Syria to play a critical role in the proliferation of North Korean technology to non-state actors across the Middle East.
Third, North Korea could assist Syria's efforts to retaliate against Israeli airstrikes on Syrian territory. The Syria-North Korea partnership originated out of their shared opposition to Israel, and both countries are close allies of Hezbollah. North Korean engineers reportedly manage CW and missile plants in Hama, Adra and Barzah, three Syrian cities that Israel has targeted with airstrikes. In order to retaliate against Israeli airstrikes in Syria, North Korea could carry out cyberattacks on Israel, such as the August 2020 attack on the Israeli defense industry. North Korea could also revive its training program for Hezbollah operatives, which significantly improved the Lebanese armed group's ability to resist Israel during the 2006 Israel-Lebanon war.
Conclusion
In spite of crippling UN sanctions, the Syria-North Korea partnership remains robust. Since North Korea sees its relationship with Syria as a core pillar in its web of partnerships with anti-Western states, such as Cuba, Iran and Venezuela, high-level diplomatic exchanges between Pyongyang and Damascus are likely to resume once the COVID-19 pandemic subsides. US officials should keep a close eye on Syria-North Korea relations, as they seek to isolate Assad's embattled regime and limit the proliferation of ballistic missiles across the Middle East.
---
[1]

"Missile attack on Syria fuels face-off," The Pyongyang Times, May 6, 2017.

[2]

The English version of "U.S. Anti-DPRK Propaganda Slammed," KCNA, March 2, 2018, refers to it as a "preposterous fabrication."
---