The Challenges of South and North Korea Hosting the 2032 Olympics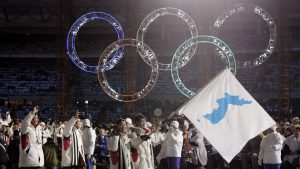 Historically, the Olympics have played an important role in inter-Korean dialogue, and majorities of South Koreans, according to polling data, support joint bids. Nonetheless, South and North Korea are likely to be frustrated again in their efforts to field combined teams because of political opposition in the South, problematic inter-Korean relations and reservations about the costs South Korea would have to bear to subsidize North Korean participation.
History
Earlier this month, South and North Korea submitted a joint bid to host the 2032 Summer Olympics, a plan initially agreed upon in 2018. This is not the first time the two countries have floated such an idea; they also talked about bidding to co-host the 2021 Asian Games. During the 2018 PyeongChang Winter Olympics, the two Koreas fielded a combined ice hockey team, and the North Korean pairs skaters were invited to the figure skating gala exhibition despite placing 13th in the competition. The Koreas even discussed joint Olympics teams for this summer's Games in Tokyo, including for basketball, field hockey, judo and rowing, prior to North Korea's decision to pull out due to COVID-19 concerns, dashing South Korean hopes of inter-Korean sports diplomacy.
The 2018 joint hockey team was controversial because several of the North Korean players were not as skilled as their southern counterparts, and both countries spent so much time training separately that combining skills at the last minute would be difficult. Many South Korean members of the Olympic team disagreed with the government's actions, arguing that a sporting event was inappropriate for diplomatic engagement. Additionally, the linguistic differences in the Korean spoken by each country's players undermined communication. These factors resulted in protests in Seoul and thousands of signatures on a petition advocating for separate teams. A jointly hosted Olympics, which to date has received little attention, may generate a similar public backlash in South Korea.
Challenges to a Joint Bid
While co-hosting provides an opportunity for warming relations and perhaps increasing hopes for eventual reunification, several challenges remain. First, it is uncertain whether the International Olympic Committee (IOC) will even seriously consider a joint bid. These bids have been explored before and may aid in reducing concerns regarding the economic costs associated with hosting an Olympics. However, apprehensions about the feasibility of Pyongyang holding events and rewarding a state that continues to violate international sanctions may undermine this particular joint bid, especially when the IOC has already indicated Brisbane as a frontrunner.
Second, inter-Korean relations have not markedly progressed since 2018 and would need to improve significantly before 2025, when the IOC would probably make its decision. Seoul has attempted to revive the cooperation that started in 2018 but has been stalled since early 2019, taking measures including imposing a controversial ban on sending anti-Pyongyang leaflets into North Korea through the DMZ. However, reciprocal measures by North Korea that indicate a growing trust between the two sides, such as reopening the Kaesong Industrial Complex, would still be necessary. Moreover, while South Korea said little in regards to North Korea's March missile tests, such actions in the future will be harder to ignore as an IOC deadline approaches. Given recent rhetoric from the North, conservative mayoral wins in the South, and the possibility of the election of a conservative president in South Korea next year, these improvements are unlikely to occur.
Third, even if inter-Korean relations improve, South Korea would likely have to pay some of the costs for Olympic facilities in Pyongyang. Our own public opinion research shows a South Korean public generally favorable to a joint bid, until considerations of assistance to North Korea are examined.
Public Opinion
We surveyed 605 South Koreans in November of 2018 and 1,111 in March 2020, randomly assigning respondents to receive one of two versions of the question regarding a joint bid.[1]
Version 1: North and South Korea have discussed a joint bid for the 2032 Olympics. I would support this joint bid.
Version 2: North and South Korea have discussed a joint bid for the 2032 Olympics. I would support this joint bid, even if South Korea has to help fund the building of Olympic facilities in North Korea.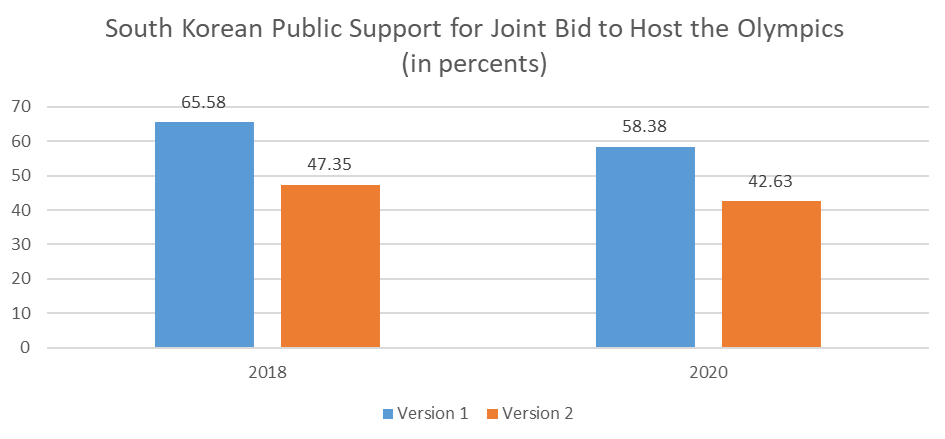 Our results clearly indicate that majorities approve of a joint bid, but in both years, this declines significantly when building costs for North Korea are mentioned. Regression analysis also confirms these patterns, even while controlling for age, gender, income, education and political ideology. The public sensitivity to expenses suggests that support could quickly decline once South Korean officials present a clearer message on this question. That said, it is too early to predict the extent of these costs, especially if only a few events are held in North Korea or if the Kim regime can convince Chinese businesses to cover part of the expenses. However, a failure to adequately address expenditures leading up to a joint bid may cause the IOC to reject the bid or lead to broader logistical concerns if the combined bid is ultimately approved.
The state of North-South relations at the time a joint bid is made will additionally affect the prospects for success. In this regard, it is also worth noting that support for both versions of the question declined in 2020 by about 7 percent for Version 1 and 4.5 percent for Version 2. Since 2019, North-South ties have deteriorated, so it is unsurprising that support for such an ambitious venture between the countries dropped as well. While impossible to predict where relations between the two Koreas will stand in 2032, even if they are good at that time, strained relations in prior years may frustrate even comparatively modest plans for building infrastructure. Russia and Brazil both struggled to build adequate facilities in advance, and neither had to deal with the cross-border logistical issues that would doubtless crop up for the Koreas.
Don't Forget Human Rights
Lastly, there has been discussion of the United States and other countries boycotting the 2022 Beijing Olympics due to human rights matters in China. South Korea should remain aware that if a joint bid is accepted, concerns dealing with human rights issues in North Korea will probably surge and could potentially depress participation. The IOC says it does not want the Olympics to become political, but international politics have frequently influenced the decision to participate in the past. If the IOC wishes to avoid controversies regarding human rights issues in host countries, as reflected in apprehensions about the 2022 Winter Olympics, North Korea's human rights abuses will likely put the joint bid out of the running.
---
[1]

Both surveys were conducted by Macromill Embrain and funded by separate grants from the Academy of Korean Studies (AKS).
---