Is the North Korean Economy Under Kim Jong Un in Danger? "Arduous March" in the Age of COVID-19?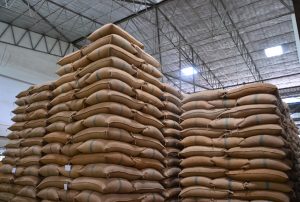 Most countries around the world are experiencing difficulties with the COVID-19 pandemic.[1] By comparison, North Korea's situation must have been much worse because its economy has been beset by the triple whammy of COVID-19, prolonged United Nations Security Council and US government sanctions and natural disasters. Some US media, citing selective claims made by South Korean economists and North Korean defectors, have been reporting that the North is on the brink of another famine or already in one, reminiscent of the 1990s. Although the North Korean economy faces daunting post-COVID-19 challenges, the North's situation today is fundamentally better than it was during the period of the Arduous March from 1994-1998.[2] Food prices are stable, and disorder like the looting that was seen in the 1990s has not occurred. What's more, we are not witnessing large-scale movements of urban workers to the countryside in search of food. Rather, the current migration from rural regions into cities is the result of a wage gap between workers in these two areas.
Then and Now
North Korea's public distribution system (PDS) collapsed in 1994, while high-ranking officials, who were shocked by the sudden death of Kim Il Sung, monopolized food and supplies. As a result, the price of food and daily necessities soared. In 1995, corn per kilogram rose more than eight times from 8 to 70 North Korean won (KPW) and rice from 16 to 120 won. Widespread starvation occurred among urban workers in heavy industrial areas, and looting was rampant. Furthermore, the economy collapsed due to panic buying and corruption. The collapse of the PDS and corruption in high places created discord across society.
In January 2020, on the other hand, the North Korean authorities voluntarily closed the border to control the spread of COVID-19. But monthly foreign exchange rate data, and prices for daily necessities like rice and diesel, have been stable over the past 18 months (Figure 1). Although the exchange rate is trending downward, it is a normal price signal that responds flexibly to whether the Sino-Democratic People's Republic of Korea (DPRK) border is closed.
Figure 1. Trends in North Korean rice prices and exchange rates since January 2020.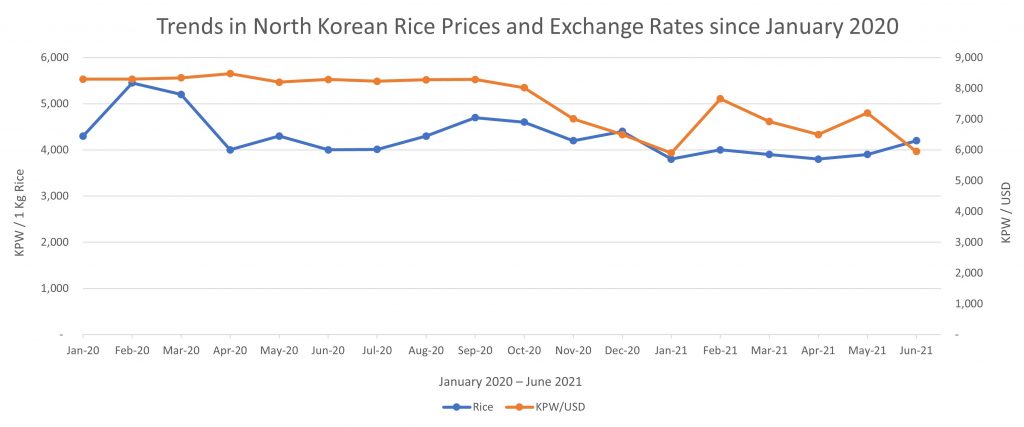 As Kim Jong Un explained to the Workers' Party of Korea on June 15, 2021, North Korea suffered massive flood damage in 2020, and the food situation has been deteriorating this year.[3] However, judging by these price indicators, it is hard to say that ordinary people face a food crisis that is severe enough to cause major starvation. According to North Korean university professors who have not returned home due to COVID-19, the DPRK economy is struggling but hanging on. Chinese scholars and entrepreneurs who maintain close networks in North Korea have also offered similar views. In addition, the North Korean region bordering China is relatively stable, and 22 DPRK-China land customs clearance posts are preparing to open the border by repairing and expanding their facilities.[4]
It is known that sugar, flour and soybean oil prices recently soared five to ten times, leading to misinterpretations of statistics among South Korean economists. These are ingredients needed to produce snacks but also staple food in North Korea. Citizens in rich countries like the United States may find it difficult to understand, but most people in economically developing countries have a diet comprised only of staple food. The soaring price of these ingredients means that the size of the middle class in North Korea who consume these items has increased. During Kim Jong Il's rule, sugar, flour and soybean oil were not necessities directly affecting the diet—they were ingredients for making snacks or bread, not basic staples.
Figure 2. Trends in North Korean rice prices and corn prices since January 2020.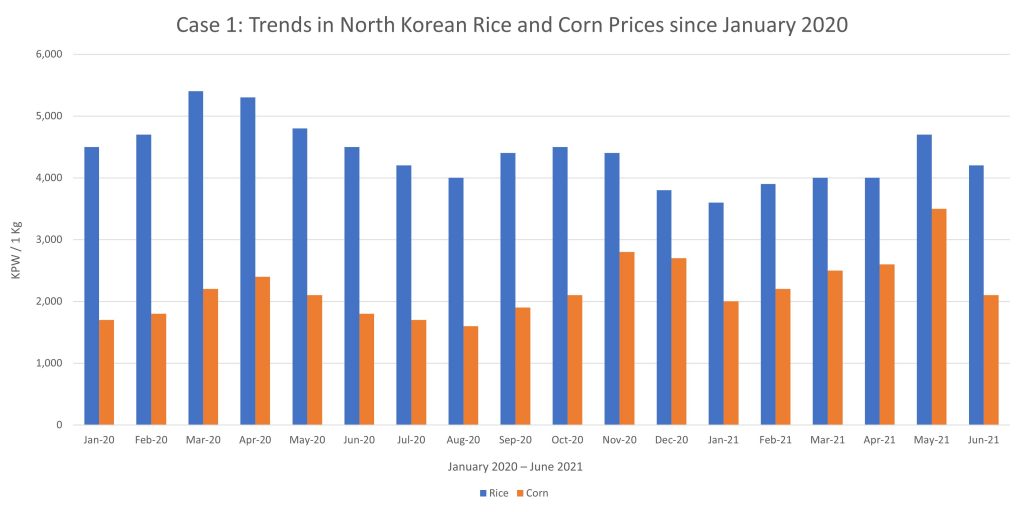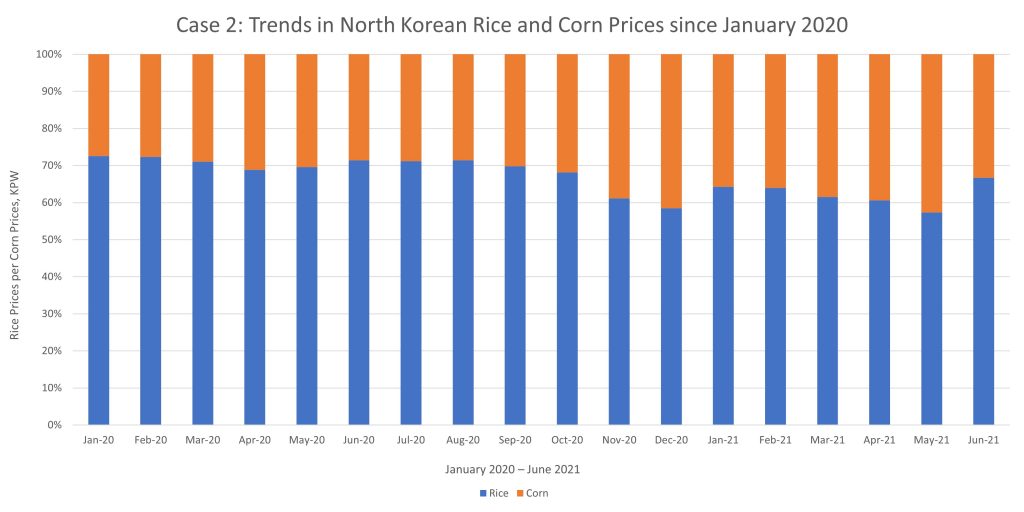 The recent rise in corn prices should be interpreted in a similar vein. If the economy is in a difficult situation, corn price increases, compared to rice, should have been higher because of a sharp rise in demand for relatively cheap corn (Figure 2). Some North Korean watchers argue that the food shortage is serious because the price of corn per kilogram increased from 2,300 won in November 2020 to 3,300 won one month later. However, due to the development of markets, corn has been used more for livestock feed and alcohol production than for a staple. And corn is more likely to have been used as a substitute for flour and sugar in response to soaring prices for both. In fact, North Korea uses a mixture of flour and corn to make bread and candy. It is noteworthy that the increase in corn prices took place from December 2020 through March of this year, a period coinciding with the government's production of large quantities of candy snacks which Kim Jong Un gave North Korean residents as seasonal gifts.
More importantly, the price of rice—as well as food-related products such as vegetables and meat—has remained relatively stable. The release of government-reserved rice has stabilized its price, but pork prices have also remained steady at around 22,000 won per kilogram. During the Kim Jong Un period, North Korea has built large-scale livestock farming bases and increased breeding of cattle, horses, sheep and goats. The most representative case is the "Sepho Tableland" in Kangwon Province, which has been reported not only in the North Korean propaganda media, but also in the international media.[5] One can easily see similar livestock farming areas at the border between North Korea and China, which continue to function even under the current COVID-19 situation as of June 2021.
One notable exception to stable food prices has been the jump in the price of fishery products. Western media have inaccurately reported that fish have spoiled because North Korean ports are failing to export marine products due to sanctions; however, goods that cannot be exported from developing countries such as North Korea are consumed domestically. In fact, the spike in fishery prices was the result of a decision by North Korean authorities to impose a temporary ban on sea fishing operations to prevent the spread of COVID-19; fishery operations, however, have recently resumed and these prices have moved downward. For example, the price of frozen pollack rose from 5,500 won per kilogram just before the pandemic to 50,000 won after it, but is now back down to 25,000 won.
In sum, prices of rice, meat and vegetables are relatively stable, except for some imported foods and fishery products, and supply and demand are fairly balanced. Further, in the Kim Jong Un era, the North has been expanding the managerial rights of state firm managers, which has not only given state firms much more autonomy, but also allowed a strong crackdown on corruption among high-ranking officials. This is a hard-won lesson from the days of the "Arduous March" in the 1990s, during which the collapse of the PDS due to hoarding and widespread corruption caused a massive famine.
Conclusion
North Korea appears much better off today, despite its acute difficulties, than it was during the mid-1990s. Then, there was a vicious circle of inflation, official corruption, colossal economic mismanagement and mass starvation which essentially ruined the North's agricultural sector and caused millions of North Korean deaths due to starvation. Today, in contrast, the North is stabilizing prices and purging corrupt officials. However, a key problem for the North Korean economy lies in the widening economic gaps between rich and poor, cities and rural areas, and successful and failed firms. While innovative business people in cities such as Pyongyang and Nampo have been accumulating wealth with lucrative incentives from the government, workers and farmers have been suffering. External assistance for North Korea will be essential to deal effectively with this challenge.
---
---