The Future of Southeast Asia-DPRK Engagement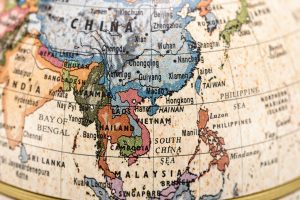 Bilateral relations between North Korea and Malaysia share similar characteristics to other ties between the Democratic People's Republic of Korean (DPRK) and its friends in the Global South based on their shared ideology of anti-imperialism and anti-colonialism.[1] Despite the recent rupture, Malaysia's previously close relationship with North Korea could yet provide hope of reconciliation, as did the North's up and down relationship with Burma/Myanmar over the years. Humanitarian cooperation between the DPRK, ASEAN (Association of Southeast Asian Nations) and individual Southeast Asian countries could provide more space for broader diplomatic engagement.
Malaysia's "Special Relationship" With North Korea
Malaysia established diplomatic relations with North Korea in 1973 as part of a concerted push to build links with China and other socialist states;[2] this relationship was strengthened through the Non-Aligned Movement (NAM) throughout the rest of the decade. Malaysia-DPRK relations were most actively cultivated on the basis of the anti-imperialist stance of both Mahathir Mohamad and Kim Il Sung.[3] After Mahathir became prime minister in 1981, relations developed quickly with exchanges of ministerial visits and aspirations to promote mutual economic development and peace on the peninsula.
In 2002, a series of bilateral agreements covering cultural exchanges, science and technology cooperation and aviation were signed not long before Mahathir announced his intent to step down as the longest-serving prime minister in the country. Mahathir's successors continuously supported inter-Korean peace initiatives. With the aviation deal, Kuala Lumpur became one of only two Asian capitals outside of China that serviced direct flights to Pyongyang.[4] Crucially, a visa-waiver arrangement also facilitated a flourishing of people-to-people tourism, including allowing North Koreans to visit Malaysia for work, study, networking with local academic institutions and think tanks exchanges.[5] The Malaysian Medical Relief Society (MERCY) delivered several humanitarian aid shipments to North Korea after the Ryongchon train tragedy in 2004 and provided flood relief thereafter.
After Najib Razak became prime minister in 2009, the Malaysian government abandoned the long-held tradition of "equidistant diplomacy" between the two Koreas in favor of the development of economic relations with the Republic of Korea (ROK). The majority of Southeast Asian countries have had significant trade and investment relations with South Korea since the 2010s, especially in comparison to limited trade with North Korea. However, from North Korea's perspective, the Najib government made a grave political mistake by supporting South Korea's passage of the 2016 North Korean Human Rights Act, followed by the motion in the United Nations (UN) on North Korean human rights.[6] North Korea felt betrayed by Malaysia's decision to upset it on one of the most sensitive issues touching the country.
Post-Assassination Convolutions
Many observers find it bizarre that Malaysia chose not to cut ties with North Korea even after the Kim Jong Nam assassination and the diplomatic crisis that ensued between the two sides in February-March 2017. Najib was upset by this action, even though no Malaysians were injured or involved. While his government did not break relations, visa-free access was revoked, almost all North Korean work visas were not renewed, and trade declined to nearly nothing.[7]
In 2018, Mahathir returned to the premiership as the head of a new People's Coalition (Pakatan Harapan or PH) government. Given his belief that links with North Korea should be preserved and that Najib had committed a serious mistake, Mahathir received North Korean delegations in Kuala Lumpur and announced the planned reopening of the Malaysian Embassy in Pyongyang while attending the NAM Summit in Azerbaijan.[8] But before any progress could be made, the PH coalition lost power, and the new coalition government was too preoccupied with the early stages of the COVID-19 pandemic to focus on the future of Malaysia-DPRK relations.
However, one hangover from the previous government was the pending US request for extraditing a North Korean national who had been arrested in 2019 on charges of money laundering. The Malaysian government came under US pressure to extradite Mun Chol Myong as well as pressure from North Korea to block the process. When Malaysia insisted on following legal principles, Mun's expulsion prompted North Korea to sever relations with Malaysia in March, in large part to discourage other states from following the Malaysian example of agreeing to US extradition requests; Pyongyang also wanted to send a message to Washington that it would not stand idly by in response to this latest manifestation of US "hostile policy."[9]
Burmese Breakdown
North Korea's relations with Southeast Asian states have suffered their ups and downs over the decades, and nothing better illustrates this experience than the North's relationship with Burma/Myanmar. Burma had established relatively friendly relations with North Korea in the early 1960s, mainly because its fervent anti-colonialism and developing belief in non-alignment made it a good fit with North Korea's ideological outlook. But in 1983, Burma broke off diplomatic relations with North Korea after it attempted to assassinate visiting South Korean president Chun Doo-hwan.[10]
It took two decades for Myanmar to reconcile with North Korea. The first notable sign was the secret resumption of military ties, followed by increasingly visible arms sales between the two countries by the mid-2000s. But it was not until 2007 (24 years after the Rangoon bombing) that the North Koreans were invited to reestablish an embassy in Yangon. The rekindled friendship soon came under pressure from the Bush administration's financial warfare against the North and decisions by Southeast Asian countries to join the US Proliferation Security Initiative.[11] As a result, exchanges from the DPRK to Myanmar were frequently disrupted by ship inspections to halt potential arms transfers.[12]
The ASEAN Dimension
These bilateral relationships do not operate in a vacuum, especially in Southeast Asia, where ASEAN is so important institutionally. ASEAN has kept a low profile on North Korea and ROK-DPRK relations. Despite all the tensions over the North's nuclear weapons development in recent years, the members of ASEAN have generally tried to balance relations with the two Koreas, even if economic and cultural links with the South far outstripped those with the North, while hoping to play a role in bringing about some reconciliation on the peninsula.
The ASEAN Regional Forum (ARF) was established in 1994 in part due to the urgency to discuss the first North Korean nuclear crisis; South Korea had joined the ARF from the beginning, but North Korea was only admitted in 2000.[13] To date, the ARF remains the only regional multilateral mechanism that North Korea is a part of, albeit with dwindling levels of representation in recent years. Nonetheless, the North signed the important Treaty of Amity and Cooperation in 2008, sent an ambassador to ASEAN in 2011, and has had hopes of eventually becoming a dialogue partner.
During the Six Party Talks era in the 2000s, ASEAN member states like Malaysia and Singapore did host several secret negotiation meetings between the United States and North Korea as well as ROK-DPRK meetings when representatives were attending the ARF or other ASEAN-related events. Though not all meetings produced tangible results, they kept communications open to all sides, facilitated by the Southeast Asian states. ASEAN has been particularly proud that both Singapore and Hanoi were chosen as sites for US-DPRK summits. Therefore, despite Malaysia's difficulties in its bilateral relationship with North Korea in the past four years, ASEAN's role has been to continue exchanges with lower-level North Korean officials at the ARF, while still receiving high-level delegation visits from DPRK to ASEAN.[14]
Beyond the Stalemate?
Malaysia has long prided itself on its ability to connect with governments of all types. But now, Malaysian policymakers are faced with the prospect of a potentially lengthy hiatus in diplomatic relations with the North. Unlike Myanmar, Malaysia does not have military linkages with North Korea, so other dimensions of the relationship will need to be utilized to restore normalcy. Prior to the North Korean announcement to break off ties, an attempt to restore the Track II and educational exchanges was underway, and that approach could be tried again.
One NGO from Singapore, Choson Exchange, has successfully concluded two online lecture series involving citizens in North Korea, with personnel based in Singapore and elsewhere participating in the unprecedented online exchanges with North Korean counterparts on service innovation for tourism. In the Malaysian case, donors seem willing to support humanitarian aid to North Korea, and MERCY Malaysia would be ready to return once North Korea reopens its borders.[15]
Four out of 10 ASEAN member states still maintain their embassies in Pyongyang, and the ASEAN Committee in Pyongyang has a good record of running programs and activities across all of North Korea.[16] Indonesia, Laos and Vietnam still maintain their presence in the diplomatic compound even as many foreign missions and international organizations are reducing or even terminating their presence in Pyongyang.[17] It is hoped that cooperation via COVID-19 medical assistance and online education exchanges will provide multiple tracks for Southeast Asian engagement, while carefully observing international obligations on sanctions and nonproliferation principles.
Whether the pandemic will open new opportunities for Southeast Asia-DPRK interactions may well depend on the level of the North's trust in the ongoing online engagement with ASEAN countries while its diplomats and missions overseas remain disconnected and unable to return to the country. ASEAN's nonconfrontational diplomacy and its desire to contribute to regional humanitarian assistance programs mean that, since the food shortages and uncertain health conditions within North Korea could yet contribute to new humanitarian crises, Southeast Asia could become one potential lifeline.[18]
This research was made possible through generous support from the Korea Foundation.
---
---