Yongbyon Nuclear Research Center: Construction Activity Near ELWR
Recent commercial satellite imagery of the Yongbyon Nuclear Scientific Research Center indicates that construction has been ongoing at a site just south of the Experimental Light Water Reactor (ELWR) since April and has recently picked up pace. Although the exact purpose of the future building is still unclear, it may be intended to play a supportive role in future ELWR operations. The new building is currently located outside the reactor area perimeter security wall, but that can easily be expanded.
Water is still being discharged from the 5 MWe Reactor, indicating some level of operations, although other traditional signatures, such as steam from the generator hall, have not been observed. These activities, along with recently reported construction at the Uranium Enrichment Plant (UEP), all reflect heightened operations throughout the Yongbyon complex.
ELWR Construction Activity
Imagery from April through September shows that a new construction site near the ELWR has picked up pace in recent weeks. A September 15 image reveals that the building will most likely consist of two floors, although slightly larger (47 meters long by 17 meters wide) than the ELWR's engineering office building (40 by 13 meters). While the construction site is outside the perimeter wall of the reactor area, the main road for the reactor complex runs directly to the new building. Given the size of the construction site, more buildings will likely be constructed there to support ELWR operations.
Figure 1. Construction progress of building near ELWR.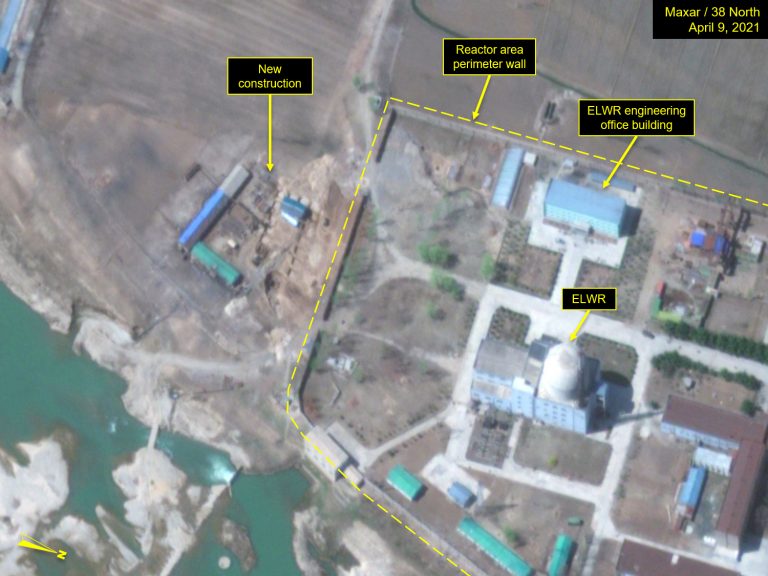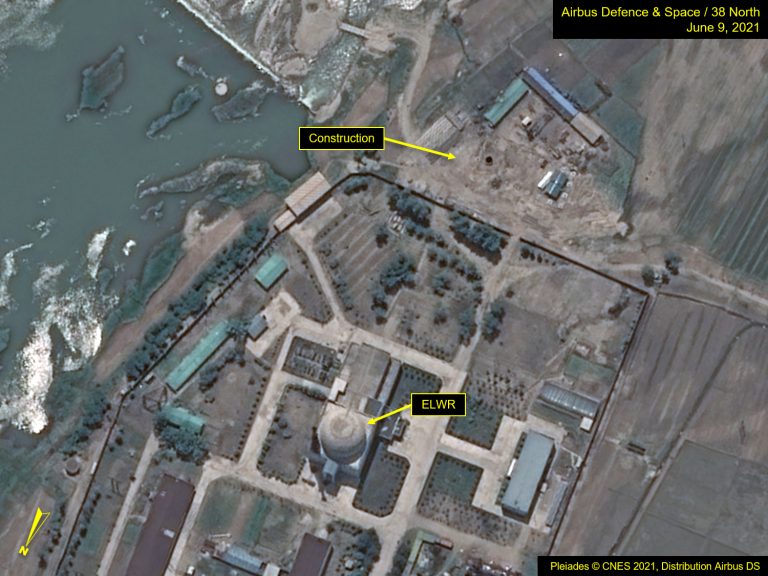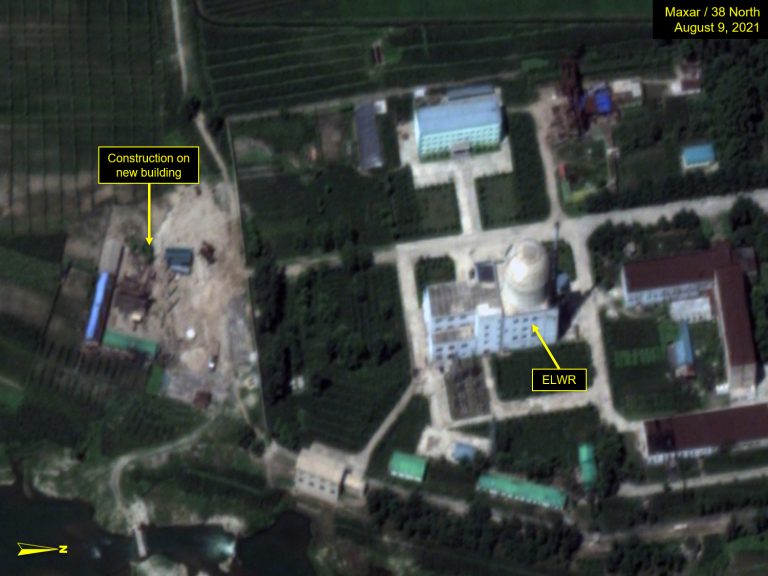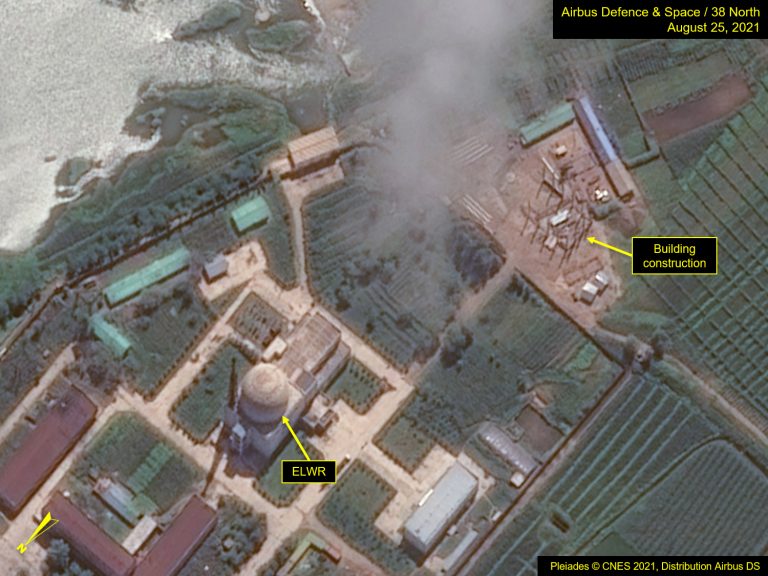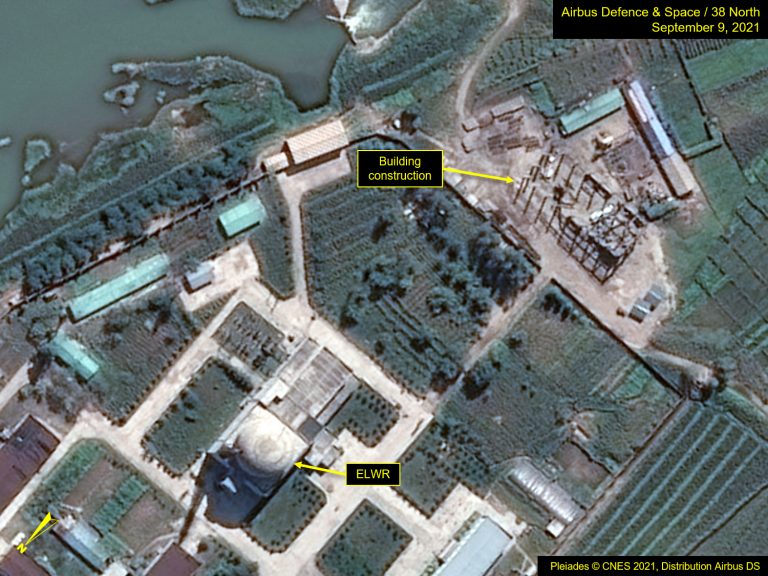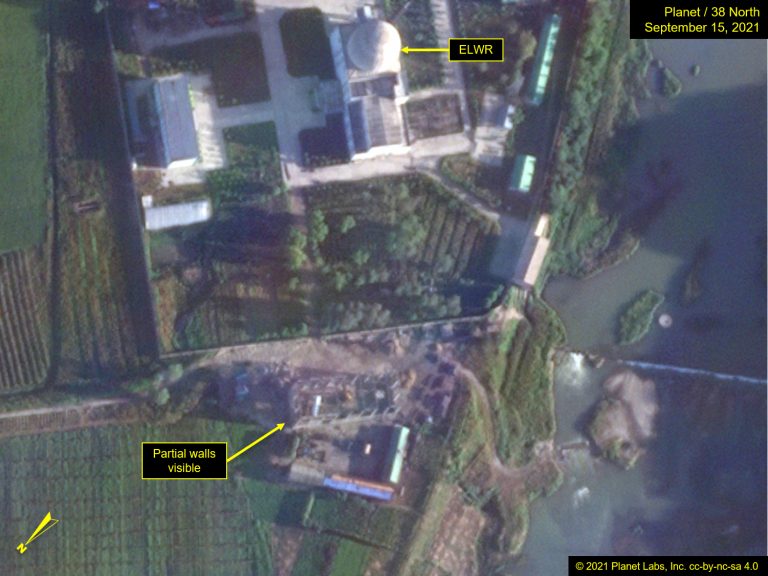 5 MWe Reactor
Imagery from September 9 shows water from the 5 MWe Reactor is still being discharged into the outflow channel leading into the Kuryong River. However, no other traditional indicators, such as steam from the generator hall, have been observed. This could mean that the activity at the reactor is either not currently involved in electrical power production, or that the generator hall has been modified to avoid releasing visible steam plumes. If the reactor is indeed operating without generating electricity, then its sole purpose is to produce plutonium for nuclear weapons.
Figure 2. Water outfall from 5 MWe Reactor.