Book Review: "The Day That Kim Jong Un Disappears From Center Stage"
金正恩が表舞台から消える日:北朝鮮 水面下の権力闘争 (Kin Seion ga omote butai kara kieru hi: Kitachosen suimenka no kenryoku toso)
By Gomi Yoji. Heibonsha, 2021. 223 pp.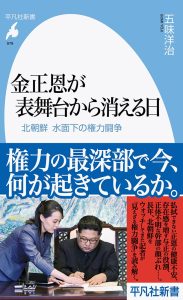 The ideal of the samurai in old Japan was that of a warrior proficient in the arts of both war (武) and scholarship (文); the paragon of a Japanese journalist today would be a reporter relentless in the hunt for the scoop and still rigorous in research. One such newsman is Gomi Yoji,[1] who, over many years, has chased, researched and written articles and books about the Democratic People's Republic of Korea (DPRK). A former Fulbright Visiting Scholar in Washington, DC, the author or co-author of nearly 20 books,[2] and now an editorial writer for the Tokyo Shimbun, Gomi has had a remarkable career. His new book exemplifies the skills he's honed over the years and provides an insightful discussion about the challenges North Korea faces and the potential contenders for the successor to Kim Jong Un, in case of his demise.
Background
In 1996, early in his career at the newspaper Chunichi Shimbun, Gomi's employer sent him to Seoul for a year of intensive study at the prestigious Yonsei University's Korea Language Institute, where Japanese diplomats, traders and other professionals go to learn the language and culture. In early 1999, the newspaper sent him back to Seoul for nearly three years to report on Korean affairs. He would spend his mornings in the office, reading news from Republic of Korea (ROK) media and translating some items for his company, then leave in the afternoon to chase stories late into the evening. From the beginning of his career, in the city that he came to see as his second hometown, Gomi honed his strengths: a relentless journalistic drive and a penchant for research.[3]
After Seoul, Gomi was sent to Beijing as a foreign correspondent, where he continued gathering news on Korean affairs. From a bench near Pyongyang's embassy in Beijing, he would observe the people entering and leaving the building, calling out to them to talk to him. He would frequent the North Korean restaurants, chatting up waitresses for information and keeping an eye out for key figures. At least once, he spotted Ambassador Choe Jin Su at the Pyongyanggwan restaurant in Beijing's Chaoyang District, where DPRK businesses cluster together, but earned only a glacial smile from the diplomat. Another time, he succeeded in meeting the ambassador at an event on Beijing's diplomatic circuit and received his business card.[4]
Gomi also spent over 100 days in travels to the border areas, peering into cargo trucks crossing the border from Dandong into North Korea and seeking other information sources. His relentless activity clearly annoyed the Chinese authorities. Returning to his hotel room in Changchun one evening on his way back to Beijing, he found two men in plain clothes going through his belongings. Hotel staff, whom he called to stop the intruders, hustled him into another room for his safety until the two had finished. To supplement his firsthand observation and human intelligence, Gomi also applied to the DPRK embassy in an attempt to subscribe to the Rodong Sinmun, the daily newspaper of the ruling Workers' Party of Korea (WPK), and an essential source for Pyongyang watchers.[5]
Gomi gained international notoriety for his pursuit of the story when he obtained the email address of Kim Jong Nam, the first and "prodigal" son of previous DPRK leader Kim Jong Il, during a chance encounter and then proceeded to exchange some 150 messages with him. He wrote a book based on those exchanges (published in 2012), followed by a book presenting his techniques for information gathering, from how to establish rapport with a source to where to conduct sensitive interviews.[6]
Contemplating North Korea's Future After Kim Jong Un
In the book under review here, The Day That Kim Jong Un Disappears from Center Stage, the author shows mostly his scholarly side. Gomi examines a range of issues North Korea is currently facing, including uncertainty over the state of the leader, Kim Jong Un's health, the role of his sister Kim Yo Jong in the regime, key domestic challenges facing the regime and its policy responses to them, and possible successors in the event of the leader's sudden exit from "center stage." The book ends with a brief description of how countries most concerned with developments on the Korean Peninsula approach North Korea, and the author's criticism of Prime Minister Suga Yoshihide's government in Tokyo for continuing Japan's "hard line" of demanding a complete accounting of all Japanese abducted to the DPRK before developing relations with Pyongyang.
For this book, Gomi mined information from Pyongyang's Korean Central News Agency (KCNA) and party daily, Rodong Sinmun. Judging from his list of sources, he also read much of the latest Japanese writing on North Korea. He exploited several ROK sources: official ones, such as the National Intelligence Service, the Ministry of Unification, and the National Assembly Research Service; auxiliary organs, including the Korea Institute for Defense Analyses and the Korea Institute for National Unification; defector groups, such as the North Korea Strategy Center; and South Korean newspapers and magazines, including the Chosun Ilbo and Dong-A Ilbo. He drew from a wide range of US media as well, including commercial sources such as Fox News and the New Yorker to propaganda organs Radio Free Asia and the Voice of America. In addition to the media sources, Gomi also referenced information from a good many Japanese, Korean and American books.[7]
This book is split into six chapters. The first chapter examines General Secretary Kim Jong Un's health, strikingly poor for a young man, and as such, a key intelligence objective for Seoul, Washington and other interested capitals. The second chapter focuses on Kim's prominent sister, Kim Yo Jong, and her transformation from an icon of inter-Korean relations into the "princess with a poison tongue" (45). The third chapter discusses three severe hardships—sanctions, the coronavirus pandemic and environmental disasters—plaguing North Korea. The fourth chapter analyzes the role of the military in the regime's responses to internal/domestic challenges. The fifth chapter identifies a number of possible successors to Kim Jong Un. The final chapter sketches out the DPRK's relations with the countries most concerned with developments on the Korean Peninsula: the ROK, the United States, China, Russia and Japan.
With its focus on Pyongyang after the exit of the unhealthy young leader from center stage, the book's most interesting pages may be those devoted to Kim Yo Jong, who at the time of writing, was vice department director of the WPK Central Committee. The author provides accounts of her student days in Switzerland, where she was known to be a better student than her older brother. Later in her life, while serving as her father's personal secretary, she reportedly impressed Kim Jong Il so much he told her, were she a man, he would make her his successor.[8]
Kim Yo Jong seems to have impressed her brother as well; he sent her south as his representative to the PyeongChang Winter Olympics and to the funeral for the wife of former South Korean President Kim Dae-jung. Kim Jong Un also brought his sister with him to the summit meetings with former President Donald Trump in Singapore and Hanoi.
Gomi is good with the details. On one page is a chronology of her rise. On another, recounting the June 2019 landing of Chinese President Xi Jinping in Pyongyang, the author notes that she stood in seventh place in the hierarchical reception line at the airport, between WPK Central Committee Vice Chairman Kim Yong Chol and Korean People's Army (KPA) General Political Bureau Director Kim Su Gil. According to Gomi, it was her first public appearance not as a simple secretary to her brother but as a senior member of the WPK cadre. As such, she has since then threatened military action against Seoul over propaganda balloons launched from ROK soil and cautioned the Biden administration at its start to tread lightly if Washington wished to sleep peacefully at night.[9]
Also of interest is the chapter in which Gomi introduces, in colorful writing, his assessment of other possible successors to Kim Jong Un.[10] There is Jo Yong Won, member of the Presidium of the WPK Political Bureau and economic policymaker, so influential that he is "the man who stands with hands in pockets while talking to Kim Jong Un" (152). Gomi spots another contender in Kim Yong Chol, "the most dangerous man in North Korea," who, while suffering effective demotion recently, is still capable, as a past director for years of the formidable Reconnaissance General Bureau, of "taking unexpected action" (181; 185). Recognizing the political importance of direct blood ties to founding leader Kim Il Sung, the author counsels the reader not to count out Kim Pyong Il, a son of the founding father who has returned to Pyongyang from years of exile as an ambassador in Europe. There is also Kim Jong Chol, a fan of Eric Clapton and older brother of the incumbent leader, who, while without personal power, could prove a useful figurehead in a future interim regime. Kim Han Sol, eldest son of Kim Jong Un's assassinated half-brother Kim Jong Nam and regime opponent in exile, could also be a threat on account of his family heritage.[11] Finally, Pyongyang's leader reportedly has a son and two daughters of his own who, should their father stay alive and in power long enough, could rise to take up a potential fourth generation of Kim clan leadership.
Gomi ends his book with a chapter on Pyongyang's international relations. He suggests that Kim may see President Biden, associated with Washington's missile negotiations with Moscow in the era of President Jimmy Carter, as a credible counterpart. Gomi also writes that it is in the interest of Pyongyang, beset by sanctions, a pandemic and natural disasters, to seek closer ties to Washington. As for South Korea, the author describes the ROK dilemma of seeking amicable relations and eventual unification with the DPRK while trying to balance between the United States, its security guarantor, and China, a trade partner whose importance dwarfs that of the United States and Japan combined.[12] Beijing, according to Gomi, sees Pyongyang as increasingly important as its global competition with Washington grows intense. Moscow remains attractive to Pyongyang, Gomi writes, for its military technology.
An online search of the National Assembly Library in Seoul turns up four of Gomi's books translated into Korean. I found only one English translation—My Father, Kim Jong Il, and I—issued by a Japanese publisher as an e-book without a print edition and unavailable from amazon.com in the United States.[13] American North Korea watchers would benefit greatly if the book under review here, other works from Gomi, and the publications of other Japanese writers on DPRK matters were available in English, as they pull from a wide range of sources and provide different views of Korean Peninsular affairs.[14] In this instance, Gomi has written a book on North Korea without the mocking and sneering tone commonly employed by US writers and with an appreciation that the regime in the DPRK is more than simply a problem of the incumbent dictator.
Literate in Korean and English, Gomi is able to conduct his own research in key foreign media. Many American authors on Korean subjects read no language other than English. In days past, when US writers based much of their research (in some cases without attribution) on translations of the Foreign Broadcast Information Service (FBIS) on Korean affairs, their ignorance of foreign languages was not such an impediment. These days, when FBIS production is no longer available outside the US government, writers able to read Chinese, Japanese and Korean sources have an edge.
The US publishing industry is notorious for publishing very few translated works compared to other major countries, but let us hope for more books in English in the future from Japanese authors.[15]
---
---