The North Korea-Iran Relationship: An Anti-American Alliance or Transactional Partnership?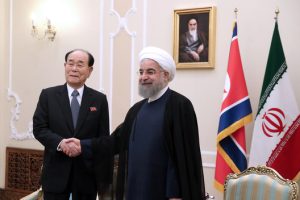 Four decades after the Iranian Revolution, the Democratic People's Republic of Korea (DPRK) maintains a close partnership with Iran. On June 20, 2021, North Korea's Supreme Leader Kim Jong Un congratulated Ebrahim Raisi on his presidential election victory and wished him success in "building a powerful Iran." This rhetoric coincided with evidence of growing security cooperation between the two countries. A recent United Nations (UN) report revealed that North Korea and Iran are cooperating on long-term missile development projects, which included the shipment of parts in 2020. North Korea's hypersonic missile tests have also raised concerns about technology transfers to Iran, which developed a testing facility for hypersonic weapons in 2014.
Although North Korea's partnership with Iran is often explained by shared anti-American sentiments, the Tehran-Pyongyang relationship is more complicated than it appears. While their relationship appears unassailably strong, the Iran-DPRK partnership has been beset by periodic disagreements, and North Korea remains a wedge issue between Iranian reformists and conservatives. The main areas of Iran-DPRK cooperation lie in the spheres of military technology, especially ballistic missiles, and in Pyongyang's close relationship with Tehran-aligned proxy militias in the Middle East. Therefore, Iran and North Korea possess a transactional partnership, which can threaten US interests but is also prone to considerable fluctuations.
DPRK-Iran Relations Since 1979: A Close but Intermittent Partnership
Although Iran established diplomatic relations with North Korea in 1973, the Iranian Revolution resulted in a rapid expansion of Tehran-Pyongyang cooperation. After the Iran-Iraq War began in September 1980, North Korea transferred Soviet T-54/T-55 tanks, ammunition and Chinese-made equipment to Iran. These arms transfers peaked from 1981-1983 but diminished during the second half of the war due to quality concerns. During the latter stages of the conflict, North Korea acted as a deniable conduit for Soviet and Chinese military equipment, such as anti-shipping missiles, and after Akbar Hashemi Rafsanjani's 1985 visit to Pyongyang, North Korean military-technical advisors arrived in Iran. In November 1990, North Korea's Defense Minister Marshall O Jin U met with Islamic Revolutionary Guard Corps (IRGC) head Mohsen Rezai in Tehran and authorized the sale of 500-km Scud-C missiles to Iran.
This paved the way for greater Iran-DPRK cooperation in the ballistic missile sphere and established new bonds between the two countries. Solidarity between both countries against US sanctions, which was highlighted by North Korean Foreign Minister Ri Yong Ho's August 2018 visit to Iran and Iranian Foreign Minister Javad Zarif's April 2019 pledge to visit Pyongyang, has not rebooted bilateral trade for several underlying reasons. The legacy of North Korea's efforts to reestablish diplomatic relations with Iraq during the 1980s created latent mistrust with Iran. North Korea's aversion to military interventions against Sunni extremist organizations, such as Boko Haram and the Islamic State (ISIS), clashed with Iran's hawkish policies towards these groups.
The depth of Tehran-Pyongyang cooperation has been limited by disagreements between Iranian factions. Hardline media outlets, such as Kayhan, routinely blame the US for escalating tensions with North Korea and uncritically amplify content from North Korean state media outlets, such as Rodong Sinmun. However, these hardline views have not been consistently embraced by moderate figures, such as former President Hassan Rouhani or Javad Zarif, as Iran has assiduously maintained close relations with the Republic of Korea (ROK). Even the September 2019 clash between Tehran and Seoul over the freezing of $7 billion in Iranian assets held by South Korean banks did not cause Tehran to choose Pyongyang over Seoul or expand its cooperation with Pyongyang. Given these contradictions, the Iran-DPRK partnership is not an all-weather, anti-American axis, as is often depicted, but is instead transactional and prone to major inconsistencies.
North Korea's Ballistic Missile Cooperation With Iran
Since its initial tranche of arms sales to Iran during the 1980s, North Korea has cooperated closely with Iran on ballistic missile development. Although China and Iran signed a 10-year military cooperation agreement in 1991, North Korea became a major supplier of missile technology to Tehran during the 1990s. In 1995, North Korea shipped Scud transporter-erector-launchers to Iran, and in November 1999, US intelligence investigated the transfer of 12 Nodong missile engines from North Korea to Iran. Despite stringent UN sanctions against North Korea, which were imposed after its 2006 and 2009 nuclear tests, the North's ballistic missile cooperation with Iran continued at a rapid pace. A May 2011 UN report revealed regular flights between North Korea and Iran, which transferred missile-related equipment. These flights were chartered by civilian airlines, such as North Korea's Air Koryo and Iran Air, and passed through China's airspace.
These war materiel transfers reflected Iran's enduring interest in North Korean military technology. During the 2000s, Iran purchased North Korea's Musudan system to complement its Nodong stockpiles, and the Iranian Navy's Ghadir-class submarines, which were unveiled in 2007, were inspired by North Korean prototypes. North Korea also assisted Iran's development of an 80-ton rocket booster for intercontinental ballistic missiles (ICBMs).
A 2016 Congressional Research Service report warned that ballistic missile technology cooperation between Iran and North Korea is "significant and meaningful." These revelations culminated in US Treasury Department sanctions in 2016 against Iranian entities that cooperated with North Korea. While evidence of these shipments diminished from 2016-2019, Iran's Shahid Haj Ali Movahed Research Center received "support and assistance" from North Korean missile specialists for a space launch vehicle (SLV) in 2020.
While North Korea's missile technology assistance to Iran garnered more attention, these transfers of military know-how eventually went both ways. Iranian technicians were present at North Korea's 2009 and 2012 Unha rocket launches. In October 2010, North Korea unveiled a new Nodong missile warhead that strikingly resembled Iran's Shahab-3 triconic warhead. The Shahid Hemmat Industrial Group (SHIG), a subsidiary of Iran's Aerospace Industries Organization, sent technicians to North Korea in exchange for valves, electronics and measuring equipment used for ballistic missiles. SHIG's relationship with the sanctioned Korea Mining Development Trading Company (KOMID) was also announced by the US Treasury Department in January 2016. Therefore, the September 2012 Iran-DPRK military-technical agreement could have considerable practical significance for both Tehran and Pyongyang.
The well-documented record of DPRK-Iran ballistic missile cooperation has fueled periodic concerns about Pyongyang's assistance to Tehran's nuclear program. North Korea's assistance in constructing Syria's Al-Kibar nuclear reactor, which was destroyed by Israeli airstrikes in September 2007, is a potential prototype for future assistance to Iran. The National Council of Resistance of Iran (NCRI), a dissident group that exposed Iran's Natanz facility in 2002, alleged that North Korean nuclear scientists visited Iran in 2015. While the intensification of Iran's uranium enrichment since the US withdrawal from the Joint Comprehensive Plan of Action (JCPOA) in 2018 could lead to greater cooperation with North Korea, there is insufficient evidence of large-scale collaboration between the two countries in the nuclear sphere.
North Korea's Partnerships With Iran-aligned Proxy Militias
Due to their shared antipathy towards Israel and support for Syrian President Bashar al-Assad, North Korea and Iran maintain cordial relations with Shia proxy militias in the Middle East. North Korea's cooperation with Hezbollah in Lebanon and the Houthis in Yemen is especially close. Concerns about North Korea's cooperation with Hezbollah date back to the 2006 Israel-Hezbollah war, which saw the Lebanese militia group withstand intense Israeli bombardments. While North Korea had informally established contact with Hezbollah in the 1980s, it embarked on an ambitious military training program in 2000, which taught Hezbollah how to build underground bunkers for arms, food and medical facilities. In December 2007, the Congressional Research Service lent credibility to these reports, as it listed Hezbollah and the Tamil Tigers as key destinations of North Korean military assistance.
Concerns about North Korea's relationship with Hezbollah subsided after the US announced North Korea's removal from the state sponsors of terrorism list in June 2008. While Israel accused North Korea of supplying Hezbollah and Hamas after the United Arab Emirates (UAE)-detained ANL-Australia arms cache was discovered in July 2009, US officials insisted the supplies were only destined for Hamas. The outbreak of the Syrian civil war in 2011 revived these concerns in the US and Israel. According to US intelligence reports, North Korean engineers helped manage missile plants in Syrian bases, such as Hama, Adra and Barzah, which possessed large concentrations of Hezbollah fighters. North Korea has also been accused of helping Iran construct Hezbollah's "Land of Tunnels," which stretch from its headquarters in Beirut to its defensive positions in southern Lebanon.
North Korea's military cooperation with the Houthis is less extensive and likely confined to clandestine arms transfers. In August 2015, South Korean television network Seoul Broadcasting System (SBS) asserted that Houthi missiles used against Saudi Arabia in June closely resembled Scud-C or Hwasong-6 missiles used in past North Korean military parades. An August 2018 UN report revealed that KOMID was trying to supply conventional arms and ballistic missiles to the Houthis. While the scale of North Korean arms transfers to the Houthis is unknown, Syrian arms dealer Hussein al-Ali served as an interlocutor between Pyongyang and the Houthis.
Conclusion
As Ebrahim Raisi's ascension to the presidency emboldens hardliners within Iran's foreign policy establishment and the JCPOA negotiations remain stalled, prospects for Iran-DPRK cooperation are bright. US policymakers should pay close attention to the conversion of rhetorical solidarity between Iran and North Korea into collaboration in the ballistic missile production sphere. However, the Iran-North Korea partnership's inconsistencies and transactional dimensions suggest that it is not bulletproof. Greater US engagement with Iran, which leads to the restoration of the JCPOA and the amelioration of sanctions, could deter Tehran from expansive military cooperation with Pyongyang. An improvement in ROK-Iran relations, which are strained by $7 billion in frozen Iranian funds in two South Korean banks, could also dilute DPRK-Iran cooperation. In the short term, however, concurrent US efforts to isolate Iran and North Korea will likely preserve the Pyongyang-Tehran partnership.