Sohae Satellite Launching Station: Activity Gradually Picks Up
Commercial satellite imagery from March 31 shows increased activity around North Korea's Sohae Satellite Launching Station, including the arrival of new materials on the launch pad and vehicles in the VIP area. Major improvements are expected around the complex in line with major upgrades instructed by Kim Jong Un during his March 11 site visit.[1] While the full extent of those improvements will likely take a considerable while to complete, as time will be needed to manufacture and bring in specialized components, activity is gradually picking up around the complex. Whether this new activity is related to the overall improvement plan or are short-term measures in preparation for a satellite launch in the near future is unclear.
Launch Pad
On the launch pad, the covered materials that were in front of the main processing building on March 22 were gradually moved, likely into the main processing building. These materials were likely associated with Kim's instruction to reconstruct and expand facilities related to the "general assembly" of rockets.[2]
Figure 1. Covered materials on the launch pad gradually decreasing.

Image © 2022 Planet Labs, PBC cc-by-nc-sa 4.0. For media licensing options, please contact [email protected].
By March 31, those covered materials were gone, and three stacks of new light-colored materials have been newly placed on the southern edge of the launch pad, near the bridge leading to the fuel and oxidizer bunkers. The purpose of these materials is unknown.
Figure 2. Covered materials are gone and new materials have arrived.

Arrival of Vehicles
Sometime between March 26 and March 31, a number of vehicles have arrived at Sohae and are parked in both the VIP housing area and the Administration and Security Headquarters. This kind of activity has been observed in the past in the lead up to satellite launches, to prepare or inspect these accommodations for VIP observers. It may also indicate further site visits in the coming weeks by high level officials to monitor progress.
Figure 3. Vehicles observed around VIP housing and Administration and Security Headquarters.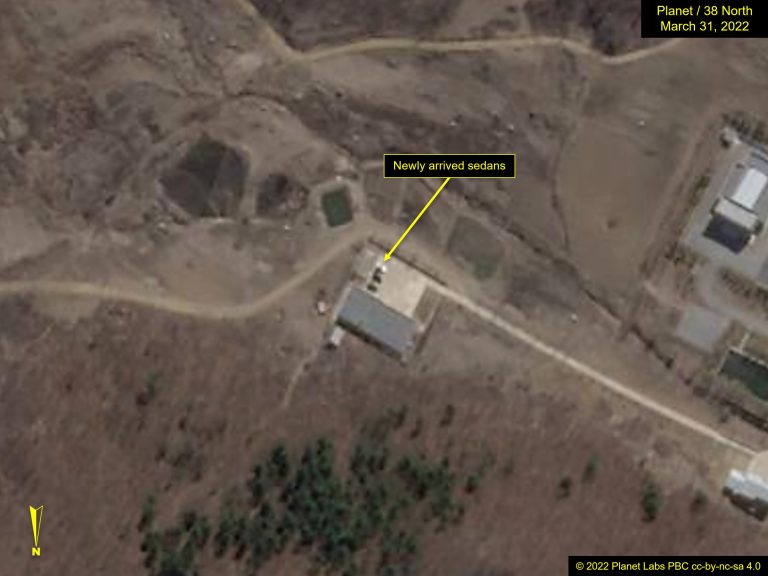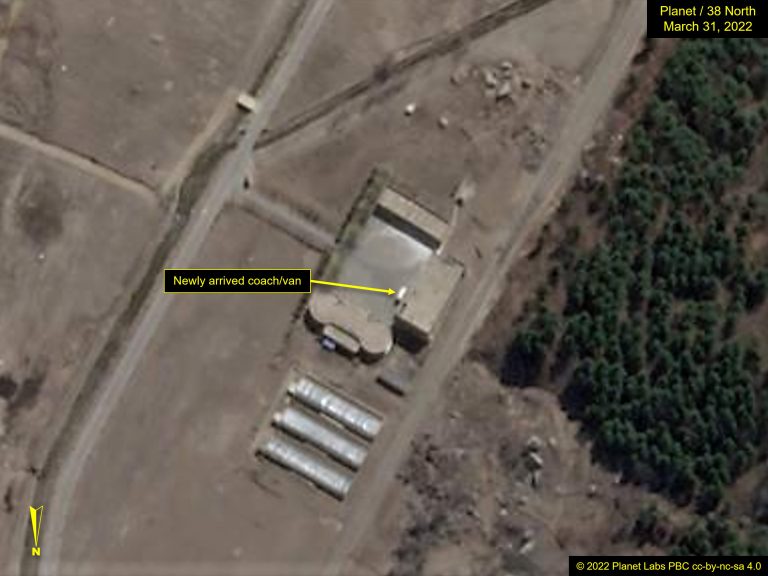 ---
[1]

"Respected Comrade Kim Jong Un Inspects Sohae Satellite Launching Ground," Rodong Sinmun, March 11, 2022.
---