Ready for Takeoff: Pyongyang Prepares for a Major Parade
Commercial satellite imagery shows preparations are ongoing across Pyongyang for a likely military parade to mark the 110th anniversary of the birth of Kim Il Sung. April 15 is the "Day of the Sun" in North Korea and one of the country's most important holidays.
Anniversaries signifying a decade are generally treated with greater fanfare than other years. This is also Kim Jong Un's 10th year in power, which has been acknowledged in recent weeks by the issuance of a new commemorative stamp.[1] As such, a major parade is expected, and signs of preparations have been evident for several months at the Mirim Parade Training Ground in east Pyongyang. This week, similar signs have appeared in Kim Il Sung Square and the Sunan International Airport, the country's main international airport and the site of recent missile launches.
Sunan International Airport
On Wednesday, 22 military aircraft and nine helicopters were visible lined up along a taxiway near the threshold of runway 17. It is likely these aircraft will participate in a flyover as part of the festivities.
Figure 1. Aircraft and helicopters lined up at Sunan International Airport on April 13, 2022.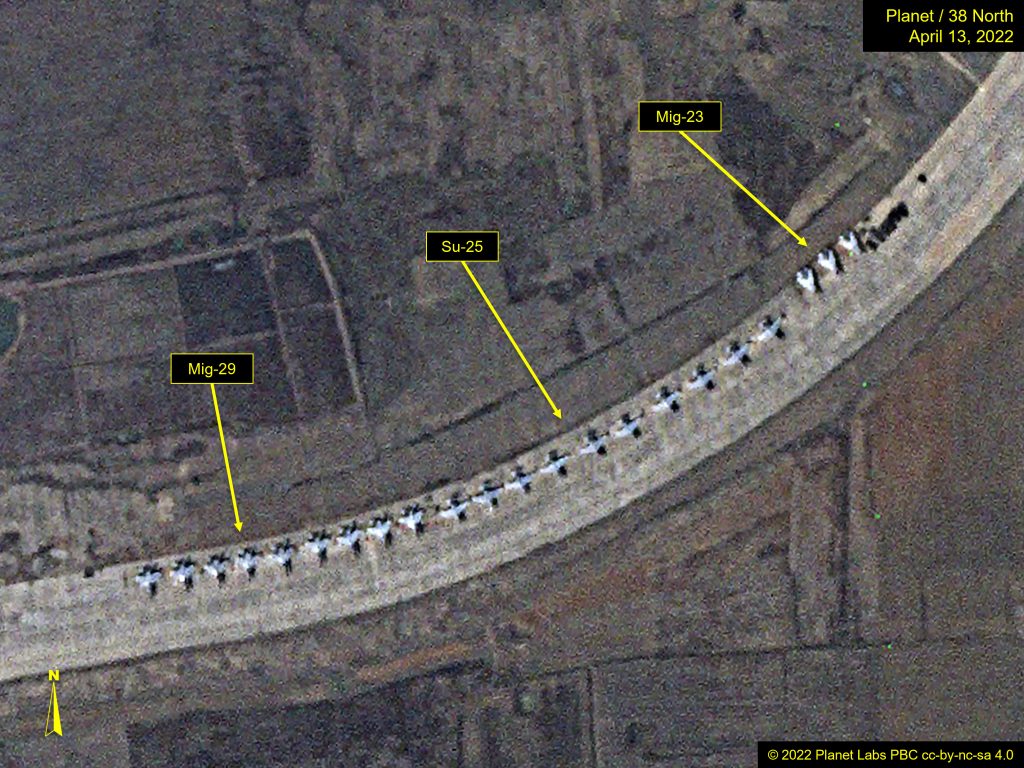 Image resolution prevents the ability to determine the type of helicopters, but they are five-bladed models. They are most likely Mi-24 attack helicopters but could also be the Mi-26 transport helicopters or possibly Mi-14.
Figure 2. Helicopters and support equipment visible along taxiway.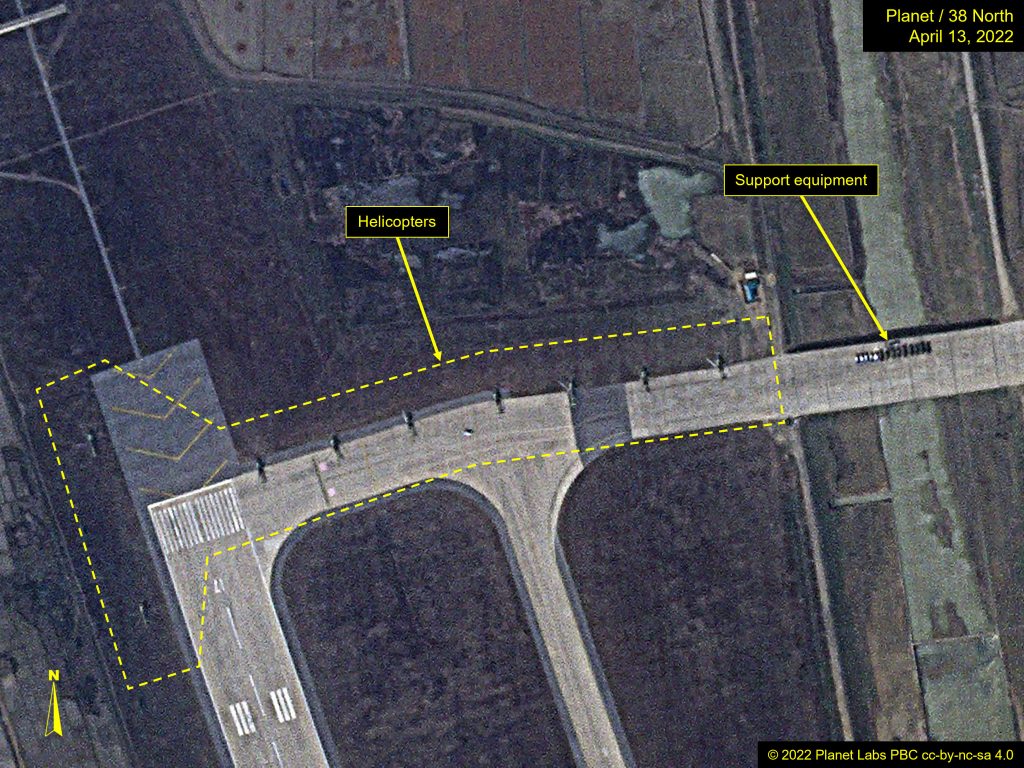 From left to right in the image, there are nine MiG-29s, 10 Su-25s and three MiG-23s. On each end of the aircraft line are support vehicles and equipment, some of which might include generators, which are typically used to start the aircraft.
At the north end of the airfield, there are 18 additional vehicles and pieces of equipment that are newly arrived. It's not possible to determine their purpose or if they are related to the aircraft deployment or some other unknown purpose.
Figure 3. Possible vehicles or equipment at north end of airfield.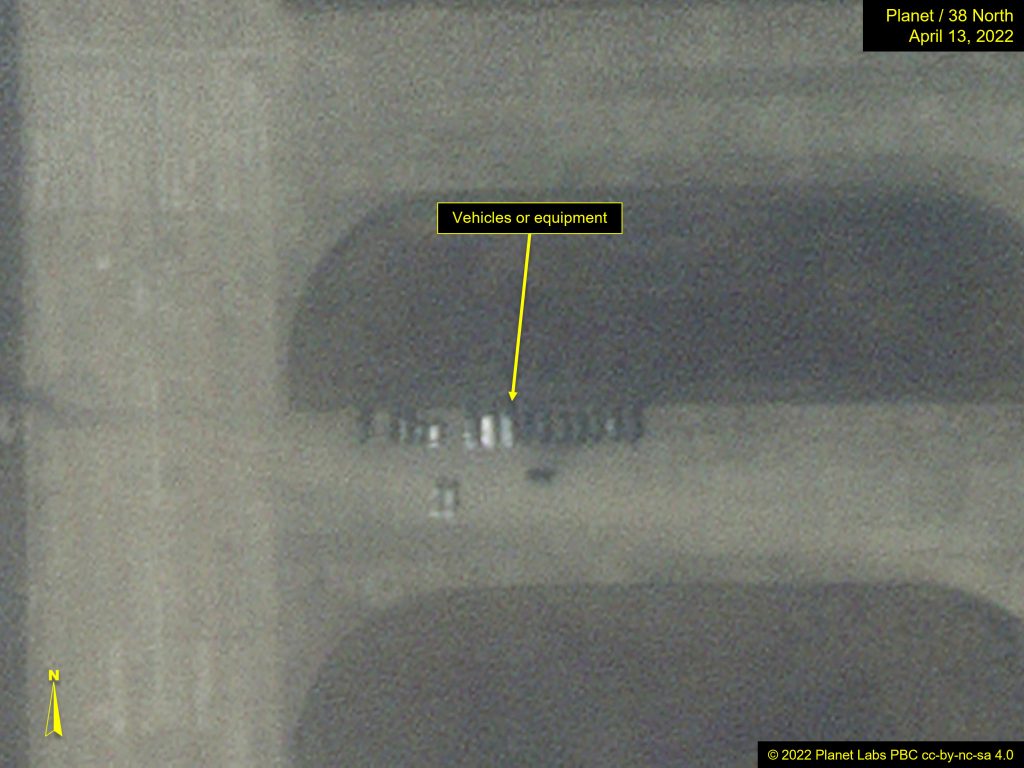 Kim Il Sung Square
In Kim Il Sung Square, which is the site of parades in the capital city, a stage is visible in the lower portion of the square near the Taedong River. NK News reported red decorations have also been placed on the front of one of the buildings in the square.
Figure 4. Stage, decorations and viewing stand set up in Kim Il Sung Square.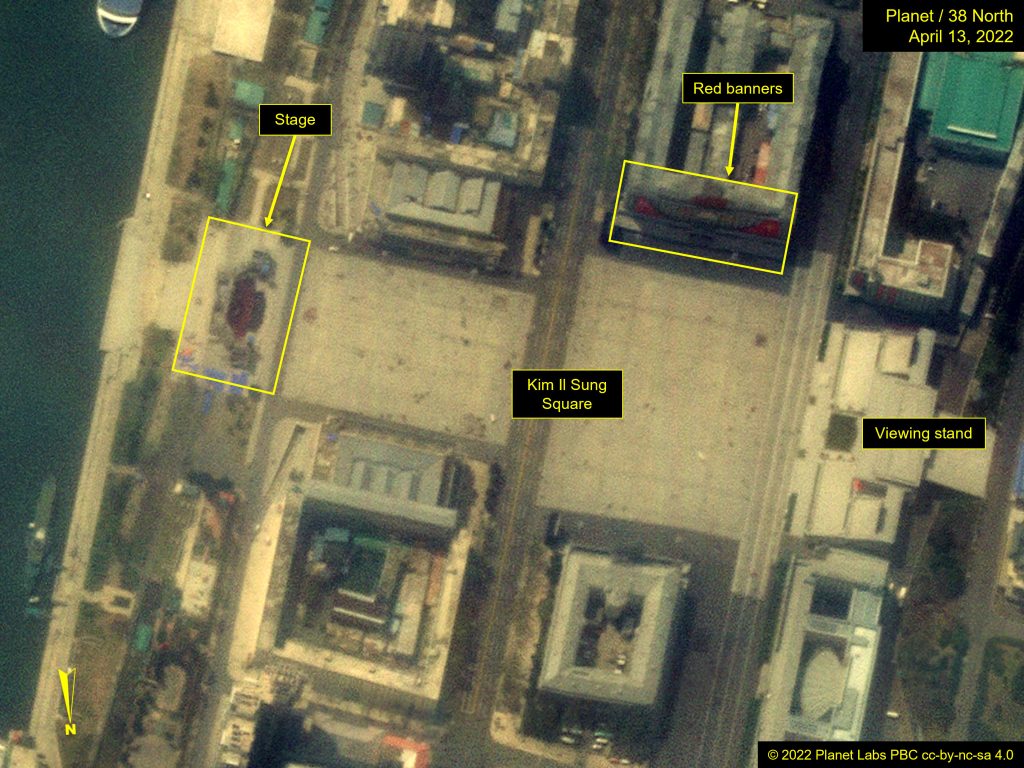 The preparations in Kim Il Sung Square follow several days of parade practice, some of which was captured by imaging satellites.
Perhaps the most vivid image was snapped on April 8 when a Planet satellite caught thousands of people in the square holding red and white placards that spelled out "Kim Il Sung" (김일성).
Figure 5. Placards spelling out "Kim Il Sung" on April 8, 2022.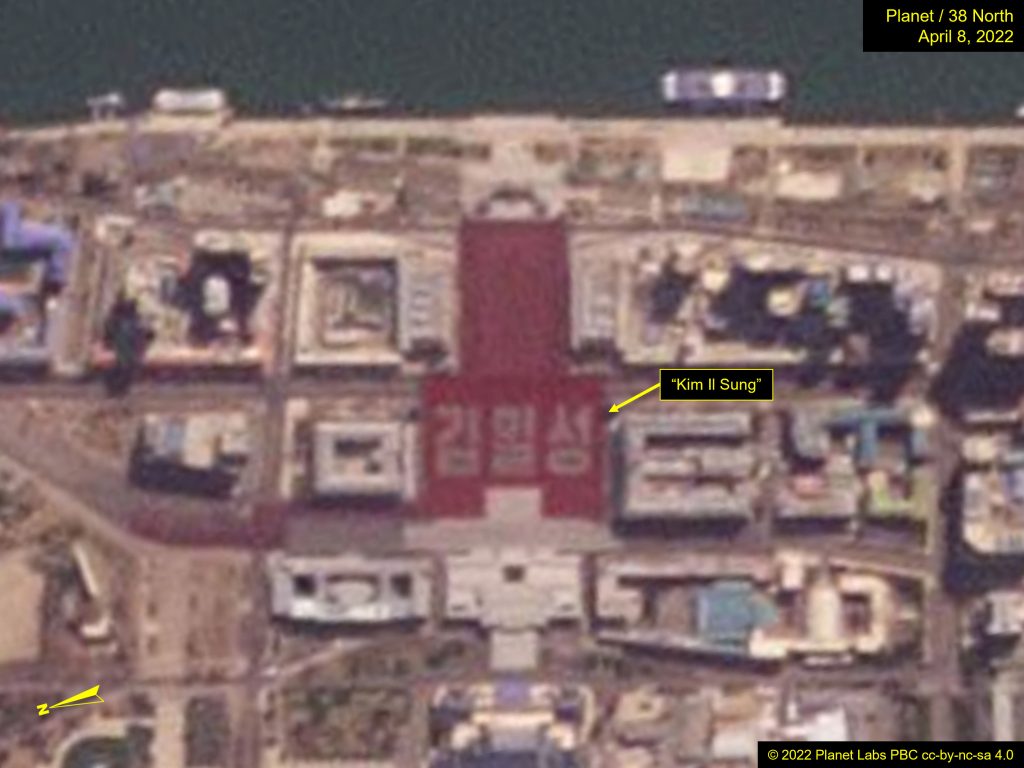 On Thursday morning, people were also seen in one of the formations they would make during the parade.
Figure 6. People in parade formation on April 14, 2022.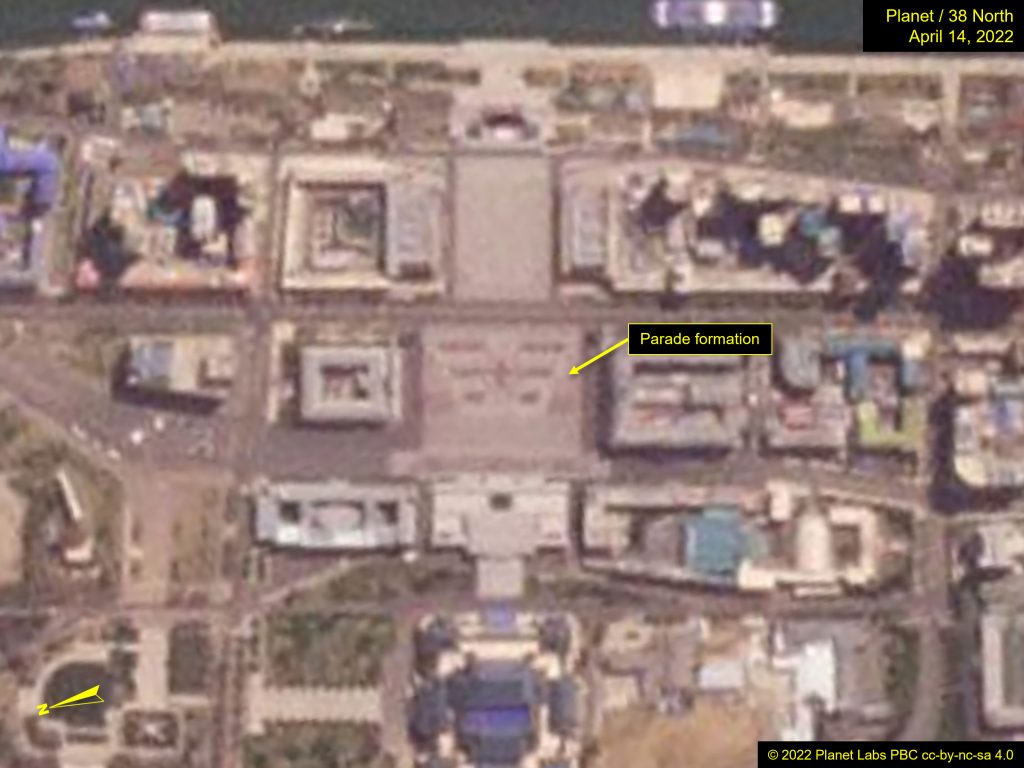 Late on Thursday, NK News reported the sound of helicopters and aircraft flying low was heard in Pyongyang shortly after midnight (early on Friday morning). In the past, such sounds have been reliable indicators of parade activity and suggest that the parade might have already taken place.
In recent years, North Korea has switched to holding parades around midnight. The reason is unclear, but it could be to thwart aerial or satellite surveillance of weaponry or simply because the event looks more spectacular at night.
If state media follows previous years, images and video will be distributed later on Friday.
---
[1]

"New Stamp Issued in DPRK," KCNA, April 11, 2022.
---