What's Up With the Weather in North Korea?
On September 9, 2012, North Koreans saw something new on television after the 8 p.m. news: weather forecasters. Korean Central Television (KCTV) updated its presentation to include presenters walking views through a weather map in what would be the first of several changes over the next decade intended to connect more with viewers.
Those changes appear to stem from an early interest Kim Jong Un took in improving access to weather information for North Koreans and have continued into 2022. These days, computer graphics are an integral part of each report; bulletins offer a more detailed forecast, and additional programming airs to both warn and report on extreme weather.
The North's emphasis on accurate and timely weather forecasting has increased since Kim Jong Un ascended to power, consistent with the country's increased interest in climate change and its impact on the economy and, lately, to help convey the regime's public health crisis management posture. This evolution around weather news, both in substance and presentation, is exemplary of how the country's broader propaganda strategy is changing under Kim Jong Un.
Figure 1. Korean Central Television weather presentation in 2022.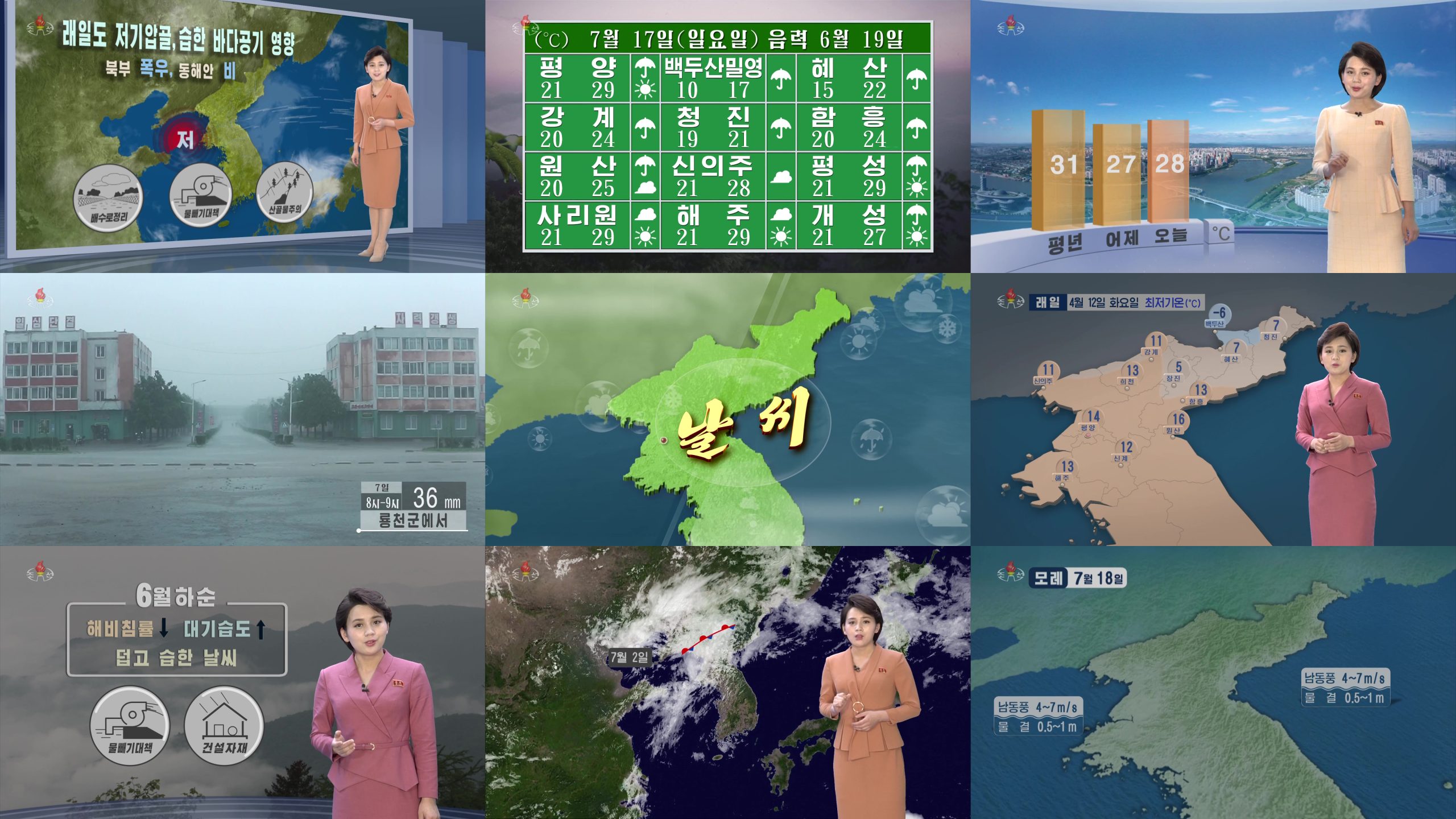 Weather Presenters
Back in 2012, it took several days for KCTV to settle on its new format. First it tried a presenter in front of a large video wall, then in front of the same video wall but viewed from an angle. The video wall was then switched out for a large TV set with a presenter at a desk, then, three days later, standing in front of a large TV set. Finally, on September 17, 2012, KCTV settled for the third option of a TV set and desk, and it remained that way for more than six years.
Figure 2. TV weather presenters on Korean Central Television on September 9 (top left), September 10 (top right), September 11 (bottom left) and September 14 (bottom right), 2012.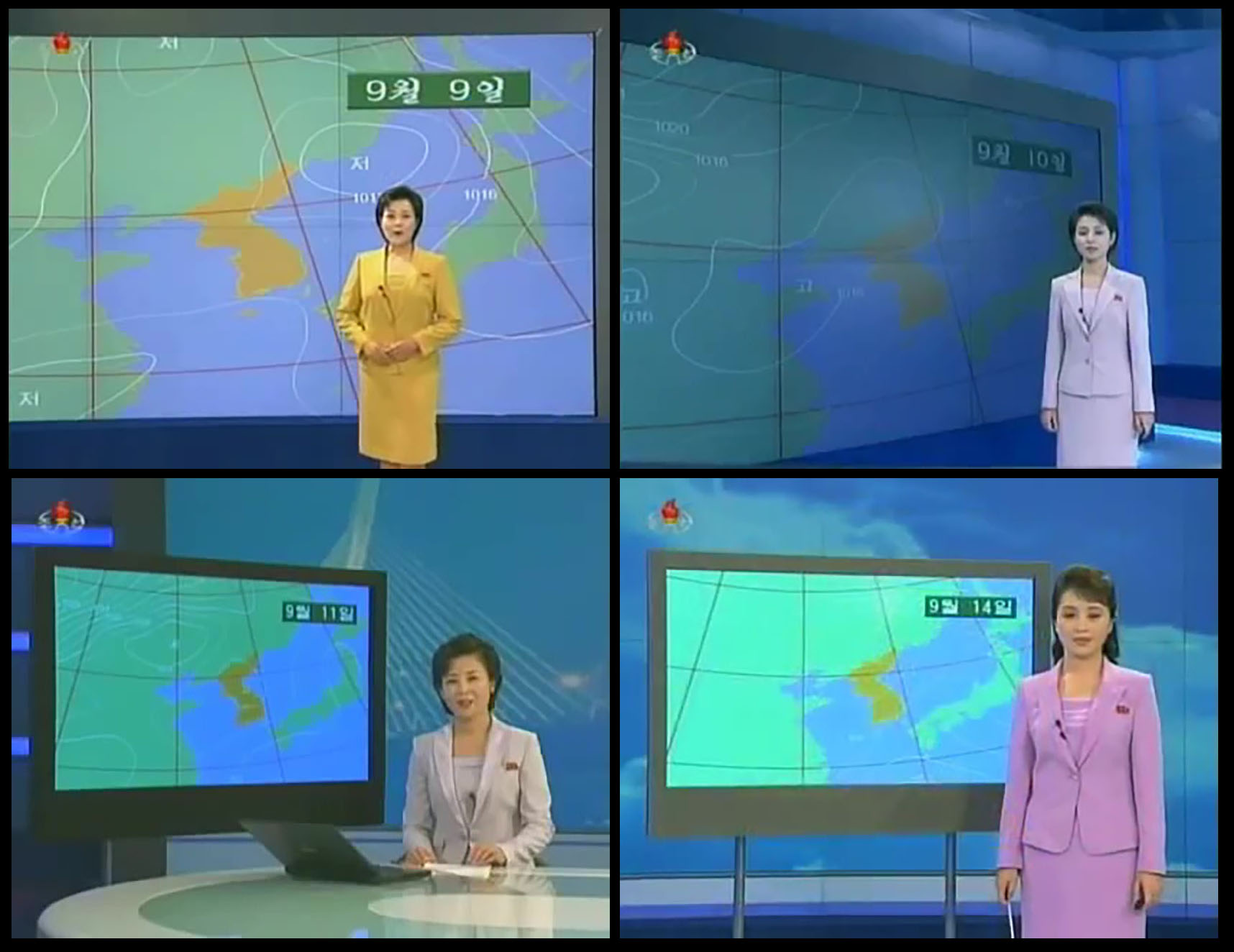 These visual changes were the first signs that the national weather agency was changing the way it communicates with the North Korean people.
Tracking the Weather
The State Hydrometeorological Administration was established in 1946; since 2015, it has been headquartered in Mirae Scientists Street in Pyongyang. It operates a network of weather stations at both provincial and country levels that feed information to Pyongyang and, through a link with the World Meteorological Organization (WMO), to weather agencies worldwide.
North Korea joined the WMO in 1975 and has relied on international cooperation through the organization for both equipment and training.[1] Its main source for technical help is the Meteorological Bureau of China, which has donated equipment to North Korea on multiple occasions.
In 2011, a WMO delegation led by Chinese officials visited North Korea to gauge the state of the agency and its requirements. It found the technical level of the staff was "very good," but, like much in North Korea, the infrastructure was lacking. The telecommunications system was "weak and outdated" and slowed transmission of critical data, the satellite receiving system was "unable to meet the modern requirements of data transmission and data sharing," and the agency's computing power hampered accurate forecasting.
Their report made several recommendations that highlighted how strengthening the weather agency's data for the agricultural sector could help food production and flood and drought management. They are recommendations the agency appears to have taken to heart over the last decade.
Figure 3. A weather station operated by the State Meteorological Administration seen on Korean Central Television on February 13, 2019.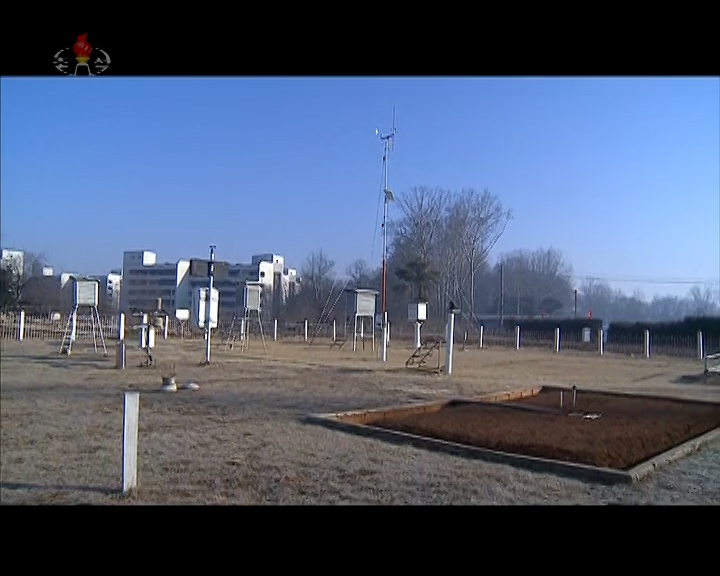 Accurate, Timely Information in an Appealing Format
North Korea's interest in weather forecasting and its link to economic development goes back years, even predating Kim Jong Un. The North's Kwangmyongsong-2 satellite launch in April 2009, for example, was noted for its potential application to weather projections and other economic fields, a line that was echoed in the wake of the country's Kwangmyongsong-3-2 and Kwangmyongsong-4 satellite launches in December 2012 and February 2016 respectively. All three launches, however, were unsuccessful.[2]
The North's emphasis on accurate and timely weather forecasting has increased since Kim Jong Un took power, consistent with the country's growing concern about climate change and its economic ramifications. By the early years of Kim Jong Un's rule, the North had already started to "professionalize weather forecast activities and improve the accuracy of weather forecast."[3] Efforts to improve weather forecasting reached new heights with the leader's guidance to the Hydrometeorological Service in June 2014. During the visit, Kim called for "fundamentally improving the Hydrometeorological Service's work in order to supply weather and climate data accurately in a timely manner" for the protection of the people's life and property and prevention of damage across various economic sectors.[4]
Since 2021, Kim Jong Un and Cabinet Premier Kim Tok Hun have increased their calls for bolstering cooperation between the weather forecasting and agricultural fields, improving the speed and accuracy of weather reporting, and modernizing weather observation tools to cope with the "abnormal climate," reflecting the top leadership's awareness of the growing importance of weather forecast for the economy, particularly farming, in the face of climate change.[5] North Korean media since Kim's 2014 visit to the Hydrometeorological Service have continued to report on the country's advancements in weather forecasting technology and services, including the launch of weather information websites and mobile phone applications.[6]
Some of those products have focused on the agricultural sector.
"Nongopkisang" (농업기상) is an agricultural weather service that provides forecasts and current data, including temperature, precipitation, soil temperature, frost forecasts and estimates of the depth of frozen land, according to state media. Medium- and long-range forecasts are also provided, as is historical data, and users can specify down to the "ri" administrative area, which is similar to a village and the smallest of the country's administrative regions.[7]
Figure 4. The Nongopkisang website.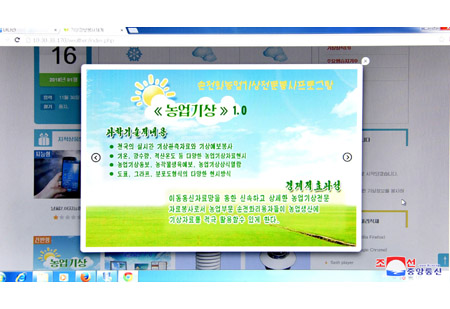 The North's increased focus on enhancing the accuracy and speed of weather forecasting extended to improving the content and presentation of weather news on state television. In a rare article exclusively dedicated to state television's weather news, published in a cultural and linguistic studies journal in late 2018, a veteran announcer cited Kim Jong Un's instructions to expand the content of weather forecasts from simply weather to weather-related issues that could impact people's everyday life.[8] The author also wrote extensively on how to make weather news presentations more appealing to people's senses, stressing the importance of shifting from "just formulaically conveying" the news to relaying the news "with a friendly expression, thoroughly from the position of the viewer," using the right emotions and tone, after "sufficiently considering the viewers' psychology."[9] It was probably not a coincidence that KCTV weather news announcers in April 2019 dramatically changed their presentation style in line with the journal article's suggestions, just several months after the article's publication.
On April 27, 2019, the weather desk disappeared, and the presenter stood in front of a large TV and gestured to the map as she explained the forecast through a series of weather maps, graphics and satellite images.
Figure 5. Korean Central Television weather forecasts on April 26, 2019 (left) and April 27, 2019 (right).

Since then, the presentation style has further improved. Presenters now stand in front of a green screen with weather information filling the background behind them.
The content of the weather bulletin has also improved and now regularly features animated graphics and maps that better visualize the current conditions, and the bulletin includes a more detailed forecast that goes beyond provincial capitals in times of bad weather.
Figure 6. A Korean Central Television weather presenter in front of a green screen weather map on August 23, 2022.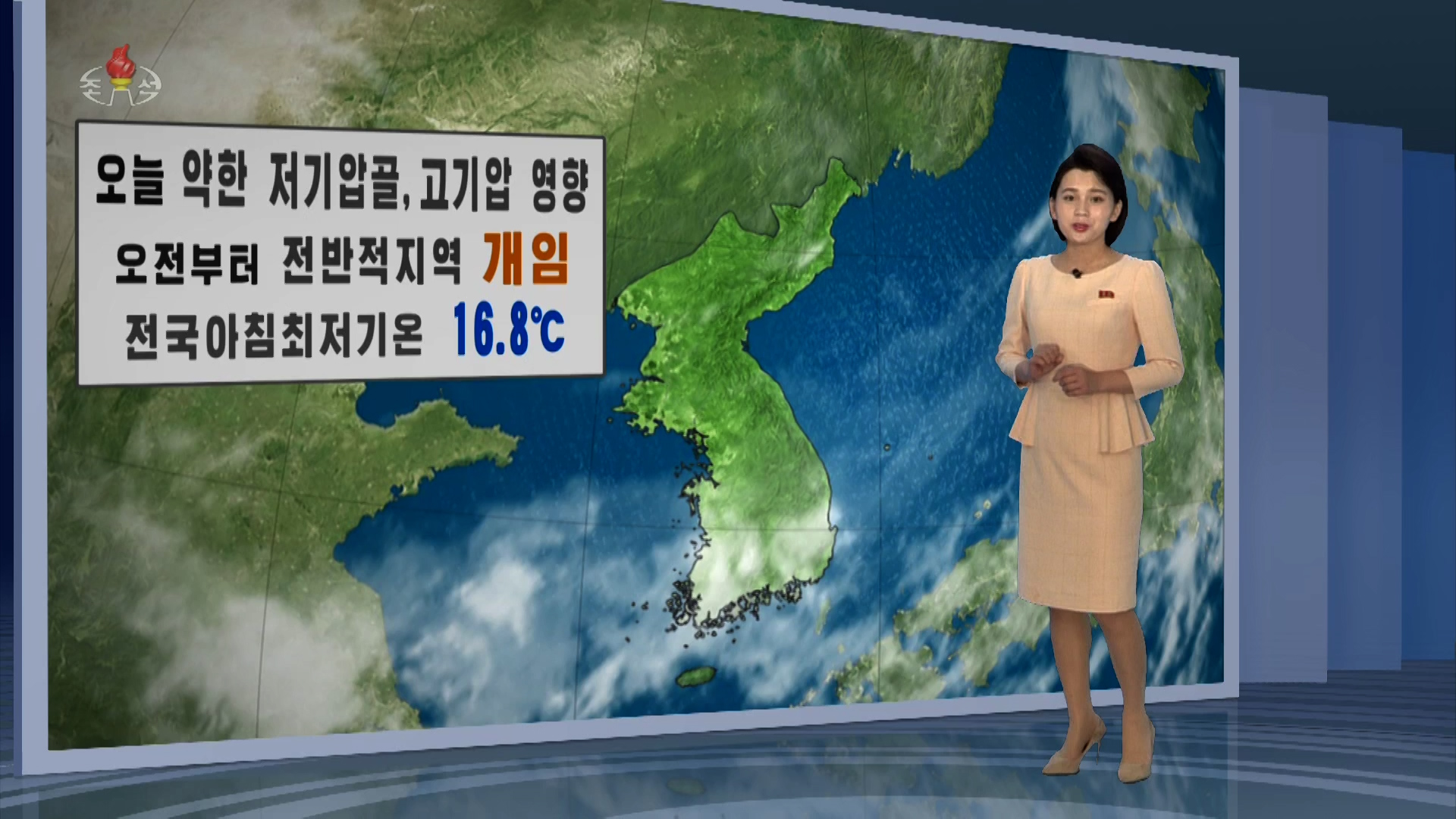 Figure 7. Korean Central Television weather presentation on August 23, 2022.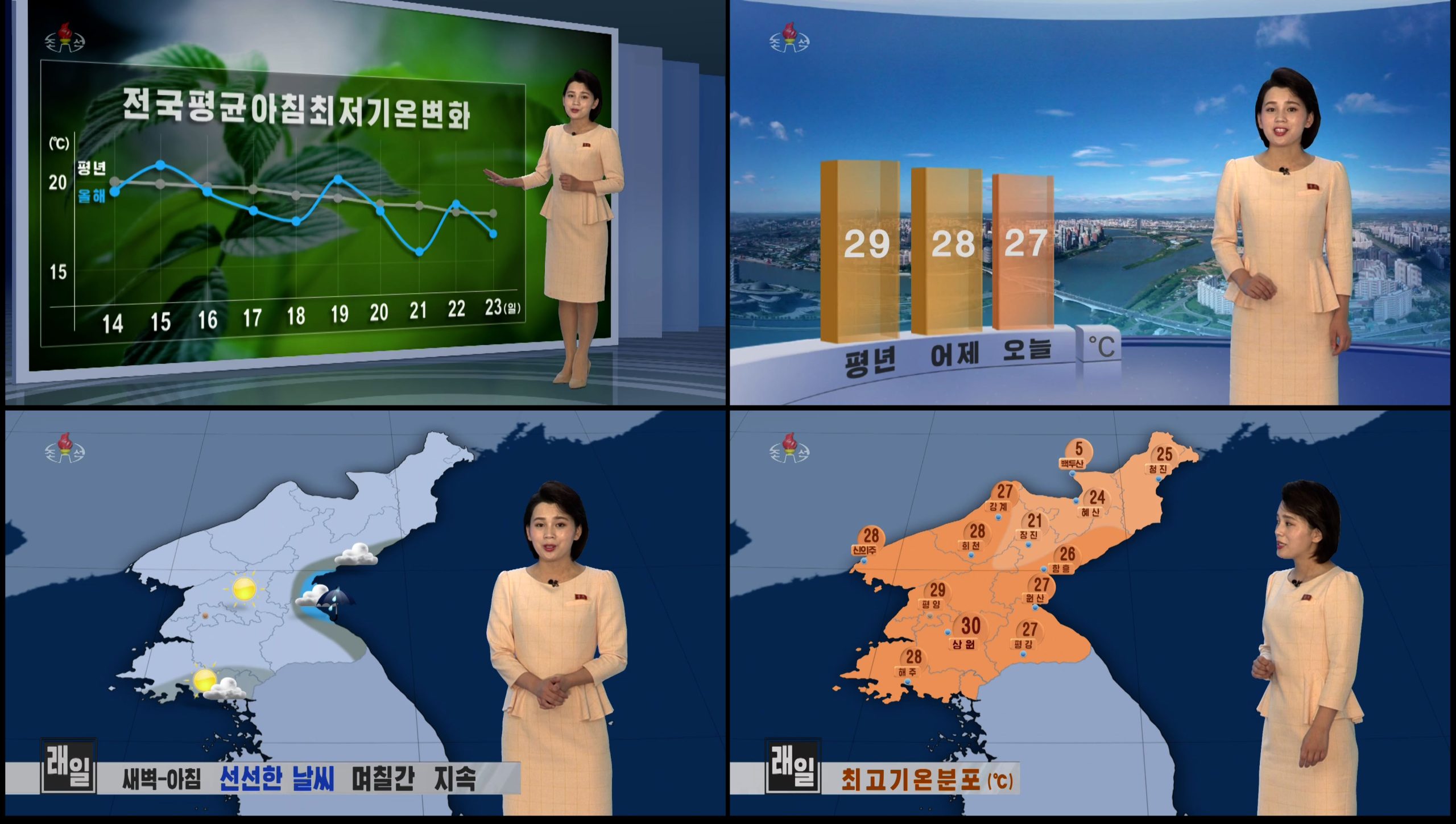 During extreme weather, such as typhoons or heavy rains that pose a high risk of floods and landslides, state TV devotes more time to disaster prevention. Special reports appear between TV shows to warn of the dangers and provide viewers with up-to-date information on current conditions. Sometimes, that information is only an hour or two old, which is very fast by North Korean TV standards.
Consistent With North Korea's Propaganda Strategy
By now, North Korea's various experiments with propaganda tactics since the outset of Kim Jong Un's reign are old news, and its efforts to revamp KCTV a cliché. Changes as cosmetic as introducing a younger generation of announcers or changing up a show presentation format on KCTV, to shifts intended to resonate more deeply with the North Korean public, like Kim Jong Un tearing up while giving a speech at a military parade or KCTV airing a Hollywood-style segment of the leader inspecting a missile launch, have been well chronicled. KCTV's round-the-clock real-time coverage of a typhoon in the summer of 2020 and its daily tallies of "fever" cases during the COVID outbreak were extremely rare, if not unprecedented, for their speed, level of detail and candor.
Pragmatism (perhaps better described as relatability), modernization and timeliness have been the hallmarks of North Korea's propaganda strategy since Kim Jong Un came to power, as shown by the above examples. And the evolution of North Korean television's weather news, both in terms of content and presentation, aligns with Pyongyang's broader propaganda strategy under the incumbent leader.
The following passage from Kim's letter to a national meeting of propaganda functionaries in March 2019 encapsulates well the philosophy behind North Korea's push for pragmatic propaganda to which the people can relate:
Whether we are posting one slogan or propagating a single propaganda and agitation material, we should not be embellishing it with unrealistic and exaggerated, loud expressions. Rather, it is important to guarantee truthfulness and conventionality so that the people can prefer it, recognize it, and respond to it.[10]
Though not about weather news, one article published in a philosophy, society, and politics journal emphasizes the importance of creating more "culture" of one's own, such as literary works and the arts, if one is not to be tempted by outside influence. The article captures North Korea's keen awareness of having to compete with an influx of outside cultural elements and confirms why it has made relentless efforts to adapt propaganda content and presentation methods to reality.
When one does not have what is one's own, one is naturally bound to look at what belongs to others…Only when we actively create and enjoy our culture, which reflects our people's beautiful dreams and ideals and overflows with national fragrance, will people voluntarily turn their back on others' things and will the socialist ideological and cultural camp be firmly consolidated. Here, [we] must attach importance to creating, in larger volumes and more excellently, literature and art works that are in line with the demands of the evolving times and embody the Juche character and national character, as well as our films, music, dance, and novels.[11]
Going Forward
North Korea's interest in weather will likely grow as it continues to overhaul its national disaster prevention and crisis management system. For example, in mid-May, in the lead-up to the monsoon season that would start in June, North Korea enacted a "code of conduct" to "minimize the damage from natural disasters and put disaster prevention on a regular and disciplined basis," apparently following up on Kim Jong Un's instruction during the December 2019 Party plenum to establish a "well-knit nationwide crisis management system to cope with natural disasters."[12] Furthermore, following the outbreak of COVID in the country, the North has constantly linked weather to quarantine efforts, warning that heavy rain could stymie "anti-epidemic work."[13]
Accordingly, we can expect KCTV's weather news to evolve for years to come, commensurate with Pyongyang's growing interest in weather and its repercussions for the economy and its response to public health issues.
---
---