Twenty Years of Mobile Communications in North Korea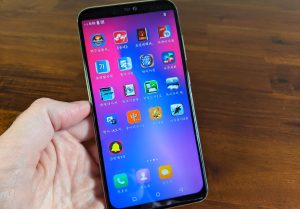 Two decades ago this month, North Koreans in Pyongyang and Rason were the first in the nation to get a taste of cellular telephony. In a country where landline phones were still the exception rather than the rule, mobile communications had the potential to revolutionize the way people communicate.
Data from recent interviews with North Korean escapees conducted by the authors indicates that cellphone usage is now ubiquitous; not only is it used for communication with friends and family, but it underpins North Korean's private economy—a vital tool for communicating with suppliers, buyers and distributors necessary to do business.
In addition, this is not exclusive to Pyongyang or major cities. Data from the 38 North Digital Atlas shows the cellular network covers vast stretches of the country, extending well beyond urban areas into rural North Korea. Interviews with recent escapees corroborate smartphone ownership is larger than previously reported, potentially between 50 and 80 percent of the adult population.
As a result, despite the increased possibility for state surveillance through cellphone usage, mobile communication has become an integral and indispensable part of North Korean daily life.
Early Days
North Korea's first cellular network, Sunnet, was switched on in November 2002 in Rason and Pyongyang by Loxley Pacific, a Thai company that had secured rights to build and operate the network from the North Korean government. It cost 750 euros to sign up, a further 300 euros for a phone and telephone calls cost 15 North Korean won per minute.[1] The 2G Global System for Mobile Communications (GSM) network was based on second-hand equipment purchased from Vodafone Hungary when it was upgrading to 3G.[2]
Within a couple of months, it had 3,000 subscribers, and this grew to over 20,000 users by the end of 2003 when coverage had expanded to several provincial capitals and major highways.[3]
But that service was short lived. In May 2004, an explosion tore through a train yard in Ryongchon near the Chinese border about nine hours after a train carrying Kim Jong Il passed through the station. Rumors spread that it was an assassination attempt triggered by a cellphone, and while the actual cause remains a mystery, the North Korean government suspended civilian use of the network shortly afterward.[4]
That network, however, was not totally shut down. For several years after the suspension of service, signals from Sunnet could be received by visitors to North Korea and from certain points along the inter-Korean border. It is likely that the government found significant benefit in cellular telephony and kept the network on the air for official use.
Figure 1. The Sunnet network shown on an iPhone in Pyongyang in 2008.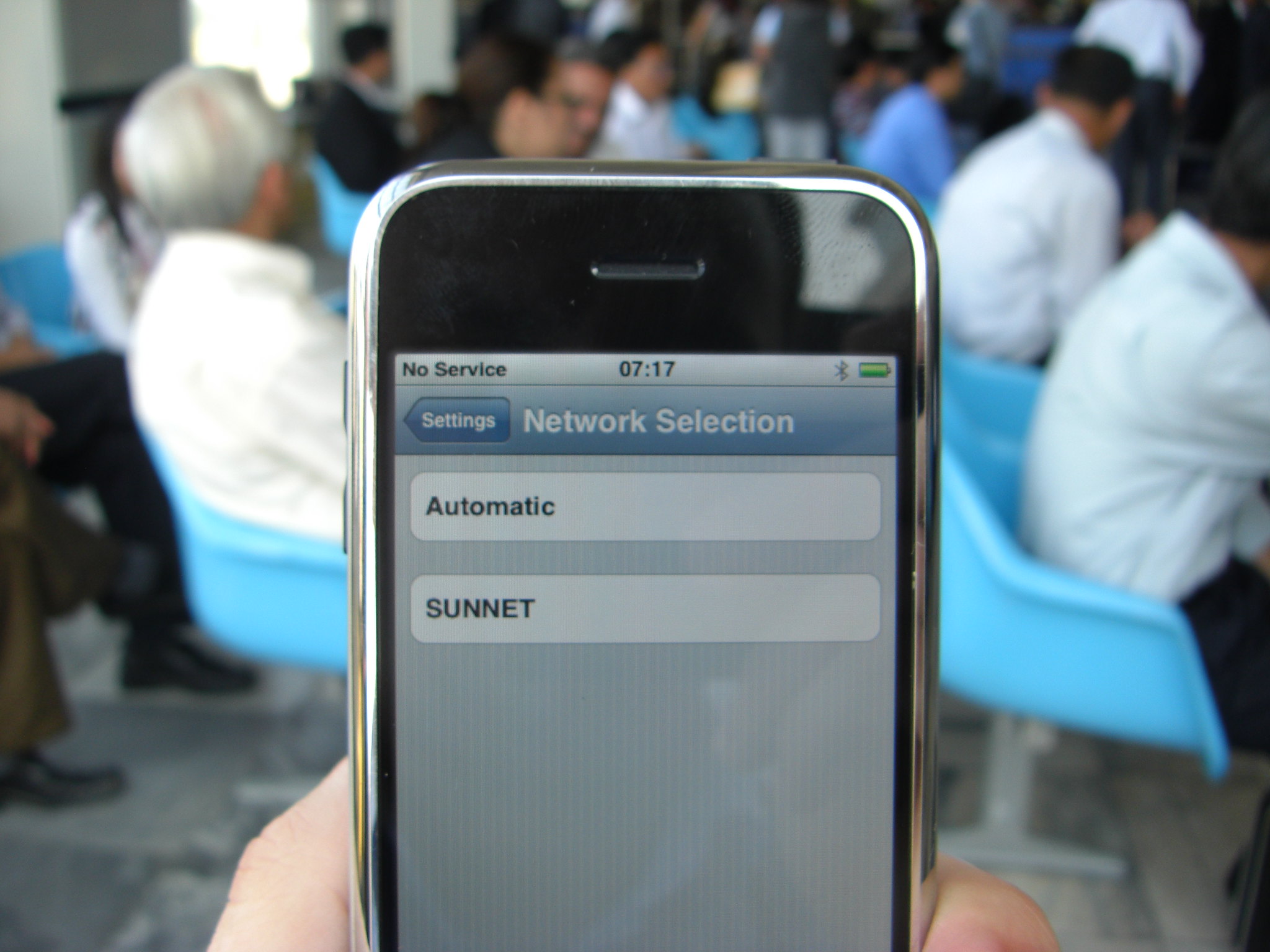 A Second Chance
The government gave mobile phones a second chance in 2008 when it awarded Egypt's Orascom Technology a contract to launch a 3G network. The service, called Koryolink, started in December 2008 and is still in operation today. Orascom owns a 75 percent stake in the network, with the North Korean government holding the remaining 25 percent.[5] Orascom announced its first million subscribers in February 2012 and had two million subscribers by May 2013.[6]
Koryolink began with basic feature phones but soon began offering smartphones to North Korean users. The basic Android handsets originally came with few restrictions and even allowed citizens to watch foreign content, but in 2014 the government forced an update on phone users that brought several new restrictions. The biggest change was the introduction of a digital certificate system that meant a phone could only show government-approved content.[7]
But despite this onerous new restriction, the popularity of smartphones continued to grow. This was probably because basic communications—that is, the ability to easily call or text message family members and friends—remained the killer app that attracted people in the first place.
Penetration of landlines in North Korea was and remains low. According to the International Telecommunication Union, there are just 1.2 million households with landlines in North Korea, so for many North Koreans, mobile phones might have been their first taste of basic telephony.
Figure 2. Timeline of North Korea mobile telecommunications from 1998-2019.
A Financial Disagreement
When North Korea welcomed Orascom Telecom into the country, it received millions of dollars in inward investment. A few years later, when the business became more lucrative and Orascom wanted to start withdrawing profits, the relationship soured.
Orascom and the North Korean government disagreed on the exchange rate that should be used to convert North Korean won into foreign currency, and months of negotiations followed. What exactly transpired remains a mystery, but in 2015 Orascom said it had effectively lost control of Koryolink despite still owning a majority stake.
Further, it said the North Korean government had launched its own cellular network to compete with Koryolink.
Orascom is still involved in Koryolink and, in 2018, received a sanctions exemption from the United Nations to continue operating the network.[8]
Cellular Telephony Today
Today, North Korea is covered by both Koryolink and Kang Song, the network launched by the North Korean government around 2013.
Much less is known about Kang Song than Koryolink, including whether the North Korean government built an entirely new network, which seems unlikely, or is running it over the same infrastructure. Both are 3G.
In interviews conducted this year by the authors, recent North Korean escapees have stated the Koryolink service is now mainly used in Pyongyang, and Kang Song is used by people in other regions. They also say large numbers of people have smartphones. Many estimated most homes own at least one mobile phone, with total penetration between 50 and 80 percent of the country.
These figures are backed up by a survey published last month by Unification Media Group that surveyed 50 current North Korean residents and found 46 of them had used North Korean mobile phones, and 41 of them, or 82 percent, reported owning a mobile phone. More than 90 percent of people reported using the phone at least daily, and most calls were to family members and traders. Because of the low incidence of landlines, cellular appears to have filled a significant need for basic telephony.
Based on previous data, statements from escapees and network coverage, the authors estimate that North Korea's cellular networks likely have a total of between 6.5 million and 7 million subscriber lines.
Figure 3. North Korean cellular subscriptions.
Nationwide Coverage
Together, both networks cover much of the country. The 38 North Digital Atlas has identified over 1,000 cellular base stations from satellite imagery, photos and videos. The following map is based on an estimated five-kilometer range for each base station, although exact coverage will differ depending on local terrain, antenna placement and power levels.
Figure 4. Estimated North Korean cellular coverage map with five-kilometer cellphone tower range.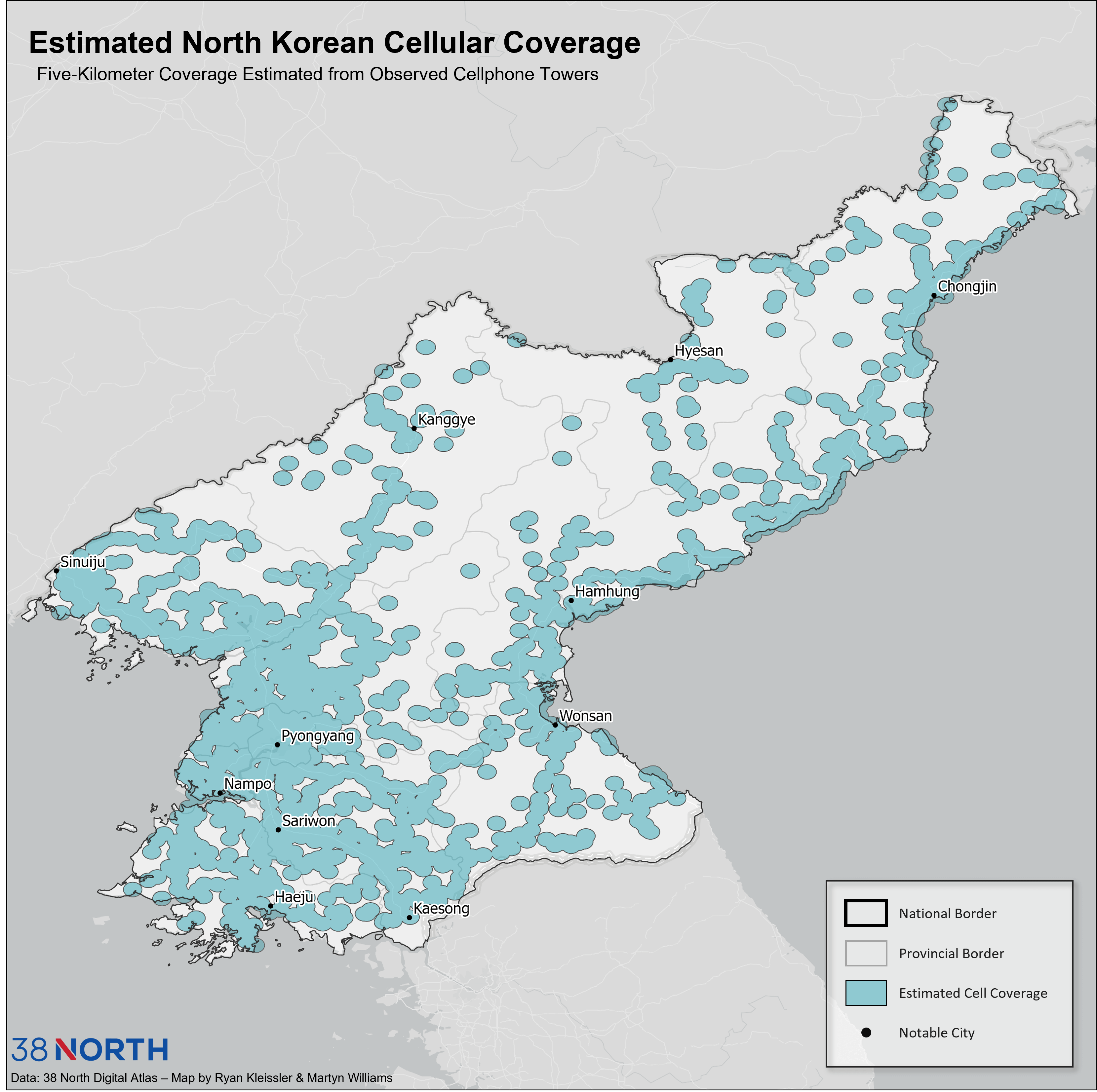 The area around Pyongyang is heavily covered, but notably, there is wide coverage around all major North Korean cities.
This second map, which includes major roads, shows how coverage follows highways into the interior of the country and includes numerous towns and villages.
Figure 5. Estimated North Korean cellular coverage map with five-kilometer cellphone tower range and major roads.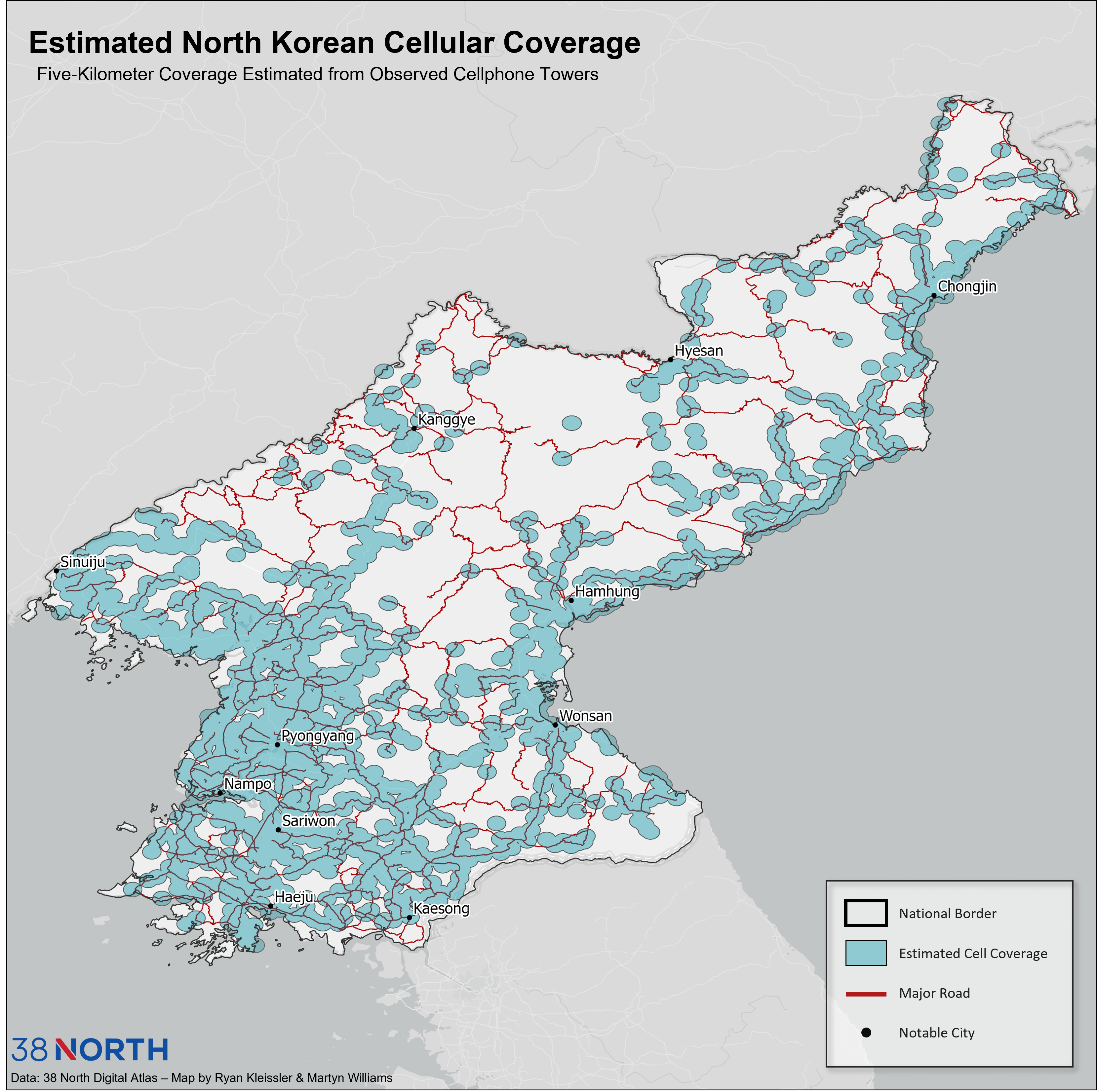 Actual coverage is almost certainly greater than what is currently depicted, as there are almost certainly additional base stations that have not yet been identified. Further attempts to map the network will continue as additional sources become available.
Looking Ahead
While the country's current 3G network provides basic telephony, data speeds are well below what is common in most parts of the world.
At the Eighth Party Congress in January 2021, Kim Jong Un called on the country's telecommunications sector to "step up the technical updating of its infrastructure and turn mobile communications into the next-generation ones as early as possible."
State media has been quiet on how such a feat might be accomplished. With the struggles of Orascom still fresh in memory, and sanctions on the import of goods, it seems unlikely that North Korea will be able to secure another foreign telecommunications company to provide a more advanced network for the foreseeable future.
Instead, the country might be looking towards public Wi-Fi networks.
In 2017, the Mirae network was set up in Pyongyang. It offers speeds of at least 33 Mbps, according to North Korean media. That's about 10 times faster than the 3G network. A recent report said it had been extended beyond the capital to at least Pyongsong and Nampho.
North Korean media has also talked about a second network called Ullim, which appears to be Wi-Fi based, but very little is known about it.
Conclusion
North Korea continues to roll out mobile telecommunications technology to its people but keeps close control over what the people can do with it. The country has a lot to gain from deploying this technology, especially in a nation where at least some telephone calls are still patched through by hand.
During the coronavirus pandemic, the national intranet and a domestic video conferencing system called Rakwon meant North Koreans could continue to hold meetings despite COVID-19 restrictions. And for individuals, just the ability to make and receive calls and messages on the move can mean a more efficient life.
However, none of these benefits are absolute. The government continues to monitor domestic communications and has the ability to collect data via these networks, which can potentially be used against individuals in the future. Moreover, restrictions on information access—a fundamental human right—have increased during the pandemic years, increasing punishments for unauthorized communications and consumption.
---
---