Book Review: "A Pyongyang Woman From London"
A Pyongyang Woman from London
By Oh Hye Son. Deomirakeul Publishing (더미라클 출판사), 2023. 319 pp.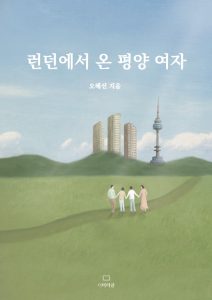 When North Korean defector Thae Yong-ho released his memoir in 2018, it became one of South Korea's most-read books, ranking 15 out of the 30 top-selling books that year. Thae's book promised pizzazz and delivered exactly that to a certain extent by sharing his experiences as an interpreter for Kim Jong Il, shepherding one of Kim Jong Il's sons in London and working shoulder-to-shoulder with some of North Korea's most famous diplomats. In the book, Thae delved a bit into his family life and his relationship with his two sons, but most of those stories took a backseat to stories and anecdotes focused on his professional career as a diplomat in North Korea and at embassies abroad.
As if to bring Thae's family life into clearer focus, Oh Hye Son, Thae's wife, released her own book this year entitled A Pyongyang Woman From London.[1] Given their shared experience living abroad in North Korean embassies, Oh's book traces the outlines of some of the events already covered in her husband's book, but through the perspective of that of a diplomat's wife and a working mother of two sons. She also shares details about her own life, which are almost absent from Thae's work, revealing more information about what life as a female member of North Korea's elite is like, and her own views on North Korea's society and economy. As such, the book is an interesting addition to what is a growing body of literature being written by North Korean defectors.
Life as an Elite in North Korea
Oh's book starts with her early life before shifting to her relationship with Thae and the course their lives took up until their defection to South Korea in 2016. We learn that she is from an elite family and a relative of Oh Paek Ryong, a famous North Korean general who fought with Kim Il Sung against the Japanese. In fact, Oh has stated in media interviews that one of the reasons she wrote the book was to dispel myths about life in North Korea. The anecdotes she shares about her life in the 1980s and 1990s reveal some of the characteristics of North Korean society that can still be read about today. In particular, Oh talks about being mobilized to work on farms as a young woman, helping to move rice seedlings to the fields for planting. Mass mobilizations were also present during her university life, where Oh makes clear that studying took a backseat to her political organizational activities and her required work on various projects outside of the classroom.
Oh also talks about the impact of songbun, North Korea's system of ascribed social status, on her life. To be sure, Oh's family, being of revolutionary stock and living in Pyongyang, was located closer to the top in the regime's hierarchy. However, social status was nonetheless something that impacted her life in resounding ways. She shares a story about a relationship with a man she had before being introduced to Thae. This man was a "returnee" from Japan—something viewed as unacceptable to friends and family due to the status of returnees as outsiders in North Korean society, largely because their loyalties were always in question.[2] Indeed, Oh's mother expressed distaste at the thought of her daughter dating the man because of his undesirable social status, which Oh recalls played an important role in her relationship with him falling apart. Songbun still plays a major role in delineating social position in North Korea today, making it difficult, for example, for farmers in rural areas to move into other occupations in urban areas. Ultimately, Oh recalls that although Thae's family was not particularly well off, he was of better revolutionary stock, which made him more acceptable to her family and friends.
Life as a Wife and Working Mother at Home and Abroad
What really shines through in the book is Oh's insight into the microsocieties of North Korea's embassies abroad. North Korean embassies are run on shoestring budgets, and diplomats, an elite group carefully selected after undergoing intense physical examinations and ideological tests, generally live together in the same compound, where they can be strictly monitored and controlled.
No level of monitoring and control, however, can prevent people from observing what they see outside the embassy walls, and Oh attributes much of her "awakening" about how far behind North Korean society is compared to the rest of the world to just living and observing circumstances in her host countries. One area she emphasizes in particular is medical care. Oh's eldest son, who was born with nephrotic syndrome, was in need of medical care that went beyond what could be provided in North Korea. Oh recalls that North Korean doctors had little idea about modern medicine, and were limited in information, equipment and pharmaceuticals. However, what was considered to be a difficult disease to manage in North Korea was easily treated by doctors in her host countries in Europe.
Oh also goes into detail about the roles of wives at overseas embassies, including the fact that they are expected to conduct (unpaid) work, even if they have children to take care of. She recalls that wives engaged in a range of activities, from cooking, typing and doing finances to even taking care of accommodations for officials who, due to a lack of foreign currency, had no choice but to stay at the embassies. Oh also relates that wives were expected to prepare banquets and parties to celebrate important North Korean holidays and  engage in efforts to buy second-hand goods with the intent to sell these items back in Pyongyang. This last point drives home the financially unstable position many North Korean diplomats found themselves in where they were underpaid, and with their futures back in North Korea so unclear, there was an imperative to think ahead and ensure they could make enough money upon returning home.
Furthermore, Oh shares stories about her life as a researcher at North Korea's Ministry of Trade. She began working there after graduation from university but naturally took a hiatus from work when her family went abroad. Before Oh and her family's final return to London, Oh reentered the trade ministry, rubbing shoulders with famous figures at that institution, including the daughter of prominent North Korean diplomat Heo Dam.[3] She provides her own views on why North Korea's economy has stagnated, pointing a finger at bureaucracy and outdated thinking that has pervaded the top leadership. For example, Oh recalls a meeting attended by Choe Yong Rim,[4] a one-time premier of the DPRK, and his nostalgia for the "golden years" of the 70s and 80s under Kim Il Sung that clouded his thinking about finding newer ways to shape the economy (196). She also claims that North Korean economic researchers were asked to study China's socialist economic opening in the early 1990s, but when they came forward with a plan to reform the economy by distributing land to farmers to increase production, they were criticized for lacking revolutionary and class spirit. This, Oh claims, convinced researchers not to take any unnecessary risks in their work from then on.
The Wife of a Politician
The publication of Oh's book comes as Thae Yong Ho's star status has risen in South Korean politics. As the first directly elected defector-politician in South Korea, Thae has become both a magnet for praise and controversy; and as a member of the People Power Party's Supreme Council, he looks set to become an important fixture in South Korean politics for some time to come.
Given Thae's status, it is worth reflecting for a moment on Oh's book as being part of an effort to refine the image of Thae and his family. In general, much of the information we have about Thae—and many other high-profile defectors, such as defector-poet Jang Jin-sung—rely on what they say about themselves or the books they write. Much of the commentary about Thae in Oh's book could fall into the category of "folksy," with a jab or two at his later-in-life lack of hair and, perhaps, understandably, drinking a bit too much at his first meeting with Oh's father. Generally, Thae comes off as a hard-working diplomat who takes the education of his children seriously and ultimately grows frustrated enough with the North Korean regime that he and his wife decide to defect. However, Oh does not go into any detail about their actual defection process.
Interestingly, she does note toward the end of the book that it was her husband's idea to head to South Korea so he could conduct a unification campaign against the regime rather than take the more "quiet" route of remaining in Europe. If they had stayed in Europe, Oh recalls she had thought that they could reduce the level of retribution the regime could deliver on their families. Her conclusion about whether she and her family made the right decision to leave North Korea appears clear, however. In her words, North Korea is a: "country without a future regardless of how hard one works" (276).
All in all, Oh's book does not have the same level of headline-grabbing anecdotes about the inner workings of North Korea's leadership and diplomacy that characterizes her husband's book. Nor does her book provide any particularly new insights into contemporary North Korean society that cannot be gleaned from defector testimonies and grassroots organizations reporting on the country. However, she does add interesting details that complement Thae's story and provides stories about herself that, given her background as a woman and a former member of the North Korean elite, are interesting in their own right.
---
---