Resolution Matters: Assessing North Korea's Spy Satellite
North Korea's first launch attempt of a military reconnaissance satellite on May 31 met an early demise when the Chollima-1 carrier rocket suffered a second-stage engine malfunction and plunged into the sea. Despite this setback, the country says it plans to try again as soon as possible.
While the launch was unsuccessful, it did reveal some new information about the country's new reconnaissance satellite. The following is an assessment of what is known and still unknown in the open-source community about it and what experts will be looking for if or when a successful launch takes place.
Spatial Resolution
One of the most important aspects of an imaging satellite is its spatial resolution. This is the size of the smallest object that can be seen. For example, a spatial resolution of one meter means anything smaller than a meter won't be discernable, and because any object a meter in size will only appear as a single pixel, it won't be able to make out the size and shape of things that are less than several meters in size.
The European Space Agency's Sentinel satellite has a spatial resolution of 10 meters. This was once considered "high resolution," but today is usually classified as medium or low resolution. For imagery analysis, it is only useful in making out large objects such as roads and buildings and larger scale changes such as landslides or deforestation. The upside is that Sentinel imagery is available at no charge. Similar imagery from the National Aeronautics and Space Administration's (NASA) Landsat imagery at 15 meters spatial resolution is also available at no charge through the US Geological Survey.
These days, however, several commercial satellite imagery providers offer high-resolution images. Planet Labs operates 150 satellites divided between its Dove fleet, which has a three-meter spatial resolution, and SkySat, which is about 70 centimeters.
Dove satellites can make out the shapes of larger buildings and see features such as trains, boats, and some trucks, but they struggle to see objects like cars and differentiate between densely-packed houses. SkySat is a big step up and allows observers to see most buildings, count train cars, and see cars and other features such as trees, parks and monuments.
Some of the sharpest commercial images currently available come from the Pléiades Neo satellites operated by France's Airbus. They have a 30-centimeter spatial resolution and make it possible to differentiate between a dump truck and a crane truck to identify buses and measure the length of cars. In some images, individuals can also be seen, although this is usually due to their shadows. US-based Maxar also offers 30-centimeter imagery.
For example, here is the Sinpho South Shipyard captured with the four satellites detailed above. In this 10-meter Sentinel image, large buildings can be made out, as can the large concrete piers but not much else.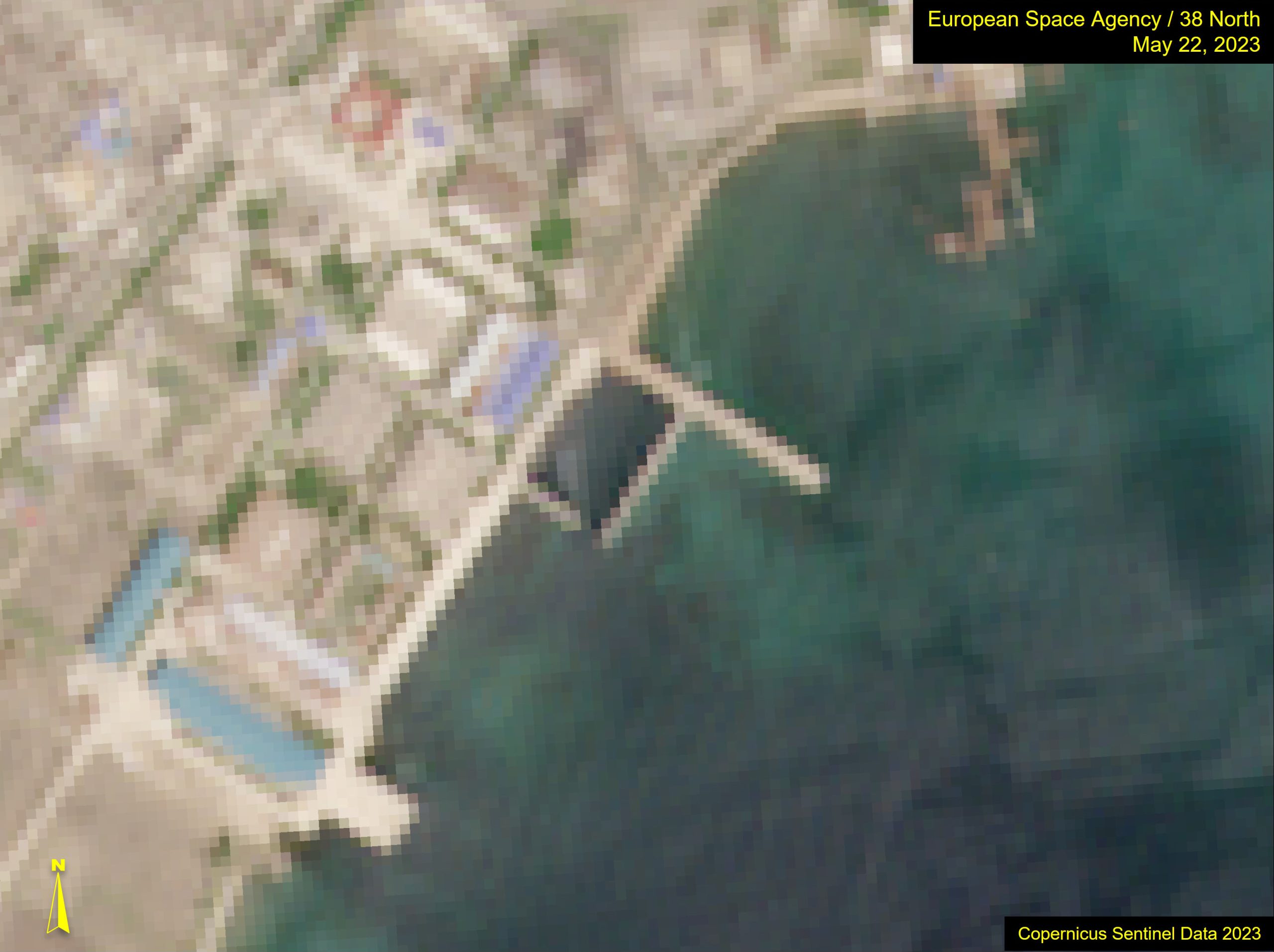 Going to three-meter Planet imagery provides a big jump in resolution. Suddenly, smaller buildings are discernable, as is greater detail on large buildings. Roads can be made out, and so can boats, especially if you know they are supposed to be there.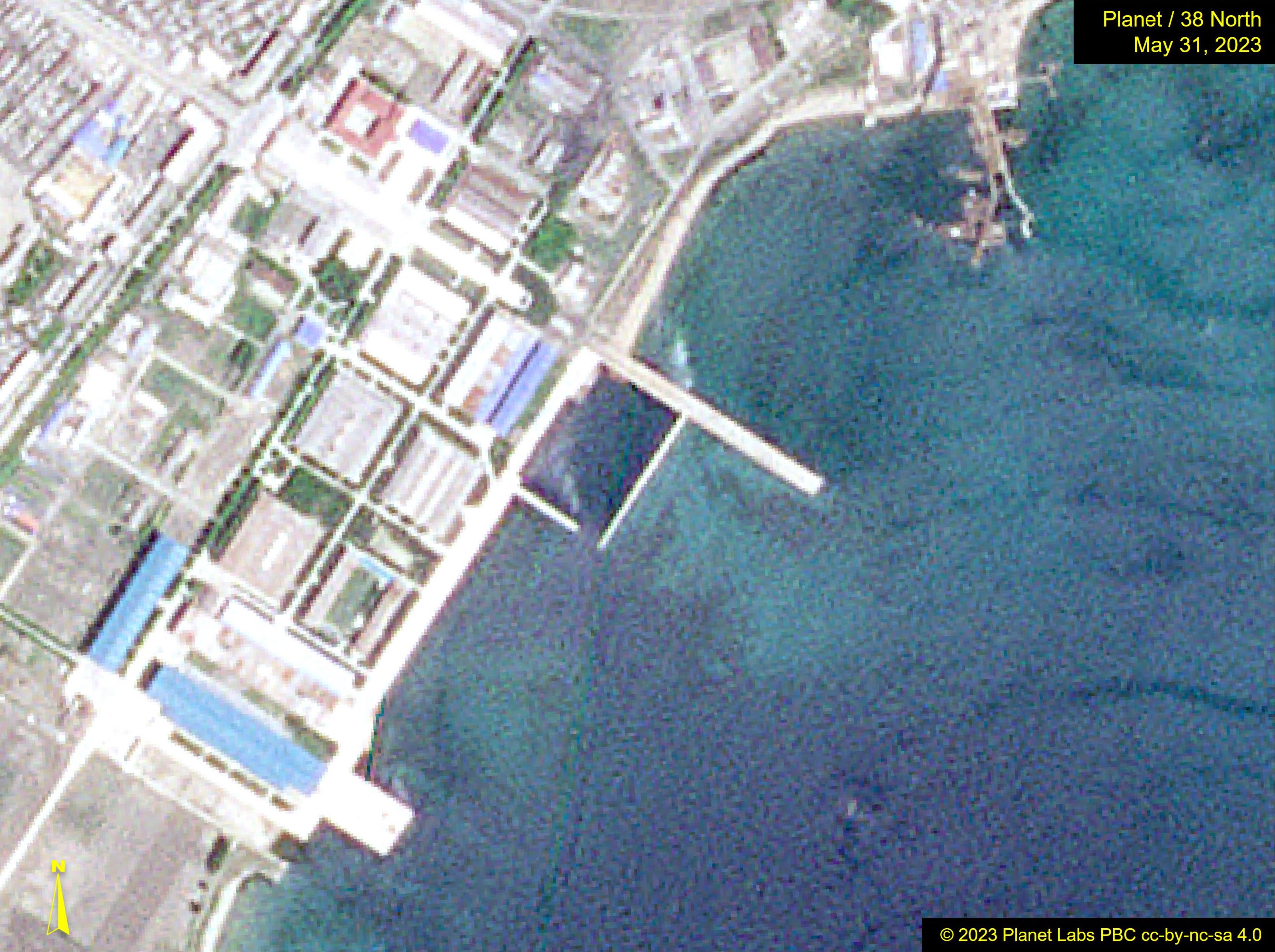 At 70-cm resolution, you can make out features on boats and count them and easily differentiate between different trees.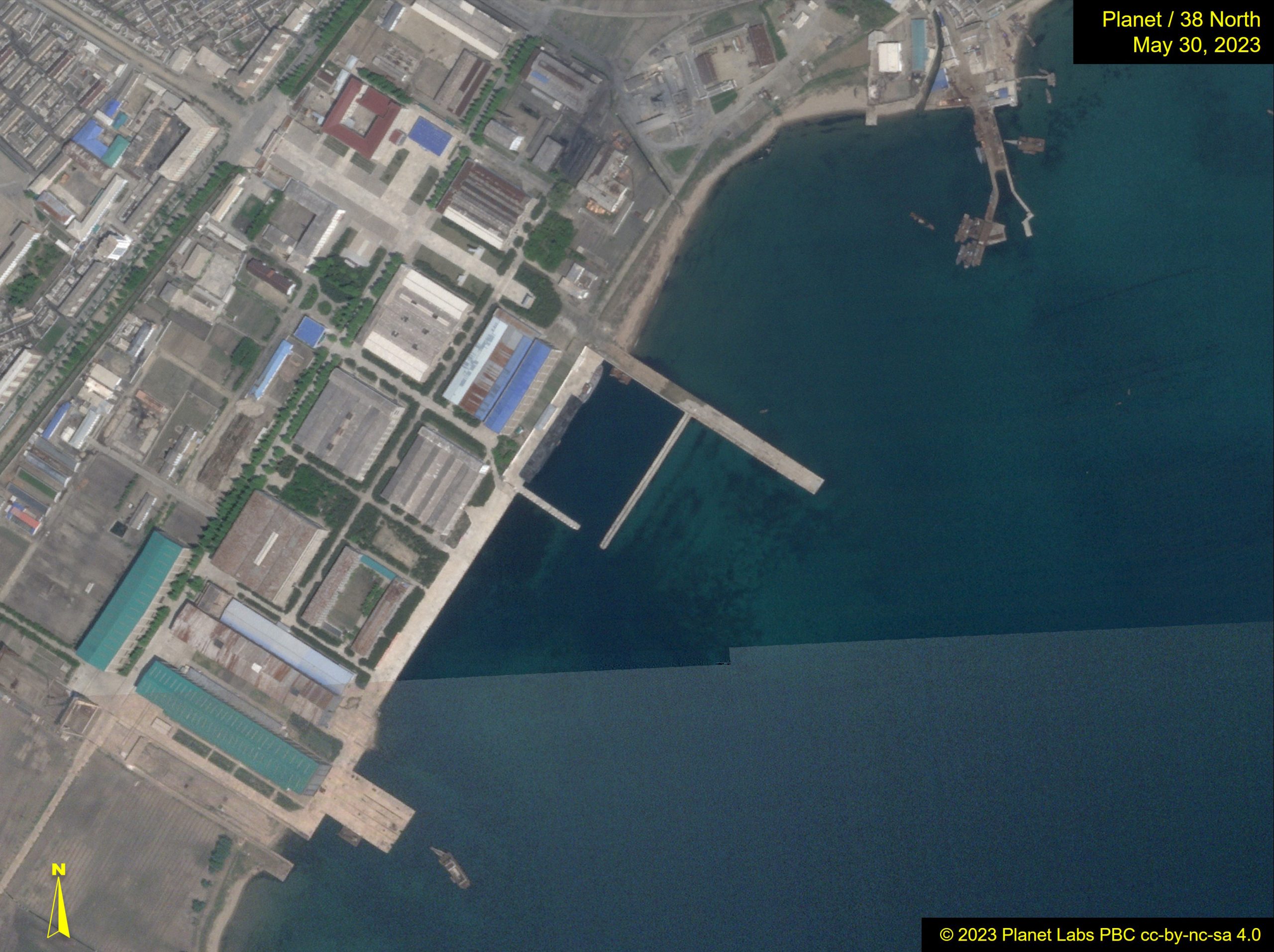 At 30-cm resolution, greater detail can be discerned.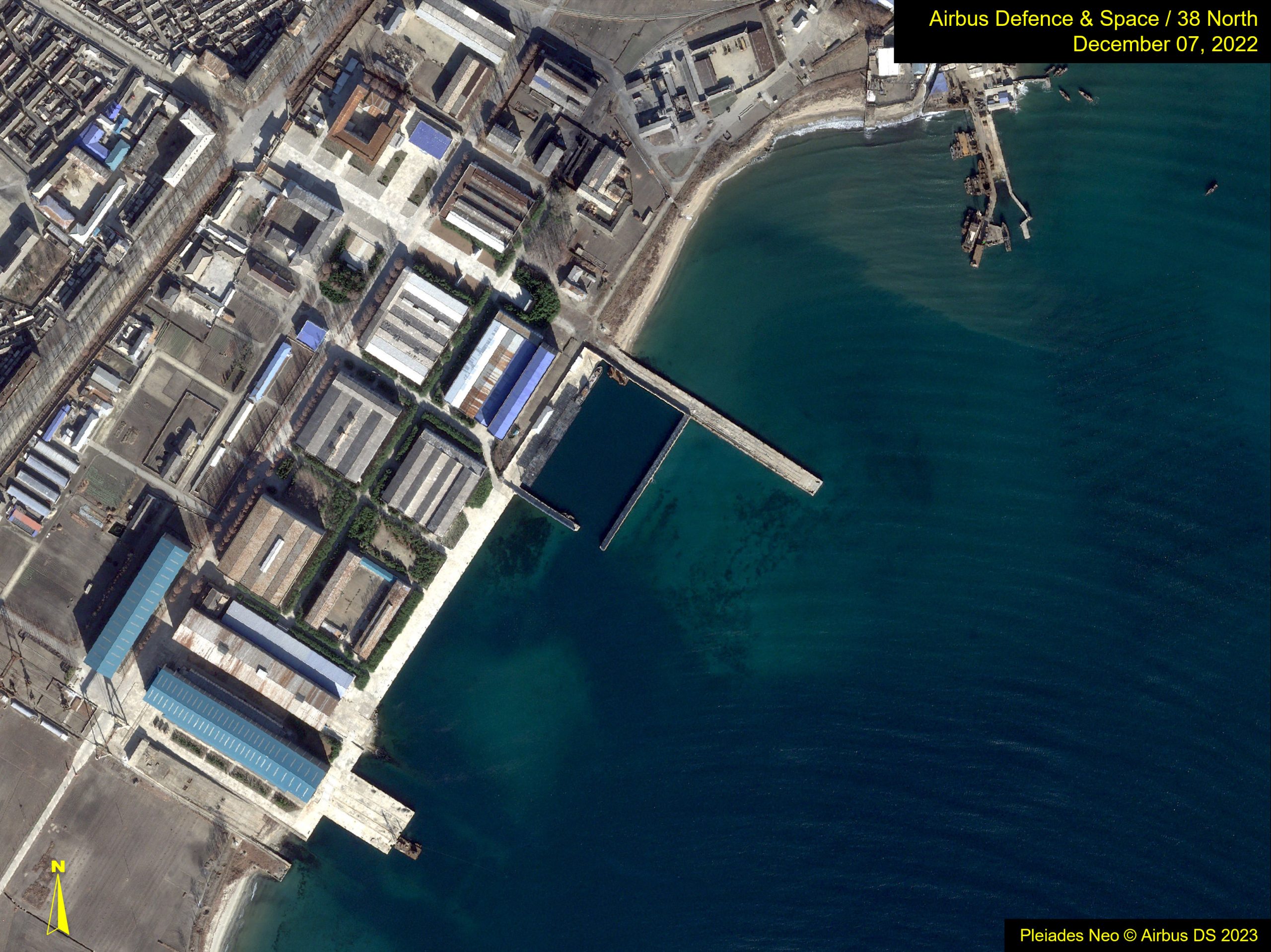 For a second example, let's look at the Sohae Satellite Launching Station. With Sentinel imagery, some of the larger roads and structures can be seen, and it is easy to differentiate between forested and cleared areas, but not much more at that resolution.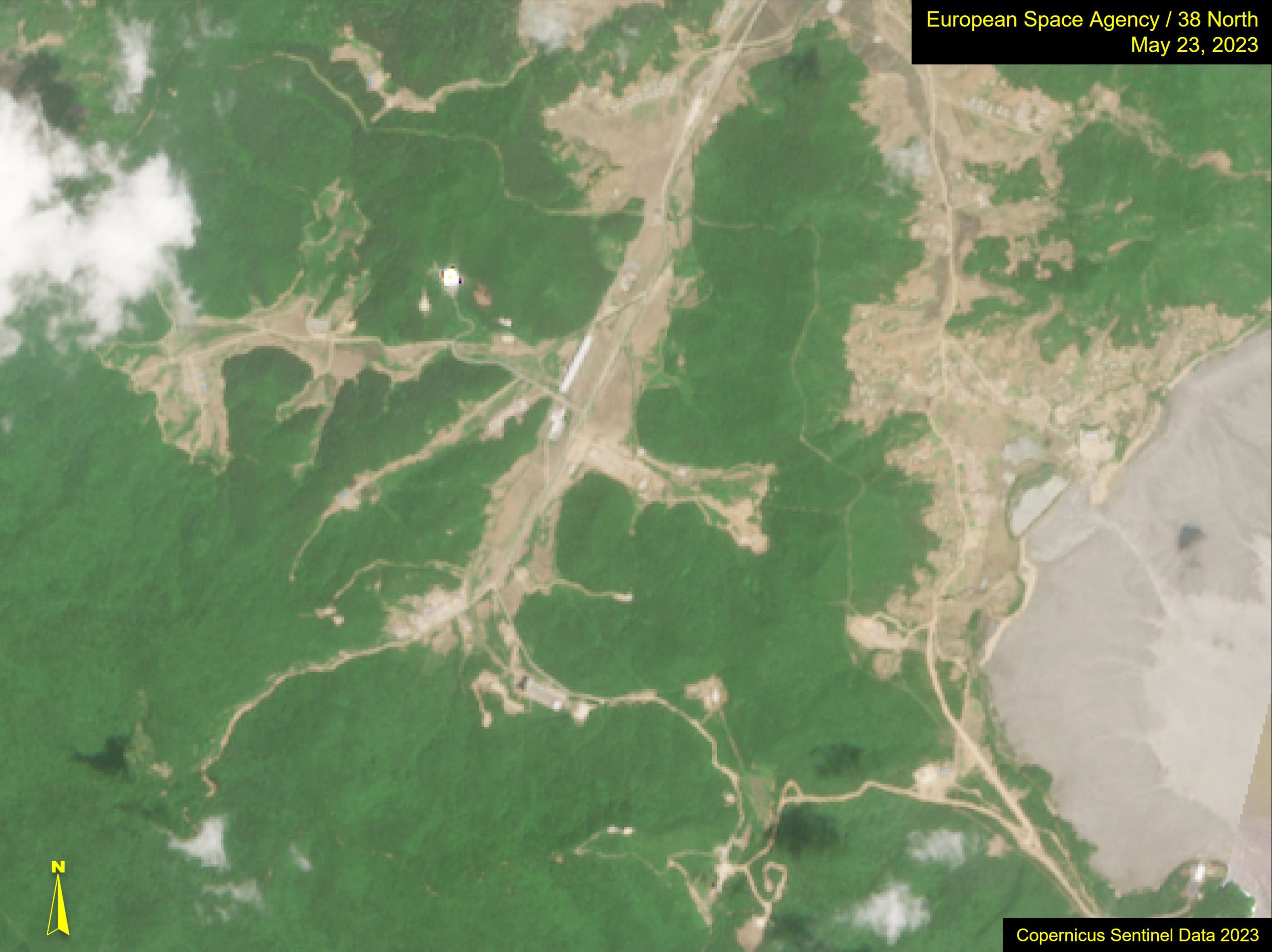 With the three-meter Planet image, we can zoom in a little and start to determine more detail of the road network and the launch pad.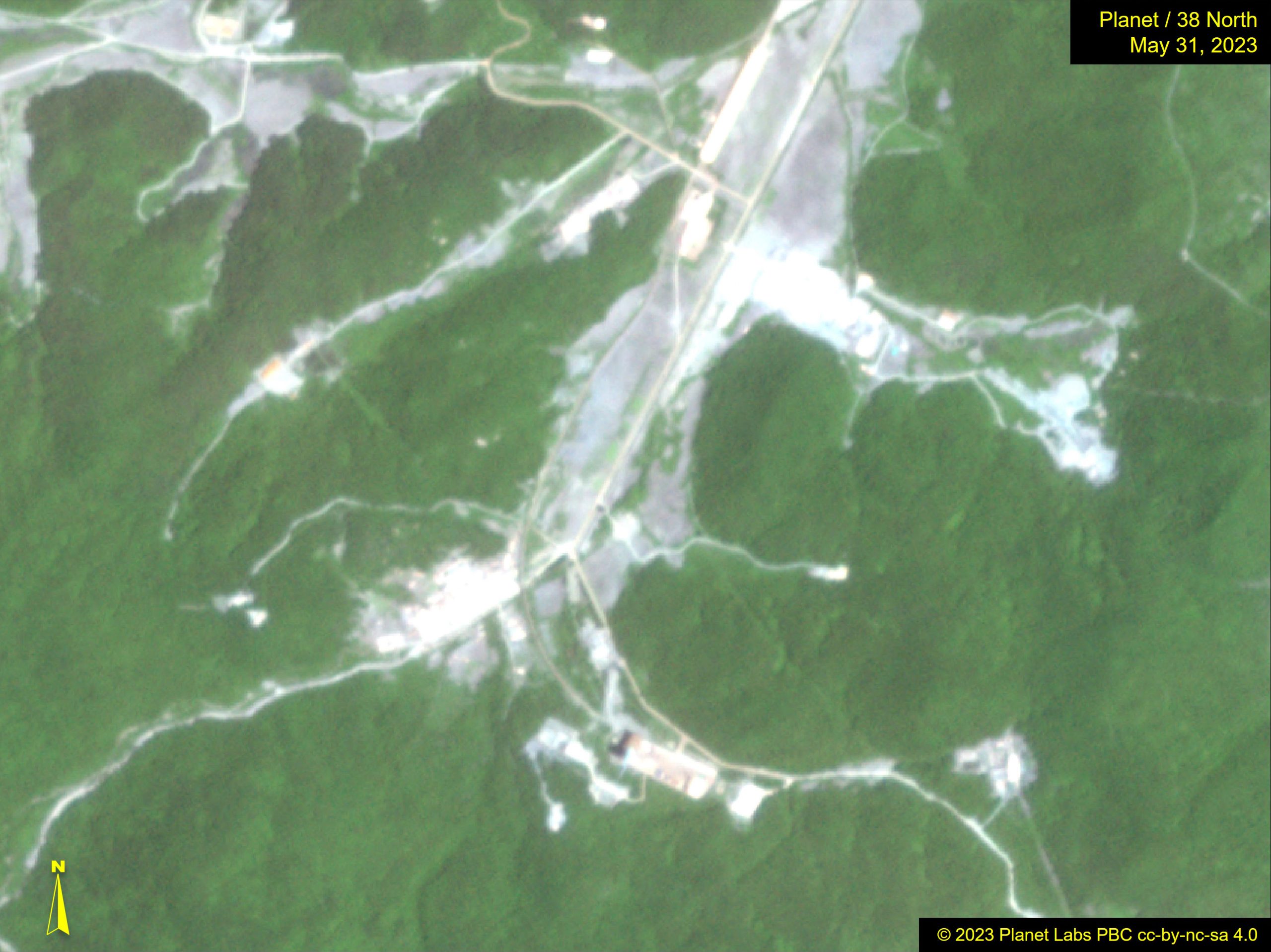 At 70-cm resolution, this SkySat image provides significantly more detail of the launch pad, including the presence of what appear to be trucks.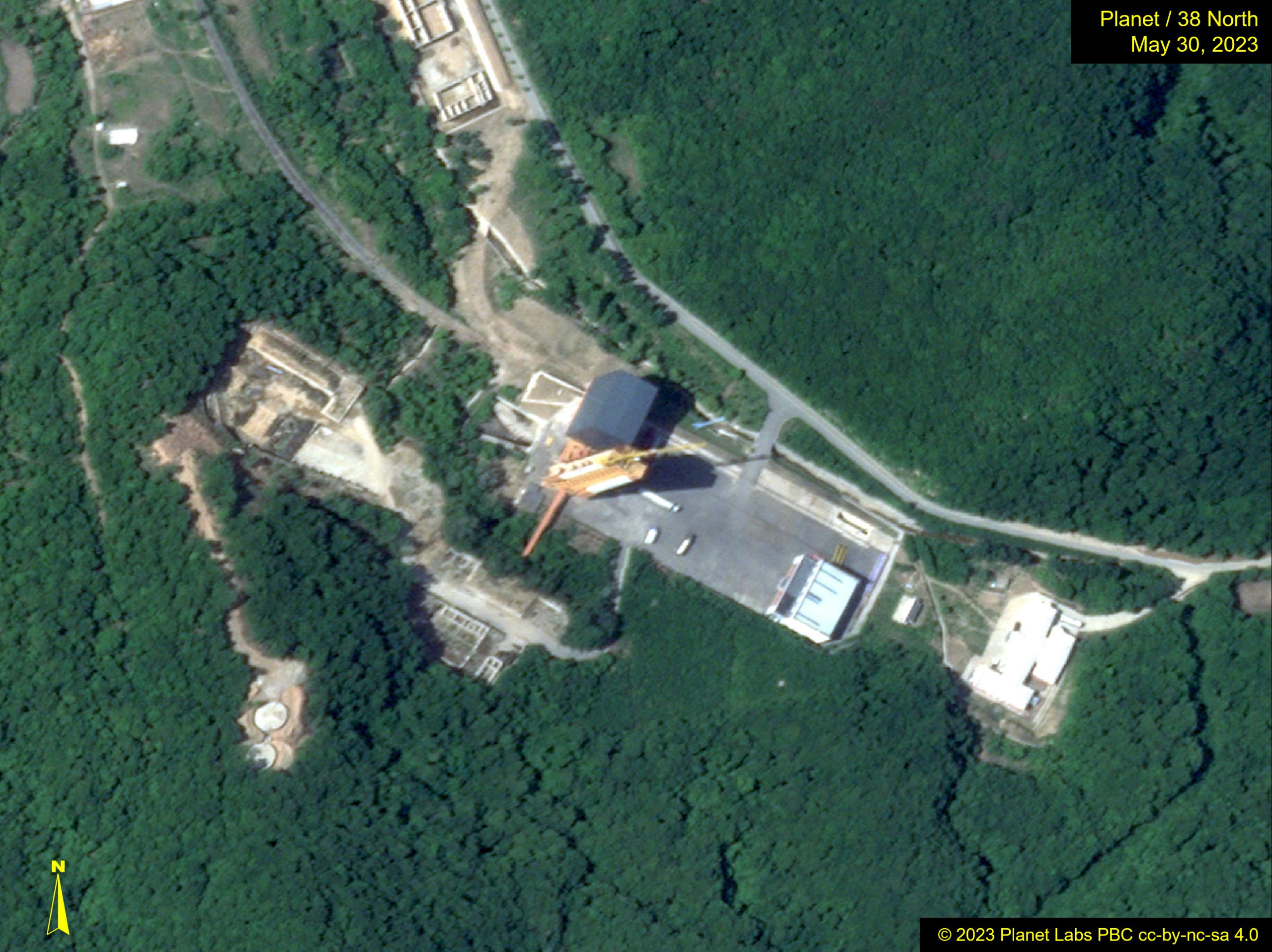 At 30-cm resolution, this Airbus Pleiades Neo image provides significantly more detail about the launch pad. Trucks and cranes can be identified, and lattice work on the large crane at the launch tower is obvious.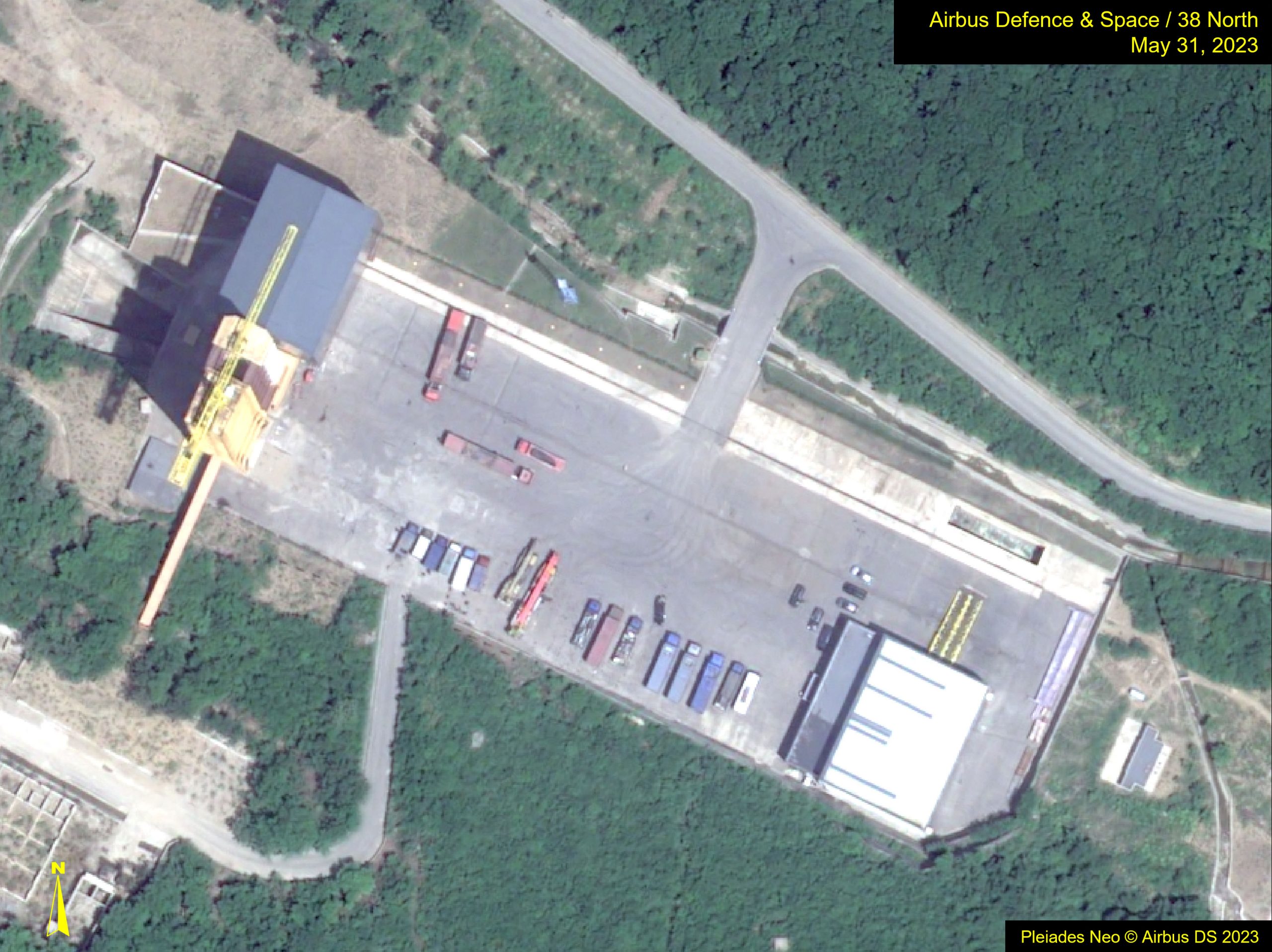 These examples provide an overview of the different spatial resolutions and highlight the importance of getting a high-resolution camera and perfect lenses for the mission of an imaging satellite. But spatial resolution is only one part of the equation.
The Orbit
The most important and crucial part of any launch is getting the satellite into the correct orbit. The orbit is decided by the objective of the satellite and determines how much of the earth it will see and how often it will see it.
For many surveillance satellites, this is a polar orbit where the satellite orbits the earth at roughly 90 degrees to the planet's rotation, passing over or near each pole. Most imaging satellites take about 90 minutes for an orbit to be completed. As the earth is constantly rotating, each successive orbit takes them over a different slice of the planet, and eventually, over multiple orbits, the satellite will see the entire planet.
The gap between revisiting the same location is called the temporal resolution and can be anywhere from a day to about two weeks. For this reason, imaging satellite operators often have multiple satellites in the sky to enable faster revisits of desired locations.
Orbits are also typically timed so that the satellites fly over target areas at approximately the same time each day. Such "sun-synchronous" orbits usually capture images between 10 a.m. and 2 p.m. because the sun is overhead and provides the best lighting with minimal shadows.
North Korea's navigational warning to mariners revealed three drop zones and indicated a dog-leg launch that had the rocket reposition itself mid-flight. This is a more complicated launch than previous space launch attempts, but it also helps predict the final orbit. Two predictions based on the launch warning concluded North Korea's satellite would not be placed in a sun-synchronous orbit. The reason is unclear at present, so the final orbit will be watched with interest.
When a launch is successful, however, it should not take long for that information to be known. The US Space Surveillance Network uses radar and other methods to reliably track about 47,000 satellites in orbit around the earth and should publish orbit details within about a day of a successful launch.
During previous launches, North Korean state media also published its intended orbital details. If this practice is repeated in the future, the difference between the details given and those detected by US Space Command can be used to assess how accurate the launch was at putting the satellite into the planned orbit.
A final important thing that determines revisit time is the swath width of the satellite, which is the width of each image it takes, and how much the camera can skew from side to side. For a narrow swath width and a camera with little side-to-side movement, it might take days before it can revisit a location. But a wider swath width and a moveable camera might mean daily images are possible.
There is a trade-off, as a wider swath width usually means less resolution. It is likely that North Korea went for a wider, lower resolution choice for its first military satellite as the technology is less complicated.
Should the rocket fail to put the satellite in the correct orbit, some corrections can be made in space, but the finite amount of fuel on board is usually intended for minor station keeping to maintain orbit. So, any major positioning changes can substantially reduce the useful lifetime of the satellite. This is why getting into the exact orbit is so important and why the rocket needs to follow the planned trajectory perfectly.
Spectral Resolution
While images captured in the visible part of the spectrum are those most commonly associated with surveillance, modern surveillance satellites include sensors for catching other information. For example, other wavelengths, such as near infrared, can reveal additional details about crops and weather. In this case, North Korea's reconnaissance satellite is likely solely or mostly focused on the visible light part of the spectrum to collect conventional satellite images.
Radiometric Resolution
Radiometric resolution is the final resolution of interest with satellite imagery. It measures how finely the sensors on the satellite perceive data. It can be thought of as the different levels of greyscale. The most basic is simply black or white. Additional shades of grey make it easier to discern and analyze different features' resolutions. In Landsat images, for example, resolutions go up to 16 bits, which is 65,536 potential shades of grey.
None of this data is known for the North Korean satellite.
The Downlink
The final piece of the puzzle is how North Korea will receive intelligence gathered by the satellite. This will be the job of one or more ground stations in the country.
Just as for imaging, the satellite will need to be within view of the downlink for it to be able to transmit a signal, but unlike imaging, the radio feed from the satellite is not focused on such a small area. It is receivable over a much wider area.
As an example, here is the footprint of the North Korean Kwangmyongsong-4 satellite as it passed over North Korea late in the evening on June 14.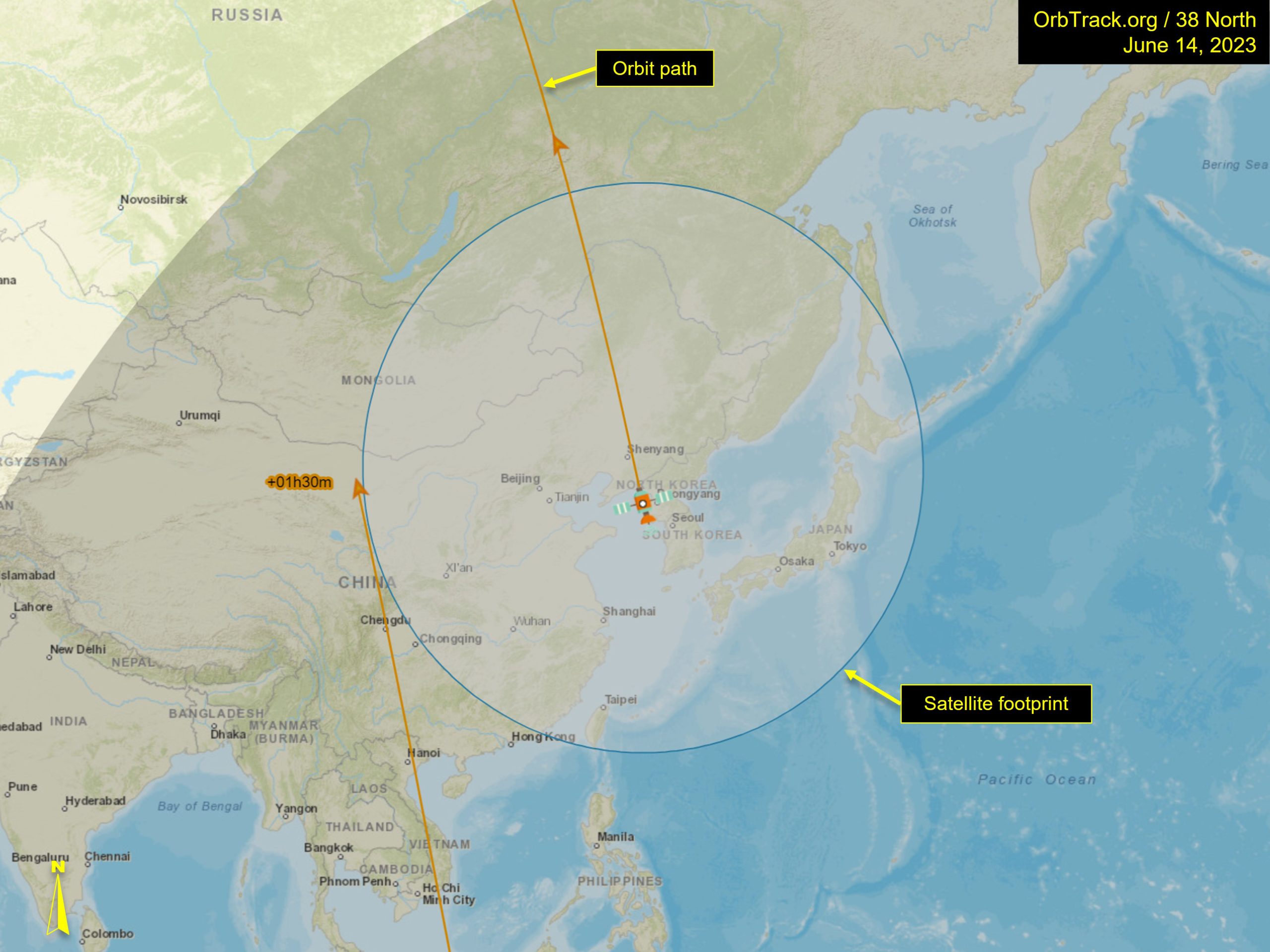 The satellite is not functioning, but if it were, its signal would be receivable in an area encompassing all of North Korea, South Korea and Japan, and significant portions of China, Mongolia and Russia. As North Korea first comes into reception range, the satellite signal can also be received in Taiwan and the Philippines. That gives governments and individuals in all neighboring countries the ability to possibly receive the signals as well.
We will have to wait for the launch to see the precise orbit, but the wider footprint of the radio signal means a North Korean ground station could have several opportunities to communicate with the satellite each day.
Reception could be via one of several large parabolic antennas found across North Korea, including one at the National Aerospace Development Administration (NADA) headquarters in Pyongyang. There are also several other locations in the country with a large number of satellite ground stations.