North Korea's Energy Sector: Unrealized Wind and Tidal Power Potential
In the final installment of our series on North Korea's energy production, we dive into the country's use of wind and tidal power.
Both wind and wave resources in North Korea have the potential to make an impact on the country's energy generation and create more consistent access to electricity. Despite this, few larger-scale wind farms—and only one tidal power station—contribute to the North's energy supply. Solar panels are installed in a variety of capacities, such as smaller-scale for residential purposes, bigger installations in more rural areas, or government- or manufacturing-related contexts. In contrast, wind and wave power generators are used in much more limited capacities. There is potential to expand their use, but it would require resource-intensive production and installation efforts to have a meaningful impact.
Wind Energy
Kim Jong Un has often highlighted a need to invest more time and resources into natural energy production to counteract its widespread electricity challenges. However, as noted in previous installations of this energy series, North Korea's recent drive to bolster renewable energy capacity has primarily focused on solar and hydropower, despite its capacity for wind energy generation.
North Korea's coastlines and overall mountainous terrain lend themselves relatively well to the generation of wind power. Without extensive in-country data collection, it is difficult to obtain a detailed and full assessment of its total wind energy capacity potential, given differences in terrain and evolving environmental factors. However, the Global Wind Atlas assesses North Korea's mean wind power density—measured at 100 meters off the ground— to be 681 W/m2.[1] In comparison, this is greater than South Korea's 552 W/m2 and less than the United States's 991 W/m2, which means North Korea has a higher wind energy potential than South Korea.
The Nautilus Institute estimates North Korea's installed wind power capacity in 2020 is around 1.6 megawatts, an increase from 790 kilowatts in 2015. Despite this potential, a concerted effort to further develop wind as a renewable energy source has not taken hold. Instead, there are small wind installations scattered throughout the country—sometimes even paired with solar panels—typically with one of two types of wind turbines.
Types of Turbines
State newspapers and television point to two types of wind turbines used in North Korea: large three-bladed turbines frequently associated with commercial wind power around the world, and smaller units with more conical blades. Both types are utilized throughout the country. The larger turbines are reportedly manufactured in either 100-kilowatt or 250-kilowatt models.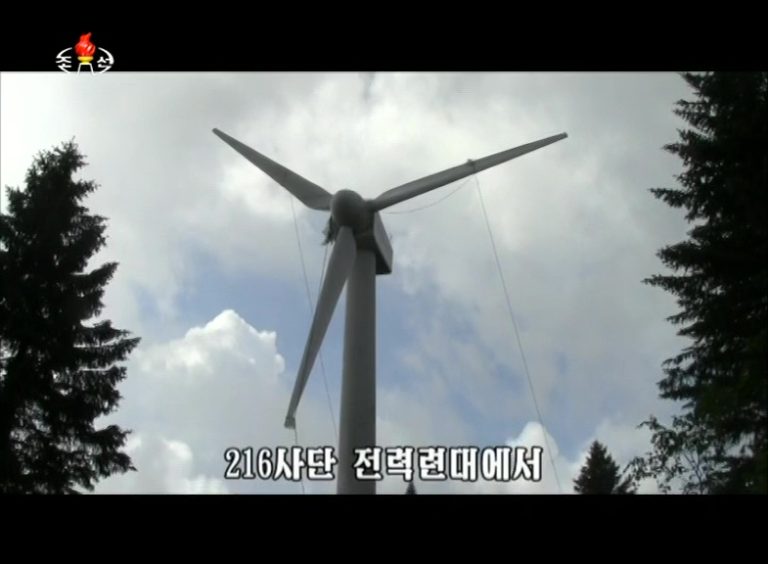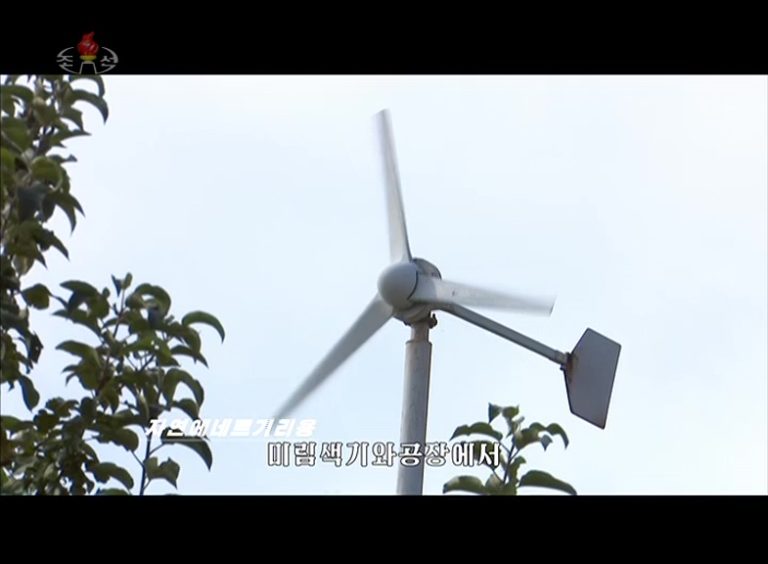 Manufacturing and installation challenges may be a barrier to entry, given the areas where wind generation is most effective, such as mountain gaps, open plains, hills and coastlines. Larger wind turbine components can be cumbersome to transport from the site of manufacturing to the point of installation, pending the infrastructure and accessibility of the final destination. In North Korea, most wind farm locations are along the west coast or in mountainous or hilly areas.
Wind power systems are typically either imported from China or produced domestically. North Korean media has often cited in-country manufacturing capabilities over the last handful of years. For example, a 2015 Pyongyang Times article reported that a new type of small wind turbine, produced by the Aeguk Magnet Factory, utilized a new conical design with shorter blades that was more than twice as efficient at utilizing the rate of wind than the traditional three-blade models. The article noted that the cost of these units, with a reported capacity of 100-300 watts, is at least 75 percent less than other models. While this cannot be verified, it supports the assertion that North Korea is trying to develop more domestic renewable energy solutions.
The following examples represent projects where both smaller and larger types of wind turbines are in use in North Korea. From generating power for military-related purposes, academic facilities, or broader areas, wind power—like solar—is frequently used to supplement power supply for operational use.
KPA Installation
According to a Korean Central Television (KCTV) broadcast in 2012, the Korean People's Army (KPA) had installed a pair of wind turbines on a hilltop near Ongjin in the southern part of the country. Located adjacent to both a Korean People's Air Force (KPAF) unit and military storage area and nearby to several other KPA units nestled into the terrain, it is likely these turbines are used to support electricity needs at these military facilities.
Based on that footage, Nautilus Institute estimated that these turbines were bigger than what is typically used in North Korea but were on the lower end of what US turbines can generate (roughly equivalent to the size of turbines in 1990).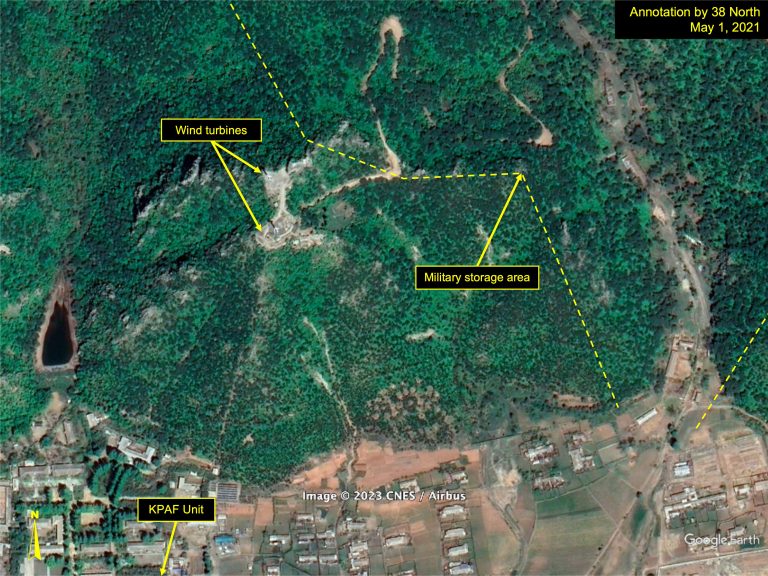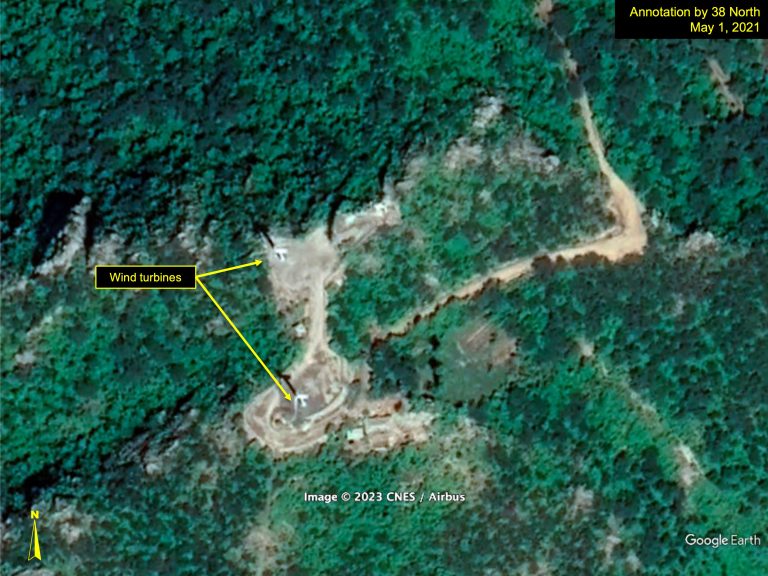 KPAF Unit 1016
The KPAF Unit 1016 Wind and Solar Farm was discussed in a previous installation of this energy series on notable solar installations, where both wind and solar energy are used to generate energy for the KPA.
This was one of the first places with wind power in the country. Three wind turbines were added between 2010 and 2011. In November 2011, Kim Jong Il inspected the unit and reportedly was pleased with the successful installation and ability to provide electricity for "combat preparations while cooking and heating with it."
A few years later, solar panels were installed, increasing the site's overall power generation capacity. Reinforcing the importance of this project, Kim Jong Un visited the site in 2015 after the installation of solar panels was complete, praising the endeavor for carrying out Kim Jong Il's legacy and making a contribution to the people.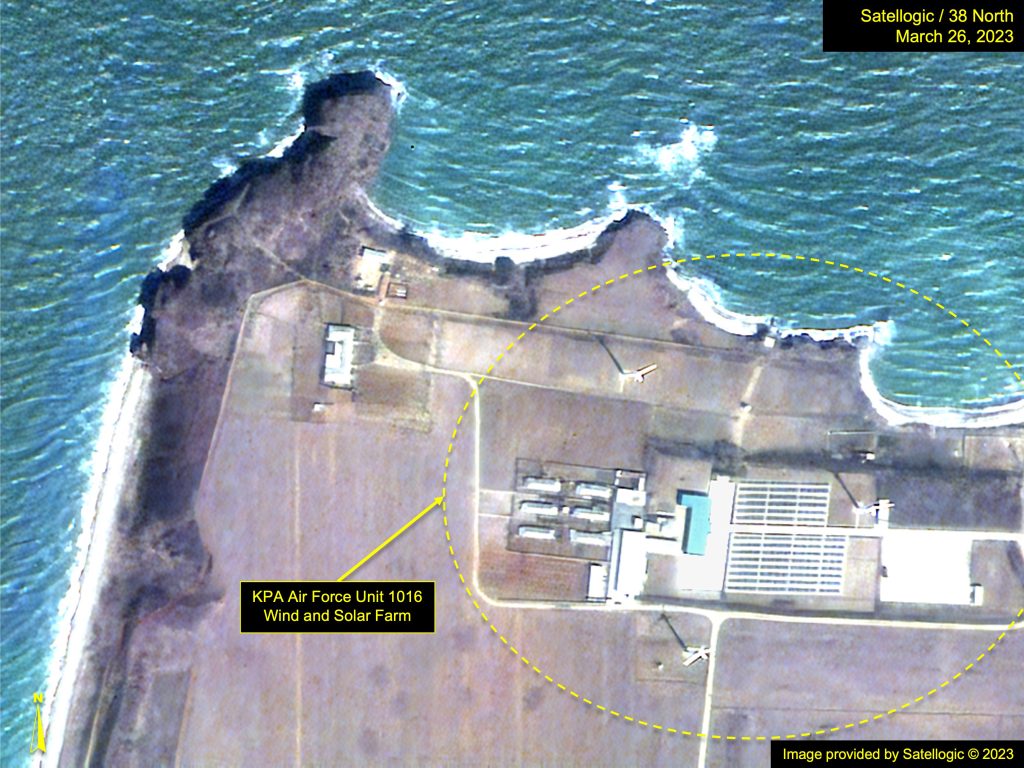 This appears to be the only recorded wind farm visited by Kim Jong Un throughout the country to date.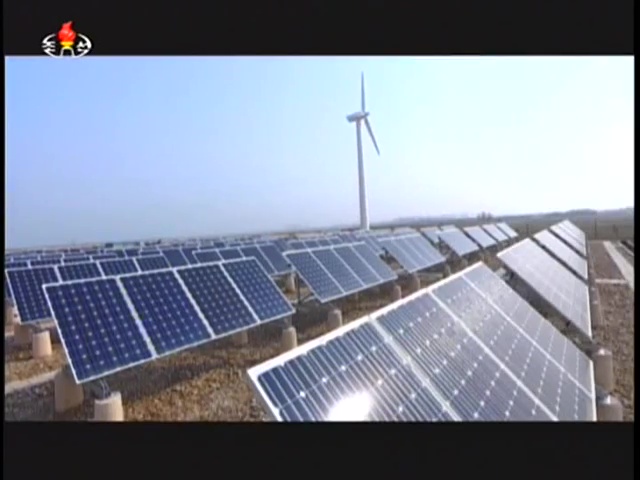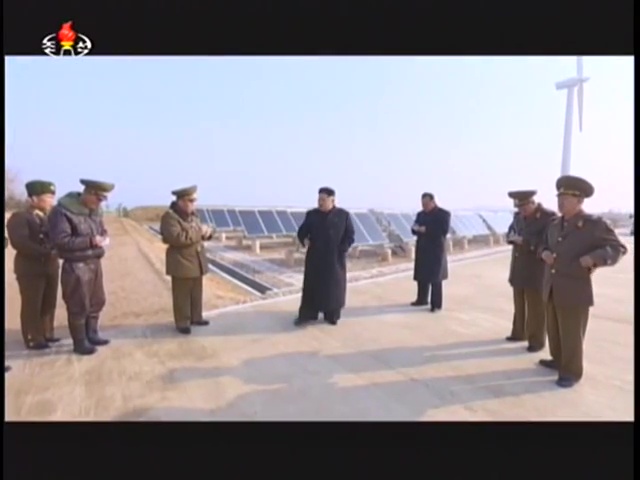 Natural Energy Research Institute
As highlighted in an earlier installation on state solar electricity research and manufacturing, the State Academy of Sciences, located in Pyongsong, opened a Natural Energy Research Institute in January 2014. In addition to its focus on solar energy, the Institute has a wind power resources survey laboratory, which, per a February 2020 edition of Korea Today, conducted research on and developed a country-wide wind power resources distribution chart, though the findings from this survey were not made available.[2] In addition, the Institute houses both a wind power machine laboratory and a laboratory that develops, designs and manufactures wind generators at a variety of kilowatt and megawatt capacities.
The grounds of the State Academy of Sciences utilize both the smaller and larger types of wind turbines found in North Korea. Across the road from the solar power research laboratory, a set of 13 three-bladed wind turbines line the driveway to another building. Nearby, smaller turbines are placed along a courtyard of running tracks and tennis and basketball courts. These turbines are likely used to generate power for lighting around the sporting complex.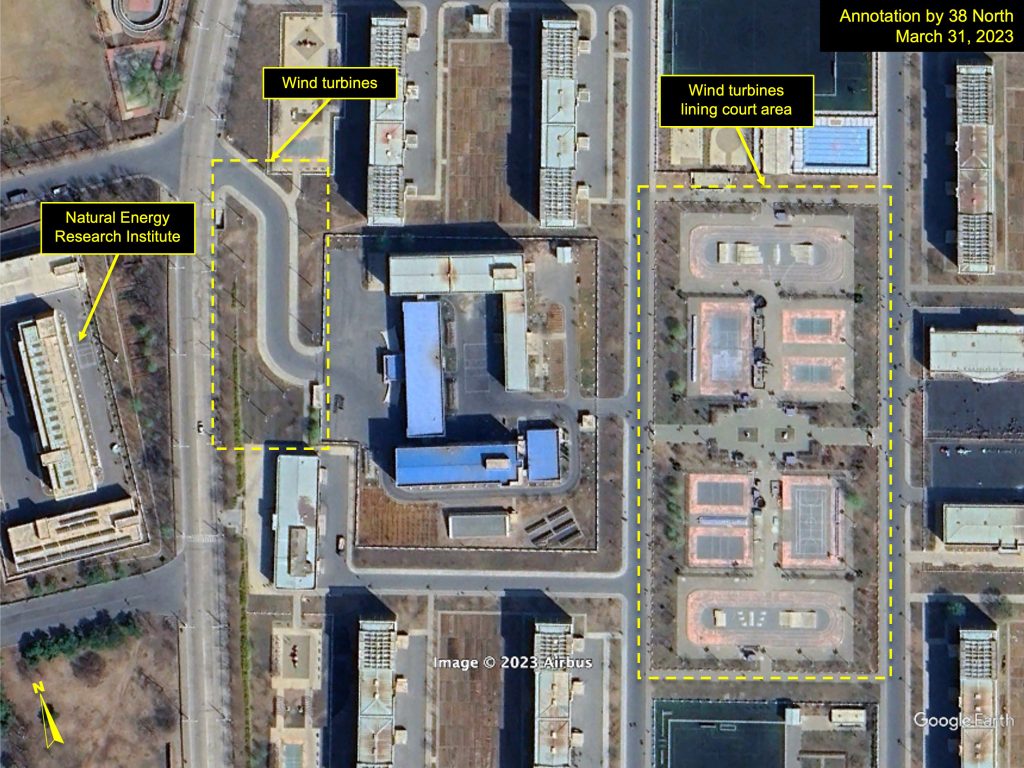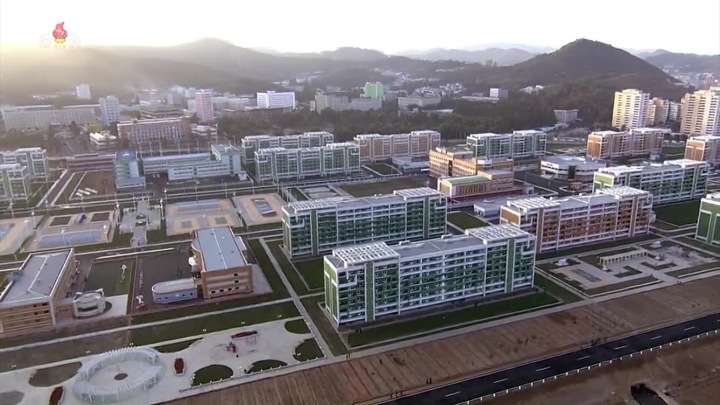 While the installations themselves are not out of the ordinary, the Natural Energy Institute has been frequently highlighted as a place for research and manufacturing on further renewable energy developments in North Korea.
North Phyongan Provincial Power Distribution Station
North Korea has electric power transmission organizations in provinces and cities throughout the country, responsible for regulating electricity distribution and manufacturing renewable energy generators such as wind turbines, in addition to running other solar and wind installations.
The North Phyongan Provincial Power Distribution Station has a building near the Sino-North Korean border, often mentioned in state media and featured on KCTV. Reports note it as helping to manufacture and install both solar and wind power equipment throughout this region. As recently as February 2023, this particular bureau was reported in Naenara as having built a high-capacity solar and wind power plant and manufactured equipment needed to further expand the power available for use in the region. Other articles note that it has set up "tens of wind-driven generators" throughout the country.
At the particular building where the North Phyongan Provincial Power Distribution is housed, a field with around twenty turbines was installed in the area directly north of the site. An April 2017 KCTV broadcast showed workers installing the small-bladed turbines.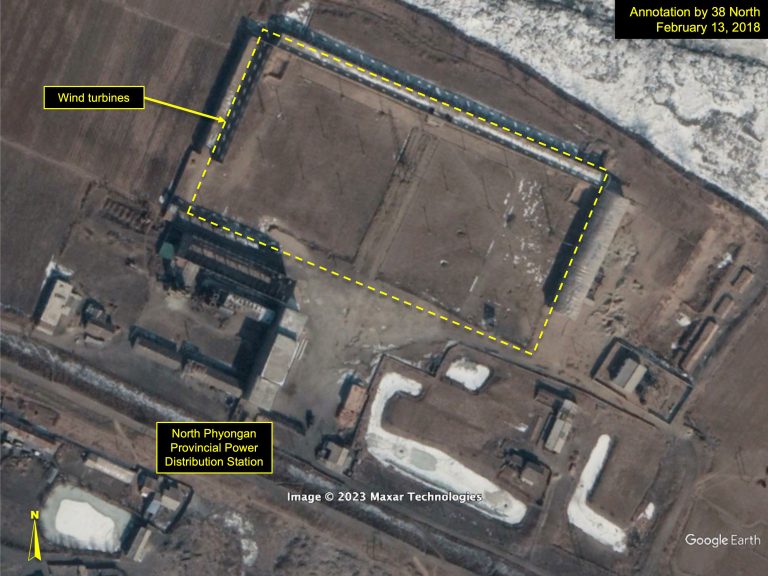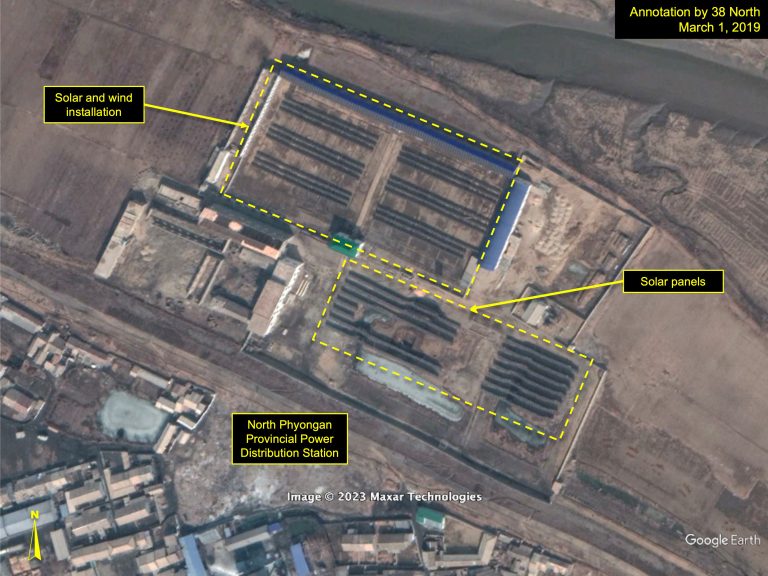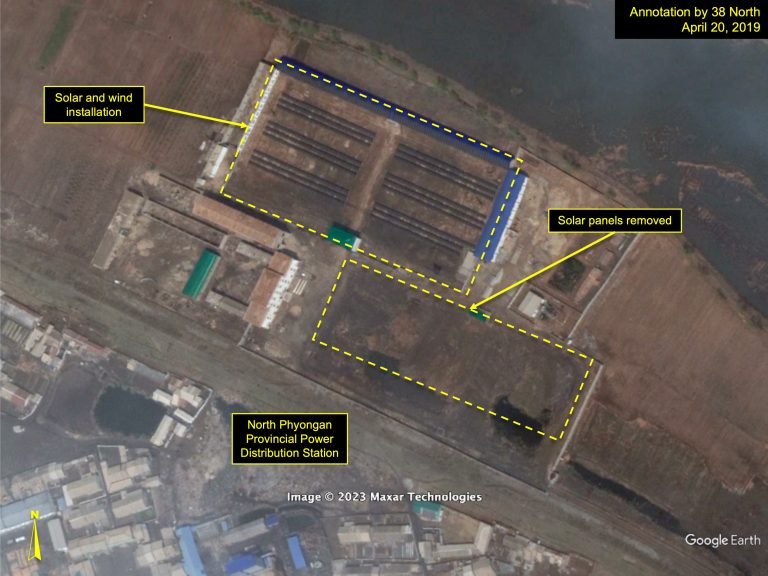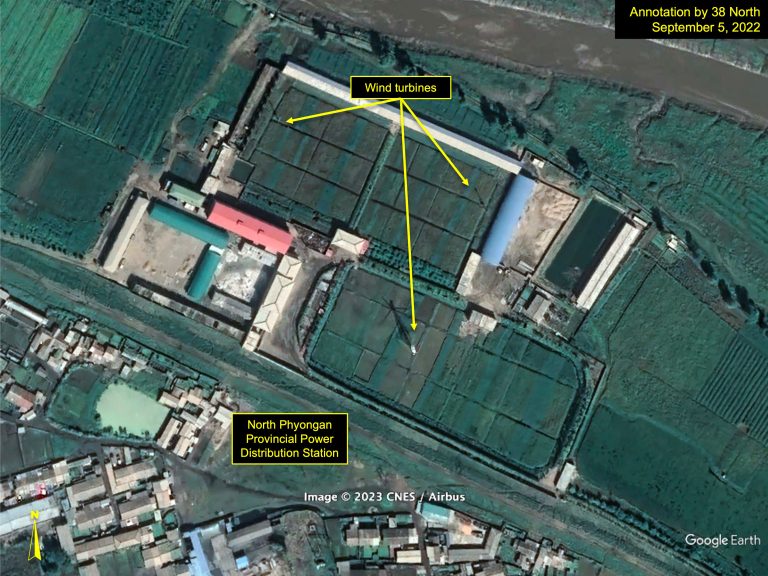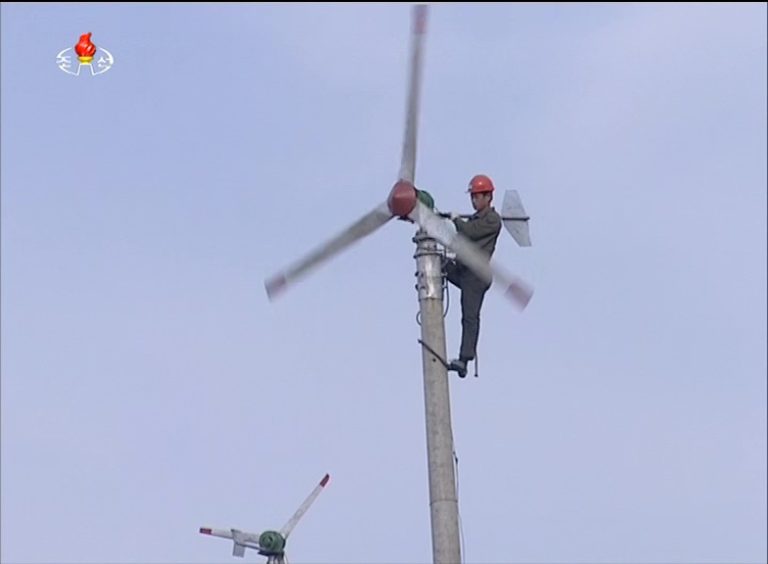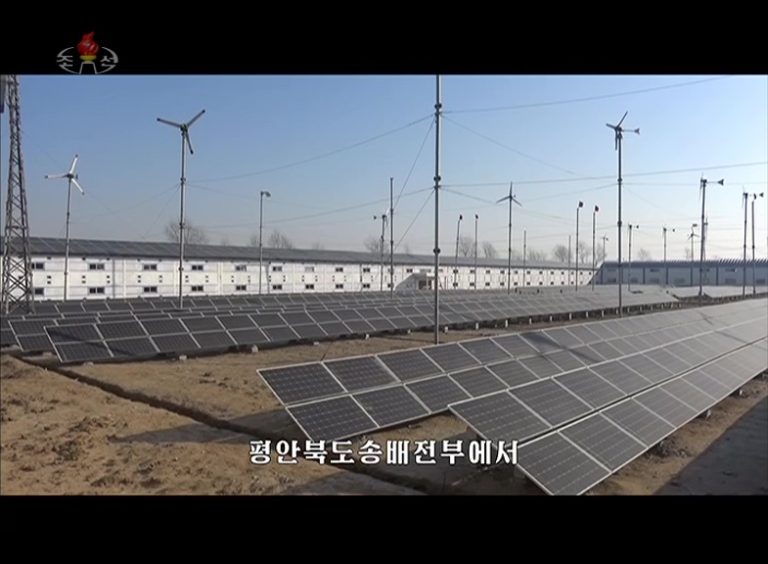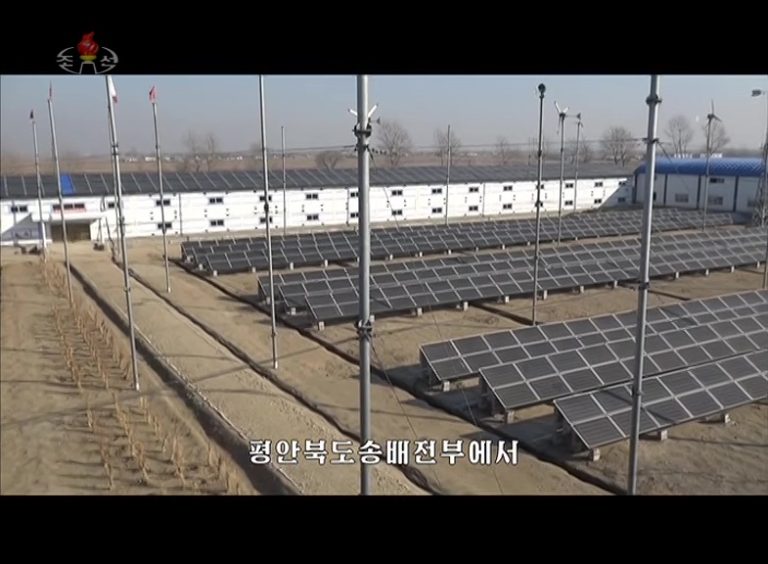 Today, only a few turbines remain. Sometime between February and December 2018, the majority of wind turbines were removed in favor of a solar panel installation. Additional solar panels were installed throughout 2019, but by September of the same year, all of the panels—both old and new—were cleared, and only two wind turbines currently remain.
Tidal Power
North Korea has intermittently discussed efforts to broaden its capacity for tidal power over the past few decades. Unlike other forms of renewable energy capture like wind and solar, wave energy is more reliable due to the predictability of tides. These stations harness the energy in the ebbs and flows of water levels and currents to generate electricity via turbines placed underwater. However, despite its consistency, there are technical challenges, high costs, and potential negative environmental impacts that deter broader use of wave power. A lack of major attention to and expansion of this type of renewable energy in North Korea is likely due to a combination of these factors.
Capturing tidal power is more effective in shallow waters, necessitating a broader difference between high and low tides. DPR Korea's Second National Communication on Climate Change report in 2012, submitted under the United National Framework Convention on Climate Change, states the West Sea's tides on the Korean coastline are "over 5m in difference between the ebb and high tides in every spot of the coast," which develops a particularly advantageous condition for developing tidal power resources.
The map below shows a macrotidal area along the west coast, which means the difference in high and low tides is more than four meters.
There is currently only one known tidal power station in North Korea.
West Sea Barrage Tidal Power Station
Installed along the West Sea Barrage near Nampho and spanning eight kilometers, North Korea's sole tidal power project was built in 1986 and is estimated to be a 500-kilowatt unit (0.5 megawatts). The barrage serves a variety of functions apart from energy generation, including facilitation of ship traffic, irrigation of nearby areas, and separation of fresh and seawater at the Taedong River.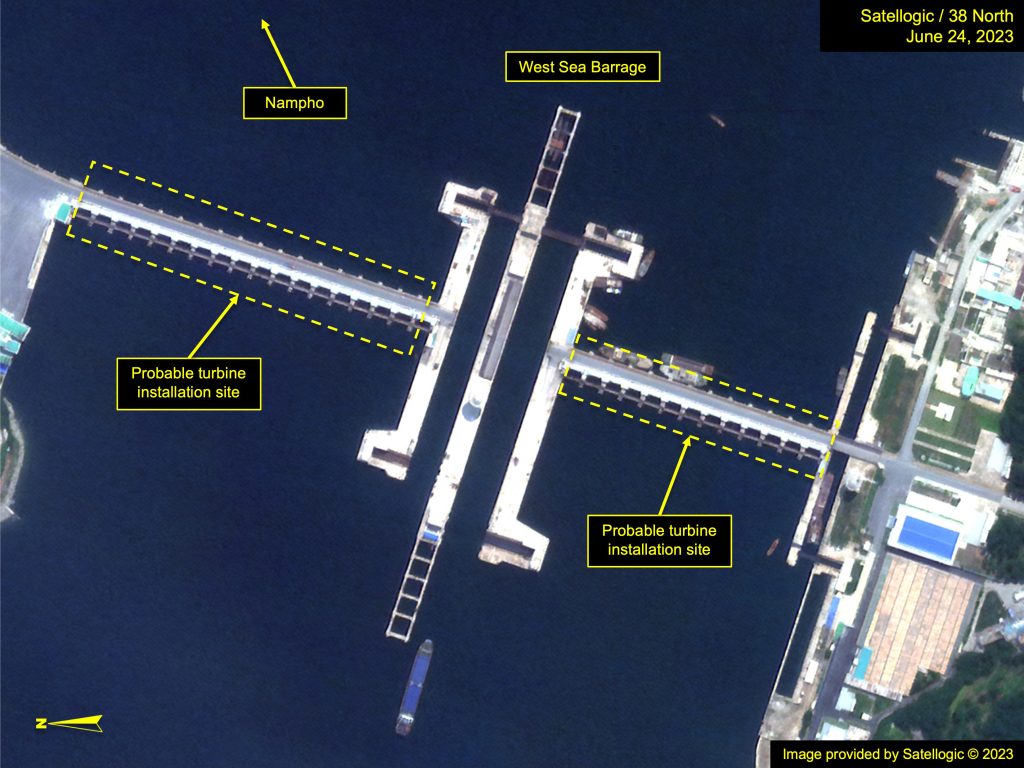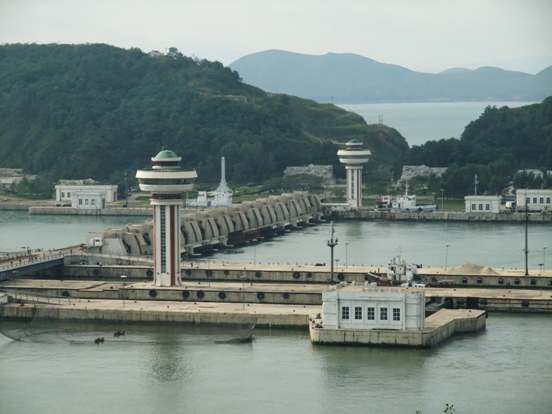 In contrast, the world's largest tidal power installation—Sihwa Lake Tidal Power Station—located off the west coast of South Korea, has an output capacity of 254 megawatts via ten turbines. Like North Korea, South Korea's west coast is macrotidal and has a reported mean tidal range of over five meters as well. Similar tidal conditions highlight this disparity in capacities of these two units. However, the Sihwa power station is a bit bigger—measuring just over 12.5 kilometers—which may allow for more generator units.
Little is known about the wave power specifications at the West Sea Barrage. Tidal generators were likely put in place when the barrage was constructed in the 1980s, though the number of them is unclear. While the existence of this power station was confirmed in the late 1990s by a Nautilus Institute visit to North Korea, North Korean media tends to focus on the economic impact of the West Sea Barrage as opposed to its energy production.
Conclusion
Despite North Korea's pervasive electricity challenges, Pyongyang's renewable energy campaigns have been rather limited. Most of the efforts are focused on developing hydro and solar power, with little notable progress in areas like wind and tidal power, regardless of the country's potential in these areas.
It is important to note, however, that while state media reporting and previous in-country surveys and initiatives provide some data about how these efforts are evolving, the true breadth and scale of North Korea's renewable energy capacity remains unclear without a comprehensive on-the-ground, country-wide survey of technological capabilities and capacities.
---
---