North Korea's "Checkerboard" Threat: Obstacles and Opportunities for the US-ROK Alliance
Executive Summary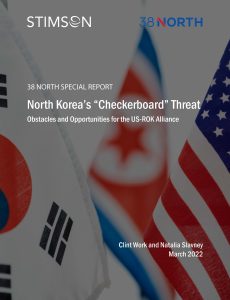 Motivated by notable advancements displayed during the Democratic People's Republic of Korea's (DPRK) October 2020 and January 2021 military parades, as well as the ongoing stalemate in US-DPRK and inter-Korean relations, Stimson's 38 North program convened a military working group to discuss and provide recommendations for the US and Republic of Korea (ROK) alliance to meet this evolving threat.
Over the summer and early fall of 2021, 38 North, with help from its partner, the Korea Defense Veterans Association, brought together experts, including former US and ROK military officers, civilian defense officials, analysts and academics. Gen. (Ret.) Vincent K. Brooks, Korea Defense Veterans Association (KDVA) Chairman and former commander of the United Nations Command, US-ROK Combined Forces Command, and US Forces Korea in the Republic of Korea, chaired the working group, which was organized and moderated by 38 North Fellow Dr. Clint Work, with the assistance of 38 North's Research Associates Natalia Slavney and Iliana Ragnone.
Although North Korea's rollout of new ballistic missiles during the parades dominated international headlines for weeks, the numerous improvements to conventional military hardware, communications and weaponry was the bigger story, given the standard narrative that its conventional capabilities are considered a depreciating asset. These developments indicate that North Korea's defense and military capabilities have grown and evolved despite severe international sanctions and COVID-related restrictions. Simply put, North Korea continues to signal its intention to develop and modernize its nuclear and conventional capabilities, regardless of where US-DPRK or inter-Korean relations stand.
At the outset, the working group considered a range of low, medium and high-risk scenarios of how North Korea's conventional capabilities may evolve in the near- to mid-term future as a baseline for discussion. However, the group quickly reached a consensus that, in practice, the threat could evolve in a "checkerboard" manner, with some capabilities remaining rather modest while others advance more quickly.
Over the course of several meetings, the group discussed steps the alliance should take now as well as how it might need to evolve based on changing North Korean capabilities and the checkerboard threat. The following recommendations emerged from the group's discussions:
Consider if the alliance is properly organized, equipped and trained against a North Korean checkerboard threat and how the changing security environment on and around the Korean Peninsula requires the alliance to rethink how it conducts operations.
Think of key US-ROK alliance military and civilian infrastructure as strategic infrastructure; reduce reliance on fixed infrastructure where possible, and, otherwise, increase the defense and hardening of these sites.
Take a whole-of-government approach that integrates defense planning with crisis management, running exercises that challenge different sectors of critical infrastructure on a rotating basis.
Build greater "combinedness" at levels between the US-ROK infantry division and Combined Forces Command (CFC) Headquarters (HQ), aiming for the alliance to be in a continuous, coordinated and combined state on a day-to-day basis.
Reorient military exercises to "train to failure"—designing scenarios that expose shortcomings—and report on those shortcomings in respective ROK and US systems, as well as up through the CFC's bilateral national command authorities.
Better coordinate and create layers of air and missile defense systems, rather than pushing for full integration of systems, and rehearse how they would operate together.
Create a strategic communications plan that informs and educates the press, public and political leaders on key issues—such as, wartime operational control (OPCON) transition—involving US and ROK presidents as well as Cabinet-level officials.
Continue to confront barriers to information sharing and integration, as well as differences in authority and jurisdiction between the US and ROK's respective cyber operations, identifying key differences between South Korea's national interests and authority and alliance interests and operations.
The Korean version of this special report is available here.