Six Party Talks: The Least Bad Alternative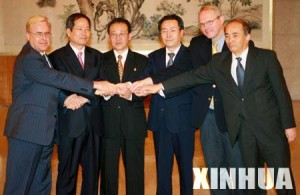 Christopher Hill, the Bush administration's point man for negotiating with North Korea, recently told an audience at Stanford University that because the North had lied about its uranium enrichment capability –to him and others–"there was absolutely no value" in restarting the six-party talks in the absence of any North Korean commitments to fulfill its obligations. Under current circumstances, Hill expressed skepticism about the value of  the six-party process in securing the complete denuclearization of North Korea.[i]
Coming at a time when intensive diplomatic activity is underway to see if the negotiations can be resumed, such doubts from an official so closely associated with the Talks  raise serious questions about what the earlier rounds of talks did and did not accomplish, and what might be achieved if they do resume.
It is not surprising to learn that Pyongyang lied about the nature and scale of its uranium efforts, or that Hill, who struggled heroically for years to reach a deal with his North Korean counterpart Kim Gye Gwan, feels frustrated and betrayed. But a look back at what actually happened at the Six Party Talks makes two points very clear. 
We were well on our way to shutting down the North's plutonium program, which could even now make a bomb's worth of fissile material sooner than its uranium enrichment program can.
It is indisputable that North Korea's well-known intransigence and duplicity bear a significant portion of the blame for the collapse of the Talks, but it is inaccurate to lay all the blame for their collapse at Pyongyang's feet. Double-dealing by Washington, Seoul and Tokyo played an important role too. Hill himself agreed to defer a full accounting of the enrichment program only to have Washington reverse course.
It would be nice to believe that only Pyongyang was responsible, but that is not the way it was and the North knows it. And this disconnect has been at the heart of the collapse of virtually every negotiating effort to date.One good example is the so-called September 19 declaration agreed to during a 2005 session of the Six Party Talks. In the current debate about resuming the Talks, the Obama administration has repeatedly called on North Korea to reaffirm the accord, which was reached after torturous negotiations and in the face of bitter opposition from hardliners in the Bush administration.In the declaration, North Korea committed to "abandoning all nuclear weapons and existing programs, and returning, at an early date, to the Treaty on the Non-Proliferation of Nuclear Weapons and to IAEA safeguards."  The U.S. and North Korea both agreed to "respect each other's sovereignty, exist peacefully together, and take steps to normalize their relations subject to their respective bilateral policies." Respecting the North's sovereignty was diplomatic language for not attempting to overthrow or destabilize its government.[ii] 
But the Bush administration started to back away from the accord almost before the ink was dry. On the very day the 2005 agreement was announced, Washington hardliners forced Hill to issue a statement demanding that North Korea address U.S. concerns about "human rights, biological and chemical weapons programs, ballistic missile programs and proliferation, terrorism and illicit activities" before the normalization of relations would be possible.[iii] 
At the same time, the U.S. Treasury Department targeted the Banco Delta Asia in Macau as a "willing pawn for the North Korean government to engage in corrupt financial activities," leading to the freezing of  $25 million worth of North Korean accounts at BDA and efforts to shut down its hard currency accounts around the world.[iv] 
Objectively, it is true that the North will have to address American concerns on these issues before full normalization. However, saying so just as the accord was signed undermined Hill's efforts and appeared in Pyongyang to be American double-dealing, with the upshot that the North walked away from the Six Party Talks and a year later, conducted its first nuclear test. 
When the North finally agreed to return to the Talks in February 2007—a step they took after the U.S. met their longstanding demands to hold a bilateral meeting and agree on a "bilateral mechanism" to resolve the BDA issue—the six parties established an "action plan" to implement the principles in the September 2005 declaration. The North pledged to "shut down and seal for the purpose of eventual abandonment the Yongbyon nuclear facility," readmit inspectors from the IAEA, and begin discussions on providing a list of all its nuclear programs once its frozen funds at the BDA were returned. 
In exchange, the other five parties promised to provide Pyongyang with 50,000 tons of heavy fuel oil (HFO) after it shut down Yongbyon, with an additional 950,000 tons of HFO or its equivalent to be delivered after the provision of the "complete declaration of all nuclear programs and disablement of all nuclear facilities." The U.S. also agreed to "start bilateral talks aimed at resolving bilateral issues and moving toward full diplomatic relations." Among these issues were ending the North's designation as a state sponsor of terrorism.[v] 
The North subsequently did, in fact, shut down operations at Yongbyon, readmit international inspectors, supply the U.S. with 18,000 pages of operations records from the reactor, and provide a 60-page declaration with new details about its plutonium program. 
But opposition to the deal from skeptics in Washington; the governments of South Korea and Japan, which refused to provide their share of the heavy fuel oil promised to Pyongyang in 2007 and supported Bush administration hardliners who demanded the North accept an intrusive verification protocol; and uncertainties triggered by Kim Jong Il's stroke in August 2008, all helped undermine the deal.  
The policy-making process in Pyongyang is so opaque that there is no way to know whether, had things turned out differently, the North might have remained willing to follow up the disabling of Yongbyon with permanent dismantlement, and, eventually, to negotiate the complete elimination of its nuclear program. It is equally unclear how advanced its uranium effort was at that time, or when the decision was made to accelerate the uranium facility that was unveiled to American visitors last fall. 
The point is not that North Korea has been trustworthy. It has not been. But American and South Korean negotiating and follow-through have not been consistent either. Consequently, it is easy to see how the North Koreans, paranoid and feeling vulnerable, drew similar conclusions about us that we drew about them—a vicious cycle that continues to undermine negotiations.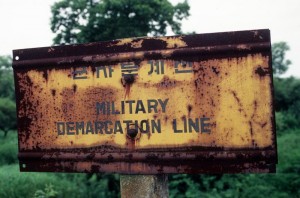 The Obama administration may get another chance at talks. The North Koreans have hinted in a variety of ways, including in conversations with recent foreign visitors, that they might be willing to ship out the fresh fuel rods that could restart their reactor and be turned into weapons-grade plutonium. A moratorium on missile and nuclear tests may also be possible. 
Hill and others are absolutely right that none of these moves, even if they were implemented and verified, would mean the North giving up all of its nuclear weapons. But they could slow down the pace of Pyongyang's nuclear push and possibly halt its programs, which on its own would make the peninsula a somewhat less scary place. 
There is no question that any negotiation with North Korea—even on interim or partial steps such as these—will be frustrating, drawn-out and painful. But what are the alternatives? The nearly two years of "strategic patience" from Washington and Seoul, the emphasis on hanging tough, supporting sanctions, and pressuring China to rein in Pyongyang, have singularly failed to produce a positive change in North Korean behavior. Instead, we have seen a missile and nuclear test, the unveiling of a new uranium plant at Yongbyon, the sinking of the Cheonan, and the shelling of Yeonpyeong Island—not exactly a record of success. 
By contrast, the history of the Six Party Talks suggests that some things can indeed be accomplished at the negotiating table, as even Defense Secretary Robert Gates noted on his recent trip to Asia, when he told reporters "We think there is some urgency to proceeding down the track of negotiations and engagement."[vi] 
It's not going to prompt the North to give up all its nukes any time soon, if ever. But in a situation where there are few good choices regarding North Korea, resuming the Six Party Process with the goal of reducing tensions and testing Pyongyang's intentions remains the least bad alternative. 
Mike Chinoy is a Senior Fellow at the U.S.-China Institute at the University of Southern California and the author of Meltdown: The Inside Story of the North Korean Nuclear Crisis. 
---
[i]  "C. Hill, 6PT Useless," The Nelson Report, Jan. 27, 2011. 

[ii] The text of the September 19, 2005 declaration can be found at: http://www.state.gov/p/eap/regional/c15455.htm. 

[iii] "Statement of Assistant Secretary of State Christopher R. Hill at the Closing Plenary of the Fourth Round of Six Party Talks," September 19, 2005. 

[iv] For a detailed account of the Banco Delta Asia episode, see Mike Chinoy, Meltdown: The Inside Story of the North Korean Nuclear Crisis, (St. Martin's Press, 2009), chapter 15. 

[v] The text of the February 13, 2007 agreement can be found at: http://www.washingtonpost.com/wp-dyn/content/article/2007/02/13/AR2007021300508.html. 

[vi] Anne Gearan, "Gates: North Korea Will Pose Direct Threat to U.S.," Associated Press, January 11, 2011.