Part III: Overhauling the Legacy Government
This is Part III of a three-part series written by Dr. Alexandre Mansourov assessing the leadership changes during Kim Jong Un's first year in office. This article will analyze the main drivers and directions shaping the transformation of the government Kim inherited from his father. It argues that in the past year, the young leader has reasserted party control over the military, overhauled the military and security establishment, rolled back the military-first revolution, restructured the socio-economic team, and adjusted the foreign policy team to better suit his own leadership style and policy preferences.
The Military Purged, and Purged, and Purged Again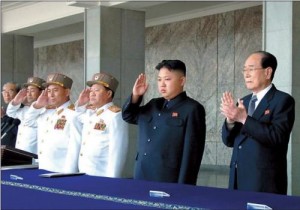 After Kim Jong Il suffered a stroke in August 2008, many pundits asserted that the growing influence of the Korean People's Army (KPA) under Kim's military-first policy would inevitably lead to a military-centered collective leadership in the wake of his death.[1] These pundits proved to be wrong. In the past year, the Workers' Party of Korea (WPK) under Kim Jong Un's guidance strengthened its domination over North Korean politics, bringing the military's senior leadership under unquestionable party control, repeatedly purging and publicly subduing it, and dramatically curtailing the military's policymaking influence. There is no question that the Kim Jong Il-inspired military-first era is over; and it took Kim Jong Un less than several months to begin to dismantle his father's military-first policy—all in the name of Kim Jong Il's patriotism!
The unprecedented appointment of the civilian party functionary Choe Ryong Hae backed by Jang Song Thaek and Kim Kyong Hui as director of the KPA's General Political Department (GPD) last April unleashed a far-reaching rebalancing in party-military relations. It rolled back the major advances of the military-first revolution, which was exemplified by the dominant positions of the professional military leadership during Kim Jong Il's rule.[2] Under Choe Ryong Hae, not only did the WPK Central Committee (CC) fully restore its influence over the military party organizations, but the KPA General Political Department also re-asserted its control over the General Staff, Ministry of People's Armed Forces, and Defense Security Command, enabling its political representatives to prevail over security officers, military staff, and field officers.
In the past year, we observed several surprise waves of senior military reshuffles and wide-ranging reorganizations within the KPA commands and corps-level units. Against a backdrop of reportedly deteriorating food supplies and cutbacks in weapons procurement, these changes planted seeds of distrust in party-military relations, brewing discontent and perhaps even silent resistance, shaking the military's morale, and undermining traditional military values and discipline within the ranks.[3]
To begin with, in March, Kim Jong Un purged over a dozen senior defense officials, including vice-minister of defense Kim Chol, all of whom were accused of showing disloyalty and allegedly partying during the mourning period.[4] These purges culminated in early April when Kim Jong Un dismissed his legacy defense minister, vice-marshal Kim Yong Chun, and appointed a new GPD director vice-marshal Choe Ryong Hae,[5] reportedly giving him a mandate to remove all disloyal elements from the commander's ranks. Kim also appointed one of his confidants General Choe Pu Il as a new chief of the Operations Bureau of the KPA General Staff, a key enabling position in the military hierarchy. It is noteworthy that both Choes, as well as the new chief of KPA General Staff Hyon Yong Chol, were promoted to 4-star generals together with Kim Jong Un and Kim Kyong Hui by the same order issued by Kim Jong Il on September 27, 2010, which suggests that their elevation in April was part of the original military leadership transition plan approved by Kim before his death. On the operational side, Kim reorganized the Missile Guidance Bureau into the Strategic Rocket Forces Command, replacing Colonel-General Choe Sang Ryo with Lt. General Kim Rak Kyom as its new Commander in March, and reorganized the KPA Air Command into the Air and Anti-Air Command in April, retaining General Ri Pyong Chol as its new commander.
The second wave of purges was unleashed in mid-July, when Kim Jong Un was persuaded to remove his military guardian vice-marshal Ri Yong Ho from power, allegedly for insubordination, including the repositioning of troops near Pyongyang without higher authorization,[6][7] defying orders,[8][9] and expressing dissatisfaction with the transfer of control over the KPA's foreign currency-earning businesses to the party,[10] as well as personal corruption.[11] In my judgment, the root cause of Ri's downfall was his power struggle with Choe Ryong Hae, who was backed by Jang Song Thaek, for paramount authority over the Korean People's Army and its lucrative business empire. Choe won the power struggle; Ri lost and suffered the shameful consequences.[12] It is curious that even the corruption charges against Ri Yong Ho, including the allegations about hundreds of thousands of US dollars allegedly found at his private residence, were similar to those leveled against his arch rival Choe back in the late 1990s. Ri's dismissal opened the floodgate for cascading purges of General Staff officers, who were deemed loyal to him and were assumed to have been undermining Choe's orders, causing an uproar inside the military. Against that background, the news that Kim Jong Un had appointed a new Navy Commander, Lt. General Kim Myong Sik in August, replacing long-time Navy Commander Admiral Chong Myong To, went virtually unnoticed.
Four high-profile defections of KPA soldiers with elite backgrounds across the heavily fortified demilitarized zone gave the political leadership another excuse to attack the generals and launch another round of military reprimands in October. These included the demotion of the newly appointed chief of KPA General Staff vice-marshal Hyon Yong Chol to the rank of four-star general,[13] the director of KPA General Staff Operations Bureau General Choe Pu Il to the rank of 3-star general, the director of Reconnaissance General Bureau General Kim Yong Chol, who had been promoted to 4-star general only last February, to the rank of Lt. General,[14] as well as six out of nine field corps commanders to the rank of Lt. General. What drew my attention at that time was the fact that vice-marshal Choe Ryong Hae and other senior political commissars were able to escape immediate punishment, probably because of their political clout, although the General Political Department and its subordinate units, without question, had to bear responsibility for the state of mind, moral qualities and psychological deviations, ideological education, and overall behavior of all uniformed personnel.  But, as subsequent developments demonstrated, the wave of military demotions did not stop there.
In November, Kim Jong Un replaced his second defense minister vice-marshal Kim Jong Gak with General Kim Kyok Sik, a well-known military hardliner who commanded the Yeonpyeong Island shelling two years earlier. Although Kim Jong Gak was able to retain a spot in the top tier of the power hierarchy, he may have been reassigned to serve as president of Kim Il Sung Military University in Pyongyang.[15] The reported reasons for Kim Jong Gak's removal from office were his ostensible lust for power and corruption, and the poor performance of officers under his command.
Finally, in December, Kim Jong Un surprised everyone yet again by demoting a rising star and his close confidant vice-marshal Choe Ryong Hae by one notch. In addition to former defense minister Kim Jong Gak and chief of General Staff Hyon Yong Chol, director of General Political Department Choe Ryong Hae was the third senior North Korean military leader whom Kim Jong Un had first awarded the title of vice-marshal and then taken it away this year alone, which highlights how whimsical and unpredictable the new leader may be. Although the North Korean political leadership has sometimes used the demotion by a military rank or two as a temporary punishment to show its displeasure with a particular military official (e.g. Kim Kyok Sik, Kim Myong Kuk, Kim Yong Chol, etc.), Kim Jong Un took it to a new level by firing two defense ministers and demoting four vice-marshals (Ri Yong Ho, Hyon Yong Chol, Kim Jong Gak, and Choe Ryong Hae) in less than seven months. Far from being able to quiet latent military discontent, such arbitrary rule undermines traditional military values and expectations and sends a forceful message to the military elites that in their careers only personal loyalty matters, whereas professional qualifications and achievements play little role, if any at all.
Moreover, Choe Ryong Hae's demotion proved that he is no longer untouchable and his political influence has eclipsed and possibly began to wane, although he still retains the number four spot in the overall power hierarchy for the time being. Choe may have fallen victim to the counter-offensive ostensibly mounted by the military hardliners, who have taken considerable losses in the recent military purges and who want Choe out. Alternatively, he might have fallen out of favor with his former benefactor Jang Song Thaek, who may have come to regard the up and coming Choe as a threat to his own unimpeded rise to power. Whatever the reason, I doubt that Choe liked his demotion and would have acquiesced to it just to have his rank leveled out with other senior military commanders, as some ROK analysts have suggested.
All in all, in the past year, Kim Jong Un, probably cajoled by Jang Song Thaek, purged dozens of senior military cadres to eradicate his potential opponents, consolidate his own power, and clear political space for his loyalists. These relentless purges exposed the new leader to harsh criticism from the professional military.
To shore up its right flank and rebuild its conservative credentials within the military after Ri Yong Ho was purged, the regime convened a national meeting to gloriously celebrate the 59th anniversary of the "victory in the Korean War" in late July. That meeting featured prominent old revolutionary fighters and retired generals like Ri Ul Sol and Kim Chol Man who praised Kim Jong Un to the skies on behalf of the surviving first generation revolutionaries. But the session failed to placate conservative critics. The botched April rocket launch compounded the regime's problems in the eyes of the military hardliners.
Consequently, in November, Kim Jong Un and Jang Song Thaek brought back from oblivion one of the staunchest hardliners—Kim Kyok Sik—and appointed him as the new defense minister. They also decided to sacrifice vice-marshal Choe Ryong hae, who proved to be the lightning rod for Kim Jong Un's military critics, by cutting him down in size. It is interesting that in the end, Kim Jong Un had to throw to the wolves all three of his military aides—Choe Ryong Hae, Choe Pu Il, and Hyon Yong Chol—who were made 4-star generals together with him and his aunt back in 2010. This begs the question as to who was the real winner of this annus horribilis for the North Korean military—was it Kim Jong Un or was it someone else behind the scenes?
Security Establishment Overhauled
In early April, Kim Jong Un discarded the legacy state security apparatus inherited from his father and installed his own security aides. His moves served to strengthen his personal authority and the party's leadership role, as well as to rebalance the power relationships between key players and the main security institutions.[16]
The surprise replacement of former State Security Department (SSD) acting director U Tong Chuk in March somewhat undermined that organization's position vis-à-vis its perennial rival the Ministry of People's Security (MPS). It brought back the questions about the loyalty and political reliability of the SSD leadership, which was still roiled by the early 2011 purge of its deputy director Ryu Kyong, who was accused of spying for South Korea.[17] The question of Kim Jong Un's trust in the SSD leadership was raised again when Colonel-General Kim Chang Sop, Director of SSD Political Department, failed to take part in the memorial events commemorating the first anniversary of Kim Jong Il's death in mid-December, in contrast to the rest of the North's senior leaders. He may be just sick or he may be in some trouble—we'll know soon.
This notwithstanding, the newly appointed SSD director General Kim Won Hong, still maintains an edge over the legacy people's security minister Ri Myong Su. Both are 4-star generals and newly elected members of the WPK CC Politburo, Central Military Commission (CMC), and National Defense Commission (NDC), but, Kim Won Hong's power ranking (No. 18) and official listing are one notch above and ahead of Ri Myong Su's (No. 19).
The minister of people's security General Ri Myong Su and director of the MPS Political Department Colonel-General Ri Pyong Sam have been able to keep their jobs so far. The same is true for Defense Security commander Cho Kyong Chol. Finally, in the wake of Kim Jong Il's death the Guard Command was reorganized to accommodate the requirements and wishes of the country's new leader, but it is still unclear whether its long-time commander General Yun Jong Rin has been replaced or not. Yun was last seen in public on October 10.
Socio-Economic Policy Team Revamped
Since his inauguration, Kim Jong Un has revamped the national economic team, reaffirming the central role of the Cabinet in policymaking. He has also given more power to key officials known for their "reformist" views and their commitment to raising the people's living standards through "pro-market" policies. In his conversation with responsible party officials at the WPK CC on April 6, 2012, Kim reaffirmed the principle of the "Cabinet's primary responsibility" for the nation's economy and of the "Cabinet's centrality" in managing national economic affairs.[18] For all practical purposes, in contrast to his father, the new leader has so far refrained from hands-on guidance, instead empowering premier Choe Yong Rim to lead the nation's economic development and leaving no doubt in the public's mind that he will be the fall guy if the nation's economic health does not improve.
Kim's other key moves have been:
The Fourth WPK Conference promoted two economic officials—party secretary Kwak Pom Gi and vice-premier and chairman of the State Planning Commission Ro Du Chol—to the rank of alternate members of the WPK CC Politburo, thereby strengthening the Politburo's economic team vis-à-vis its military, security, and ideology wings.
The appointment of former Premier Pak Pong Ju, who was regarded as "reformist" and "pro-market" during his previous tenure (2003-07), as director of the party's light industry department responsible for the development of the consumer economy, further strengthened the "pro-market" and economic reform-minded forces within the party's central committee.
Since January 2012, the regime has replaced almost half of its vice-premiers and Cabinet ministers, appointing five new vice-premiers, 14 ministers and commission chairmen (see table 1 for details), scores of vice-ministers, and dozens of new ministerial department and bureau directors.
The replacement of a third of provincial rural economy leaders, while not unusual, must reflect the regime's persistent concern about food security and rural development problems. These new officials will spearhead the long-expected agricultural reform in the North's rural areas.
Table 1. New Vice-Premiers, Cabinet Ministers, and Provincial Rural Economy Leaders Appointed by Kim Jong Un in 2012.
| | | |
| --- | --- | --- |
| Date | Position | Name |
| 12/2012 | Chairman of Kangwon Provincial Rural Economic Management Committee | Pak Tu Phil |
| 10/31/2012 | Minister of Metal Industry | Han Hyo Yon |
| 10/16/2012 | Minister of Physical Culture and Sports | Ri Chong Mu |
| 10/15/2012 | Minister of Electronics Industry | Kim Chae Song |
| 10/04/2012 | Minister of Agriculture | Hwang Min |
| 10/2012 | Chairman of South Hamgyong Provincial Rural Economic Management Committee | Kim Song Bong |
| 08/27/2012 | Chairman of State Science and Education Commission | Choe Sang Gon |
| 08/2012 | Vice-Premier | Chon Sung Hun |
| 05/22/2012 | Minister of Metal Industry | Chon Sung Hun |
| 05/21/2012 | Minister of Electric Power | Kim Man Su |
| 05/04/2012 | Minister of Land and Marine Transport | Kang Chong Gwan |
| 04/2012 | Chairman of North P'yongan Provincial Rural Economic Management Committee | Kye Myong Chol |
| 04/13/2012 | Minister of Commerce | Ri Song Ho |
| 04/2012 | Vice-Premier | Ri Sung Ho |
| 04/2012 | Vice-Premier | Ri Chol Man |
| 04/2012 | Vice-Premier | Kim In Sik |
| 03/2012 | Minister of Machine-Building Industry | Ri Chong Guk |
| 02/09/2012 | Minister of Posts and Telecommunications | Sim Chol Ho |
| 02/2012 | Minister of Finance | Choe Kwang Jin |
| 02/01/2012 | Chairman of Joint Venture and Investment Committee | Ri Kwang Gun |
| 01/2012 | Chairman of Education Commission | Kim Sung Tu |
| 01/2012 | Vice-Premier | Kim Yong Jin |
Foreign Policy Team Adjusted
Last December, most experts expected that Kim Jong Un would maintain his father's strategic goals in foreign policy: pursue an inter-continental ballistic missile-based nuclear deterrent capability; seek to internationally legitimize the North's nuclear and space power status; and advocate the unification of the Korean peninsula on communist terms, while striving to strengthen North Korea's military alliance with China. They proved to be correct by and large.
However, Kim has made some notable adjustments in his foreign policy team. First, he gave preferential treatment to senior party and state officials responsible for the country's missile and nuclear weapons programs. In February, Chu Kyu Chang, director of WPK CC Machine Industry Department, and Paek Se Pong, chairman of the Second Economy Committee (SEC), were promoted from lieutenant-generals to colonel-generals. Pak To Chun, party secretary responsible for the munitions industry, was given the title of KPA general also in February and promoted from alternate to full member of the WPK CC Politburo in April. The successful launch of the Unha-3 on December 12 further enhances their influence and status. In the wake of the rocket launch, at least on the weapons development issues, Kim Jong Un appears to increasingly listen to Choe Chun Sik, the head of the North's Second Academy of Natural Sciences, which is in charge of developing both conventional weapons and strategic arms.[19]
Officials in charge of policy toward South Korea experienced divergent fates. The party officials are doing well. Kim Yang Gon, party secretary responsible for South Korea policy and director of WPK CC United Front Department, gained Kim Jong Un's trust and was able to upstage Kim Yong Il, party secretary for international affairs and a rival in the Politburo. Kang Nam Chu, director of Bureau 225, which is responsible for espionage against the South, has also maintained his position. In contrast, NDC vice-chairman General O Kuk Ryol and General Kim Yong Chol, director of the Reconnaissance General Bureau, apparently suffered some setback and a demotion, respectively, in the latest round of military purges.
Of particular interest is the emergence of Jang Song Thaek as Pyongyang's lead representative in Kim Jong Un's entreaties to Chinese leaders, his probing of the Japanese intentions, and negotiations with the West. I wonder whether Jang's rise in Kim's foreign policymaking might have had anything to do with the recent lowering of the profile of vice-premier Kang Sok Chu, Kim Jong Il's long-time foreign policy aide. Kang failed to take part in talks with the visiting CPC delegation in November 2012, which was his first absence from such a high profile DPRK-PRC contact. I am also intrigued by the fact that first vice-minister of foreign affairs Kim Kye Gwan responsible for the Six Party Talks has not showed up in public since the collapse of the Leap Day Agreement last February, which does not bode well for the future of the talks. It is still unclear who might have replaced Kang and Kim in Kim Jong Un's new foreign policy team.
---