Kim Jong Un's Domestic Policy Record in His First Year: Surprisingly Good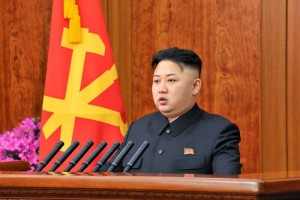 The year 2012 started with hysterical nationwide mourning for the deceased leader Kim Jong Il. The country was gripped with the fear of abandonment, uncertainty and chaos. But, by the time 2012 came to a close, one could detect hope in the air, and new positive expectations about the future. There was also plenty of public thirst for new information and foreign experiences, and an especially surprising amount of joy and enthusiasm on the streets of Pyongyang, now illuminated by jumbotrons, the multicolor lights of the newly built residential complex on Changjon Street, and the spectacular 2013 new year fireworks. Whatever happened last year in North Korea, it obviously lifted the spirits and hopes of its population, and the leadership led by Kim Jong Un deserves some credit for that.
The paradox is that the more Kim Jong Un sought to eternalize the memory of Kim Jong Il—out of filial piety or to placate his conservative critics—the more he distanced himself from his late father, driving the message home time and again that Kim Jong Il was dead and his memory belonged in history textbooks, not governing daily life. Kim Jong Un was now the reigning king and could do as he pleased to shape the present and future of his country.[1] The most telling example of this paradox was his maiden New Year speech, reminiscent of Kim Il Sung's long forgotten New Year speeches. Although a large part was devoted to eulogizing Kim Jong Il, the particular way Kim Jong Un chose to do it—a televised New Year Address to the nation—brought an end to the era of faceless joint party editorials published on January 1 every year during Kim Jong Il's long rule, discarding yet another piece of his father's legacy.
A Year of Mixed Policy Results
Although 2012 was an annus horribilis for the military, which endured repeated purges and shake-ups, it was an annus mirabilis for the space program, science and technology, as well as sports and culture. Overcoming tremendous adversity, the North's scientists and technicians successfully launched for the first time an artificial earth satellite in December,[2] ushering the DPRK into the space age. Beating the odds, North Korean athletes set a new record of winning six Olympic medals (four gold and two bronze) in the London games, prompting the leadership to set forth the goal of building the DPRK into a "sports power."[3] To the surprise of many observers, the national economy picked up steam, increasingly piggy-backing on the Chinese economic dynamo,[4] recording another better-than-expected grain harvest despite severe drought in spring and devastatingly heavy rains in summer,[5],[6] and slowly adapting its anachronistic industrial structure to the modern standards of a knowledge-based society. The North's health system finally got some leadership attention, probably because of the first lady's pregnancy,[7] and the long-overdue injection of capital funds and modern equipment, although the public's health remained poor and badly cared for.[8] The national education system was partially reformed and modernized to better meet the requirements of the digital age.[9]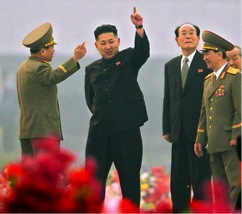 Kim Jong Un also made some progress in implementing one of his first policy priorities, infrastructure improvement, including the repair and expansion of the national road network and air transportation facilities in Pyongyang and all provincial capitals.[10] Whereas his father crisscrossed the nation by train and almost never flew by plane (and therefore the country's dilapidated highways and airports were left in disrepair), Kim Jong Un prefers to travel by car and likes to fly. Critics say renovating local airports, repaving roads, opening new gas stations, and building new motels and hotels serve only the interests of government elites and foreign tourists. This may be true today but these are long-term infrastructure investments that everyone will eventually benefit from, even ordinary North Koreans who cannot dream about using them at present. It is worth remembering that the US Interstate Highway System was originally built as a network of ground transport routes for military supplies and troop deployments in case of an emergency or foreign invasion.[11]
But on the critical issue of economic reform, while change may have been in the air, in my judgment, the current regime does not yet have any clear understanding of how to restructure the agricultural sector and revive the backbone of the North's industrial economy—large-scale state-owned enterprises. Nor does it have a viable approach to rebuild the nation's finances, pay down its debts, and get back to planning for the future. Also, despite Kim's emphasis on the Cabinet's centrality in economic management at the expense of both the party and the military, little progress has been made in the way the government directs the country's economy. Despite early expectations that the new regime would enunciate a comprehensive "New Economic Policy," outside observers were left disappointed at the lack of serious action on the ground. But too much was also made of the regime's reported promise of some sort of agricultural reform (the so-called June 28 policy measures) and rumors of new pricing and wage regulations for small-and-medium enterprises, as well as impending monetary reform; all to no avail.
That said, Kim Jong Un's effort to strip the Korean People's Army of its economic management role, dismantle its business empire, and hand it over to the civilian authorities was encouraging. It is reminiscent of a similar process that took place in China in the late 1990s when the then President Jiang Zemin ordered the People's Liberation Army to get out of business, forcing the military to divest itself of a mind-numbingly complex web of thousands of commercial interests that spanned pharmaceuticals, autos, and telecommunications.[12] If Kim Jong Un continues to divest the military of its economic assets and shift resources from the munitions industry to the civilian economy in the coming year, the KPA will lose its economic clout. As a result, the North Korean Cabinet will be better positioned to spur overall economic growth as well as to fulfill Kim Jong Un's inaugural promise of raising the living standards of the North Korean people in the future.
The regime's strong interest in promoting foreign trade and investment and developing special economic zones with Chinese collaboration was also unmistakable. This was demonstrated with new vigor when Pyongyang broke ground on the Hwanggumpyong and Wihwa Islands Economic Zone in June and its grey cardinal Jang Song Thaek held unprecedented economic talks with Chinese leaders in Beijing last August. North Korea's increasing economic exposure to China is important not only because it provides the regime with the economic lifeline it needs to survive, but also because it diminishes the country's economic isolation, plugging the North into the world's second largest economy. That, in turn, not only provides it with access to Chinese capital, technology, policy advice and managerial expertise, but also allows Pyongyang to benefit from global economic trends and to pursue a path of socio-economic development largely independent of the ROK, US and Japan and more in line with the so-called Beijing consensus.
Finally, North Korean economic diplomacy scored a major victory last September when Russia agreed to write off most of the DPRK's USD 10 billion debt inherited from the Soviet era, despite considerable Western pressure on Moscow to show solidarity with international sanctions. The debt restructuring deal was important not only because it cleared a significant obstacle on the way of resuming normal trade relations between North Korea and Russia, but also because it revealed how the new regime prefers to deal with foreign creditors: like his predecessor, Kim Jong Un appears to favor political negotiation and settlement of entrenched financial problems instead of traditional market-based solutions, which does not bode well for the future of the ROK's outstanding food loans to Pyongyang, let alone its debts to Western creditors.
Kim Jong Un's Thaw
The Ice Age in North Korea is coming to an end. Although the pace of change is glacial, its direction is unmistakable: the economic engine is warming up, political ice is melting, social mores are relaxing, and the country is beginning to open up.
The key question facing outside experts, however, is whether changes over the past year are just style or reflect a deeper impulse for substantive reform that may take place in the future.  Certainly, any attentive observer of the North Korean domestic scene could have easily detected signs of change—homegrown and imported—blessed by the new leader. They included:
New ideological concepts emphasizing populism and nationalist aspirations at the expense of garrison-state communist rhetoric: "great Paektusan nation" instead of "Songun nation," "people-first" instead of "military-first," "love the people" instead of "love the party";
New slogans, such as "No More Belt-Tightening" instead of "One Meal a Day," reflecting Kim Jong Un's joie de vivre and passion for his people's well-being; "At One Go" instead of "As Long As It Takes," reflecting his dynamism and aggressive style; "Great Leap Forward" instead of "Arduous March" and "Forward towards Final Victory" instead of "We'll Never Surrender," reflecting his youthful radicalism and high aspirations;
New state holidays: Mothers' Day honoring the memory of his deceased mother and giving its due to the long-neglected one half of the North Korean population, and Airmen's Day in tribute to his father-in-law and granting the Air Force the honor the army and navy have long had;
Revived long-forgotten local customs and traditions as exhibited at the newly instituted national cooking festivals, fashion shows and local daily necessities fairs;
Novel public mobilization songs extolling loyalty to Kim Jong Un ("Footsteps" and "We Will Follow You Only");
Eye-popping Spice Girls-style Morangbong Music Band and refreshingly humanistic art dramas;
New liberating fashion styles demonstrated by the trail-blazing first lady on central TV and the front pages of the Workers' Party newspaper Rodong Sinmun;
New IT gadgets (almost two million cellphones and Samjiyon-brand PC tablets), high-capacity workstations powering the North's space program and nuclear test calculations, and high-tech consumer appliances such as Arirang-brand LED TVs;
Modern public vehicles (Chinese fire engines and medical emergency vehicles) and luxury personal autos like Hummers spotted in different parts of the country.
Moreover, last year, Kim Jong Un rehabilitated scores of senior government officials punished by his father,[13] announced a national amnesty in January,[14] and reportedly ordered the shutdown of a notorious concentration camp for political prisoners in Hoeryong, North Hamgyong Province.[15],[16],[17] The motives behind these actions are not yet clear: they could have been initiated to erase the evidence of past injustices and atrocities, or they may be early signs of political decompression set in motion by the new regime.
Outside critics say these small steps are not enough to alleviate the plight of the oppressed people, and they are right. But, Kim Jong Un does not operate in a political vacuum: the old regime stalwarts and obvious losers from his policy innovations probably are actively resisting his attempts to dismantle Kim Jong Il's songun policy and its legacy. Rehabilitating past enemies, allowing a "hundred flowers to bloom," and riding the North Korean style "Glastnost Express" is new for North Korea and will undoubtedly test the limits of political decompression and the regime's newly found tolerance of policy mistakes and different views.
Looking Over the Horizon
Looking back at his first year, I must admit that Kim Jong Un beat my expectations, raising the bar to an unprecedented height by North Korean standards. Now I expect his second year in power to be even more dynamic and surprising with bold leadership and policy moves, despite a number of challenges, old and new, that will no doubt test the rationality and viability of Kim Jong Un's government.
He may attempt to provide "bread and circuses" for the masses in the short-term, but Kim's populist policy, which appears to be a knee-jerk reaction to the decades of acute austerity imposed on the North Korean people by his predecessors, may not last long, given the lack of domestic resources. Moreover, it could ignite a revolution of rising expectations that will be very hard to meet, and which can quickly spiral out of control. Hence, continued re-allocation of resources from the defense industry to the civilian economy, as Kim promised in his April 15 speech, partial conversion of the wartime economy into consumer-oriented production, continued expansion of economic cooperation with China, and further relaxation of government restrictions on market forces will be critical to sustaining economic recovery despite shortages of capital and labor, and international isolation. In short, delivering on promises of better living conditions for the people will be key to the legitimacy and long-term survival of Kim Jong Un's regime, as well as instrumental in maintaining social peace between the nouveaux riches and growing ranks of the poor, especially in borderland and urban areas.
At the same time, the new regime is unlikely to continue the "songun business as usual" because it has already demonstrated its intention to dismantle the military-first policy. There is no "songun with human face," and new leaders in Pyongyang appear to understand that. No matter how much the KPA is asked to "love the people" and "serve the people" by dredging rivers, renovating parks, and rebuilding the disaster-damaged areas, North Koreans will never forget or forgive the tremendous sacrifices they made at the altar of songun during the "Arduous March" and Great Famine in the 1990s. With the passing of Kim Jong Il, the military-first idea and policy is headed to the dustbin of history.
While some observers are quick to assert Kim Jong Un is not a reformer, I believe it is too soon to say one way or the other. After all, he has only been in power for one year. So only the future will tell whether the small but influential changes trickling down from the top and rising from the bottom up will lead to a major transformation of North Korea's society, economy, and politics in the long run. Some also question whether Kim Jong Un is the central driver of change, arguing that at his young age he does not have enough wisdom or power yet to lead the transformation of North Korea into a better place. Although I still cannot say with a high level of confidence whether he is totally in control or only partially in charge (and over what areas), I believe every important change in the North has happened with his explicit or tacit consent, regardless of whose idea initially it was or who really benefited from it.
I judge that North Korea under Kim Jong Un's leadership is poised to recover in the next five to 10 years. Not only will the North Korean government be able to "feed, clothe, and house" its own people to their satisfaction, but also Pyongyang will continue to build up its missile and nuclear capabilities, thereby nurturing its domestic legitimacy and growing its international strength. The big question today is how should the United States and the Republic of Korea respond to a relatively more stable, dynamic, self-confident, and stronger North Korea in the future?
---