The April 2012 presentation of domestically manufactured unmanned aerial vehicles (UAVs, sometimes called drones) during the military parade to celebrate the 100th birthday of Kim Il Sung and the subsequent 2014 recovery of wreckage from three that had crashed in South Korea, has raised considerable concern about Pyongyang's UAVs. While many are under the impression that these capabilities are a recent development, in fact, North Korea has been operating these systems for more than two decades.
Background
North Korea's interest in UAVs is believed to date to the period from February 1970 to June 1973 when US UAVs (the AQM-34Q), many based at the Osan Air Base in South Korea, flew 268 missions along its coasts monitoring communications.[1]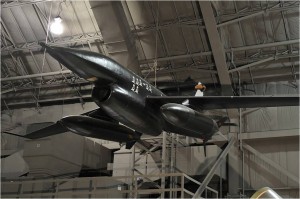 This initial interest was reinforced by lessons learned from the Israeli use of UAVs during the 1973 Arab-Israeli War.[2] It is likely that the final factor leading to North Korea's decision to acquire their systems was the 1988 announcement by the South Korean Ministry of National Defense (MND) that it was seeking financing to build a fleet of reconnaissance UAVs.[3]
North Korea acquired its first UAVs from China sometime between 1988 and 1990. These are believed to have primarily been the Northwestern Polytechnical University D-4 (subsequently called the Xian ASN-104) piston engine reconnaissance UAVs although a few jet-propelled target drones may have also been acquired.[4]
North Korea initiated a domestic development and production program in the early 1990s, as a result of the US use of UAVs during Operation Desert Storm. South Korean sources indicate that by late 1993, North Korea was manufacturing at least one reconnaissance UAV based on the Chinese D-4 and possibly experimenting with the manufacture of a target UAV probably based upon the D-5.[5]
In 1994, Syria provided North Korea with access to its UAVs, including the Russian manufactured DR-3 Reys (a high-speed, low-altitude system with a range of 60-70 km) and information concerning their operational use.[6] More significantly, Syria is believed to have provided the North with a few models of this system, confirmed in subsequent reports.[7] It is unclear if North Korea then attempted to manufacture the DR-3, but it is reported to be in service with the Korean People's Army (KPA).[8] Several years later, during 1997-1998, North Korea acquired 10 Pchela-1T UAVs, a small propeller-power UAV with similar characteristics to the KPA's D-4 but with a better sensor package, from Russia.[9]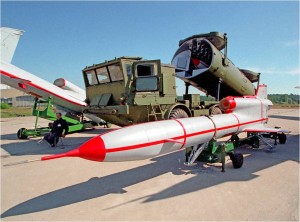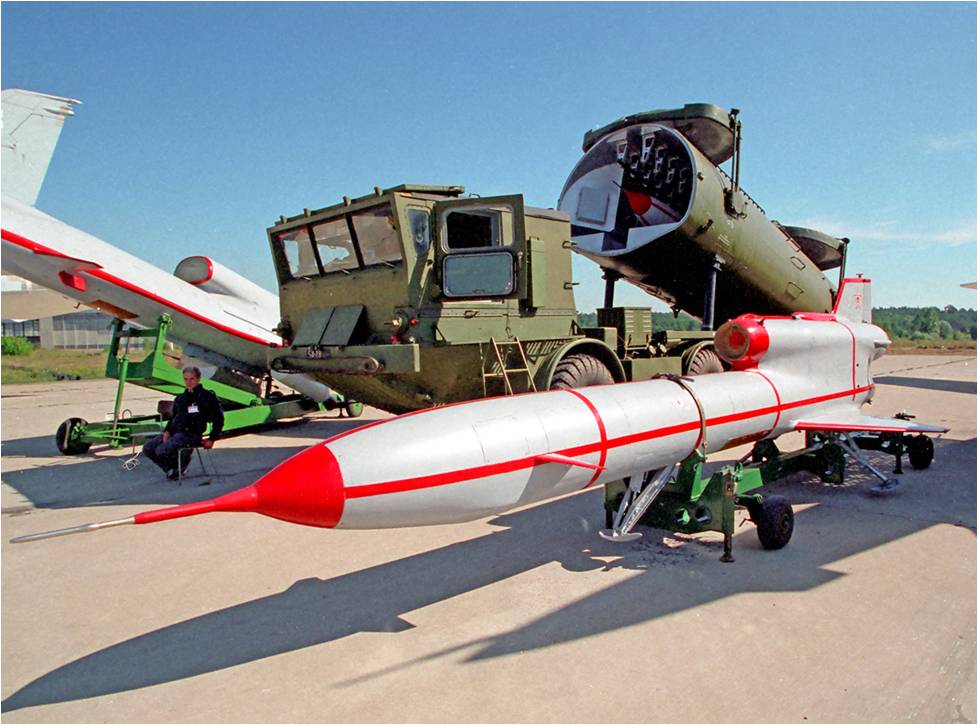 By the early 2000s, North Korea's inventory of reconnaissance UAVs was growing. Moreover, Pyongyang was manufacturing small numbers of reconnaissance UAVs based upon the Chinese D-4, known locally as the Panghyon, as well as at least one small piston engine reconnaissance/target UAV. It was also experimenting with other reconnaissance and target drones. More significantly, the North was employing these systems to conduct reconnaissance operations along the DMZ and the islands along the Northern Limit Line (NLL) in the West Sea (Yellow Sea).[10]
Expansion of the UAV program continued between 2005 and 2014, following a general trend of gradually introducing more capable systems at a lower unit cost, which allowed them to be deployed more widely. (The exception to this is the new jet engine reconnaissance/attack UAV, which appears to be designed to supplant any existing DR-3 systems). Key activities include:
The continued manufacture small numbers of Panghyon I and II UAVs;
The acquisition of a small number of Chinese Sky-09P commercial UAVs from the Taiyuan Navigation Friend Aviation Technology Company (perhaps through a front company in Hong Kong);
The possible manufacture of a domestic version of the Sky-09P at the December 12 Factory in Pyongyang;
The acquisition of examples of the Beechcraft MQM-107D Streaker target UAV through the Middle East and use of its technology to develop a domestic reconnaissance/attack UAV; and
Attempts to modify the Pchela-1T reconnaissance UAV into an attack UAV and the development of the multipurpose Durumi UAV (possibly based upon Chinese UAV technology).[11]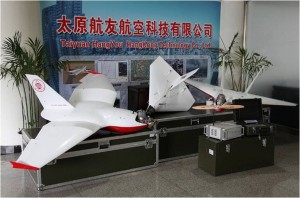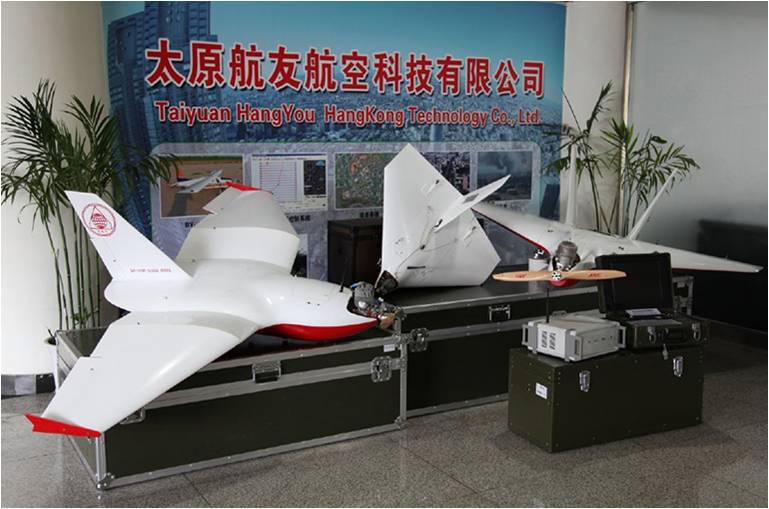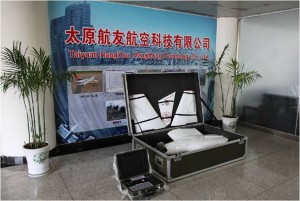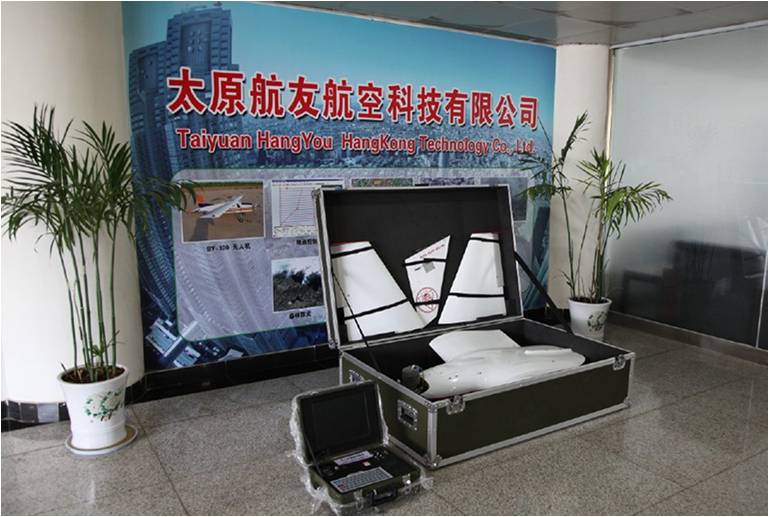 Accompanying these developments, North Korean scientists, engineers and academics have been openly publishing papers on technology directly applicable to UAVs, indicating that work has been ongoing to develop several domestic small UAVs and that efforts were being made to obtain foreign (e.g., Chinese, Iranian, Russian, etc.) technology.[12]
DPRK UAVs Emerge from the Shadows
On August 9, 2010, Pyongyang conducted a live-fire artillery exercise targeting the waters north of Yeonpyeong Island—a South Korean-held island south of the NLL and 210 km northwest of Seoul. In describing the exercise, a South Korean Joint Chiefs of Staff spokesman provided one of the first detailed references to North Korean UAV operations. He stated:
The North flew a drone, possibly for surveillance, after it fired artillery shells Monday last week into waters in the Yellow Sea. …This seven-metre (23-foot)-wide drone hovered over the North's waters, keeping a very low altitude, some 20 kilometres (13 miles) north of Yeonpyeong islands. …It might be a surveillance drone or a decoy.[13]
This location would have placed the UAV over the Kangnyong Peninsula (i.e., Kangnyong-bando) and above the artillery units conducting the exercise. The description of the UAV as "7-meters-wide" is perplexing since none of the known North Korean UAVs matches this dimension. In retrospect, the exercise is now viewed as preparation for the November 2010 artillery attack on Yeongpyeong Island.[14]
Military Parades
During February 2012, South Korean Army sources announced that North Korea was developing an attack UAV based upon "…high-speed U.S. target drones imported from a Middle Eastern country…"[15] The reported intention was to mount a small bomb on the UAV for the attack mission. The "target drones" were subsequently identified as the Beechcraft MQM-107D Streaker.[16] While most published reports suggested that Syria was the source, Egypt was more likely since it acquired the MQM-107D during the mid-1980s. These same reports also indicated that North Korea was modifying its Pchela-1T into an attack configuration.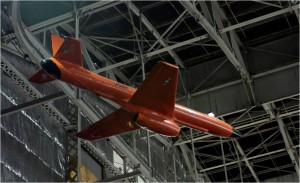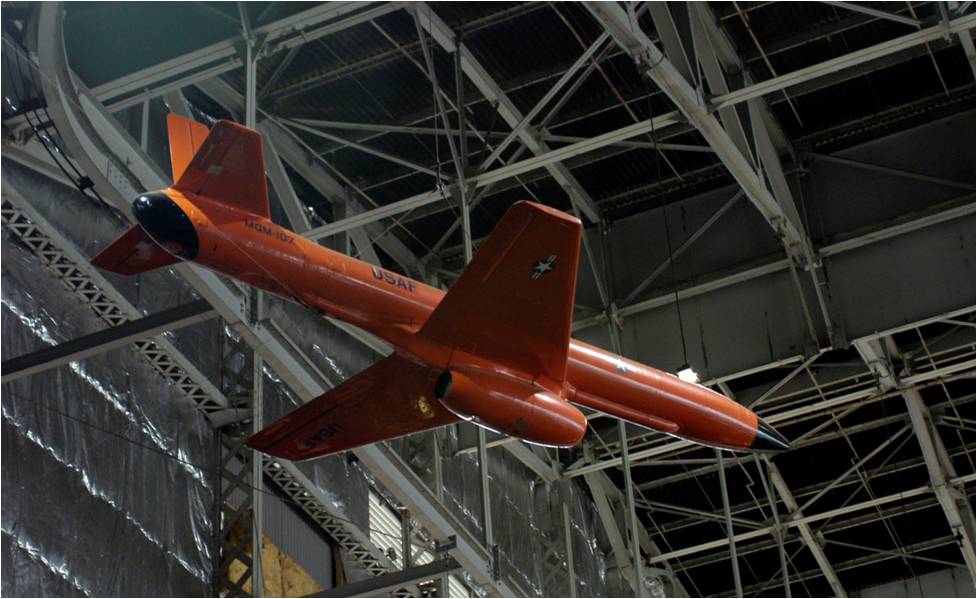 Two months later, during the April 15 military parade in Pyongyang, North Korea displayed its new UAV for the first time. While superficially similar to the MQM-107D, the UAV is clearly not a copy. Detailed examination of ground photos reveals that the new drone is shorter, and has both a greater wingspan and a different engine configuration. Moreover, its sensors are mounted under the fuselage immediately in front of the engine intake. There are also two small winglets—one above and one below—on the ends of the main wing. The new UAV is apparently constructed in at least two versions—reconnaissance and attack.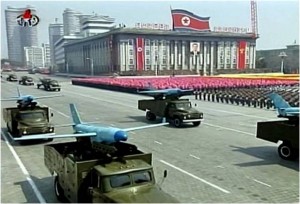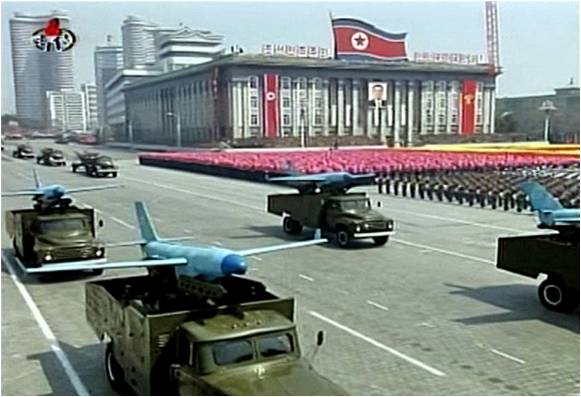 There are also two different launchers—the first mounted on a Zil-130 light truck chassis and the second uses a four-wheel towed mount. To enable launches from a short ramp, the UAV is fitted with two mounts—one on each side, aft and below the main wing—for booster rockets. All of the UAVs seen to date have been camouflaged using a mottled light-blue, dark-blue pattern with a dark blue nose (to blend into the sky) and white numbers on the tail.
A year later, KCNA reported that Kim Jong Un oversaw a live-fire training exercise at the Taesan-dong Training Area southeast of Pyongyang. During the exercise, he "guided" the employment of three,
…super precision drone planes assaulting targets and a firing drill of self-propelled flak rocket destroying "enemy" cruise missile coming in attack in low altitude. The drone planes were assigned the flight route and time with the targets in South Korea in mind, Kim Jong Un said, adding with great satisfaction that they were proved to be able to mount super precision attack on any enemy targets.[17]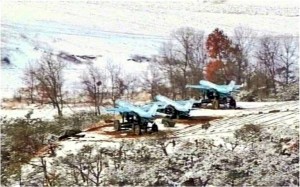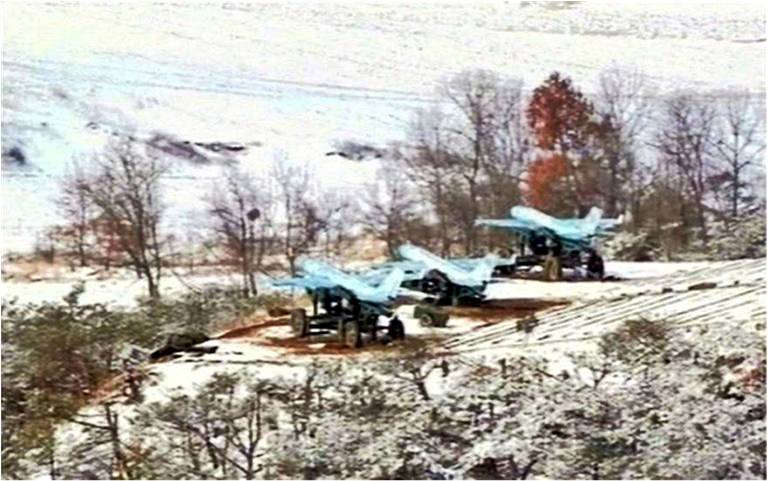 The new UAV was displayed again during the 60th Anniversary of Fatherland Liberation War parade in July 2013 in Pyongyang, but there were no noticeable differences in its characteristics from the previous year.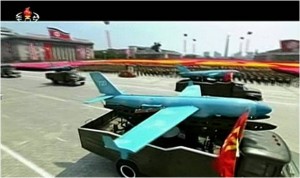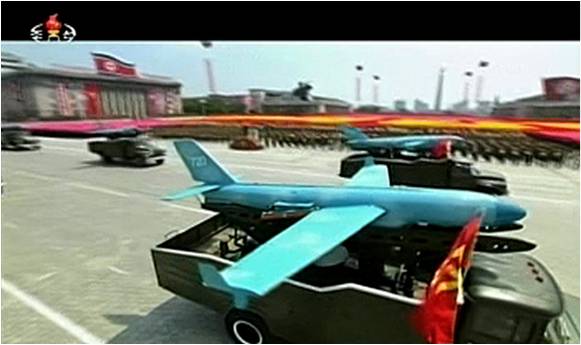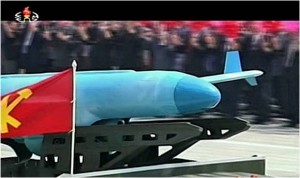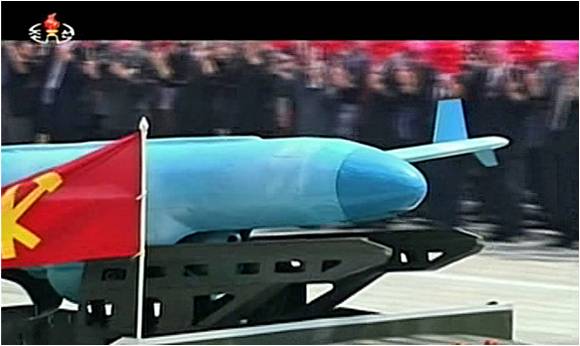 Crash Landings
During April 2014, the South Korean MND announced the recovery of remains from three North Korean UAVs that had crashed in South Korea between October 2013 and May 2014.
Samcheok-si[18]
In early April 2014, South Korean troops were led to the site of a UAV crash on a mountain near the east coast city of Samcheok (a.k.a., Samcheok-si), 195 km southeast of Seoul and 130 km south of the DMZ, after three local residents informed them that they had discovered the wreckage in October 2013 while searching for medicinal herbs.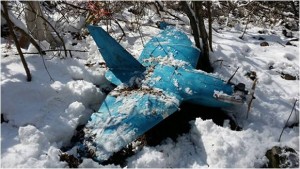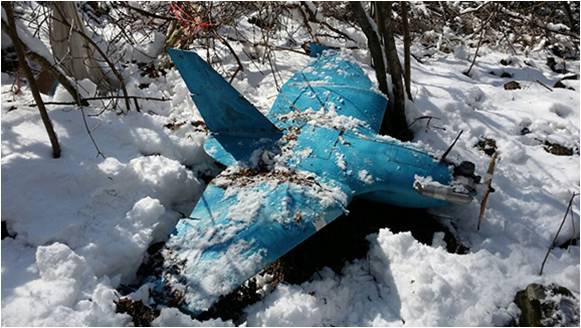 One of the residents said that he had removed the commercial digital camera he found at the crash site, saving the memory card but eventually discarding the camera. While he used the card for his personal photos, making recovery of the UAVs original images impossible, the resident had viewed them and remembered that some were of a beach near Samcheok.
The UAV's mission remains unclear but a number of important military and strategic facilities are located in the Samcheok area, including the Hanul Nuclear Power Plant, the largest in South Korea.[19]
Subsequent examination of the UAV revealed that it was a Taiyuan Sky-09P that employed a parachute recovery system, camouflaged using a mottled light-blue, dark-blue pattern, carrying a lithium-ion battery to power its 0.9 GHz GPS and flight systems and a commercial digital camera (it was not capable of transmitting images). The UAV, which flew a preprogrammed flight plan based upon waypoints using an onboard GPS system, evidently took off from a point 17 km east of Pyonggang County, Kangwon Province, and was programmed to return to the point of origin, suggesting a minimum round trip covering a distance of 360 km. This round trip is considerably longer than the 150-200 km normally attributed to this system and may indicate that it crashed due to fuel exhaustion.
ROK MND officials have stated that this UAV, while similar to the one discovered near Paju-si (below), is a different size.[20] If correct, that may mean North Korea is manufacturing its own version of the Sky-09P.
Paju-si[21]
A North Korean UAV crashed on March 24, 2014 near the city of Paju (a.k.a., Paju-si), 36 km north-northeast of Seoul and 10 km east of the DMZ. Subsequent examination revealed it to be a Taiyuan Sky-09P, similar to that found near Samcheok. The flight originated 5 km northwest of Kaesong City, South Hwanghae Province and it was programmed to return to the point of origin, suggesting a minimum round trip of 150 km. The UAV, which took approximately 200 photographs, followed a flight path over key military installations and central Seoul, including the ROK presidential compound (Cheong Wa Dae) and Gyeongbok Palace. It crashed near Paju on its return home, possibly due to fuel exhaustion.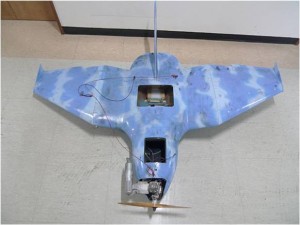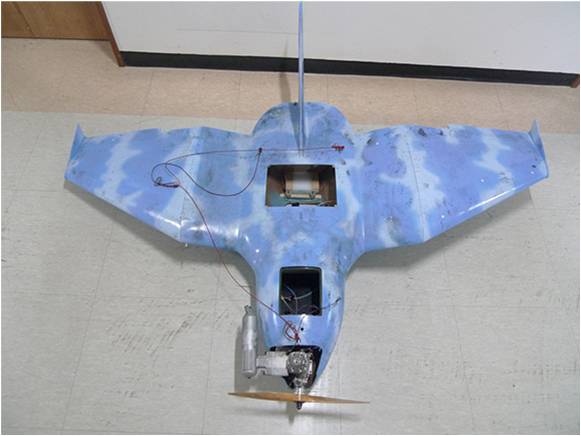 South Korean officials speculated that, because the UAV's parachute had been refolded eight times, it had probably been test-flown, or carried out operations several times.[22] (While the UAVs found in Paju and Samcheok look similar, their sizes differ, suggesting that the North may be manufacturing its own version of the Sky-09P.[23])
Baengnyeon-do[24]
Two months later on May 31, 2014, a resident Baengnyeong Island (a.k.a., Baengnyeong-do), 210 km northwest of Seoul, discovered the crashed remains of a small North Korean reconnaissance UAV. The UAV consisted of a cylindrical 1.92-meter-long fuselage, 1.43-meter-wide shoulder-mounted main wing, v-tail, and wire-sprung landing gear and was camouflaged using a mottled light-blue, dark-blue pattern. The design was similar to a small target UAV that has been seen in numerous North Korean propaganda videos over the years.
The UAV flew a preprogrammed flight plan based upon waypoints using an onboard GPS system since there was no real-time ground control capability. It was launched from the abandoned Ongjin Airfield, 27 km southwest of Haeju City, South Hwanghae Province, and was programmed to return to that airfield, suggesting a minimum round trip covering approximately 170 km.
After launch, the UAV's preprogrammed flight plan took it to an altitude of 3,000 m then west-southwest to the southern point of Taechong Island. Here it initiated a series of back-and-forth imaging passes that progressively moved it further north with each successive pass and eventually over Baengnyeong Island. As it approached the island, South Korean Army Vulcan air defense guns tried to shoot it down. They failed since the UAV was above their effective range. However, it eventually crashed on Baengnyeong Island due to engine failure after a flight of approximately 105 km.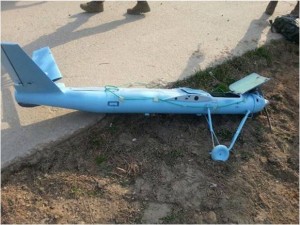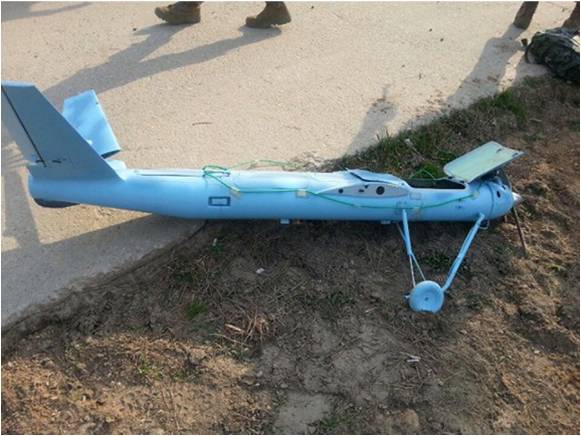 Subsequent examination of the wreckage by experts revealed that it was constructed of light polycarbonate, carried a commercial digital camera, and used various Japanese and Chinese components.
Assessment
While North Korea's UAVs have been the subject of recent media scrutiny, in fact, Pyongyang has had an unsophisticated reconnaissance UAV capability since the 1990s. For the past decade, this force has expanded both in numbers and capabilities. Pyongyang's UAVs force now consists of 300 UAVs and at least 7 types, some of which are manufactured in several versions: 2012 attack/reconnaissance UAV, DR-3, Durumi, Panghyon I and II, Pchela-1T, Sky-09P and an unidentified reconnaissance/target UAV.[25] Investigators of the wreckage from the three crashed UAVs in 2014 have concluded that there have been numerous undetected North Korean UAV flights over South Korea.[26]
North Korea's UAV force, while relatively unsophisticated at present, has now reached the point where it could present a security challenge for ROK and US forces on the Korean peninsula. In the future, that threat could grow to include Japan as well as US forces in East Asia if Pyongyang can develop UAVs with greater ranges and payloads, real-time video, electronic countermeasures and stealth capabilities. How rapidly that threat develops could depend on the North's ability to acquire new technologies from China, Iran or elsewhere.
Joseph S. Bermudez Jr. is Chief Analytical Officer and Co-founder of AllSource Analysis, Inc.
---