North Korea's Punggye-ri Nuclear Test Site: Media Report of Intensified Activity Cannot be Corroborated
A 38 North exclusive with analysis by Frank V. Pabian, Joseph S. Bermudez, Jr. and Jack Liu.
A June 11, 2017 Asahi Shimbun news report[1] described "intensified" activity at the Punggye-ri Nuclear Test Site "indicating Pyongyang may be preparing a sixth nuclear test, which it warned last month was 'imminent'," and that "The preparations near the Punggyeri site match those of past occasions before North Korea conducted a nuclear test." The report quoted knowledgeable sources, who stated that nuclear scientists associated with nuclear materials and testing had gathered at the Punggye-ri Nuclear Test Site. It went on to state that, "traffic to the site has been apparently shut down at the checkpoints leading to the area in northeastern North Korea. However, movement of vehicles and humans within the test site continues to be active."
While we have no basis to judge the veracity of any claims concerning the movement of nuclear scientific personnel either to or within the site, new satellite imagery did not reveal unusual observable activity (e.g., an increased presence of vehicles or personnel) suggestive of a change from our previous assessment that the site is in a standby status to one that could be interpreted as late-stage nuclear test preparations. The nuclear personnel movement claim, if true, would most certainly have to have been based on information other than that gleaned from satellite imagery alone. It should also be noted that the Asahi Shimbun report included the disclaimer that, "It is unclear if that flurry of activity is a precursor to a nuclear test or simply an exercise to prepare or inspect the site."
It is possible that the additional "intensified" activity could be occurring at times when orbiting commercial imaging satellites do not have the test site in overhead view.
Regardless of the veracity of the Asahi Shimbun claims, given the previous activities observed from the beginning of this year through mid-April, additional nuclear tests should be considered possible at any time the North Korean leadership makes the decision to conduct them.
Commercial satellite imagery from June 10 reveals the following activities at the Punggye-ri test site.
North Portal
The North Portal shows few signs of new activity other than water being drained from portal (a fairly routine activity), two mining carts present near the engineering office building and no discernible new spoil present on the spoil pile. The net canopy (located 40 meters south of the North Portal) remains in place, but no equipment is observable under it. A small, unidentified object is in front of the North Portal, which has been present for at least the past month. There is nothing observable in this area to suggest the presence of "intensive" activity as the Asahi Shimbun report claimed.
Figure 1. Few signs of new activity at the North Portal.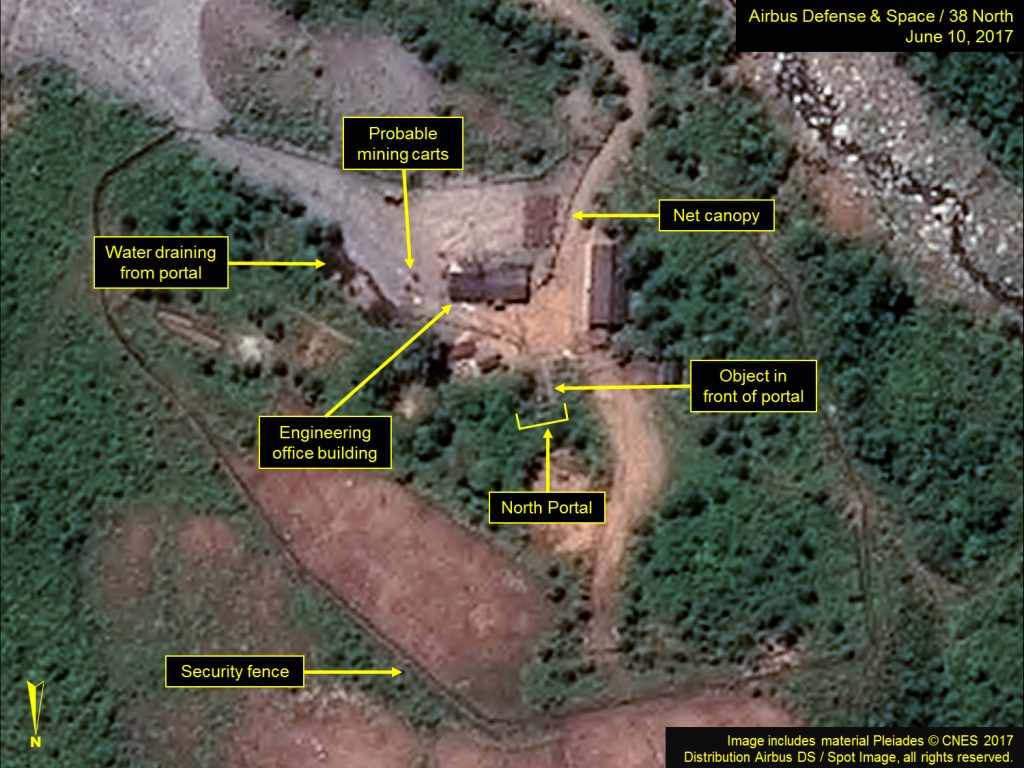 Figure 2. No discernible new spoil at the North or West Portal spoil piles.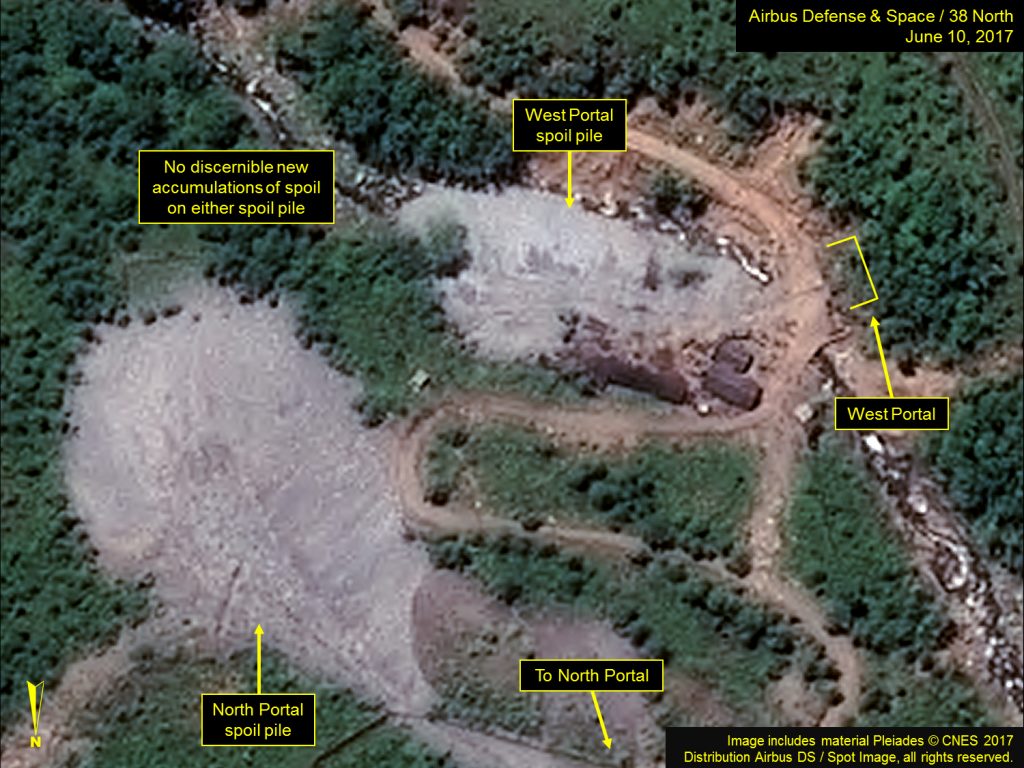 Main Administrative Area
Clearly identifiable vehicles or personnel are not present in either the upper or lower courtyards in this area used to support nuclear test activities. Rain runoff has partially washed away the volleyball court in the upper courtyard where another game was recently played as discerned from imagery in late May (volleyball and soccer are very common sports in North Korea and often observed in satellite imagery). Supplies previously observed in front of the greenhouse in May are now on the east side of the greenhouse. There appears to be either a small vehicle or stacked supplies present, but the net or tarp-covered supplies/equipment/small vehicles identified last month are no longer in the area.
Figure 3. No identifiable vehicles or personnel present in courtyards and supplies near greenhouse moved.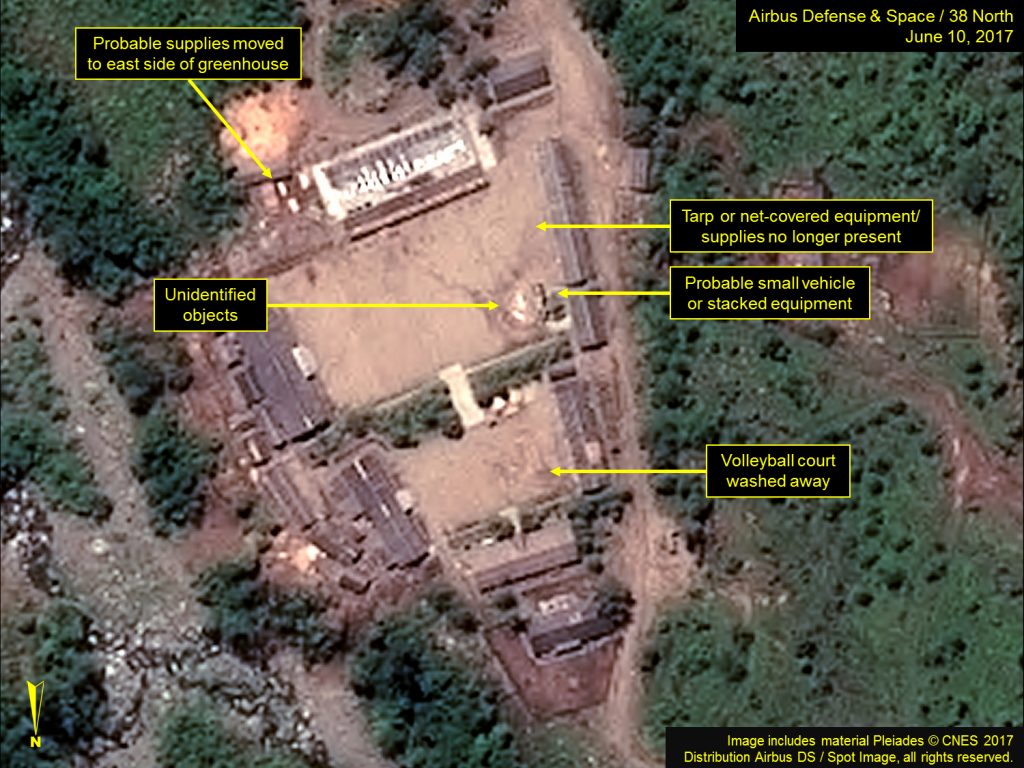 Other Areas
Nothing new of significance was noted at either the West or South Portals, and the Command Center Area and guard barracks were shrouded in clouds.
Just south of the Main Administrative Area and north of the South Portal, construction of the new replacement support building continues at a rapid pace. The roof is nearly complete and fully covered with wood sheathing, with roof shingles being emplaced on one section. The two probable blue sheds/shipping containers, which had been newly placed near that construction area in mid-May, are no longer present and had been removed after a few days.
Numerous muddy ruts are visible along the access road leading north to the test site from the Command Center, suggesting vehicle activity following the recent rains. One unidentified vehicle is also present on the access road near a bridge that crosses the main creek. It should be noted that large portions of the road are now obscured with the advent of deciduous vegetative cover fully in leaf. The checkpoint gate near the Command Center, which was the only one visible on this image, was open. There is no observable corroborating evidence that access to the site is restricted as of June 10.
Figure 4. Construction of new building continues and blue shed/containers removed, no significant activity observed at the South Portals.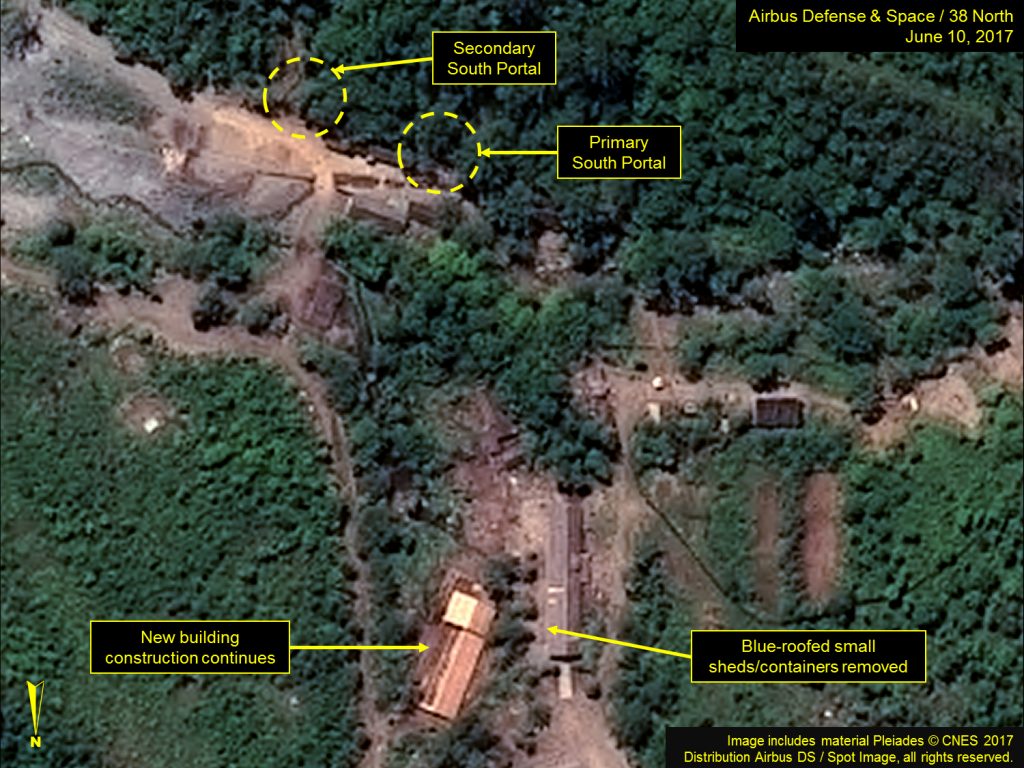 Figure 5. Muddy vehicle tracks and unidentified vehicle observed on access road between Command Center and test site.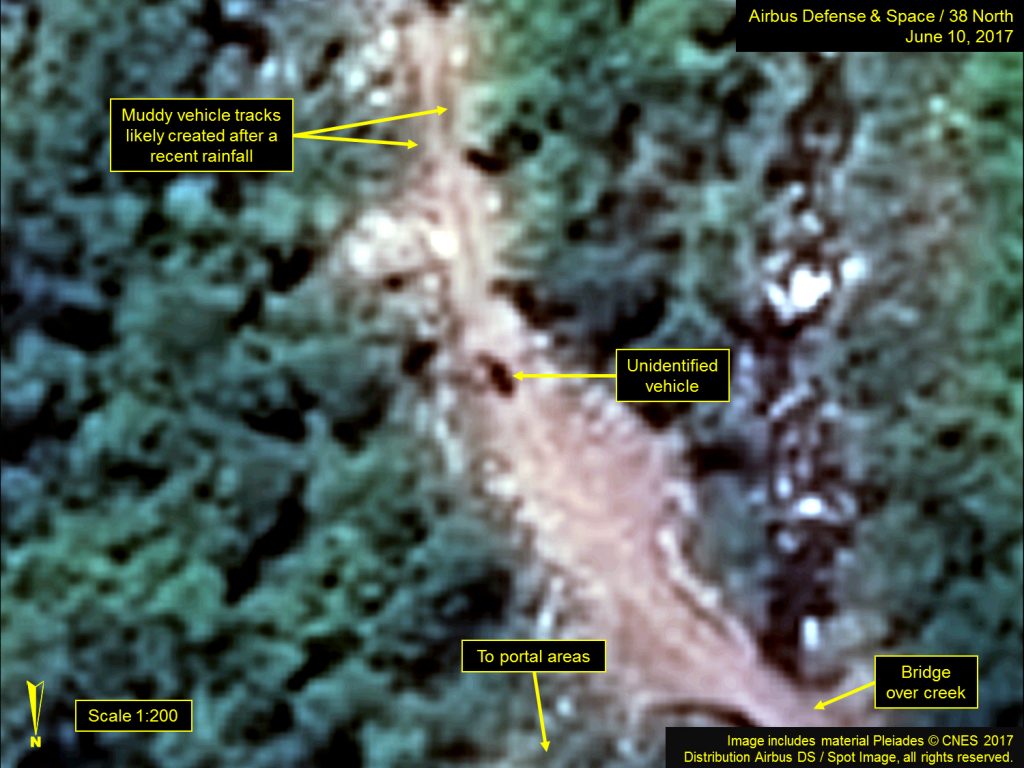 Implications
On the basis of the analysis of satellite imagery alone, given the unusually high level of activity observed earlier this year with no test forthcoming, and no significant new observable activity at the North Portal, we can only conclude that the facility remains in standby mode. Various low-level activities continue within and near the Main Administrative Area as reported above and in previous analyses. While we cannot confirm the recent media claim of "intensified" activity at the Punggye-ri Nuclear Test Site, as long as the site remains in standby status, a sixth nuclear test could be conducted at any time with minimal advance warning. At this point, renewed nuclear testing is almost entirely dependent on a North Korean leadership decision.
---
[1]

Yoshihiro Makino, "Activity around N. Korean test site may foretell 6th nuclear test," Asahi Shimbun, June 11, 2017, http://www.asahi.com/ajw/articles/AJ201706110023.html.
---