North Korea's Punggye-ri Nuclear Test Site: New Media Reports of an Imminent Sixth Test Again Cannot be Corroborated
On Monday, August 28, 2017, media reports began surfacing which claimed that South Korea's National Intelligence Service (NIS) had informed South Korean officials (in a closed-door session) that the NIS detected indications of preparations for another nuclear test at the DPRK's Punggye-ri underground nuclear test site.[1] One report more specifically stated that another test could fall on September 9, which is both a North Korean national holiday (the Day of the Foundation of the Republic) and coincident with the date chosen by North Korea to conduct it most recent, and fifth, nuclear test last year.[2] However, commercial satellite imagery from August 27, 2017 does not provide observable corroborative evidence that the DPRK is about to conduct another underground nuclear test immediately. The situation is reminiscent of when we responded to similar reports in mid-June that a nuclear test was imminent at that time.[3] Nonetheless, we remain firm in our previous assessments that the DPRK has, since April 2017, continued to maintain the site at a high state of readiness such that it could conduct a test on short notice, whenever the political decision is made to proceed with another test or tests. It is just that we cannot report that there is any observable evidence on the most recent commercial satellite imagery to show that such a decision has already been made.
Detailed Reporting
According to the first referenced report above, "Kim Byung-kee, a member of South Korea's Democratic Party, said the South Korean intelligence agency reported that North Korea "has completed its preparation to carry out a nuclear test at Tunnel 2 (the North Portal) and Tunnel 3 (the South Portal) of the Punggye-ri nuclear test site." The lawmaker added that the National Intelligence Service also detected activity indicating Tunnel 4 (the West Portal) was being prepared for additional construction work. Work on the tunnel was stopped last year."
Observations from Latest Imagery
Commercial satellite imagery of the Punggye-ri Nuclear Test Site from August 27, 2017 continues to show that the test site has remained in a general state of standby quiescence with only very minor changes over time.
No new tunneling has been observed at the North Portal ("Tunnel 2") since earlier this year, apparently ending by April. The North Portal tunnel entrance is somewhat less obscured by vegetation than in recent previous imagery. There is also some new water drainage (a common intermittent occurrence for tunnel maintenance), but nothing else of significance at this time, although a small dark-toned object that could be a single mine cart was moved to near the tunnel portal.
The imagery also showed that a few new (since July 25, 2017) pieces of small unidentified equipment had been placed near the mine cart tracks outside of the West Portal ("Tunnel 4"), which might explain the report that this tunnel was, "being prepared for additional construction work."
Figure 1. Small unidentified equipment outside of the West Portal.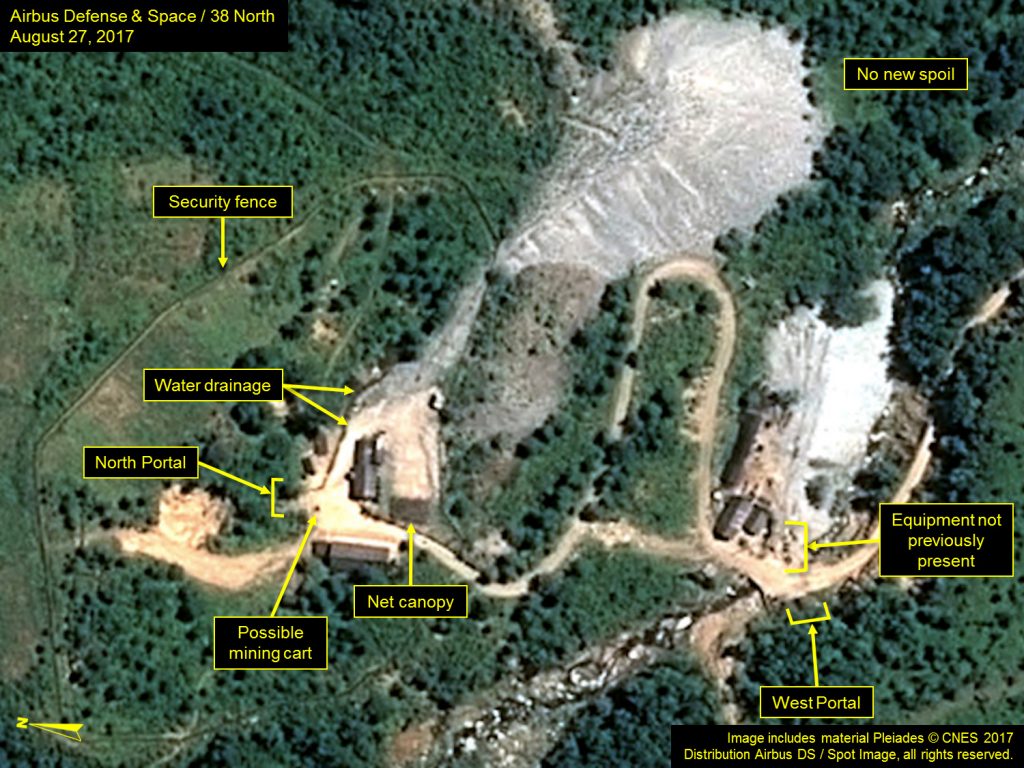 The Main Administrative Support Area did not exhibit any new significant activity. Clearly identifiable vehicles or personnel were not present in either the upper or lower courtyards in this area used to support nuclear test activities. The plastic-sheathed roof of the greenhouse (used to grow vegetables for onsite personnel) remains rolled back. Interestingly, a similar greenhouse, which is located at another support area south of the Command Center, is also open-roofed at this time.
The new support building, located south of the Main Administrative Support Area and North of the South Portal Area, now appears externally complete with roof shingles now in place.
The South Portal Area ("Tunnel 3") remains quiescent.
Figure 2. New support building externally complete.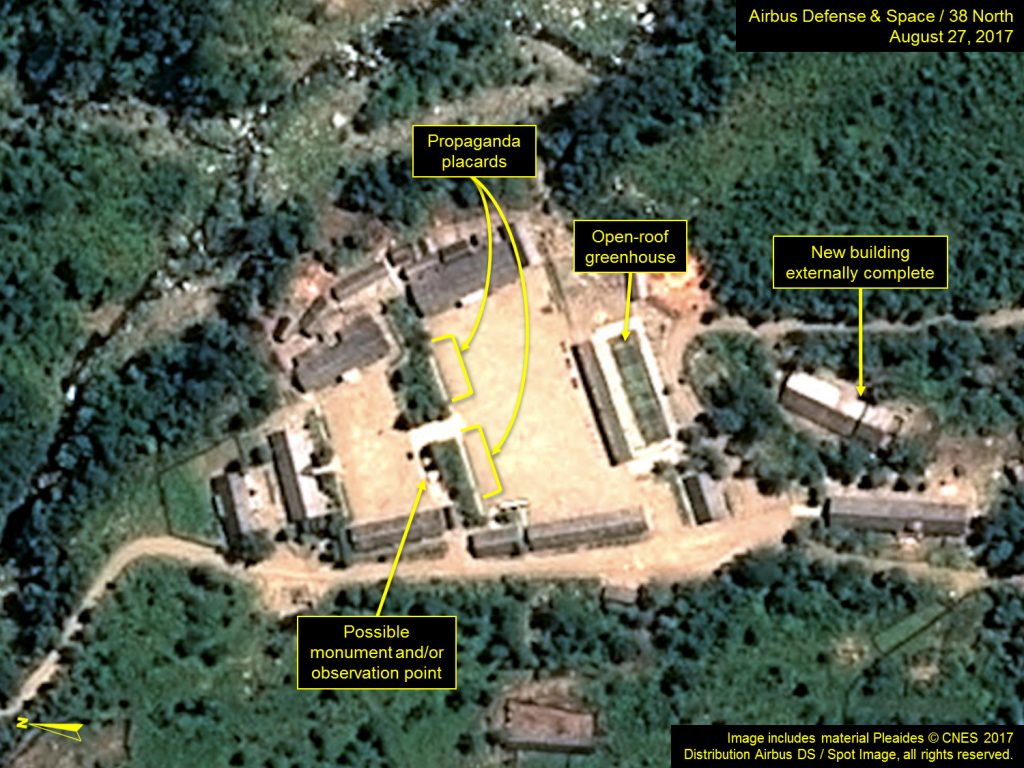 Figure 3. No observable activity at the South Portal Area.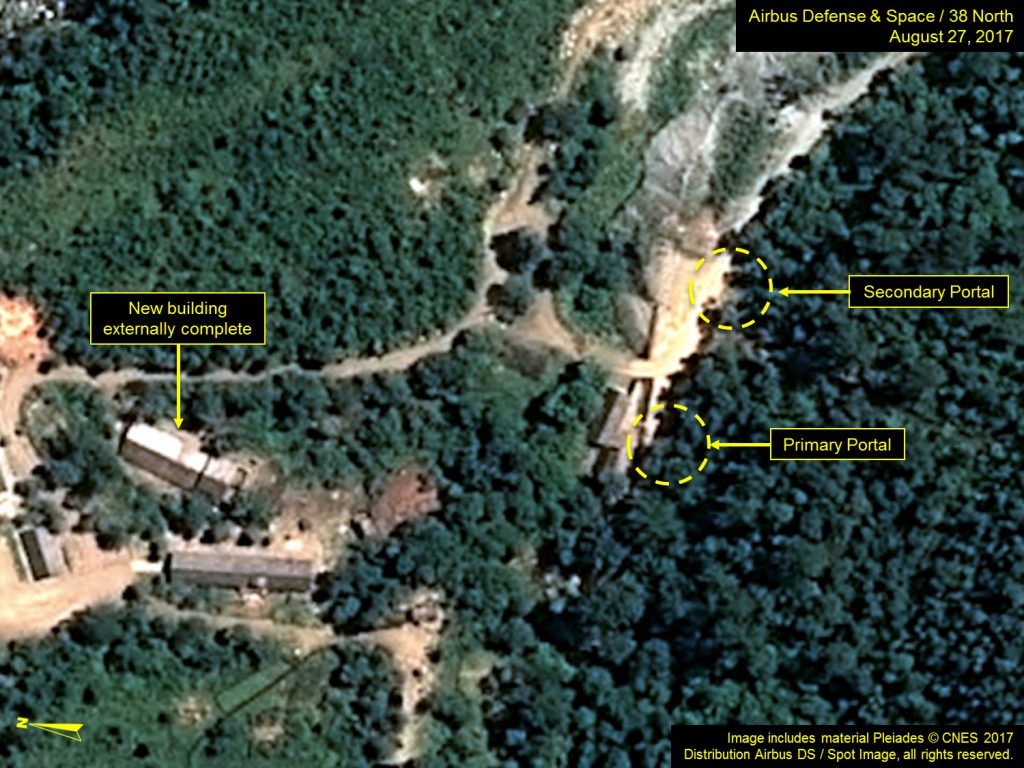 The Command Center along with its associated support areas and security force barracks building also appear quiet at this time with no vehicles or personnel present on the imagery.
Figure 4. No observable activity at the Command Center.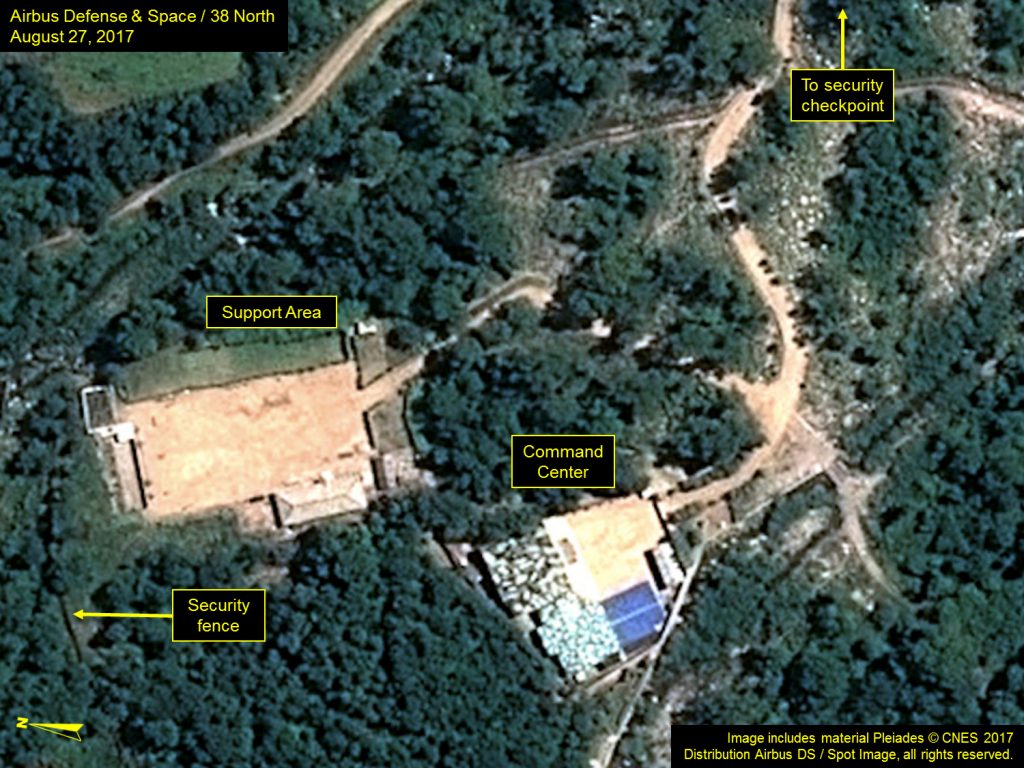 Figure 5. No observable activity near the security checkpoint.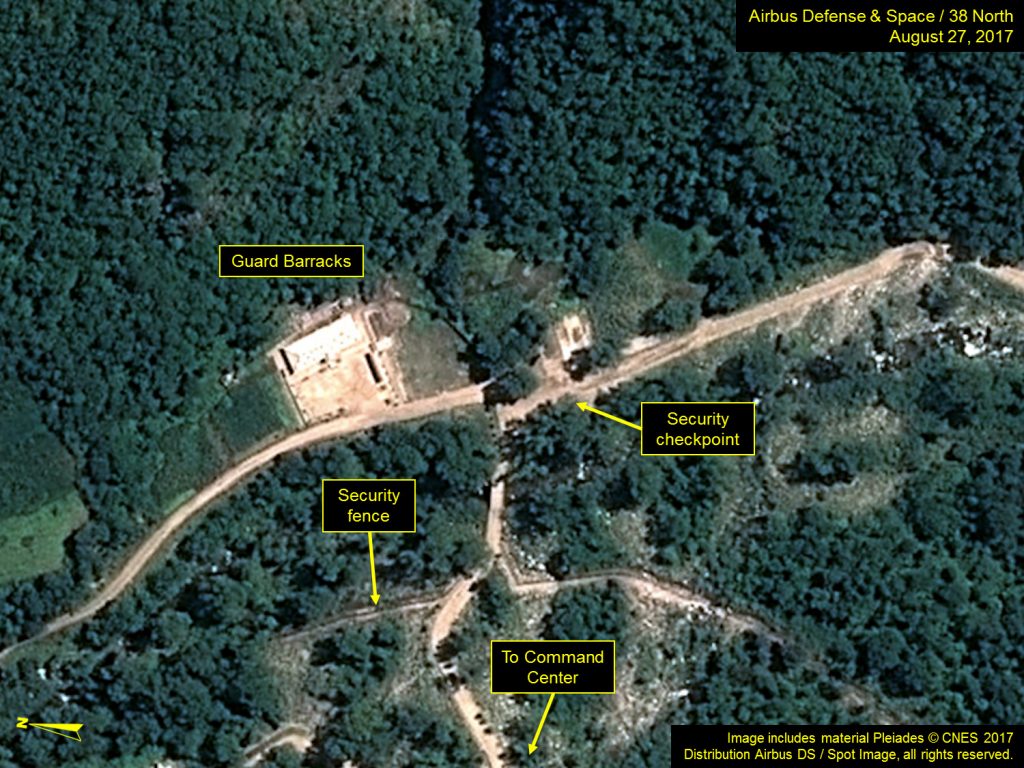 Conclusion
Although news media reports concerning intelligence-sourced claims that another DPRK underground nuclear test is imminent continue to arise, we are as yet unable to corroborate such claims with commercial satellite imagery of the Punggye-ri Nuclear Test Site. Pyongyang's most recent pronouncement that the DPRK "will further sharpen its just nuclear treasured sword,"[4] does provide additional basis for concern that another test could be in the offing. However, as stated previously on several occasions, on the basis of the analysis of satellite imagery alone, given the unusually high level of activity observed earlier this year with no test forthcoming, and no significant new observable activity at the North Portal, we can only conclude that the facility remains in standby mode. As long as the site remains in standby status, we cannot rule out that a sixth nuclear test could be conducted at any time with minimal advance warning.
Note: As we were about to go to press with this article, there was a clarification of the earlier statements by the NIS which said that "North Korea is maintaining a situation where it can conduct a nuclear test," as opposed to having "completed preparation for a nuclear test." The clarification also stated , "The shafts are being maintained so that North Korea's Kim Jong-un can conduct a nuclear test with a short period of preparation whenever he makes a decision."[5] Both statements are entirely in keeping with our conclusions.
---
---