Is the US Preparing for Preventive War? Views from North Korea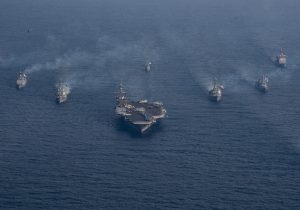 In mid-November 2017, I spent several days in Pyongyang talking to DPRK foreign ministry officials about the prospects of war between North Korea and the United States. These were sobering discussions. All of my interlocutors made it clear that while North Korea does not want war, it will not hide from it either. These officials feared that the US was already trying to shape the battlefield for a military operation against the North, and that South Koreans do not seem to have grasped the reality that the Trump administration is set on a course for preventive war. However, Pyongyang is extremely serious about this scenario and is not bluffing when it says that "only one question remains: when will war break out?" In this respect, our counterparts emphasized that "our soldiers have long been sleeping without removing their boots."
To Freeze or Not to Freeze?
During my visit, I heard nothing to suggest that North Korea is prepared, at this time, to be the first to accept the Russian and Chinese proposal for a freeze on its missile and nuclear tests in return for American agreement to freeze its joint military exercises with South Korea. The North Koreans insisted their sovereignty be respected and rejected any preconditions.
Although my North Korean interlocutors acknowledged that the Korean Peninsula was sliding toward war, they reaffirmed the country's commitment to achieving nuclear parity with the United States. Moreover, according to experts from the DPRK Foreign Ministry's Institute for Disarmament and Peace, the United States is not just expanding the scale of regular and irregular military exercises along North Korea's perimeter, but also introducing fundamentally new elements designed to achieve specific operational goals in the event of a large-scale conflict between North Korea and the United States.
The Pentagon is Preparing for War
Indeed, North Koreans see the US-ROK exercises as anything but routine; to the contrary, there was a sense among them that the Pentagon has launched the contact reconnaissance phase of a military operation it is planning to undertake on the peninsula. They noted  that the geographical features of the Korean Peninsula provide no opportunity for the gradual, methodical buildup of troops to create a superior strike force—as was the case before the US attacked Iraq—and that North Korea would immediately notice such actions and naturally regard them as a casus belli. In their eyes, the Pentagon is rehearsing elements of a coordinated military operation one step at a time. The three aircraft carrier strike groups that are operating in Korea's East Sea, as well as many other operations, were not just a show of force.
The same is true, they argued, about the latest US-South Korean air exercise Vigilant Ace, which involved 230 aircraft and a large number of varied types of stealth aircraft. The deployment for the first time of so many stealth airplanes looks especially ominous from the North Korean perspective against the backdrop of recent US-ROK exercises practicing decapitation strikes against Kim Jong Un in a first strike using ground, naval, air and special operations forces. These, and many other new elements that have appeared in drills over the past several months, have elicited growing concern that different elements of a combined arms operation against North Korea are being methodically rehearsed and that "zero hour," as they put it, is not too far away.
The North Korean-South Korean Perception Gap
In my conversations in Pyongyang, senior North Korean Foreign Ministry officials did not conceal their surprise that Seoul failed to see the huge gap in threat perceptions between American and South Korean societies. The North Koreans see growing signs, reflecting President Donald Trump's "America First" principle, that the United States is prepared to accept the terrible loss of lives that would result from a large-scale military conflict with North Korea. In contrast, South Korean public opinion continues to believe that president Trump would never start a war in Korea—and that the tension, crisis-like atmosphere, and belligerent rhetoric are all posturing.
North Korean diplomats expressed surprise that a substantial part of the South Korean elite have missed many indications, reflected in polling data,[1] that a majority of Americans now believe that the US cannot allow North Korea to acquire a missile capable of delivering a nuclear weapon to the US mainland and that Pyongyang would order such a strike as soon as it had this capability. North Korean diplomats stressed that this is a misperception. As one opined, "it would be suicidal to attack the USA first and especially with nuclear weapons. We understand that it would be the last day of our country." These officials were truly baffled that a majority of the South Korean population does not seem to have grasped the reality that the Trump administration, despite the risks, is inching ever closer to a preventive strike on North Korea. Pyongyang, they maintained, is under no such illusions.
Nuclear Parity and Then Dialogue?
North Korean experts reiterated that they are striving to reach some kind "nuclear parity" with the US, but not in order to use it in an unprovoked first strike against the American mainland. When we expressed doubt regarding the North Korean ability to achieve this parity, their rather uncertain explanations led us to believe they, more accurately, have some kind of "specific asymmetrical" nuclear parity in mind. Finally they told us: "We are diplomats, not military guys. Only our leader knows the issue in full." They expressed bewilderment over why the political establishment in the US is unwilling to ask itself a very simple question: even if North Korea does develop the capability to target the continental US with nuclear weapons, why would it launch such weapons if it would result in the destruction of North Korea? These weapons are being developed to preserve the survival of North Korea.
In short, sooner rather than later, it would benefit both sides to establish a US-DPRK dialogue that would allow Pyongyang to clarify its real intentions and reach consensus with the US on a plan to resolve the nuclear issue. As is well-known, the new year has started off with some important positive changes to the North-South Korean relationship, but the analysis of these significant and encouraging events on the Inter-Korean agenda is subject of a separate article. How they will affect the overall US-DPRK relationship is yet to be seen.
---
[1]
---