Russia's Policy Toward North Korea: Following China's Lead
In 2019, Russia's policy toward North Korea has followed the pattern well-established since the early 2000s: maintaining friendly ties with Pyongyang, while closely coordinating with China and generally following Beijing's lead on Korean Peninsula issues. The Moscow-Beijing-Pyongyang trio has clearly emerged, with China as its core, and it has effectively negated Washington's maximum pressure campaign on the North. This trilateral coalition will continue into 2020.
The First Meeting of Putin and Kim: Politeness Without Warmth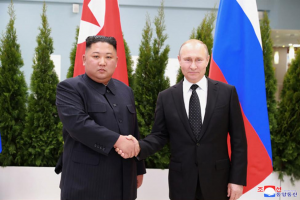 The high point of Russia-North Korea relations came in April 2019 when Vladimir Putin and Kim Jong Un held a summit in the Russian Far Eastern city of Vladivostok. The meeting was initially supposed to happen in 2018, but at that time, Kim was busily engaged in diplomacy with Donald Trump and Moon Jae-in. The meeting in Vladivostok was polite and featured all the necessary trappings, like an honor guard flown in from the Kremlin to greet Kim. But there was little evidence that the two leaders established close rapport and no substantive agreements were announced. After spending just a few hours in Vladivostok conversing and dining with Kim, Putin departed for Beijing where he would spend three days attending Xi Jinping's Belt and Road Forum. The choice of Vladivostok as the venue, rather than Moscow, somewhat downgraded the significance of the event. Putin signaled that he is a player in the North Korea game, but his stakes in it are not as high as those of China and some of the other players.
The Kim-Putin summit, as well as an array of ministerial and other high-level exchanges, that took place between Moscow and Pyongyang throughout the year did not result in any appreciable increase in economic links between North Korea and Russia. Despite all the talk of friendship, Moscow has made it clear that any meaningful trade and investment with Pyongyang is off the table as long as North Korea remains under heavy United Nations Security Council sanctions. North Korea's general lack of cash is also a problem. Unlike China and potentially South Korea, Russia is not willing to be a major donor for the DPRK by subsidizing business ventures or building infrastructure for the North at Russian expense. A case in point is North Korea's interest in building a vehicle bridge across the Tumen River on the Russia-DPRK border. The North has long pushed for construction and the question was reportedly discussed by Putin and Kim in Vladivostok. However, nothing has been heard about the project since. This stands in contrast to China's activism in building cross-border infrastructure with North Korea.
Sanctions
Russian companies that might be potentially interested in doing business with the North are deterred by unilateral US sanctions. Russian Ambassador to the DPRK Alexander Matsegora lamented that even those Russian entrepreneurs who would like to do legitimate business with the North are "terrorized" by the threat of US penalties. There are examples of shipping firms in the Russian Far East that found themselves on the verge of bankruptcy after being blacklisted by the US Treasury for alleged dealings with North Korea. Interestingly, Matsegora notes that, compared to Russians, Chinese businesses are much less afraid of the sanctions risks with the North.
The Khasan-Rajin rail-and-port venture RasonConTrans, owned by Russian Railways, a project in which Moscow invested $300 million in the hope of setting up a strategically located transshipment hub, is another sad testimony to the risks of doing business in North Korea. Even though RasonConTrans is exempt from UNSC sanctions, it has failed to attract any major customers since October 2017. Companies, including Russian ones that previously exported coal to China via Rajin, are wary of using a North Korean port for fear of non-UN sanctions.
For a long time, Russia was the biggest importer of North Korean contract labor, bringing Pyongyang hundreds of millions of dollars in revenue. UNSC Resolution 2397 set December 22, 2019, as the deadline for all overseas North Korean workers to return home. Russia has complied with the ban by stopping the issuance of work visas and repatriating all North Korean laborers remaining in the country in accordance with the UNSC-mandated deadline. As North Korean workers were coming back home, there was a surge in the number of Russian student and tourist visas issued to DPRK nationals. It is unlikely, though, that Moscow would try to evade the ban on North Korean workers by masking them as students and tourists. As a permanent member of the UN Security Council, Russia is very much invested in this institution and will be reluctant to undercut its authority by violating decisions that Moscow has endorsed. Also, North Korean labor in Russia is mostly employed by the construction industry. With construction and renovation activities mainly taking place in or around major cities, North Korean workers will always be very visible, making any significant breach of the UNSC ban easily detectable. Russia's compliance with the UN sanctions regime on North Korea has thus far been acknowledged by Washington, with Secretary Pompeo recently expressing "appreciation" for Russia's enforcement of the sanctions.
Poaching
In 2019, Russia's relations with the DPRK were tested by North Korean illegal fishing in Russia's exclusive economic zone and territorial waters in the Sea of Japan. North Korean poaching in Russian waters dates back decades, but over the past two or three years, the scale of this practice has increased remarkably, culminating in a small crisis in the summer and fall of 2019, with thousands of North Korean schooners and motorboats illegally catching fish, mostly squid. Most of the catch is reportedly sold to Chinese seafood dealers. To make matters worse, North Korean flotillas use destructive and prohibited fishing methods like drift nets, which severely harm the marine environment.
For a while, Moscow turned a blind eye to North Korean poaching, largely out of consideration of its historically close ties with Pyongyang. But the rising outcry from local residents and fishing companies in the Russian Far East prompted tougher actions by Russian border guards. This resulted in several skirmishes between poachers and Russian coast guard vessels, leaving one North Korean fisherman dead and several wounded. While Moscow clamped down on North Korean poaching, it made clear that the issue should not seriously impair the bilateral relationship. That said, the problem remains unresolved and may return next summer with the start of another squid fishing season in the Sea of Japan.
Russian-Chinese Entente and North Korea
For almost two decades, Russia has been quite consistent in pursuing three main goals with respect to North Korea: 1) denuclearization; 2) keeping peace, or at least preventing war, on the Korean Peninsula; and 3) preservation of the DPRK as a state. These largely coincide with China's priorities, making Moscow and Beijing natural partners on North Korea. In recent years, the Sino-Russian alignment on Korean affairs has become even closer, facilitated by the overall deepening of the Moscow-Beijing strategic entente amid Russia and China's exacerbating tensions with the United States. As part of this great-power entente, Moscow seems to tacitly acknowledge the Korean Peninsula as China's sphere of influence and generally follows Beijing's lead in this region. North Korea is obviously not among the Kremlin's top foreign policy priorities, with Putin mainly focused on geopolitical games in the Middle East and Europe.
With regard to the North Korean nuclear problem, Moscow and Beijing have acted in lockstep—and often in close coordination with Pyongyang. In July 2017, during the summit between Putin and Xi in Moscow, a joint statement was adopted by their foreign ministers which put forward a joint Sino-Russian initiative for resolving the Korean Peninsula's problems. In October 2018, Russia, China and North Korea, represented by deputy foreign ministers, held their first ever official trilateral meeting in Moscow and produced a joint communique. The latest example of the China-Russia diplomatic alignment on North Korea came this month, when Russian and Chinese representatives made almost identical statements at a meeting of the UN Security Council that discussed the rising tensions on the Korean Peninsula. They called for easing sanctions on Pyongyang while making it clear that the US is mostly to blame for the current impasse in denuclearization talks. A few days later, China and Russia introduced a joint proposal at the UN Security Council to lift some sectoral sanctions on North Korea, a move almost certainly coordinated with Pyongyang.
In late November, Russian and Chinese diplomats revealed that they jointly prepared a new draft action plan on resolving Korea peninsula issues. According to Russia's deputy foreign minister Igor Morgulov, the plan was to be presented to the DPRK's first deputy foreign minister Choe Son Hui, who was visiting Moscow for the first Russia-DPRK "strategic dialogue," as well as to other involved parties. The plan's details were not disclosed, but most likely it calls for partial sanctions relief in exchange for North Korea's steps towards partial denuclearization. However, even for a limited denuclearization settlement plan to work, Pyongyang has to agree to verifiably give up substantial parts of its nuclear and missile capabilities beyond just dismantling Yongbyon. It is not clear whether Beijing and Moscow are willing to exercise their leverage over Pyongyang to get it to agree to any major rollback of its nuclear and missile program.
North Korea's denuclearization, or more realistically a deep reduction of its nuclear and missile capabilities, is only possible if all the major powers directly involved in the Korean Peninsula, especially the US, China and Russia as permanent members of the UN Security Council, act in unison and in concert, jointly putting pressure on Pyongyang. Obviously, no such unity is achievable in the foreseeable future given the intensifying geopolitical antagonism between Washington and Beijing, as well as the toxic relationship between Washington and Moscow.
Forecasting 2020
The coming year on the Korean Peninsula is likely to be turbulent. There is unlikely to be a breakthrough in US-DPRK negotiations before the end of the year; it is almost certain, therefore, that the North will soon be making escalatory and provocative moves, most likely resuming ICBM and/or intermediate-range missile launches. Moscow would follow China's lead in reacting to Pyongyang's possible escalation. The most intriguing question is whether Pyongyang got a nod from Beijing to escalate against the US. Beijing presumably would not mind if Kim ups the ante, such as by firing long-range missiles, because it would serve to remind Washington that China is the country that has the most significant leverage over Kim. If Pyongyang goes on a missile firing spree, Beijing and Moscow are likely to block any attempts by Washington and its allies to impose new sanctions on the DPRK. The probable red line, both for China and Russia, is North Korean resumption of nuclear testing, which would likely elicit negative reactions from both Beijing and Moscow.
Regarding Russia-North Korea relations in 2020, an important thing to watch will be Kim's possible visit to Moscow for the 75th anniversary of the victory over Nazi Germany next May.  Putin invited Kim for the celebrations but Kim has yet to respond. The Victory Day anniversary carries huge symbolism and significance for the Kremlin, which keeps close tabs on attendance of invited foreign leaders. Kim Jong Un's participation among foreign guests of honor in the parade on Red Square will be much appreciated and could give a boost to bilateral ties, including Kim's personal bond with Putin.