Note on DPRK Foreign Ministry Shakeup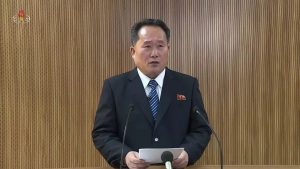 Ri Yong Ho's presence made no discernible difference to Pyongyang's approach from at least last April through the December plenum. The question is not will the North shut down dialogue under the new foreign minister. It's already done that, and Kim Jong Un's plenum speech made clear he's in no mood to get back to the table for a while. At this point, the appointment of the new foreign minister, Ri Son Gwon, merely reflects the policy we saw laid out at the plenum. And it's hard to see how he can be more abrasive than Kim Yong Chol was in his meetings with US Secretary of State Michael Pompeo in 2018.
The real question is going to be whether or how much worse things will get, and by itself, the appointment of the new foreign minister doesn't tell us anything we don't already know. There are other shoes yet to fall. What has happened to First Vice Foreign Minister Choe Son Hui in this shuffle? Will Kim Kye Gwan retain his position as foreign ministry advisor? What is the outcome of what seems to be a conference of at least some North Korean ambassadors called back to Pyongyang over the past week? Are we going to see a clean sweep (in one move or slow-but-steady) of that cadre of North Korean diplomats who were once part of Kang Sok Ju's team and had a positive experience dealing with the US in the 1990s and 2000?