Kim Jong Un Puts Anti-South Korea Military Operation on Hold. What Now?
In a dramatic turn of events, Kim Jong Un "deferred"[1] the Korean People's Army (KPA) General Staff's (GS) four-point military action plan against South Korea on June 23 during a "preliminary meeting for the Fifth Meeting of the Seventh Central Military Commission," (CMC).[2] The KPA GS first announced this plan on June 17, which included beefing up forces along the border and facilitating a leaflet-scattering operation.
Although the plan was reported as subject to ratification by the CMC,[3] preparations had already begun for at least the leaflet campaign before this CMC preliminary meeting was held.[4] Kim's decision stopped those preparations from proceeding and set the North-South dynamic on a less confrontational foot. It is worth noting that the report did not provide or even so much as hint at a reason for deferring further action, such as a change in South Korea's attitude to justify this abrupt shift. In the past, when North Korea abruptly reversed or halted further escalatory plans regarding the US or South Korea, either Kim Jong Un himself (2017)[5] or another high-level official (2015) justified or provided reasons for the decision.
While it would seem that Kim's decision will ease some of the tension that has been building up on the Korean Peninsula over the past few weeks, there are three key takeaways from this meeting to keep in mind. They are:
While the "military action plan" was "deferred," it was not canceled. This meeting allowed Kim Jong Un to demonstrate ultimate authority over the military, instantly softening the North's tone toward the South. While it is rare that North Korea ever definitively cancels such actions, it does leave room for Kim to potentially revive them or threaten to revive them in the future.
The report indicated the CMC "studied various documents reflecting national measures for further strengthening the country's war deterrent."[6] This would suggest that weapons development and testing are still under consideration.
The effect of Kim Jong Un's decision to defer the military action plan, and essentially reverse actions that Kim Yo Jong was portrayed as having set in motion, is unclear. Does Kim Yo Jong come out of this situation more elevated than before? Does it undercut her authority, or does it make no difference to her position in the leadership? Her public profile in the coming months will help answer these questions.
Kim Jong Un's Deferral Decision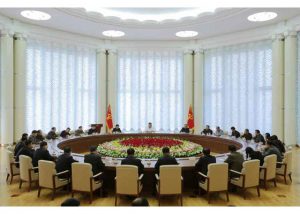 In our previous report, we had emphasized the protocol that was expected before the KPA would implement its four-point plan. On June 23, North Korea convened a "preliminary meeting" of the CMC—reporting about this kind of meeting is extremely rare and possibly unprecedented in North Korean state media. The meeting was clearly aimed at announcing Kim Jong Un's decision to put the KPA plan on hold. Accordingly, measures taken for further action against South Korea were halted, and North Korea's top two newspapers, the party daily Rodong Sinmun and the government daily Minju Joson (Minju Choson), as of June 24, ceased publishing anti-South Korea reports and commentaries, including preparations for leaflet-scattering operations. Workers' Party of Korea (WPK) Central Committee Vice Chairman Kim Yong Chol's press statement on June 24, which criticized the South Korean defense minister's recent remarks, was unusually soft in its wording, reinforcing Kim's decision. And even another round of balloons sent from North Korean defector groups in South Korea on the evening of June 22 was ignored.[7]
It is uncertain whether the demolition of the joint liaison office was the full extent to which Pyongyang was planning to take the anti-South Korea campaign. However, North Korea's sudden shift to de-escalation so soon after the dramatic explosion seems to suggest Pyongyang had planned an off-ramp from the beginning and that this campaign was more for domestic reasons than external.
North Korea's stepping back from further escalation was more clearly signaled in the wake of the liaison office demolition, especially as the focus shifted from hints of military actions to an almost exclusive focus on the balloon campaign as noted in our previous analysis. North Korea has engaged in similar escalation-de-escalation cycles in the past. For example, in August 2017, Kim Jong Un put a stop to KPA Strategic Force (SF) Command's operation plan on Guam[8] six days after the KPA SF Command said it was "carefully examining the operational plan for making an enveloping fire at the areas around Guam with medium-to-long-range strategic ballistic rocket Hwasong-12."[9]
What Next?
It is important to note that the CMC preliminary meeting "studied various documents reflecting national measures for further strengthening the country's war deterrent," suggesting Pyongyang may be shifting gears from a parochial anti-South Korea campaign to tactical and strategic weapons tests, and reinforcing other recent signals that the North no longer feels bound to a moratorium on nuclear and long-range ballistic missile testing. At its May meeting, for instance, the CMC discussed measures to strengthen North Korea's artillery and nuclear war deterrent.[10] Further details of that meeting were disclosed by North Korean Foreign Minister Ri Son Gwon in his June 12 press statement marking the second anniversary of the Singapore Summit, where he explained that the May CMC meeting "discussed a national nuclear development strategy that conforms with the prevailing internal and external situation."[11]
Finally, there has been much public debate about the role of Kim Yo Jong, who was portrayed by state media as directing this anti-South Korea campaign. With Kim Jong Un now upending a campaign in which she played a prominent role, and de-escalating the situation, it is unclear how this will affect her stature going forward. Does Kim Yo Jong come out of this situation more elevated than before? Does it undercut her authority, or does it make no difference to her position in the leadership? Only time will tell what role Kim Yo Jong will play in Pyongyang's policy toward Seoul, and how far Kim Jong Un intends to promote his sister.
---
---