Pyongyang General Hospital: The Two Towers Reach Full Height
Recent commercial satellite imagery of the Pyongyang General Hospital indicates that construction on both towers has reached roof level. This marks a major milestone in the hurried work to have the new hospital ready in time for the October celebrations marking the 75th anniversary of the Workers' Party of Korea (WPK).
Figure 1. Construction of hospital towers reached roof level.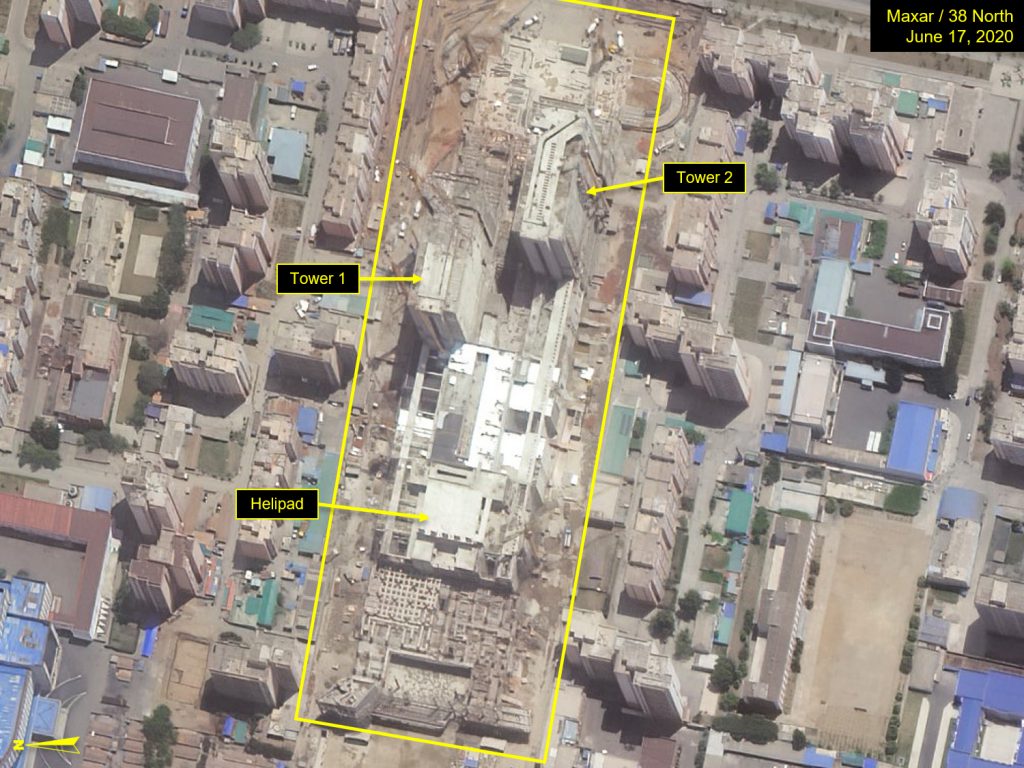 Imagery from June 17 shows that construction has reached roof level on a large part of the rest of the building as well. Photographs published on June 20 by North Korea's party newspaper, Rodong Sinmun, show construction progress from the ground level.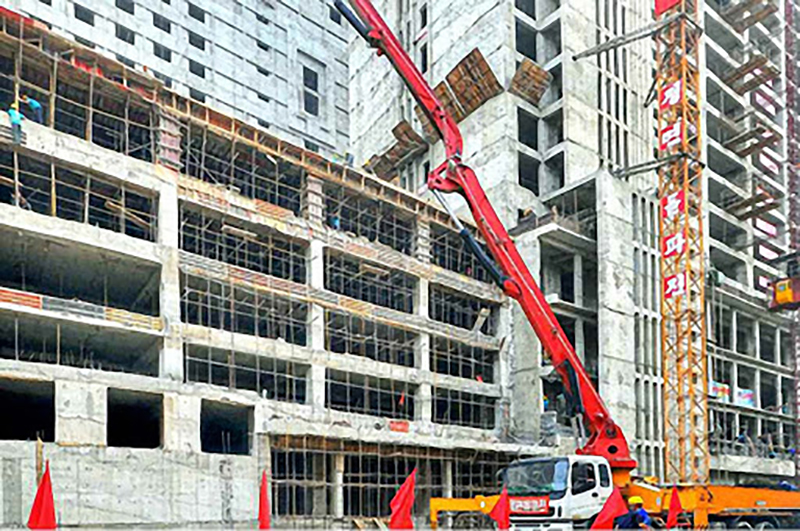 The newspaper reported that 80 percent of exterior plastering work had already been completed including frames for one inpatient and several outpatient wards.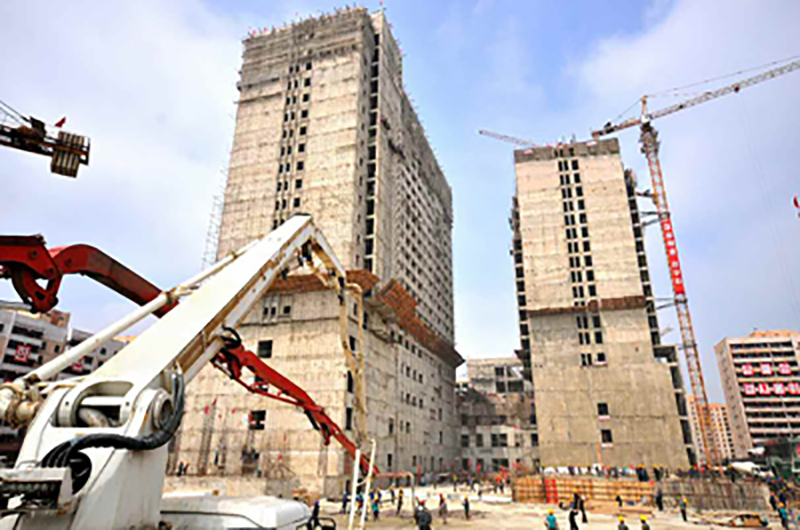 Going forward, much work remains to be done on the exterior of the building and around the site in general, although attention will soon turn to the interior of the building and progress will be less visible through satellite imagery.
On the opposite bank of the Taedong River, work continues on two large projects. In Kim Il Sung Square, workers are still rebuilding the VIP viewing stand used to observe large parades and demonstrations. This too is thought to be timed for events in October this year, such as a probable major military parade.
Figure 2. Renovation work of Kim Il Sung Square viewing platform area continues.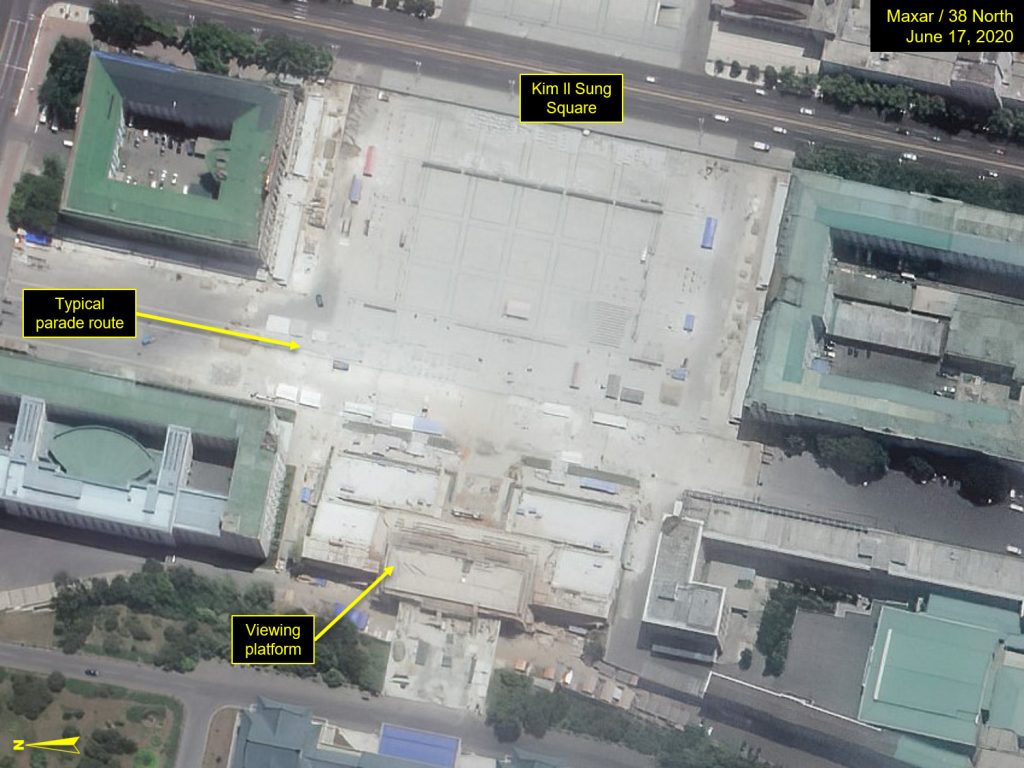 North Korea has completed construction work for a new facility at the Mirim Parade Training Ground, which is used to store military hardware ahead of parades, and a bridge crossing the river has been strengthened, according to NK News. These developments would facilitate the movement of large equipment, such as transporter-erector-launchers (TELs), during future military parades.
In central Pyongyang, construction continues on a new building a block away from the WPK Central Committee building. The new building occupies the remainder of a plot of land where several new buildings were constructed last year.
Figure 3. Close-up of new building under construction.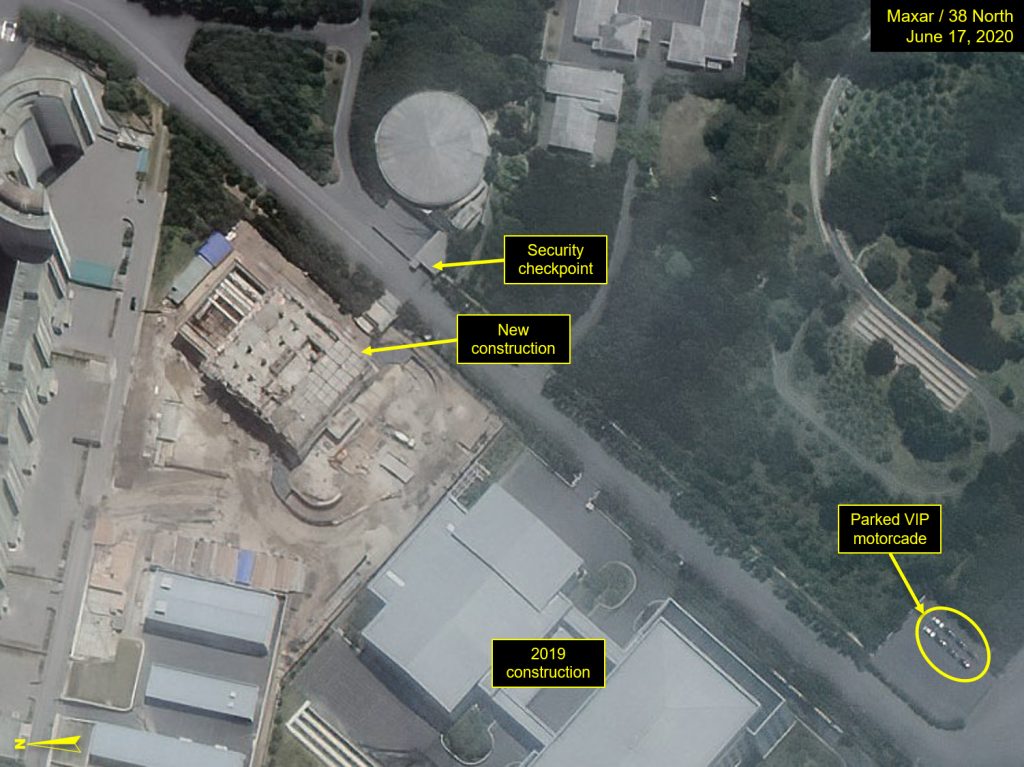 The building sits on the edge of the district where Kim Jong Un has his office and where several of the main Workers' Party buildings are located. The area is ringed with at least two layers of security checkpoints and it is unclear if the entrance to the new building will be inside or outside of the secure area. Additionally, there appears to be a VIP motorcade parked nearby. These eight cars, lined up in two rows, have been present in this lot over the past few months. Their purpose is unclear.
Figure 4. Building under construction is in close proximity to several WPK facilities. Security checkpoints in orange.