Pyongyang Construction Update: Work Continues on Several Large Projects
Commercial satellite imagery indicates steady progress has been made on numerous large construction projects around Pyongyang. Some are mandated to be completed by October when the Workers' Party of Korea (WPK) marks its 75th anniversary and major celebration events are planned.
Pyongyang General Hospital
Commercial satellite imagery from July 5 reveals that construction on the hospital, a key national project, continues at a fast pace. The exterior work on the two towers is nearing completion, and the prime focus appears to be at the rear of the complex on the east side. Roof work continues and the walls of vehicle ramps leading underground can be clearly seen. It's difficult to tell if this will be a private entrance or an underground parking garage.
At the front of the hospital complex, work continues on the elevator and staircase housing, although little change to the other sections of the hospital is evident since mid-June. Going forward, finishing work will likely begin, as roof and parking surfaces will need to be completed, and windows installed. Construction of the various verandas and colonnade structures along the hospital's main entrance and upper deck, as shown in renderings, are still to be added.
North Korean media reported on Thursday that Pak Pong Ju visited the site to evaluate progress. The report hinted that Pak pushed project leaders to hasten the pace of construction—an indication that even at its current aggressive pace, it may be behind schedule.
Pak told managers not to "[rest] on their laurels," and "stressed the need to maximize the work efficiency." He "urged "the construction coordination commission and the units in charge of construction to map out detailed plans for every process and properly tap manpower, equipment and materials in order to step up the construction of the hospital."
Figure 1.  Pyongyang General Hospital construction continues.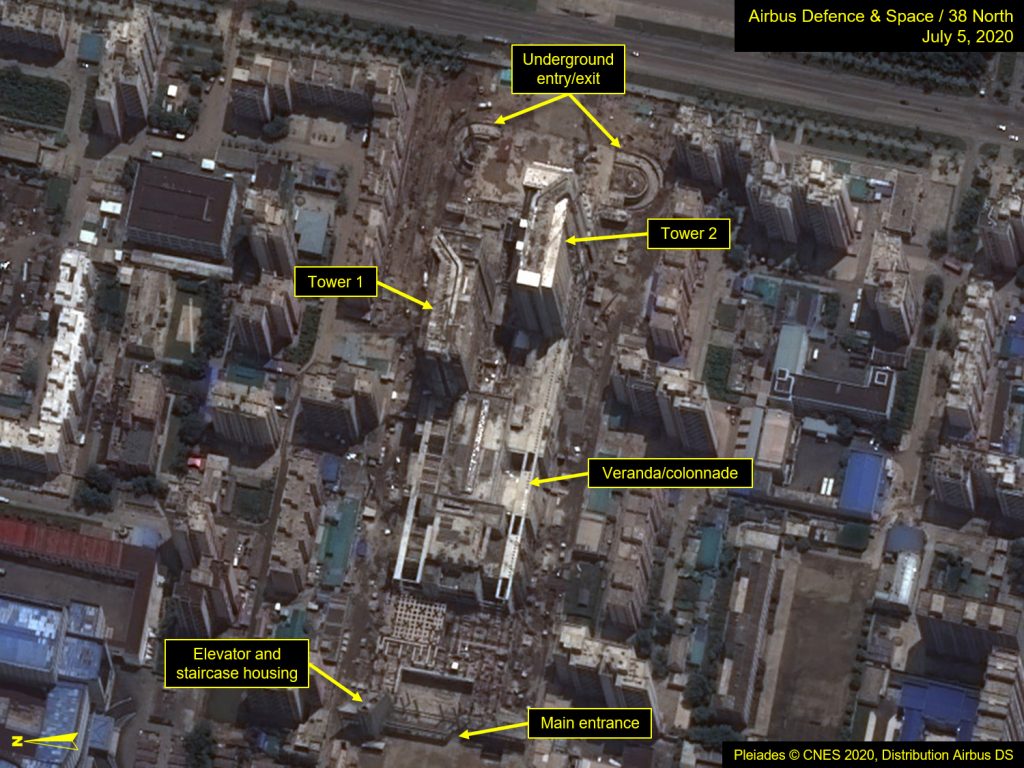 Figure 2. Rendering of Pyongyang General Hospital broadcast from Korean Central Television.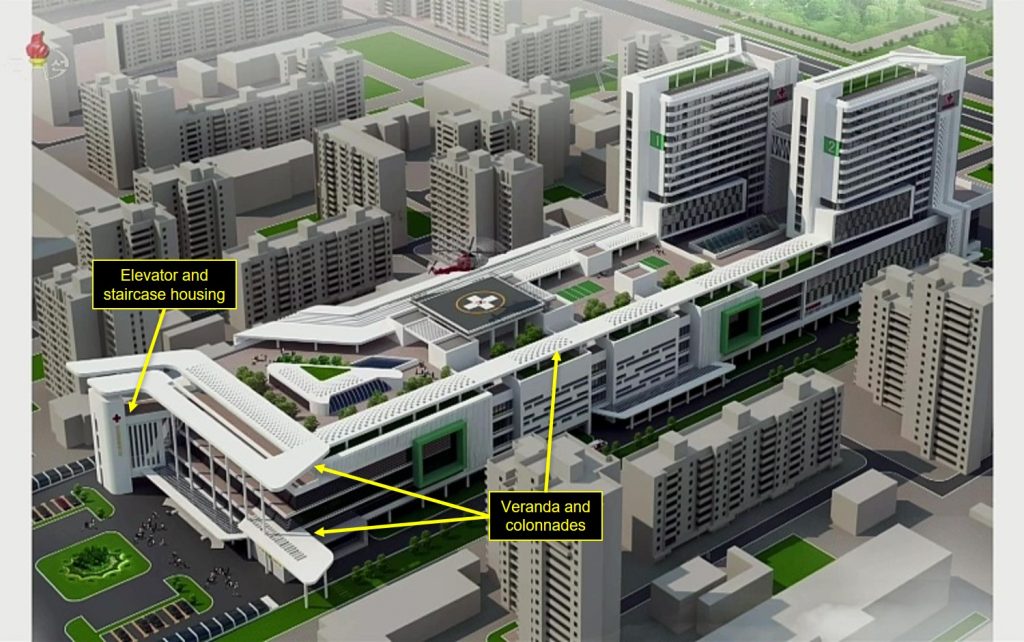 Kim Il Sung Square
Work continues on the audience seating area and the VIP platform in Kim Il Sung Square. On July 5, a large amount of construction material is observed around the site and in Kim Il Sung Square, and the roof lip above the VIP platform remains down as work takes place in that area. Kim Il Sung Square is still closed to vehicles.
These renovations are thought to be in preparation for a major parade to mark the WPK anniversary.
Figure 3. Renovation work continues near Kim Il Sung Square.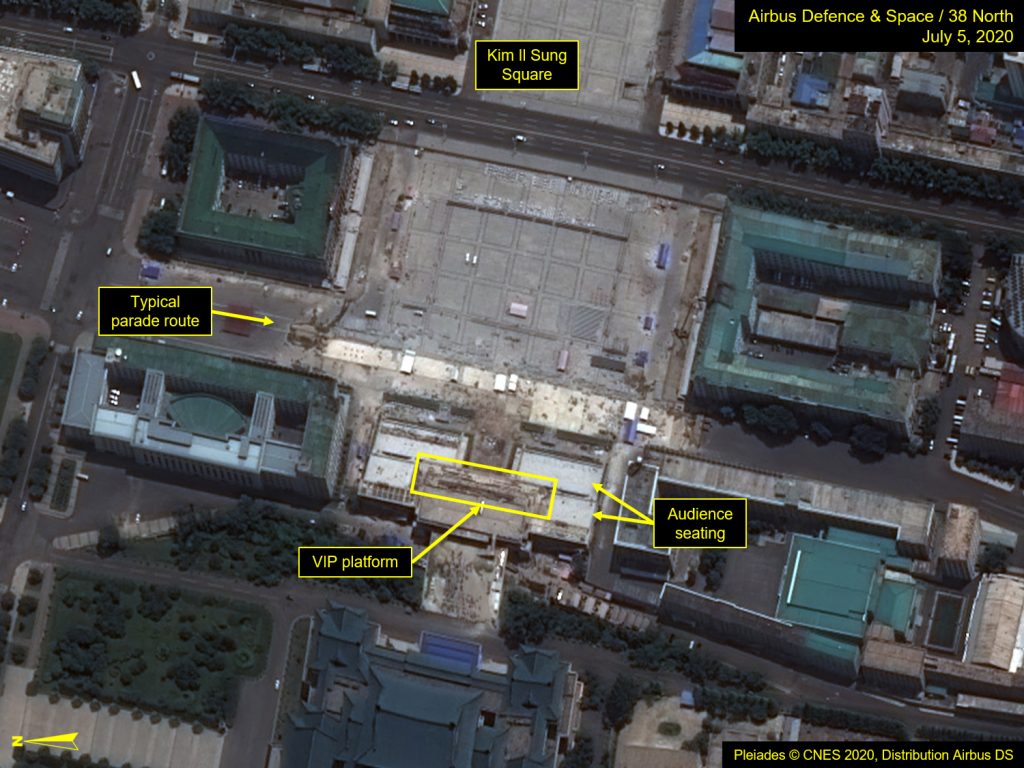 Bridge Reinforcement Work
Work on the Okryu Bridge across the Taedong River, which has been previously documented by NK News, appears to be nearing completion, at least of a first stage. While imagery from June 8 and 15 showed several large trucks, cement mixers and personnel on the bridge, all of these were removed by July 5.
The Okryu Bridge is on the route between the Mirim Parade Training Ground, where a new large vehicle storage compound was recently built, and Kim Il Sung Square. The bridge reinforcement is thought to be in preparation for future parades featuring heavy military equipment.
Figure 4. Reinforced sections visible on Okryu Bridge.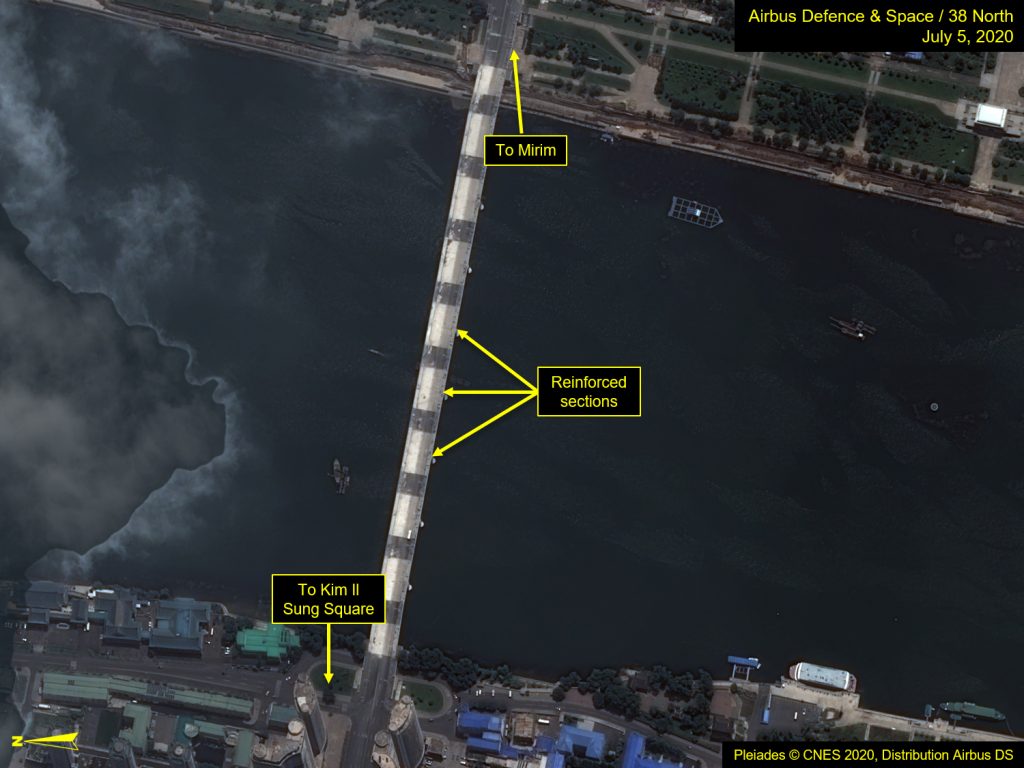 Central Pyongyang Construction
The roof has been installed on a large building under construction near the WPK Central Committee building in Pyongyang. Its purpose is unknown but its location strongly suggests that it has a party association. Like the hospital, ramps are visible leading to an underground garage or entrance.
The new building appears to be four stories high, which is one story less than the two adjacent buildings that were constructed last year.
Figure 5. Continued construction near the WPK Central Committee building.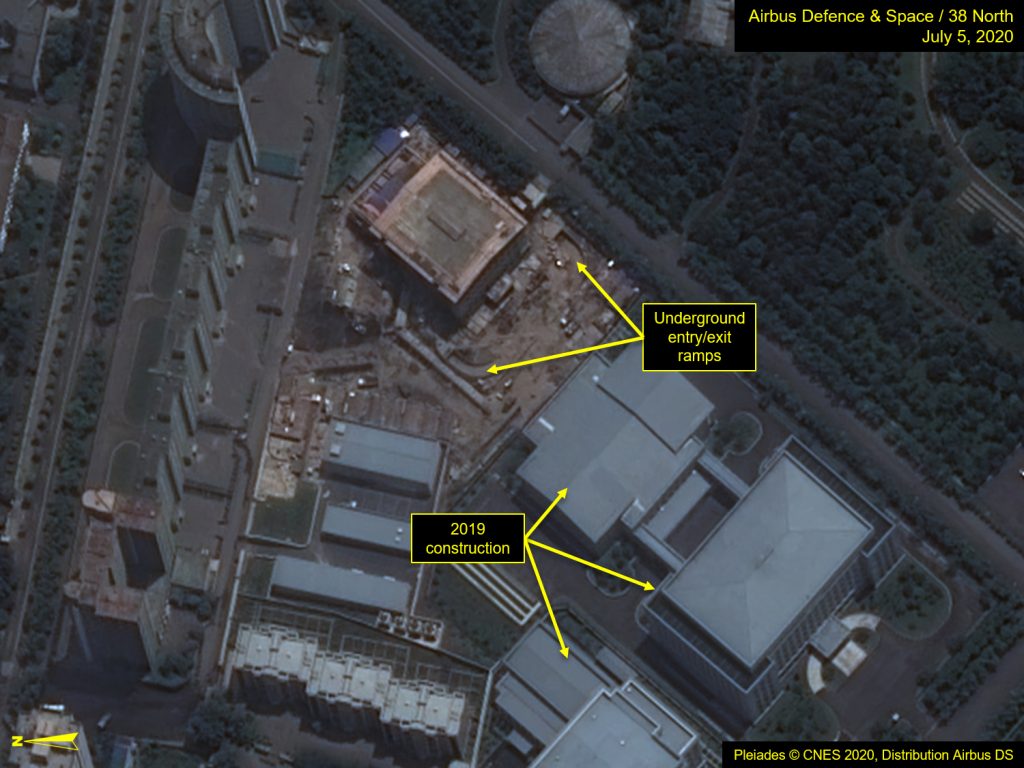 Riverbank Project Resumed
About 2 km south of the Pyongyang General Hospital, work appears to have resumed on a long-stalled project along the Taedong River. In 2017, a tower was erected at this site, but little construction followed.
Over the last few months, however, construction on a new shorter structure next to the tower has shown steady progress. The purpose of the building is still unknown.
Figure 6. Construction work resumed along the Taedong riverbank.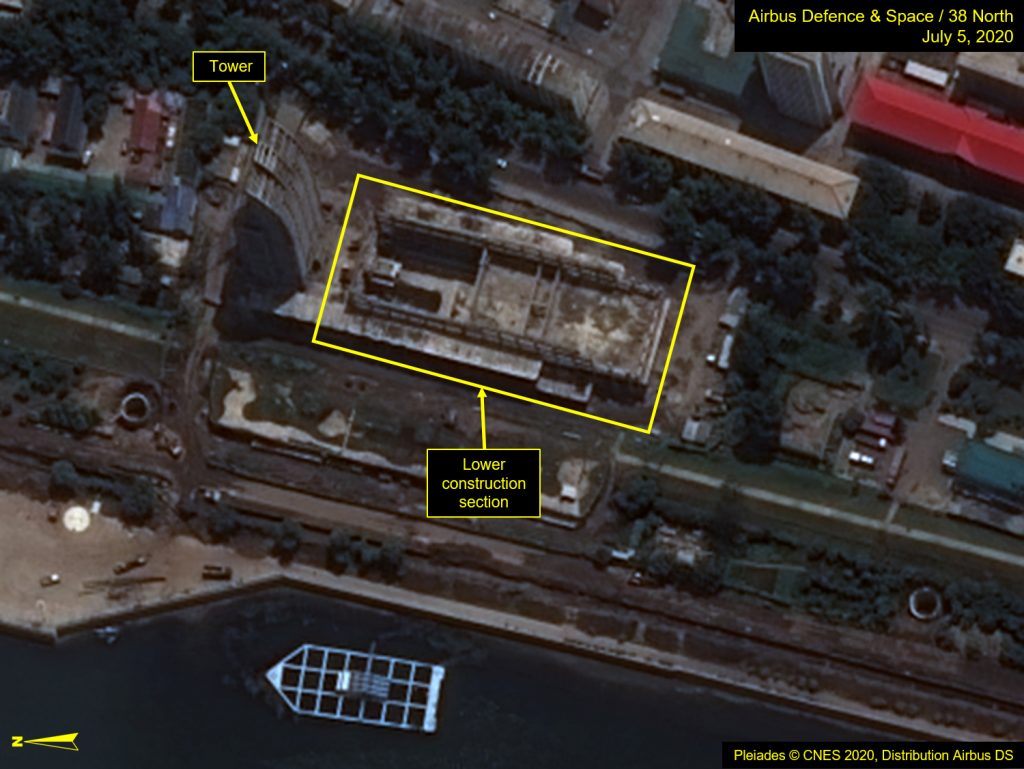 East Pyongyang Shopping Mall
Tower construction at the East Pyongyang Shopping Mall has progressed with at least two more floors being added since mid-June. The shopping center was originally planned with a Chinese partner and advertised as a luxury shopping venue. That was five years ago and the current status of the Chinese partner is unclear.
Figure 7. Tower construction visible at the East Pyongyang Shopping Mall.