Mirim Parade Training Ground: Probable Missile-Related Vehicle at Storage Compound
Commercial satellite imagery from September 22 of the Mirim Parade Training Ground reveals a probable missile-related vehicle at the secure storage compound.**
While imagery resolution is insufficient to determine exactly what the vehicle is, relative size and shape suggests that it may be a transporter-erector-launcher (TEL) for a large missile. Moreover, the width to length ratio also suggests the vehicle appears to be around 20 meters long and approximately 3 meters wide, which would be of sufficient size to carry a Hwasong intercontinental ballistic missile (ICBM). Alternatively, it could be a towed mobile-erector-launcher (MEL) with its truck-tractor attached.[1]
The change in coloring going toward the cab suggests that there may be a missile on the transporter, and the light color may represent the missile or a light-color tarp draped over the missile airframe. However, again, the imagery resolution precludes a clear determination on this matter.
A dark, irregular line perpendicular to the possible missile transporter is likely an assembly of equipment and/or troops.
Beyond that activity, approximately 50 large troop formations can be seen around the parade ground, similar, but larger in number to those reported from previous analysis. There is also another large, casual grouping of personnel, located at the plaza at the far west side of the complex.
Figure 1. Possible missile on transporter at the secure storage compound.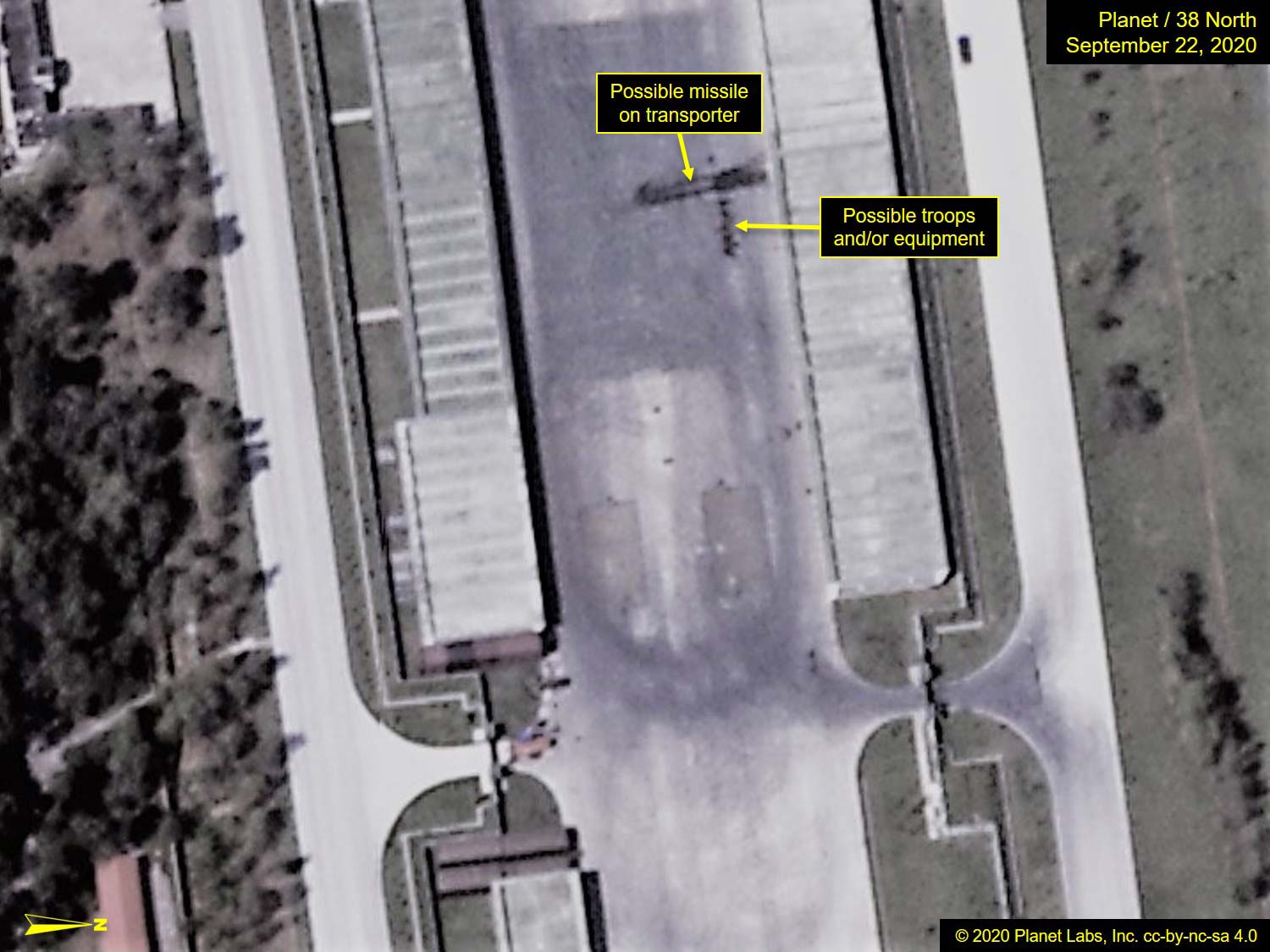 ** While there may be other possibilities about what this large vehicle is, such as a low-bed trailer with a Maz-like tractor, they seem unlikely in this particular location and circumstance. 
---
[1]

A mobile-erector-launcher or MEL is a tractor-trailer configuration, in which the truck cab is not permanently integrated with the missile canister trailer.
---