Sinpo South Shipyard Braced for Stormy Weather
New commercial satellite imagery of North Korea's Sinpo South Shipyard reveals the area is braced for more storms on the heels of Typhoon Maysak.
Figure 1. Overview of Sinpo South Shipyard area.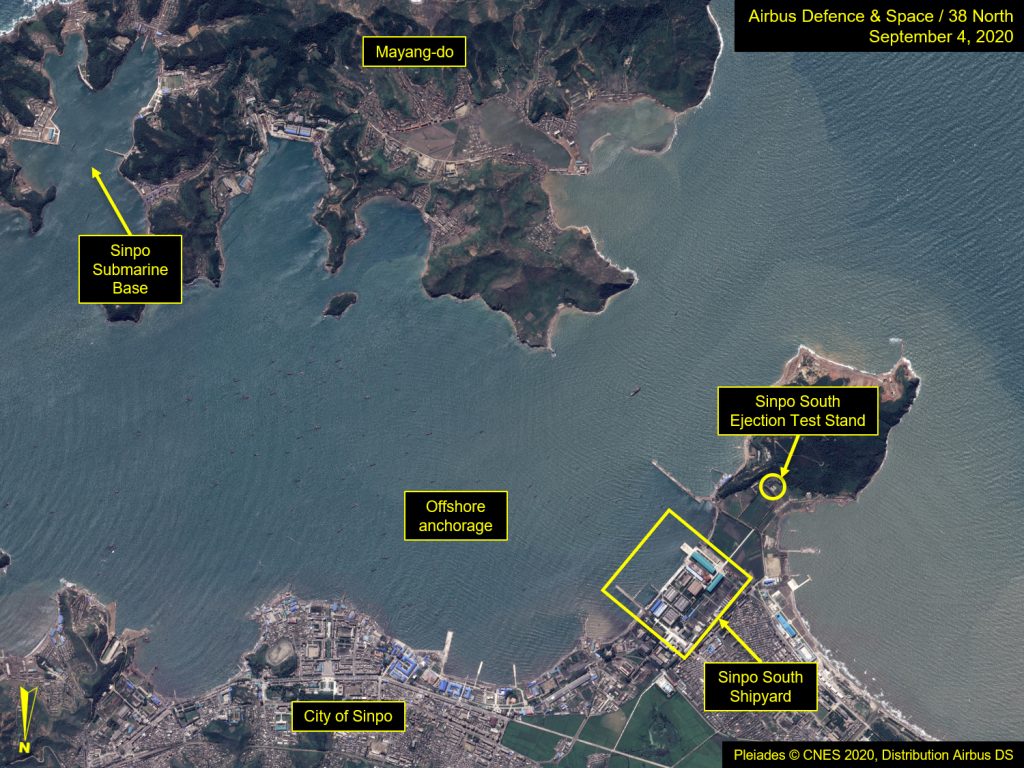 On imagery from September 4, an unusually high number of vessels are at anchor within the strait separating Mayang-do (Mayang Island) from the mainland city of Sinpo. Normally an assortment of 30 to 40 commercial and military vessels can be found within the protected anchorage area, but on this date, well over 100 vessels are observed.
Figure 2. Unusually high number of vessels anchored between Mayang-do and Sinpo.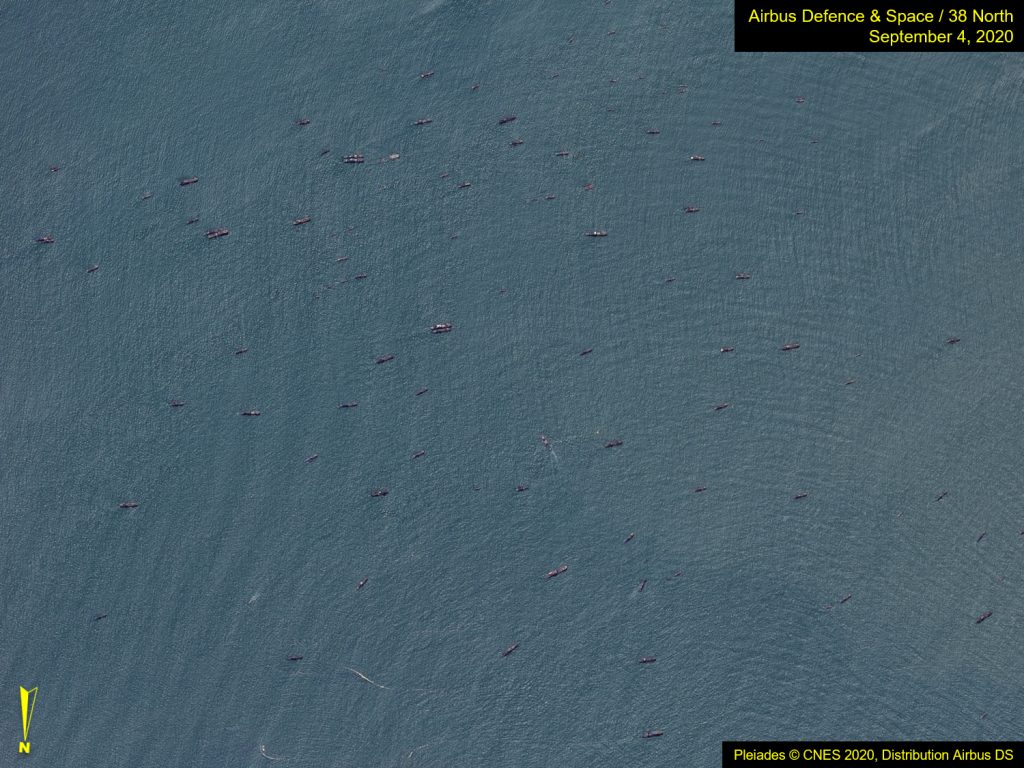 The Sinpo South Shipyard appears to have suffered little, if any, damage as a result of multiple storms over the past few weeks.The missile ejection test pad is unchanged since a reported test in early April. The service tower remains in a pulled-back position with its holding arms extended, and the strongback lift mechanism with a launch canister affixed to it, in a lowered, horizontal position.
Figure 3. Service tower remains pulled back at test stand.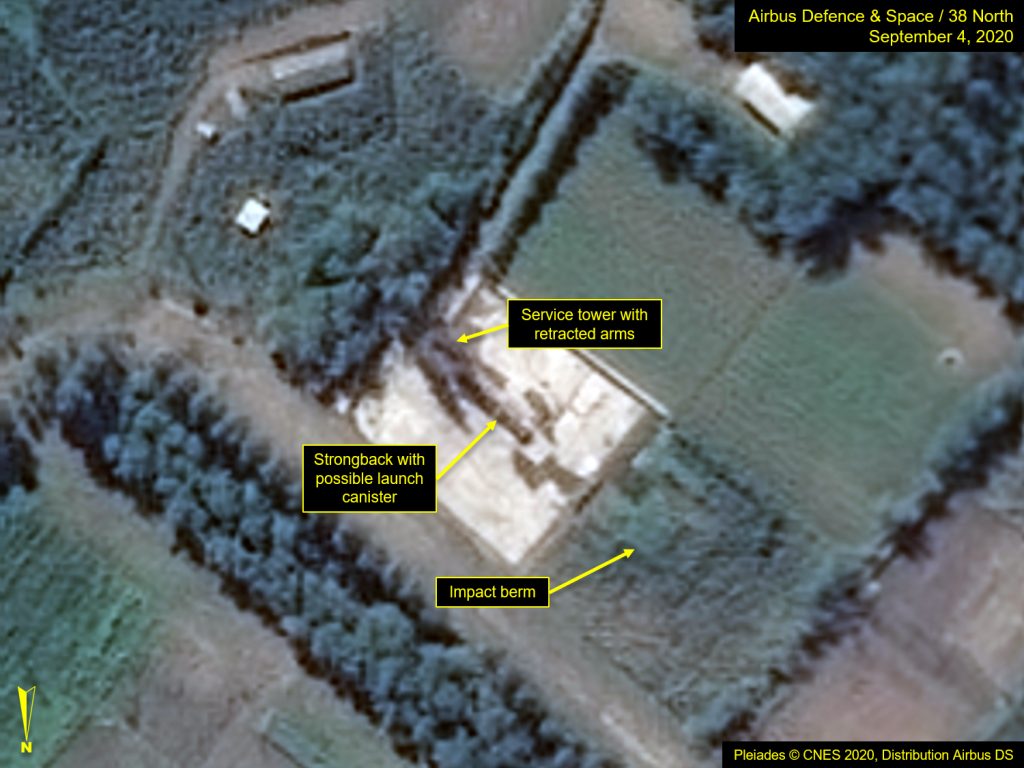 The construction hall and fabrication hall appear undamaged from the torrential rains. No parts or equipment are in the parts yard that services these buildings.
Figure 4. Construction and fabrication halls appear undamaged.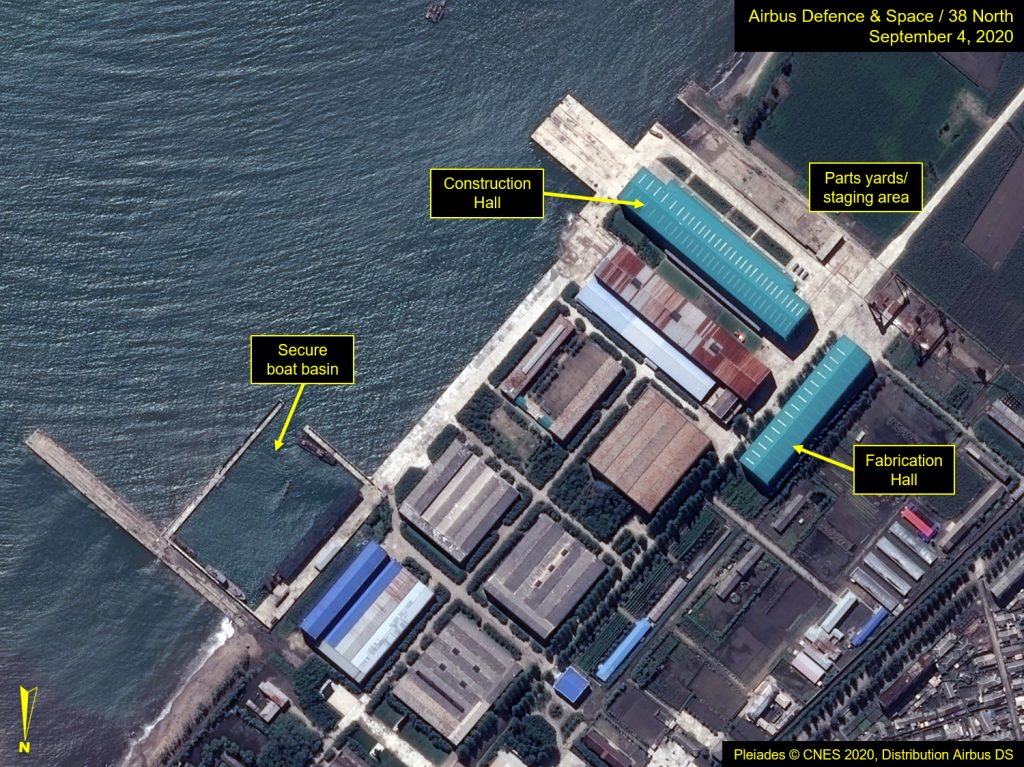 At the secure boat basin, the SINPO-class submarine, which is normally berthed at the quay under a protective awning, is not discernible due to the satellite view angle, but given the weather conditions, is likely still there. The submersible test barge, which is routinely observed positioned to the submarine's stern, and only partially protected by the awning, is visible. In addition, the probable mini-submarine/submersible, which was placed upon the quay in May, remains in place.
Five other vessels are also present in the secure boat basin—two medium-sized and three, much smaller. One of the medium vessels is docked against the basin wall along the north finger pier, which brackets the north end of the basin. The vessel's presence was first detected on imagery from August 24, in that same position. Another smaller vessel had been observed tied to the same pier, but outside the basin on that date, and it may now be one of the four new arrivals inside the secure perimeter. The two craft at the north wall are likely associated with support or service for the submersible test barge, while the two smaller vessels seem to be seeking shelter from the storm.
Figure 5. Close-up of secure boat basin.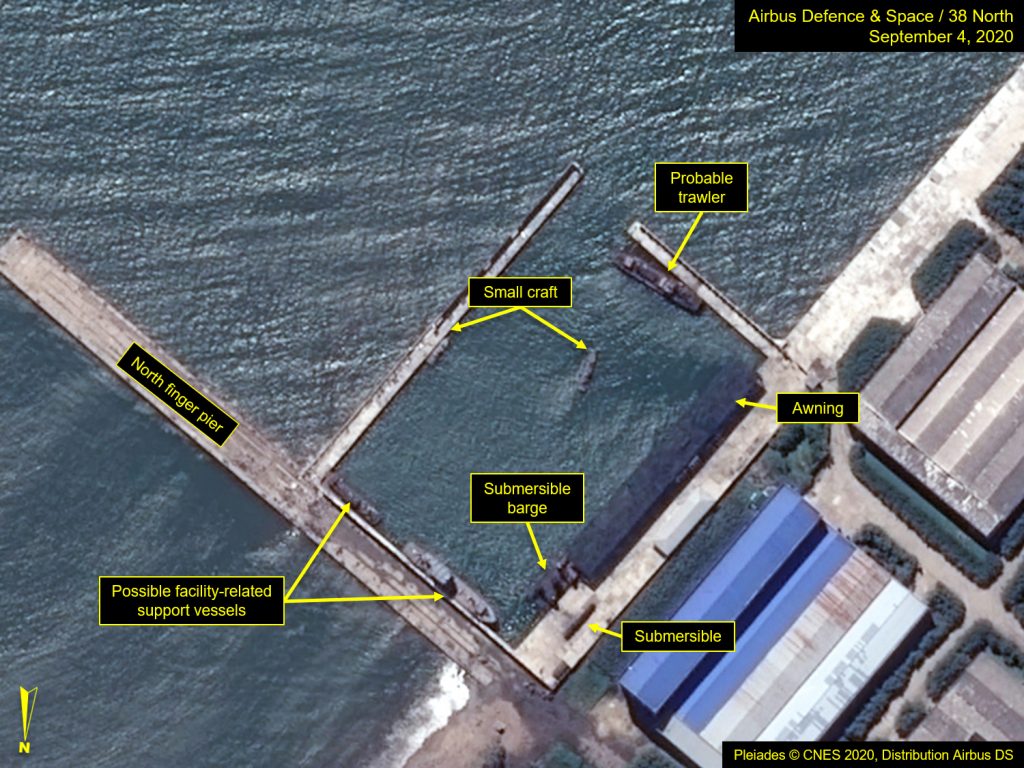 Given that the vessels at anchor in the strait have yet to disperse, they're likely to remain there until the threat of yet another storm, Typhoon Haishen, passes.