North Korea's Post-Typhoon House-Building Boom
Two months after a powerful typhoon lashed North Korea's east coast, residents are already moving into new homes—replacing those lost to the storm—according to North Korean state media. The exact number of houses destroyed by Typhoon Maysak (Typhoon No. 9) has never been made public, but media reports have indicated thousands of North Koreans lost their homes.
A few days after Typhoon Maysak on September 6, Kim Jong Un convened an Executive Policy Council meeting of the Central Committee of the Workers' Party of Korea (WPK) to plan response efforts and called on party members in Pyongyang to volunteer to work in the region. A day later, state media reported that 300,000 party members answered that call.
Construction efforts have been reported in several areas, including:
Chundong-ri, Kim Chaek City, North Hamgyong Province
Unho-ri, Kim Chaek City, North Hamgyong Province
Haksadae-ri, Riwon County, South Hamgyong Province
Unpo-ri, Hongwon County, South Hamgyong Province
Hochon County, South Hamgyong Province
Komdok, Tanchon City, South Hamgyong Province
Kimhwa County and five unnamed counties in Kangwon Province
Taechong-ri, Unpha County, North Hwanghae Province
In mid-September, state media reported on Kim Jong Un's visit to Kangbuk-ri in North Hwanghae Province. According to the report, this area was reconstructed as a result of damage from an earlier typhoon in August, however, analysis by NK News showed the effort had actually started in June. Naturally, this raises questions about North Korea's reporting of the latest housing construction projects as well.
However, commercial satellite imagery of the most recent sites indicates that ground clearance began in the days following the typhoon and were not preexisting construction sites positioned to look like a response to the destruction.
Haksadae-ri
Imagery of the Haksadae-ri area, for instance, shows rapid changes were made within 11 weeks of the storm. On August 22, a large hillside area existed in the middle of this coastal village. By September 22—after the storms—trees had started to be cleared from the hillside, which by November 3, had been completely cleared and new houses had been erected.
Similar work took place at several other sites within the village.
Figure 1. Land clearance and construction in Haksadae-ri, South Hamgyong Province.
Note: Hover over slideshow and click on left/right arrows to navigate.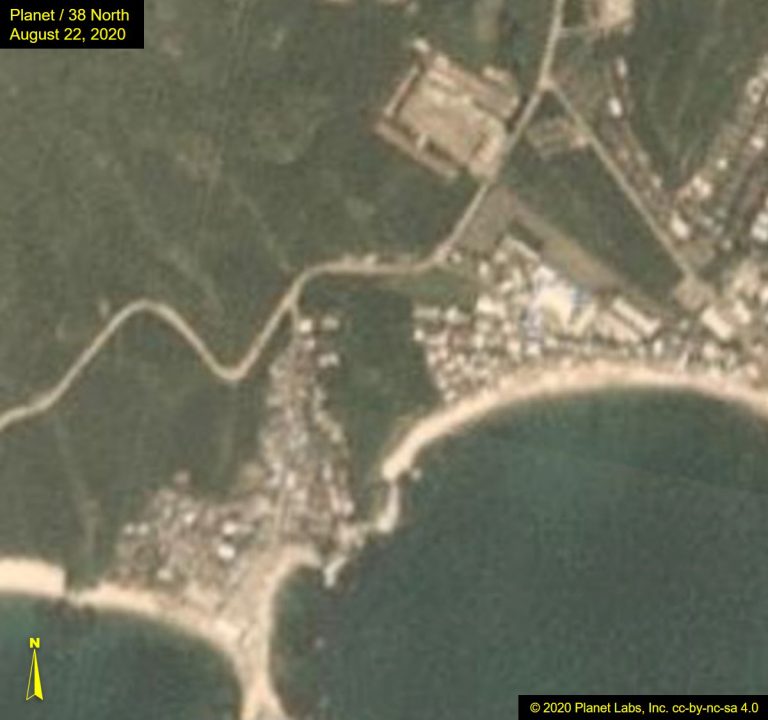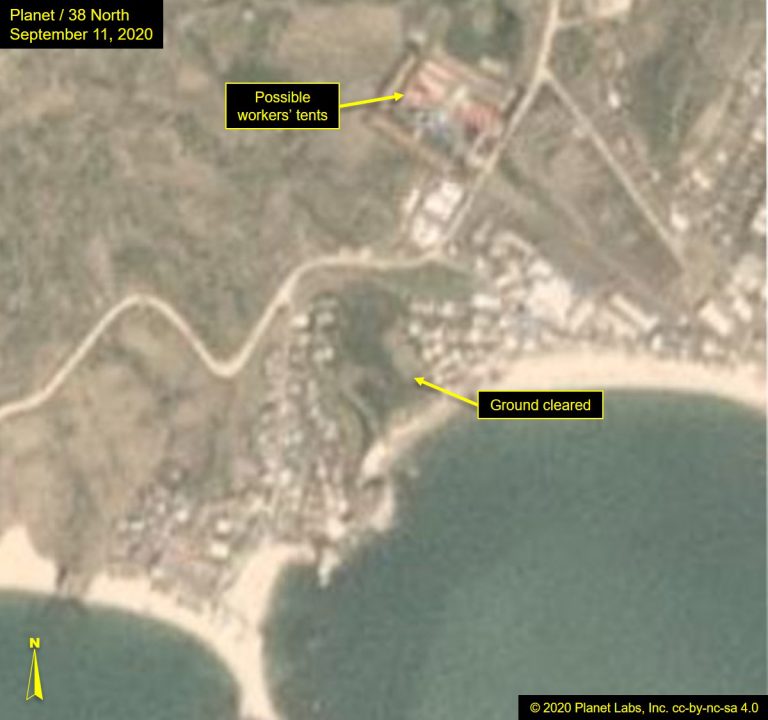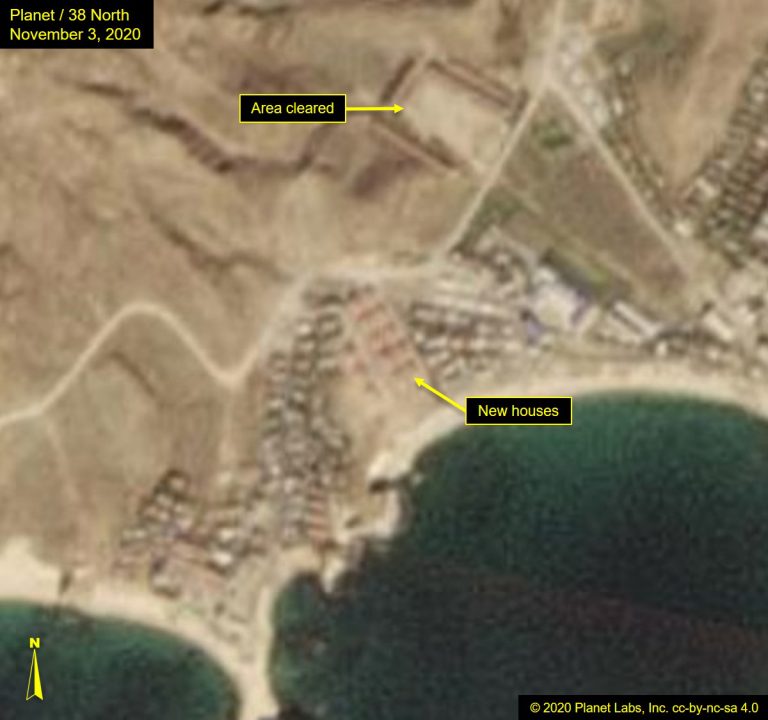 On September 19, Korean Central Television (KCTV) broadcast construction efforts at Haksadae-ri, which clearly illustrated the rapid pace and scale of construction.
Figure 2. Construction work in Haksadae-ri, South Hamgyong Province in mid-September.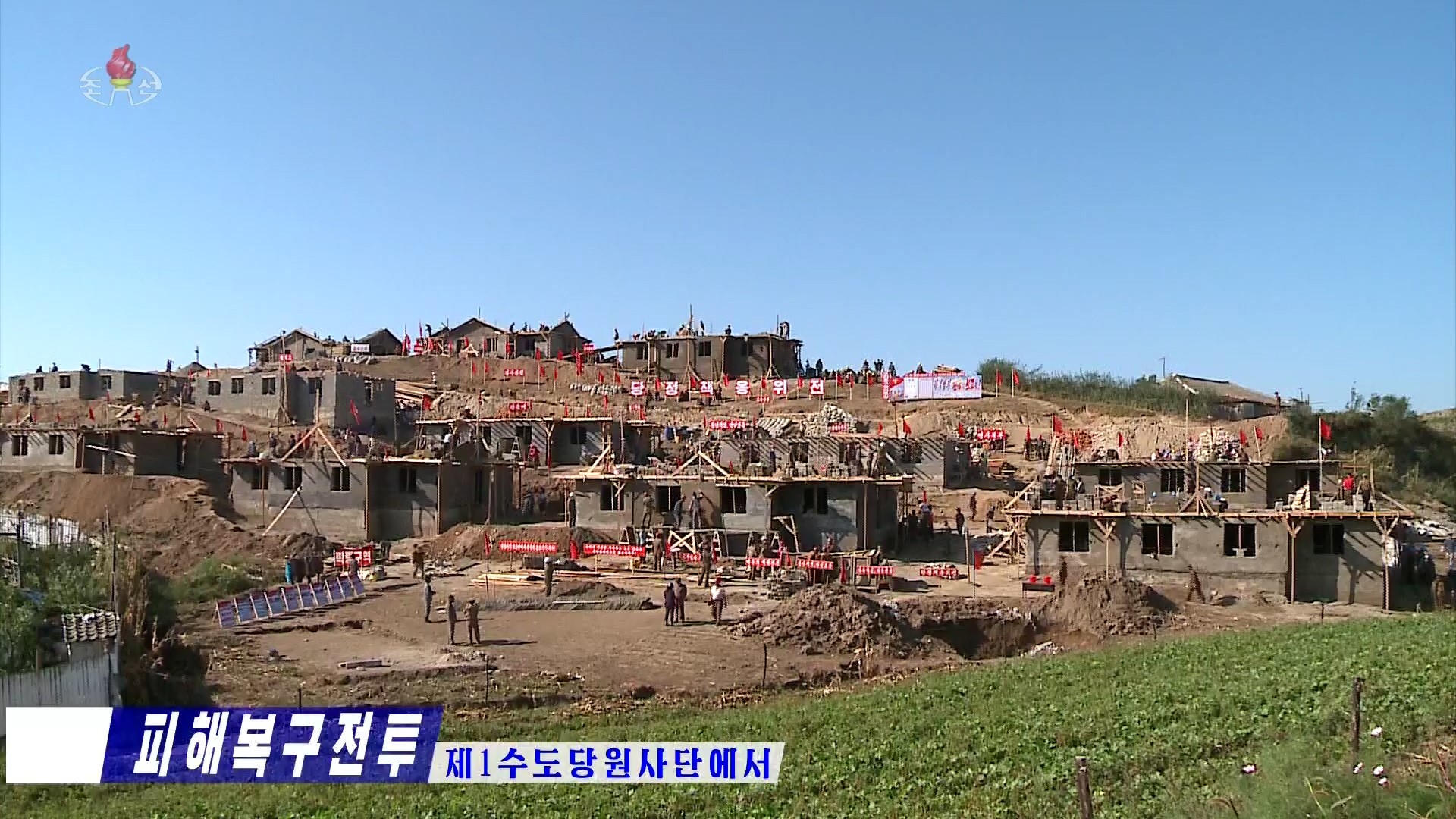 TV images during September and October showed workers building the houses, sometimes even well into the night to get the project finished.
Workers from the capital were divided into two divisions and each assigned different areas; Haksadae-ri was the responsibility of Capital Party Members Division No. 1. The state also pulled workers from the Wonsan-Kalma tourist area construction, signaling both the prioritization of the reconstruction work and the declining importance of the beachfront tourist resort that is significantly behind schedule.
By early November, two months after the typhoon, the project was declared complete and residents moved into the new homes.
Figure 3. Completed homes in Haksadae-ri, South Hamgyong Province in early November.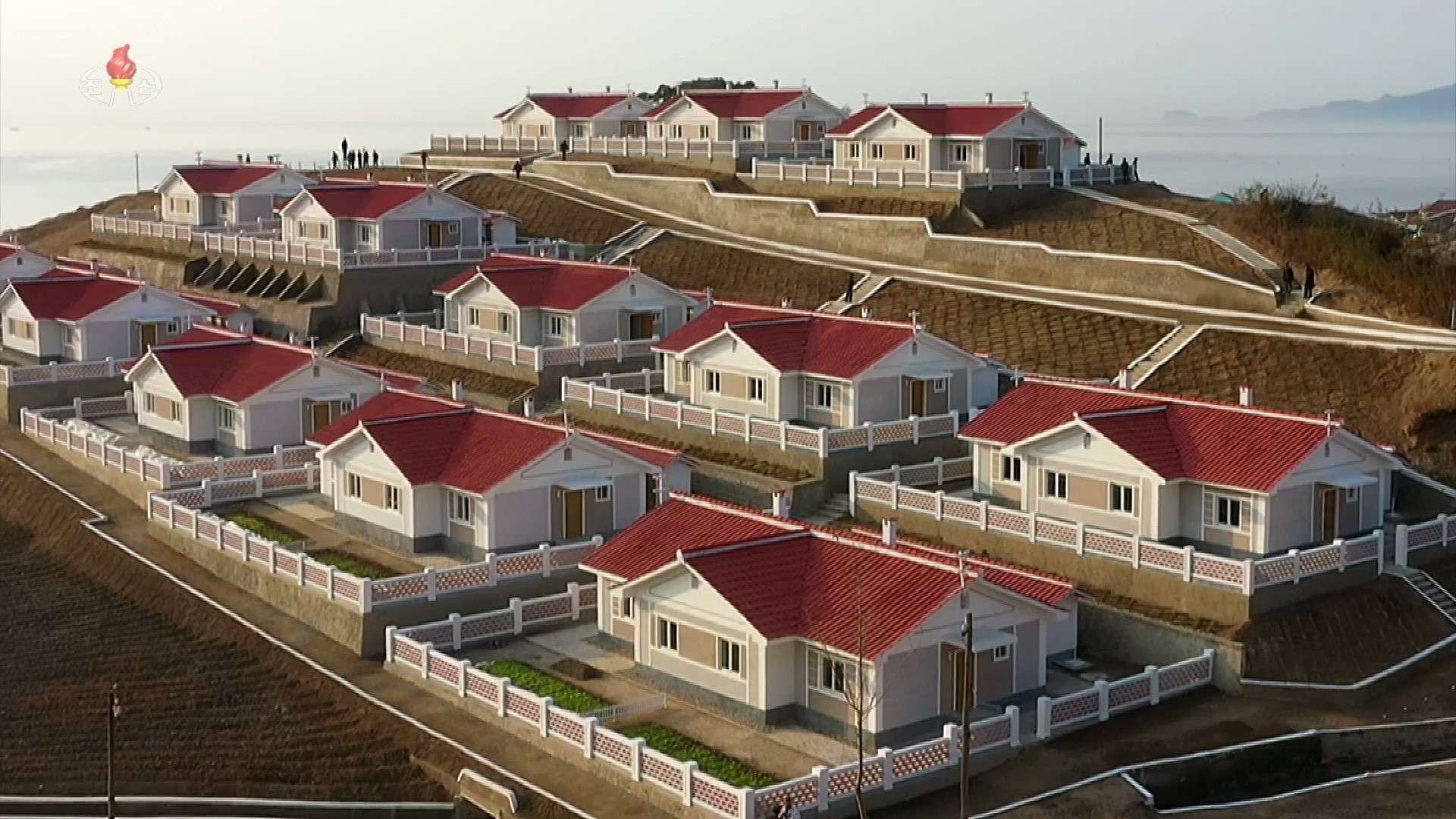 On the same day, residents were shown moving into new homes in Chundong-ri and Unho-ri in North Hamgyong Province as well.
Figure 4. New homes in Chundong-ri, Kim Chaek City, North Hamgyong Province.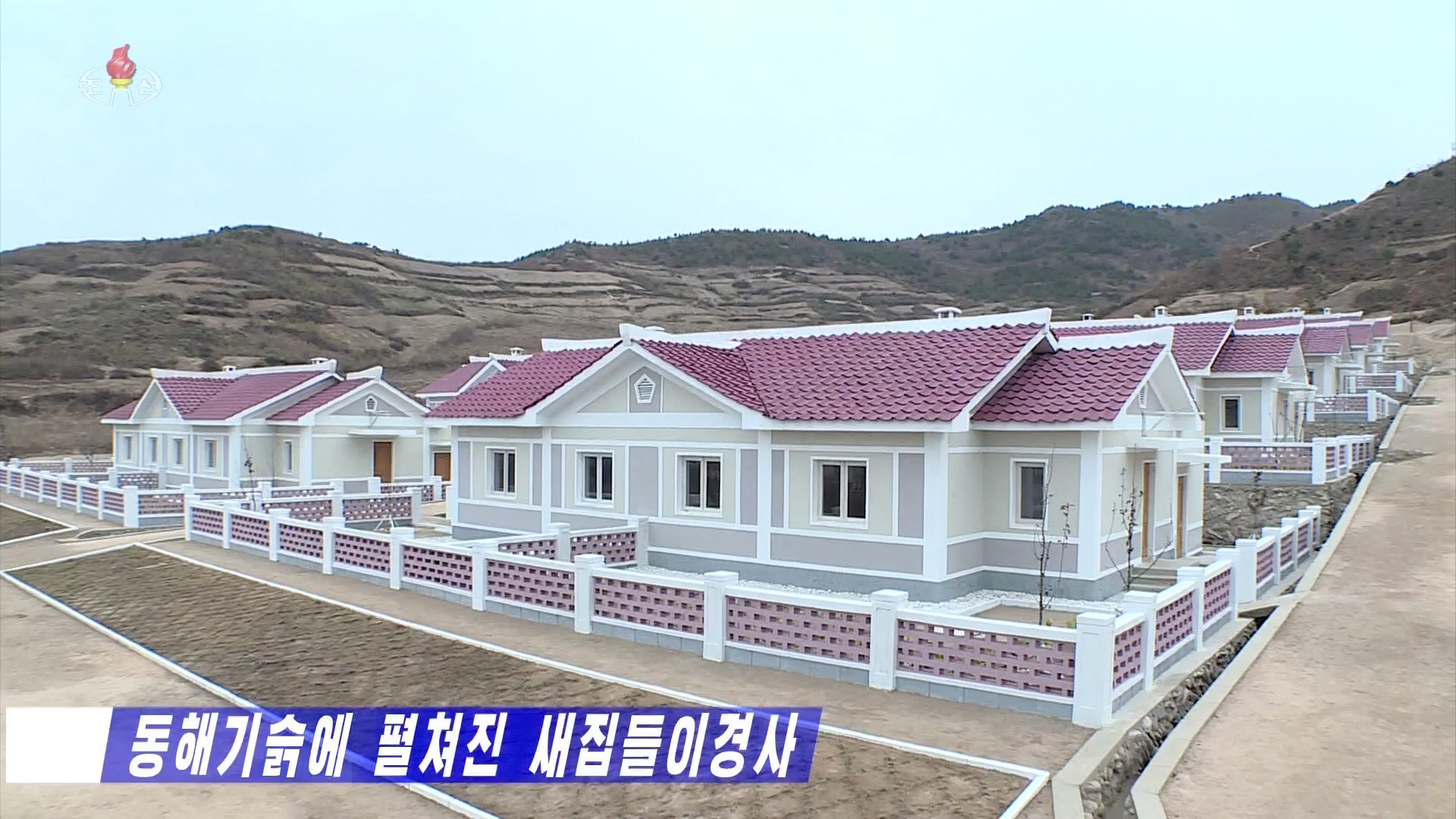 Figure 5. New homes in Unho-ri, Kim Chaek City, North Hamgyong Province.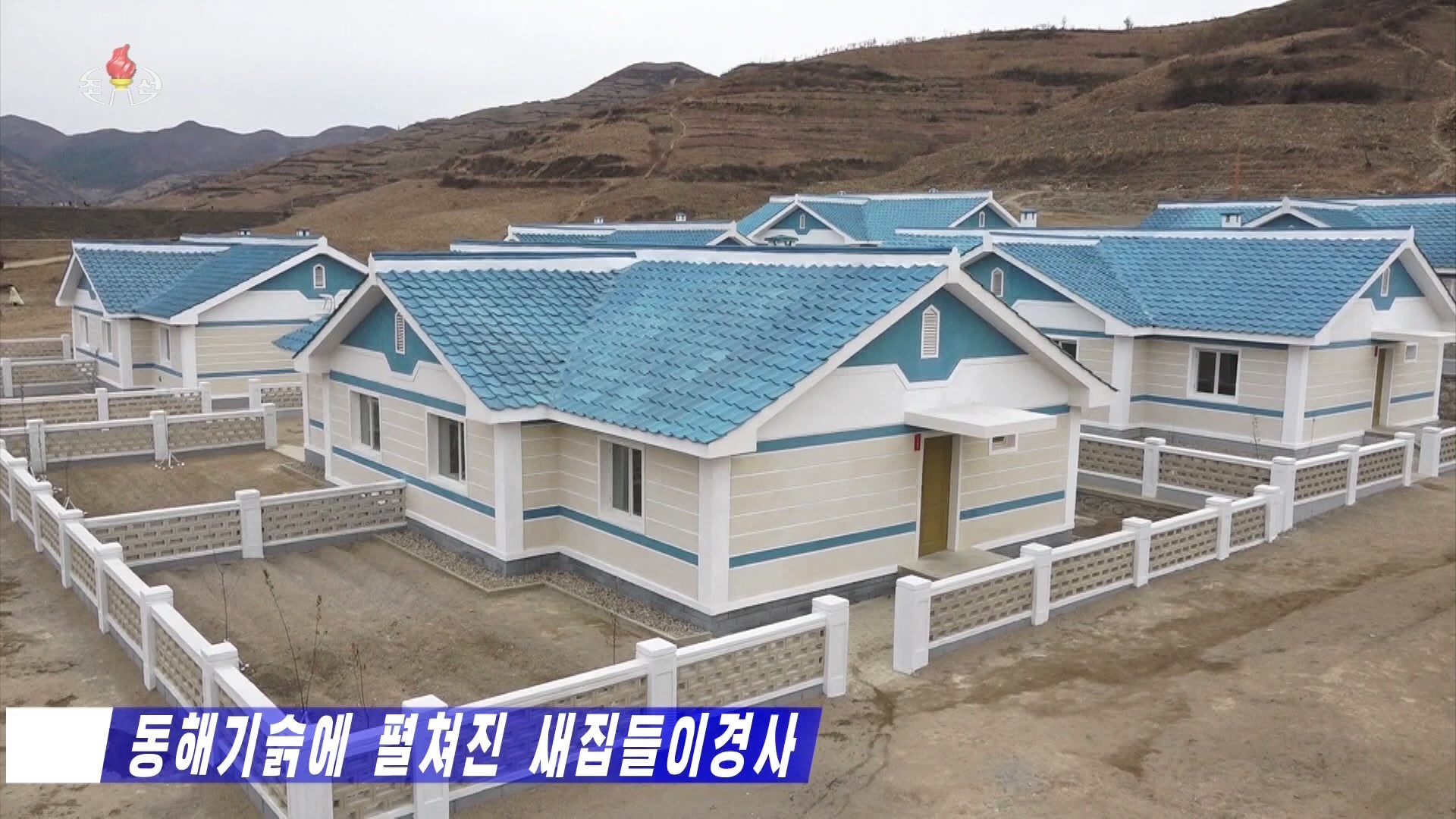 Apartments Replace Houses
Larger buildings have also been constructed at the same speed.
In Kimhwa County in Kangwon Province, low-rise apartment buildings have appeared since Typhoon Maysak and after a guidance visit by Kim Jong Un in early September to survey the damage.
The area was significantly damaged by the typhoon. Imagery showed that numerous small buildings close to the riverbank before the September typhoon were no longer there shortly afterward, likely lost to floodwaters and the fast-moving river.
Figure 6. Construction at Kimhwa County, Kangwon Province.
Images © 2020 Planet Labs, Inc. cc-by-nc-sa 4.0. For media licensing options, please contact [email protected].
By November, several new apartment buildings had been erected around the center of town, along with scores of newly built houses farther out on the edge of the town.
Figure 7. New apartment buildings in Kimhwa County.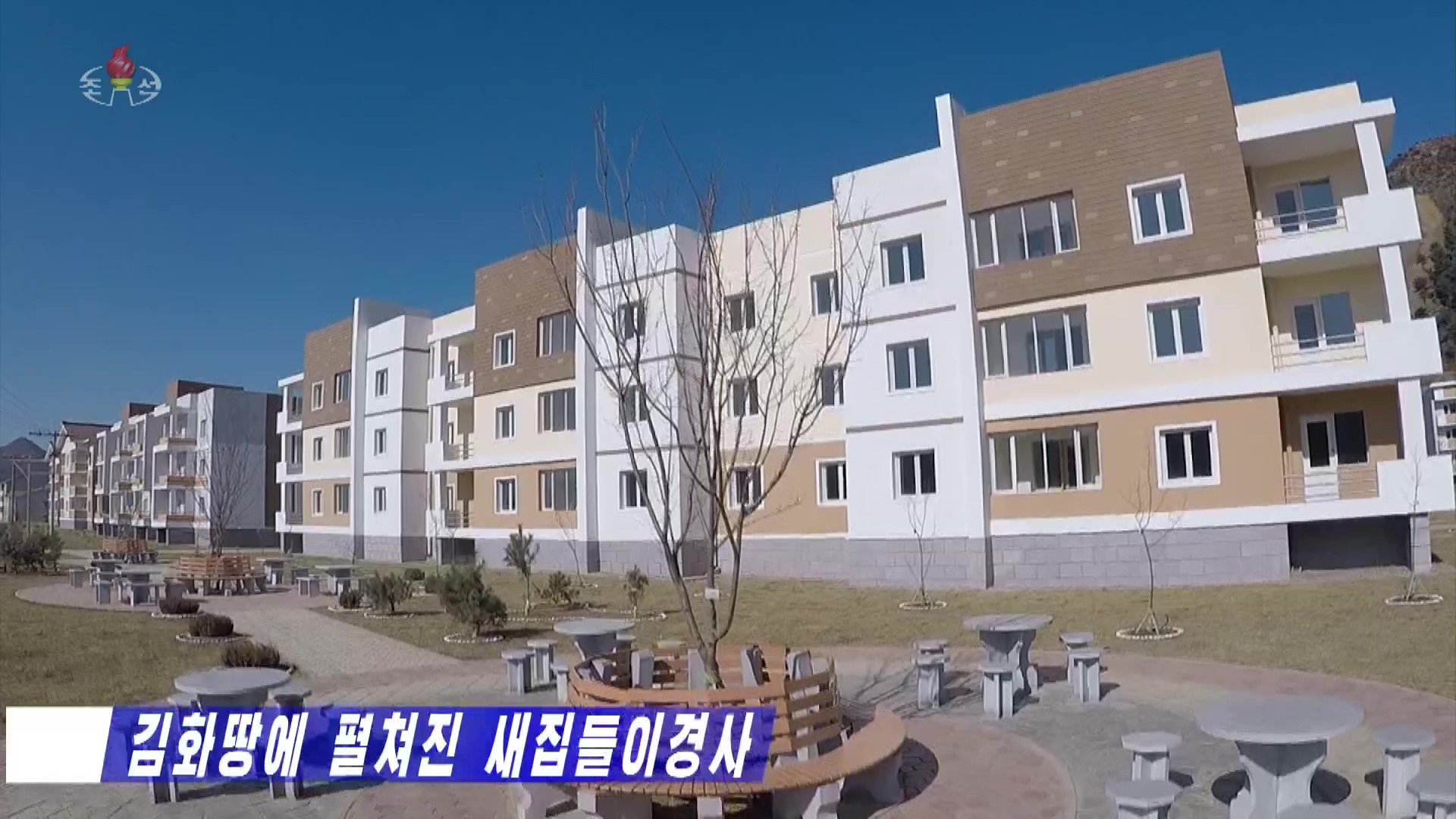 Figure 8. New apartment buildings in Kimhwa County.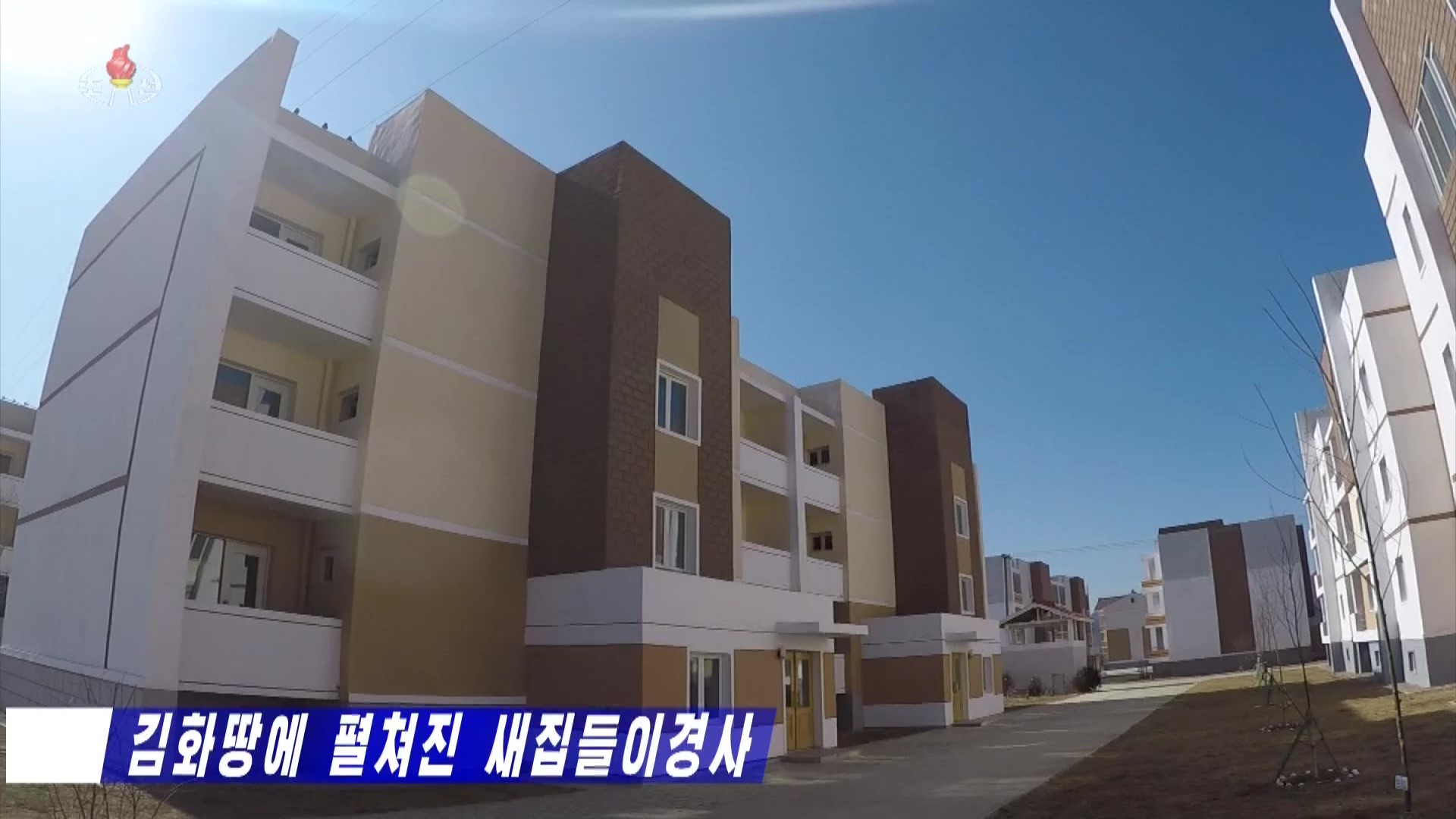 Move-in Day
State media has run several reports on residents moving into new houses and apartments. In some coverage, families are being handed "housing use permits" (살림짐리용 허가증), which allow the holder to occupy the property while its ownership remains with the North Korean state. Based on a 2019 Daily NK article, the permits likely include details of the permit holder and rules for use of the house.
Figure 9. New residents examine a housing use permit in Kangwon Province, North Korea.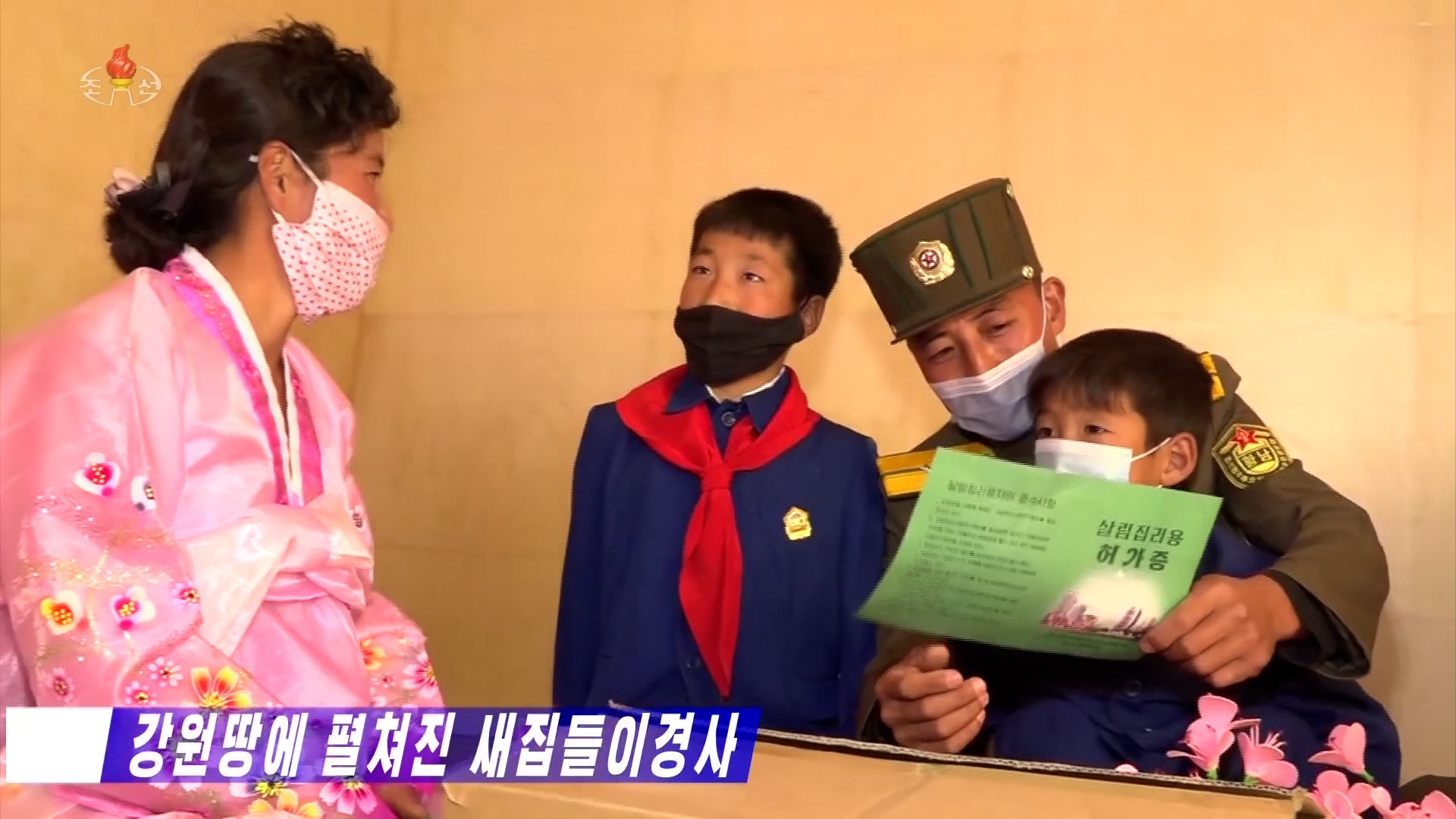 Figure 10. New residents hold housing permits in Kimhwa County.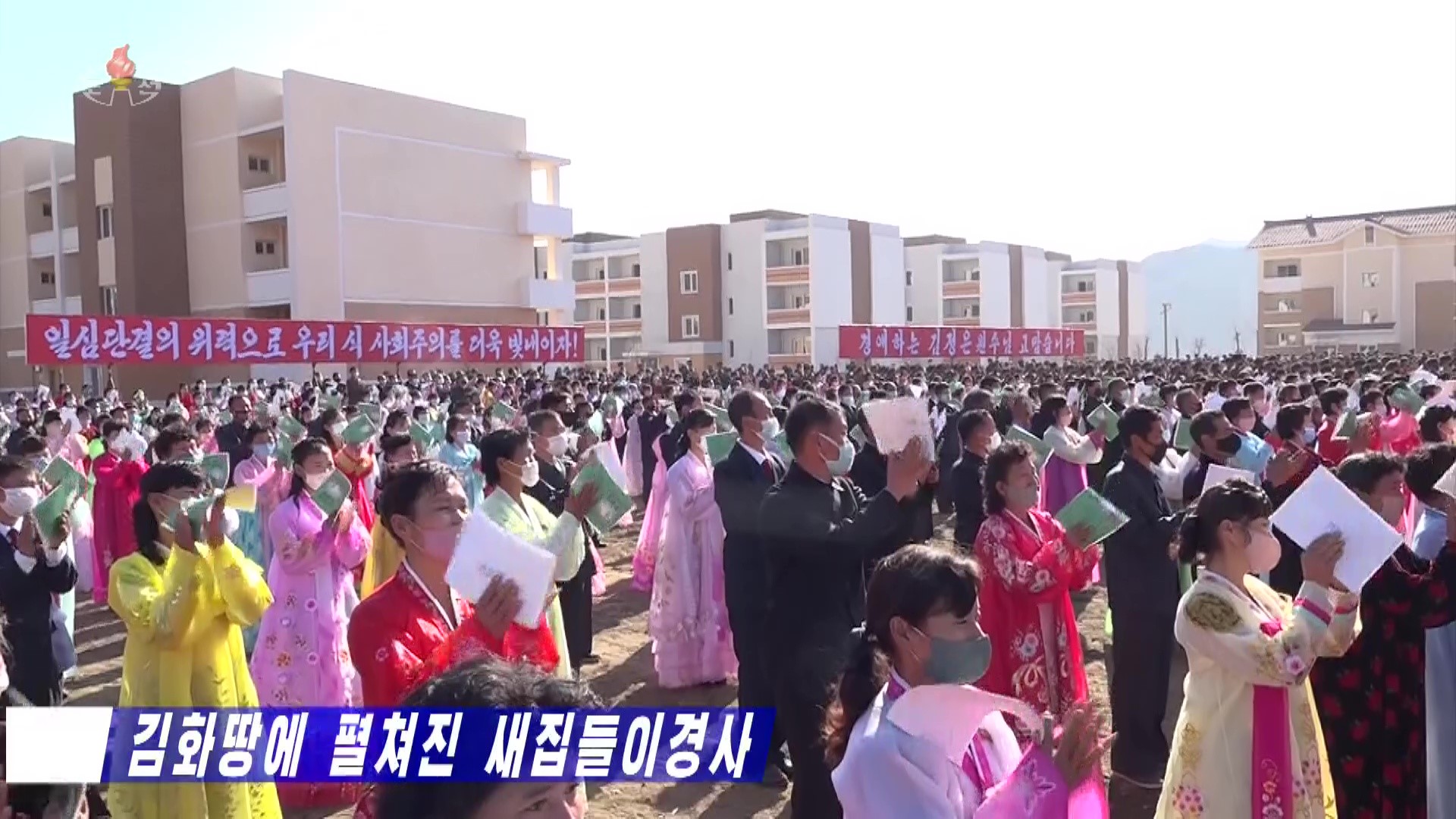 The design of the homes varies, but each is essentially the same and consists of four rooms. A still from KCTV shows the basic layout in an exemplar floor plan from one of the two-family homes built in Unpo-ri.
Figure 11. The four-room layout of a two-family house in Unpo-ri, South Hamgyong Province, seen in a close-up of a KCTV image.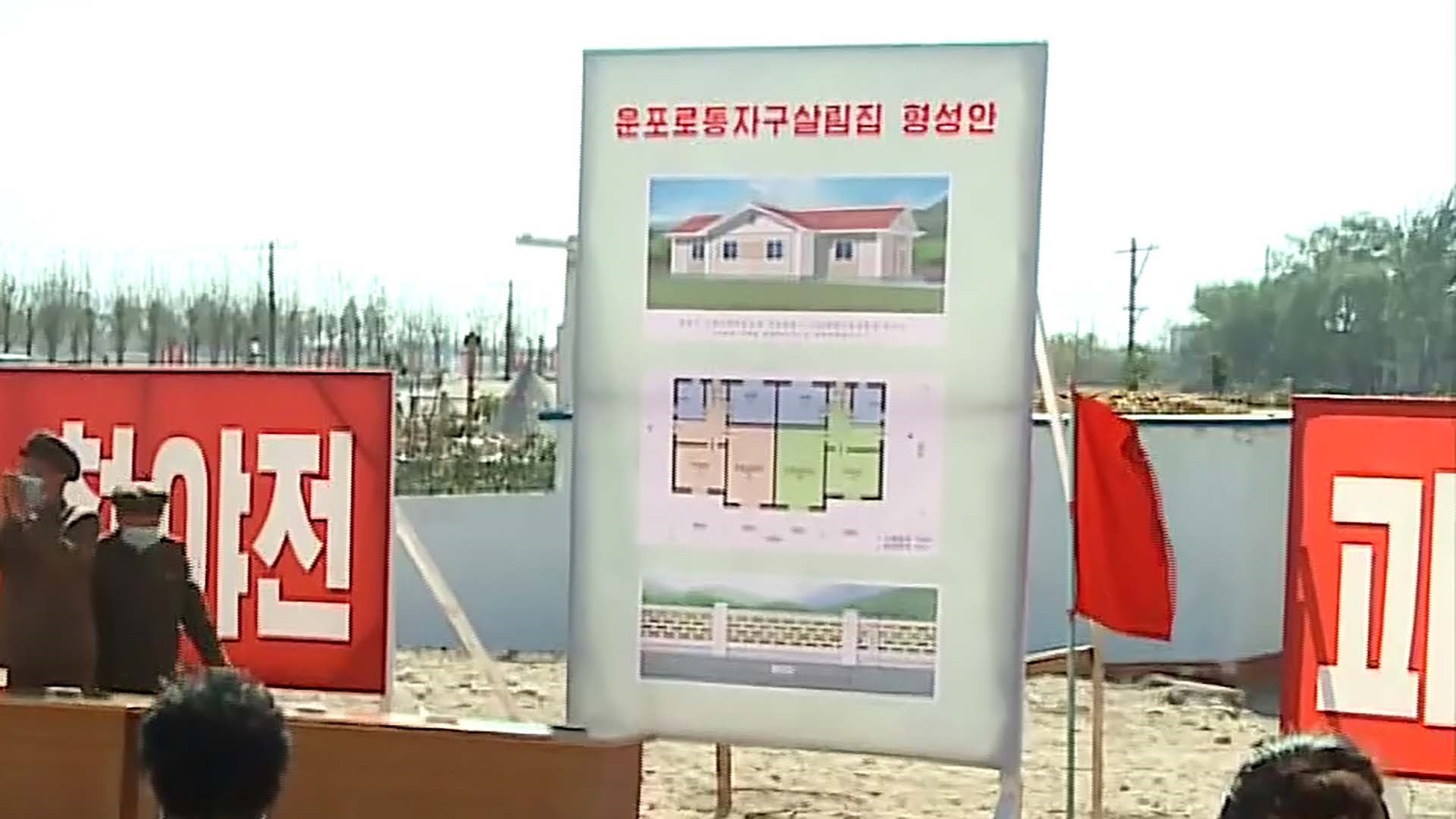 The main room in each new home has been equipped with the mandatory portraits of Kim Il Sung and Kim Jong Il as well as a receiver for North Korea's third radio network.
Figure 12. Residents stand in front of portraits of Kim Il Sung and Kim Jong Il inside a new home in Kangwon Province.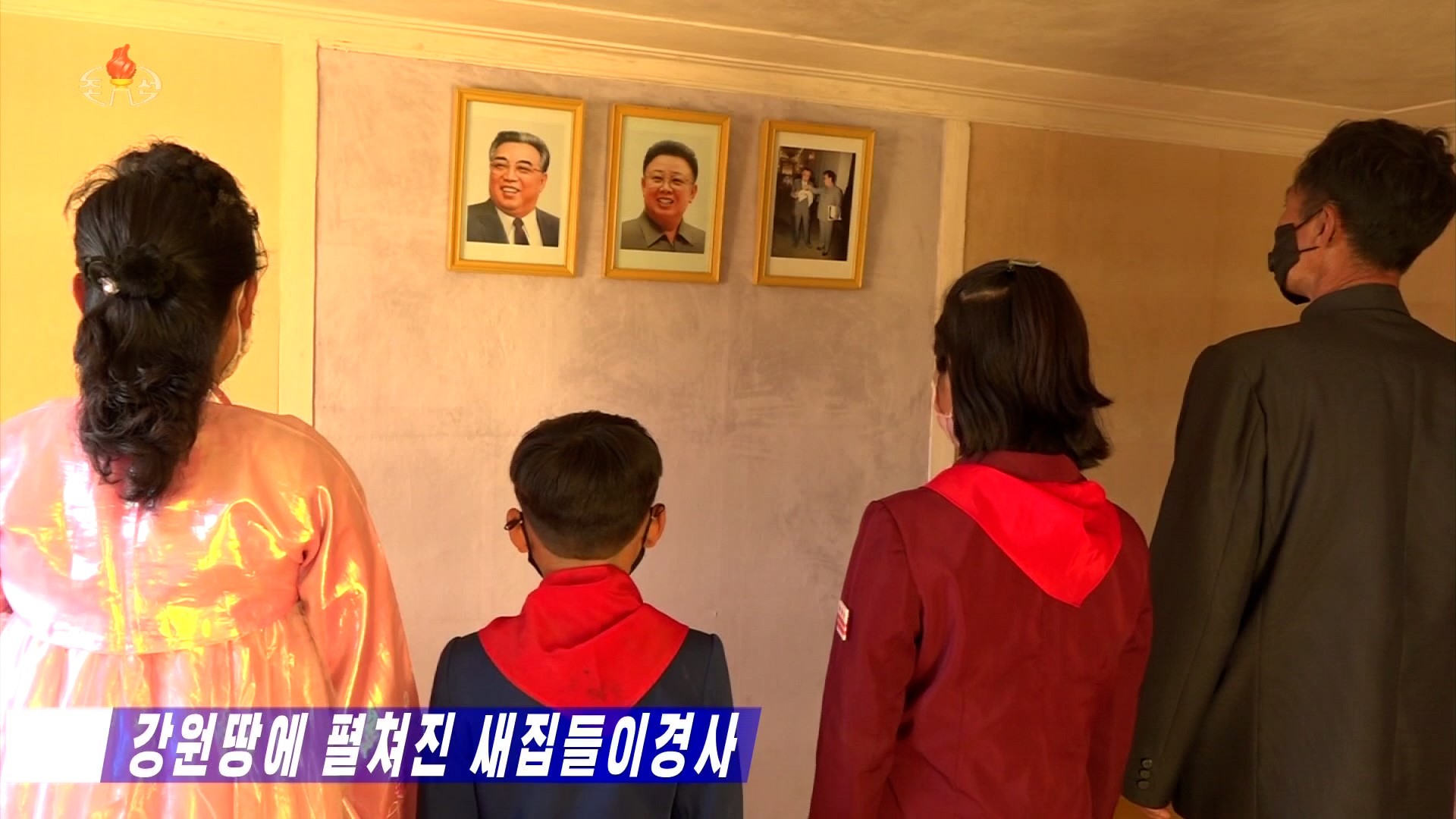 The portraits are standard in all homes, and the TV stills show residents bowing in front of them.
The third radio network (조선중앙제3방송) is a wired radio service that does not broadcast over the air, and so cannot be heard from outside the country. It is used for local broadcasting and to impart more sensitive news and information than the Korean Central Broadcasting Station, which can be monitored overseas.
Figure 13. A receiver for the wired "third network" radio program inside a new home in Taechong-ri, North Hwanghae Province.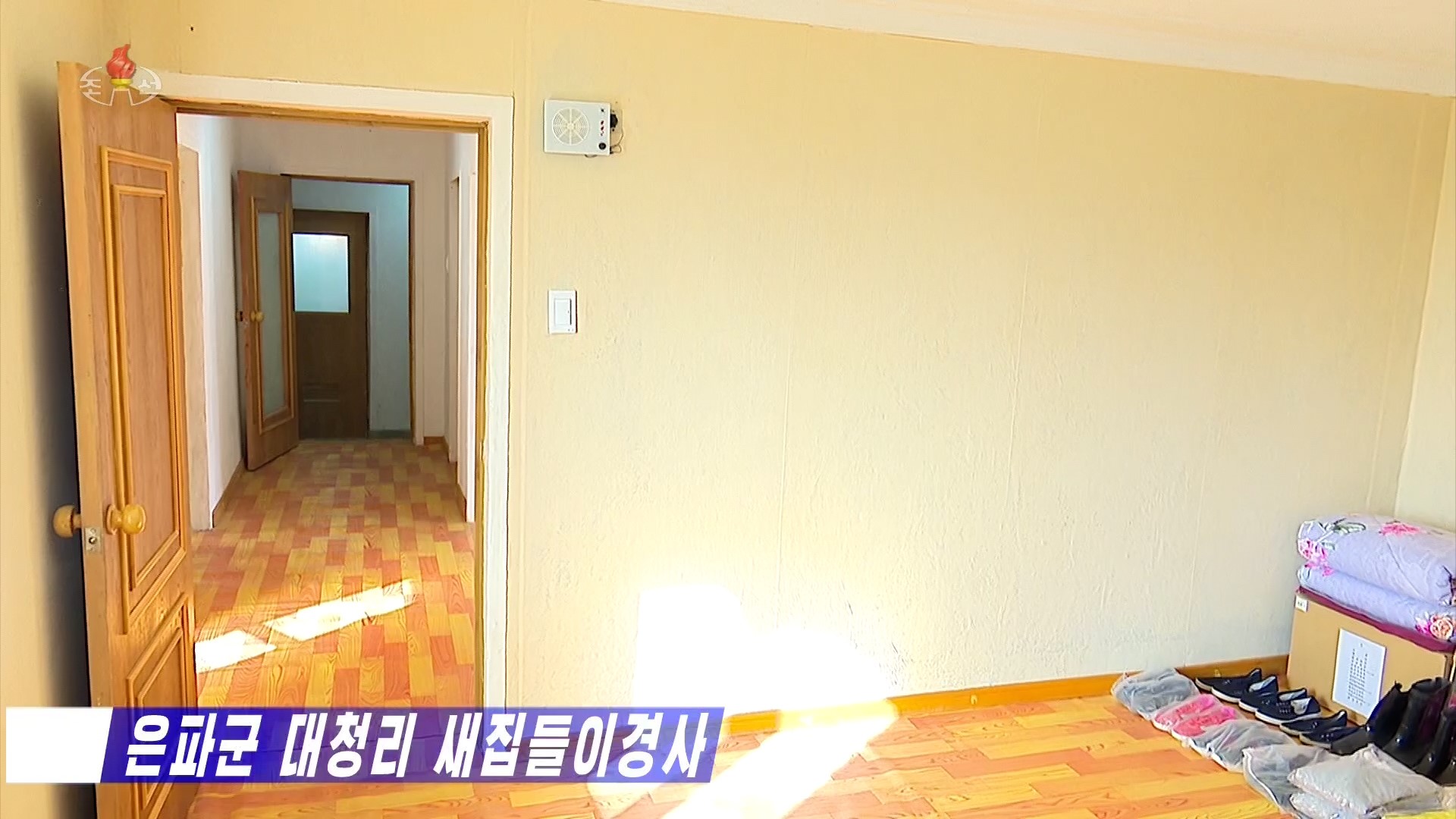 Most of the homes pictured had visible electricity supply cables.
The news reports also provide a glimpse into the kind of goods that fill rural homes in North Korea today. Residents can be seen walking into their new homes with a variety of possessions, including electric fans, televisions, speakers, rugs, kitchen goods and some basic furniture.
Figure 14. New residents arrive at homes in Kangwon Province with household goods.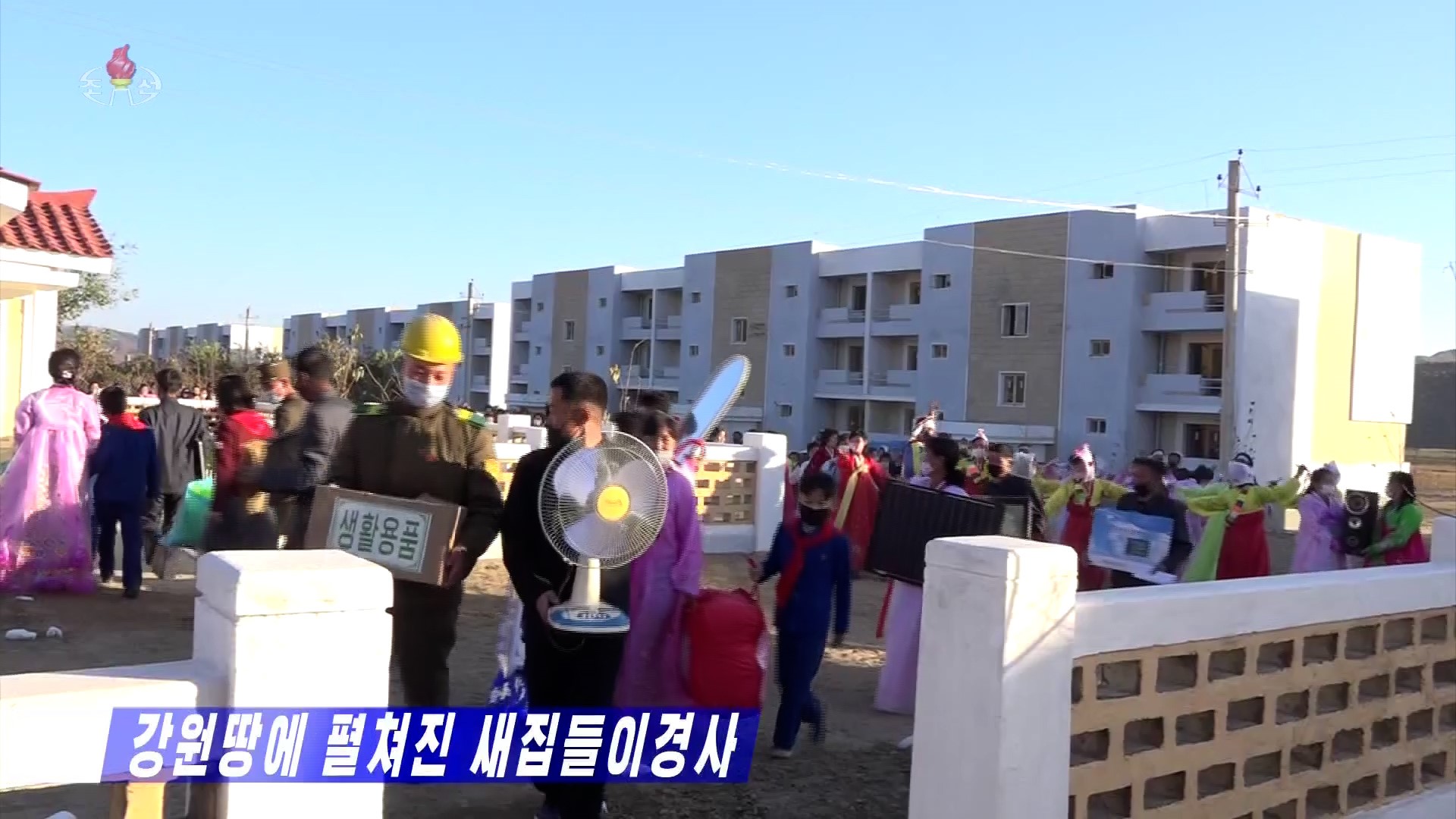 Figure 15. New residents arrive at homes in Kimhwa County.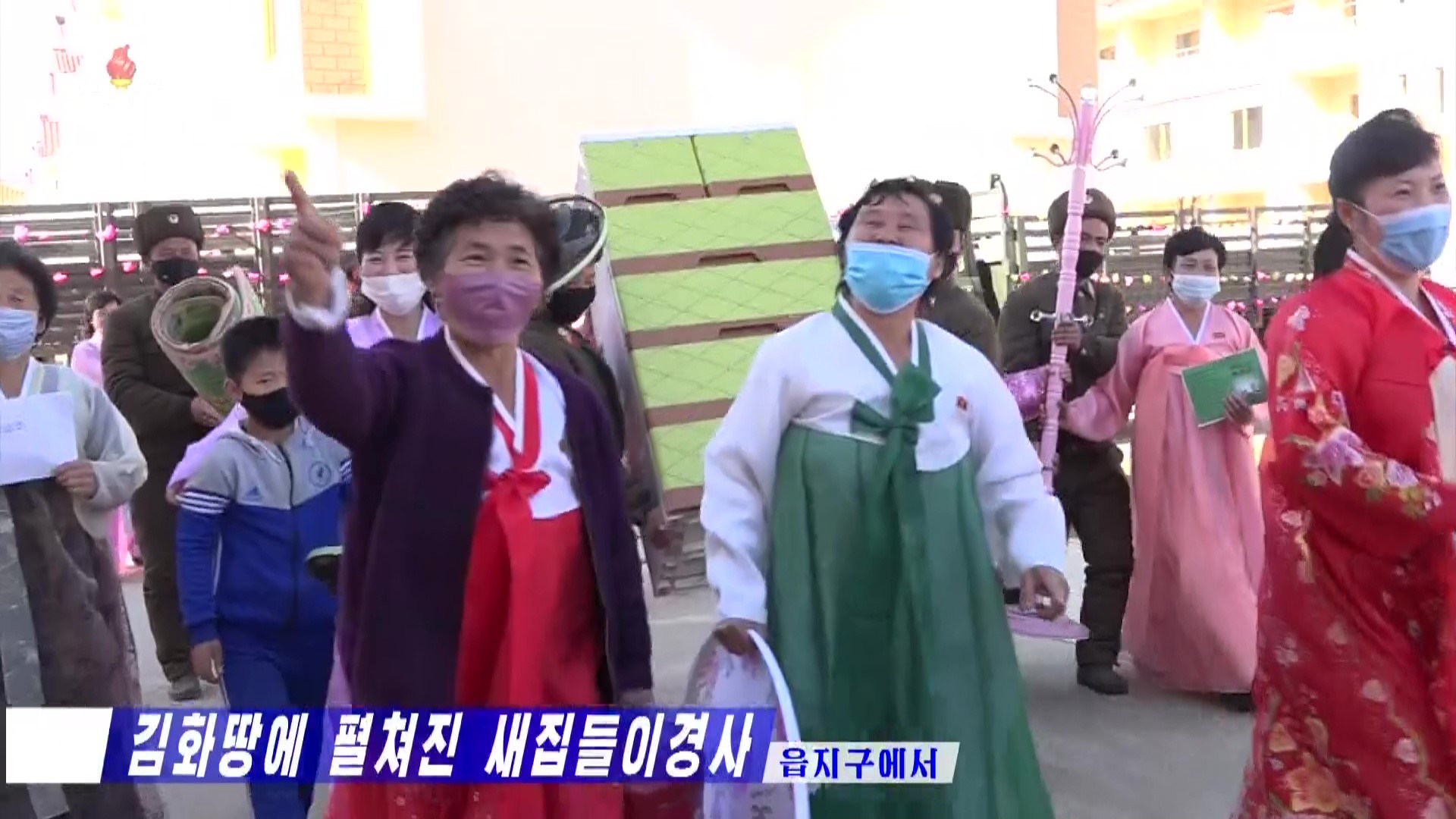 Residents are also gifted household goods from the state. When pictured, the goods varied by location, but in Haksadae-ri, they included a television, rice, blankets, slippers, plastic household goods and cooking oil.
Figure 16. Gifts prepared to residents of a home in Haksadae-ri.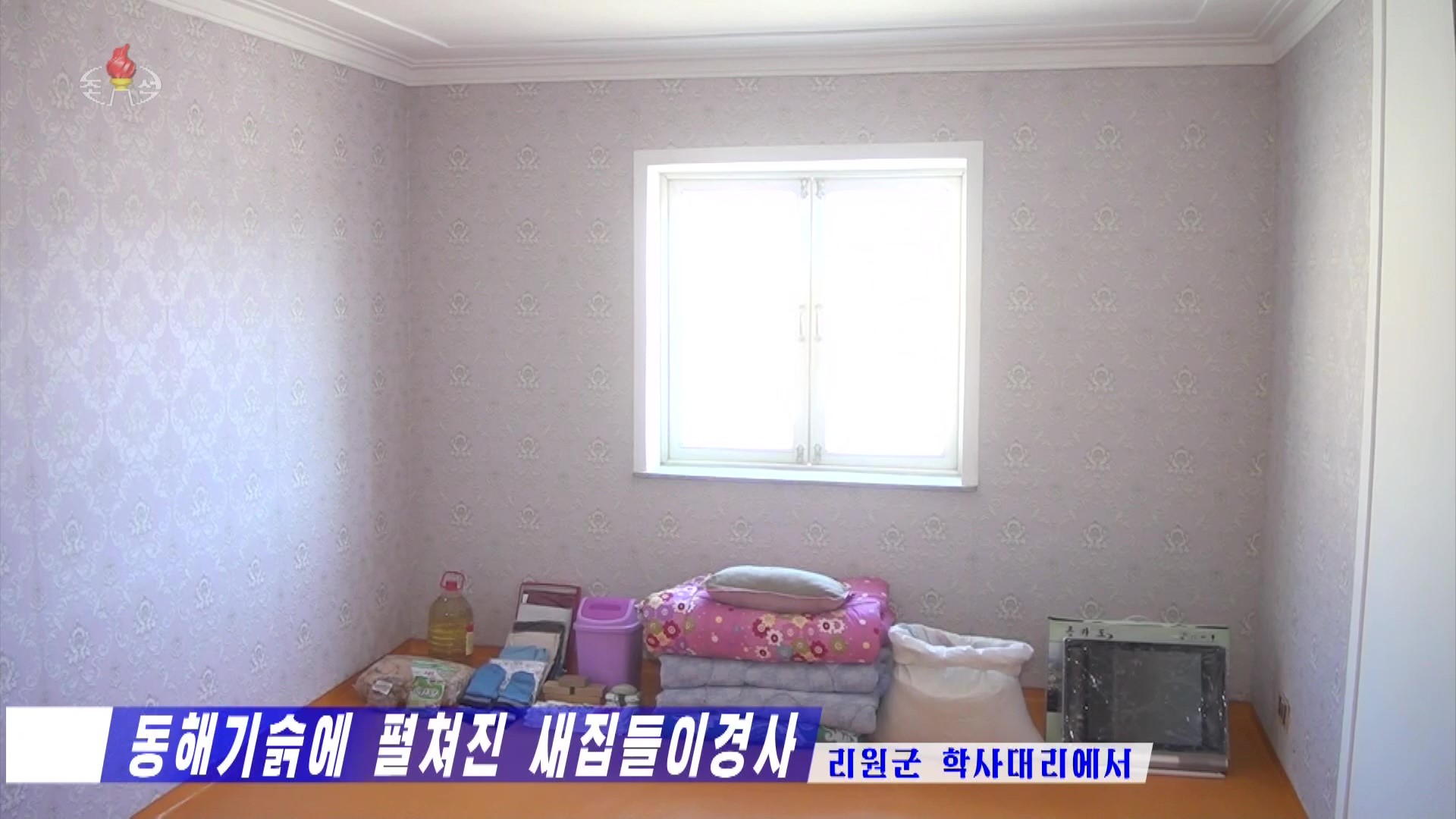 Figure 17. Gifts prepared to residents of a home in Haksadae-ri.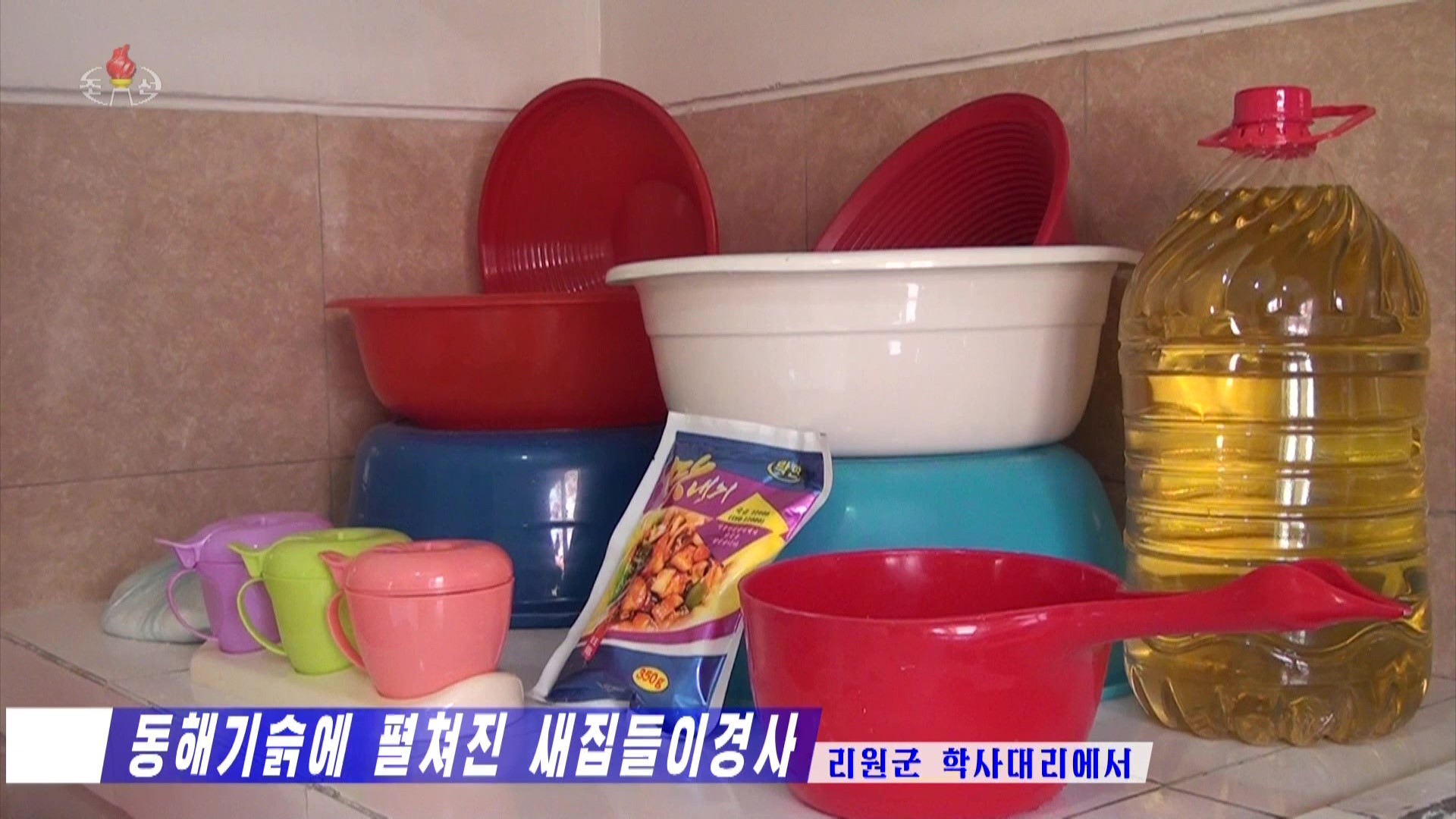 Now folded into the state's current 80-day campaign, work continues on building additional homes, and construction will likely continue to form an important pillar of the state's propaganda efforts this year.