Examining Kim's Approach to Construction: Project Wonsan
Kim Jong Un has exhibited an agility in his leadership, separate from that of his predecessors. Kim has shown the ability to shift overall state policy direction from his father's songun policy of military first, to his own byungjin policy of simultaneous economic and nuclear development, to a more economy-focused policy in recent years. Throughout his tenure, he has also shown a preference for being hands-on for high priority projects whether overseeing multiple missile tests or guiding the course of major construction projects to ensure his goals are accomplished.[1]
The development of the Wonsan-Kalma Coastal Tourism Area (the Wonsan Beach Resort) reflects this emerging pattern of Kim's leadership. While the Wonsan-Mt. Kumgang International Tourism Zone was formalized in 2014, Kim did not push the construction of the coastal area until 2018, when prospects for better external relations, possible sanctions easing and a large influx of tourism were high.
Once the coastal area became a high priority, Kim pushed the construction of this project at a remarkable pace. Making four site visits within a year, Kim's heavy-handed approach led to multiple course changes along the way, showing a preference for style over speed, wanting the job done right, not just quickly.
However, when changes in the external environment made large-scale tourism unlikely in the near term, Kim's priorities once again shifted, leaving the Wonsan Beach Resort a longer-term goal and diverting resources to projects that better serve the country's needs at a time of hardship.
Figure 1. Overview of the Wonsan-Kalma Coastal Tourism Area.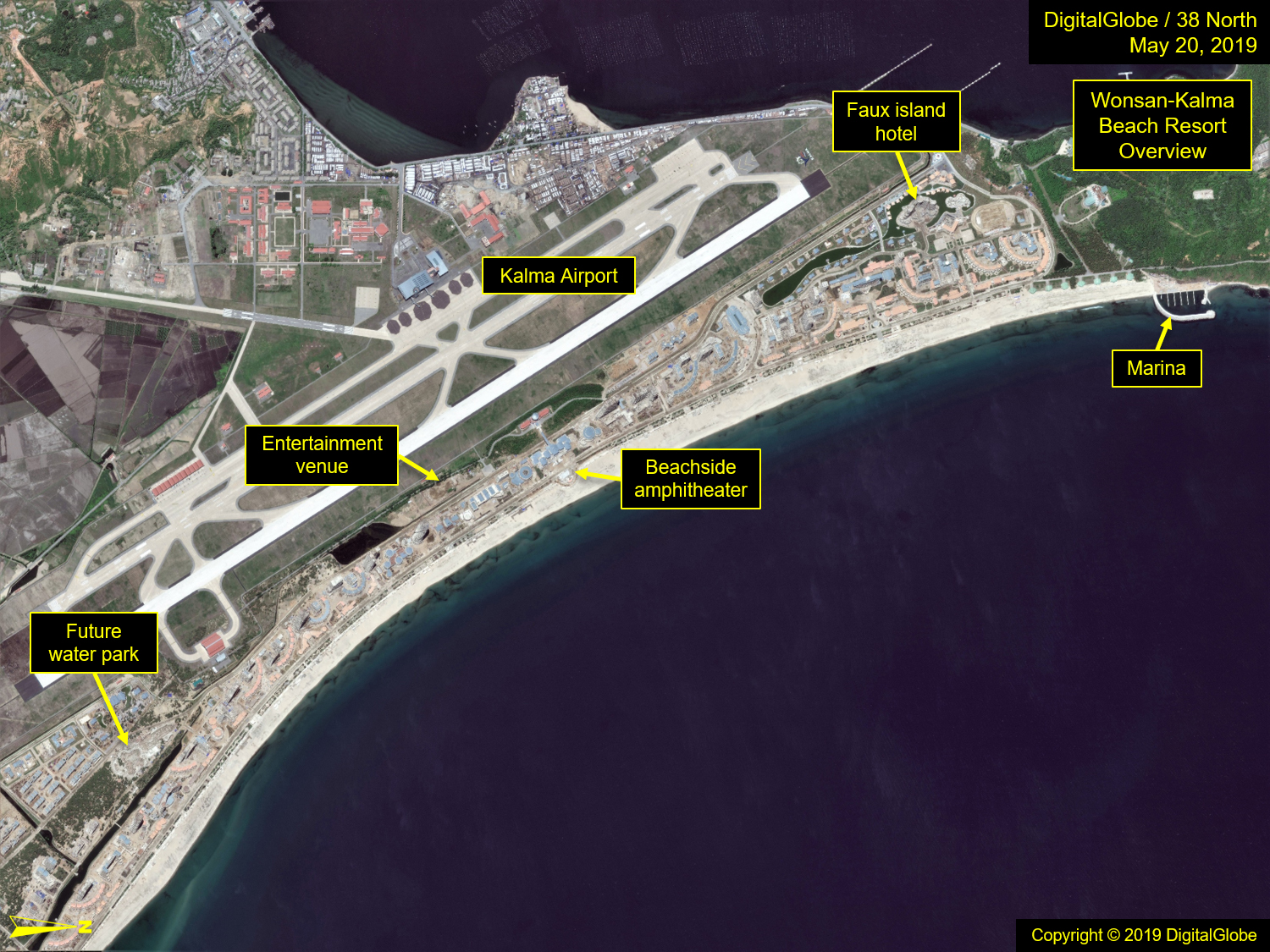 Background
The Wonsan-Mt. Kumgang International Tourist Zone is a large-scale tourist zone located along the southeastern coast of North Korea. It was officially announced in June 2014, although plans had been in place to develop this zone long before that time. It was intended to be the country's top destination for both domestic and foreign vacationers, complete with world-class resort amenities and entertainment. Rich in natural attractions, the area includes miles of beaches, snowy mountains and breathtaking waterfalls, providing would-be tourists with year-round enjoyment. Moreover, its location was ideal with two hours of flying time from major cities in China, Russia and Japan and situated at a railway junction with service to Dandong, China via Pyongyang, and to Khasan, Russia via Hamhung and Chongjin.[2]
Spanning over 400 square kilometers, the zone consists of six districts: Wonsan, Masikryong Ski Resort, Ullim Falls, Sogwang Temple, Thongchon, and Mt. Kumgang.[3] The coastal area beach resort was meant to be the centerpiece, with plans for it to accommodate up to 100,000 guests at a time, replete with sports and leisure amenities and an international conference center.
Despite Kim Jong Un's vision in 2013 and 2014 to open numerous special economic zones around the country, few have come to fruition. Plans for the Wonsan-Mt. Kumgang International Tourism Zone have not only survived, but seem to have grown in importance over the years, having been mentioned in four of Kim Jong Un's New Year Addresses since 2015.
Early Development of the Wonsan-Kalma Coastal Tourism Area
Construction on the beach resort, a roughly 5 km stretch of beach in the Wonsan-Kalma Coastal Tourism Area, reportedly began in 2014. However, little if any work was actually observed at that time. The north end of the peninsula had four hotels and seven beachfront cottages that predated plans to transform the area into a tourist zone, which remained the same for a few years.
Kim Jong Un called for the acceleration of economic zone development, specifically the Wonsan-Mt. Kumgang International Tourist Zone, in his 2015 New Year Address, but nothing changed at beach resort until 2018.
After a year of heightened tensions spurred on by North Korea's nuclear and ballistic missile testing and US hardline responses of "fire and fury," Kim Jong Un began 2018 on a much different note. In his New Year Address, he highlighted the country's achievements in the nuclear realm but then offered an opening to inter-Korean diplomacy.
In that speech, he also called for re-energized economic development efforts, reviving discussion of the Wonsan zone. He stated: "This year the service personnel and people should join efforts to complete the construction of the Wonsan-Kalma coastal tourist area in the shortest period of time."
As such, construction efforts began in earnest in January 2018 as large workers' camps were erected at the south end of the airport and in an area adjacent to the commercial air terminal.
Figure 2. Workers village erected south of Kalma Airport.
Over the next few months roads were graded, building foundations excavated, a new marina prepared, and construction began on a possible future ferry terminal. By April, imagery revealed what would be the full layout of the resort complex, beginning from the original beach cottages and extending approximately four kilometers to the south.
As construction picked up, then-Premier Pak Pong Ju made two site visits to the project site—in February and April—ahead of a visit from the leader.
May 2018: "New Miracles"
Kim Jong Un's first site visit to the Wonsan Beach Resort was in May 2018. He noted then "that new miracles in construction are being created again at the construction site of the Wonsan-Kalma coastal tourist area." While praising workers for the progress made over the last several months, he also addressed the hastened efforts, stating that feasible construction schedules and project safety were necessary to ensure high-quality building construction. Additionally, Kim urged nationwide mobilization to provide equipment and increase production of building materials for the Wonsan-Kalma project.
Kim instructed builders to complete the resort in less than a year, setting the target for opening by April 15, 2019, the "Day of the Sun" (which commemorates Kim Il Sung's birthday).
By July 2018, more than 100 buildings were under construction including an assortment of hotels, condos and other resort facilities, at least 40 of which were multi-story structures. Just north of the beach cottages, construction on the new marina for pleasure craft moved rapidly, installing a concrete quay with six finger piers and a protective jetty. A beach-front promenade extending the length of the resort was being prepared, several entertainment venues were distinguishable along a street paralleling the promenade, and a large sports complex featuring a soccer field enclosed by a track, a small stadium, and outdoor Olympic-size lane and diving pools were under construction.
Figure 3. Construction underway after Kim Jong Un's May 2018 site visit.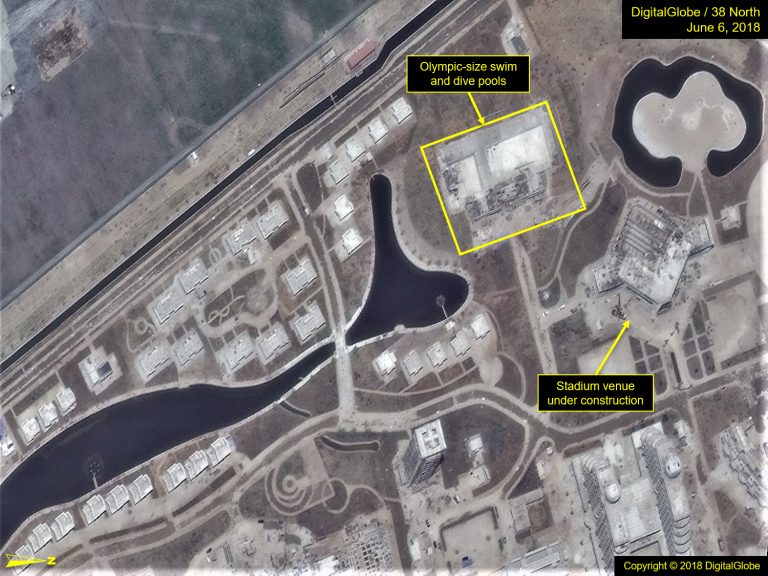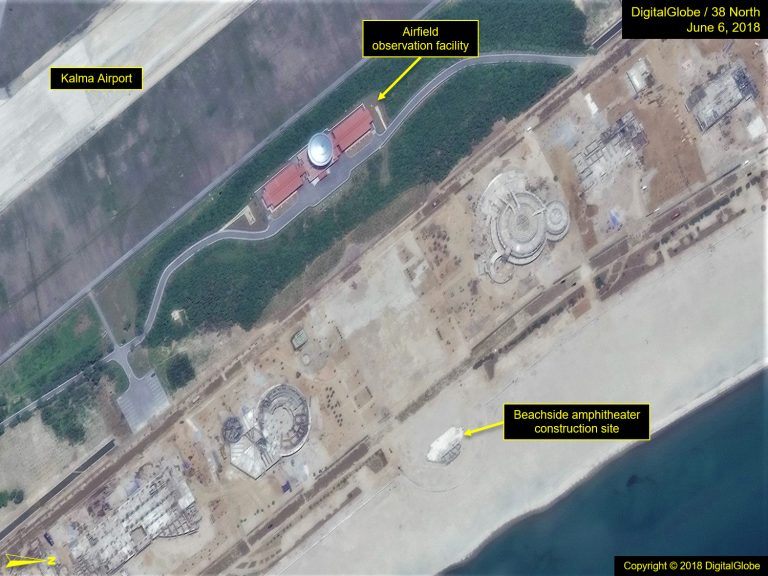 August 2018: Changes in Direction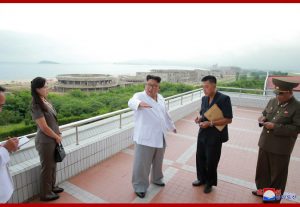 During his second visit in August 2018, Kim called for some fairly major redesigns, showing a preference for style over the original push for "Masikryong Speed." For example, he expressed a desire for more variety of building designs, and more taller buildings 25 to 30 stories high. He also wanted the aesthetic to be more "harmonious" and "peculiar," to create a more interesting and artistic look to the resort.[4] Kim also offered instruction on landscape design and public features, "for artificial ponds to match their surroundings and to have angling sites, and for first aid stations to be placed around the resort."
During this visit, he ordered the construction of a water park to be presented as a gift to the people by October 10, 2019. KCNA reported that Kim had "a big smile on his face" as he envisaged that "Myongsasipri (4-kilometer beautiful sand) is likely to become Inpasipri (4-kilometer tide of people)."
Between his August and October visits, the Olympic-size pool complex was removed and ground scarring began for new construction in its place. Several other new foundations were laid for additional high-rise buildings reflecting Kim's new instructions.
Figure 4. Projects like the Olympic pools are redesigned, while other construction projects move forward after Kim Jong Un's August 2018 visit.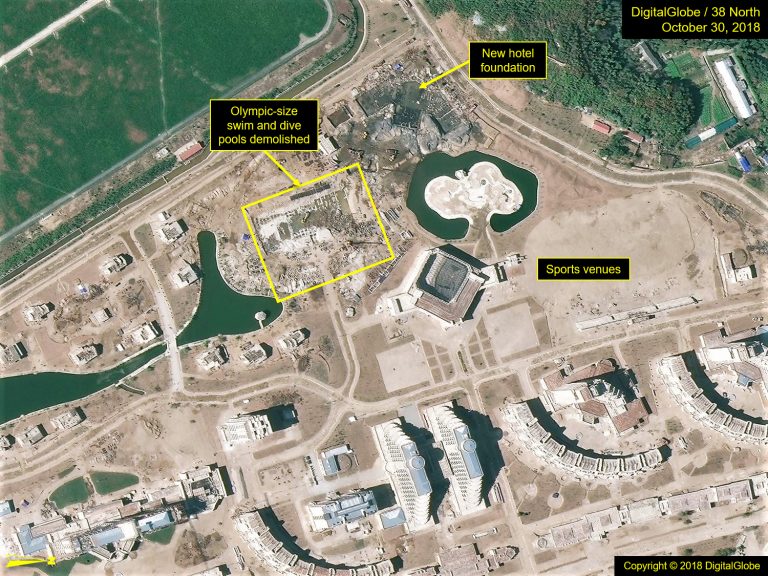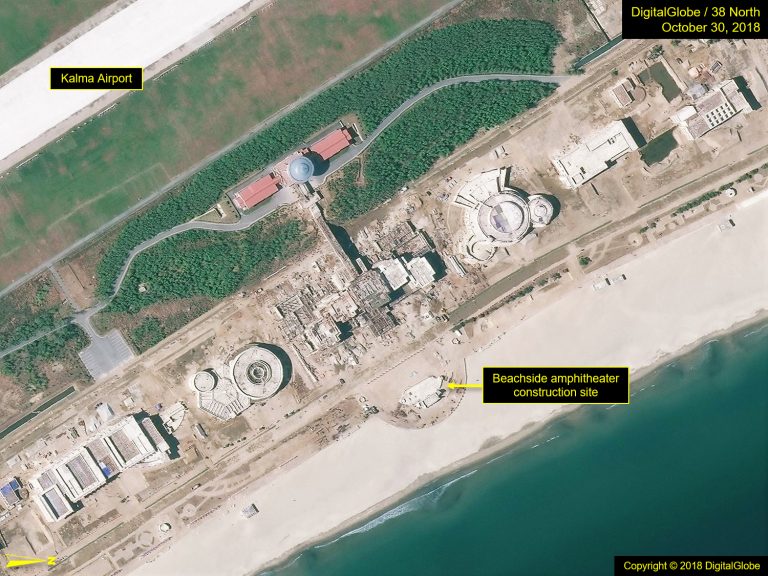 October 2018: Course Corrections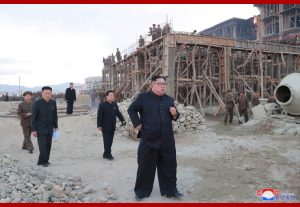 Despite making major changes to the resort design, Kim visited a third time in October 2018 and expressed continued dissatisfaction with the aesthetics of the resort layout, stating "the whole street was not perfect in the artistic aspect" and "high and low buildings were not combined in a harmonious way."[5] He demanded additional changes, calling for a new government and management complex to be integrated into the center of the resort, along with more arcades, an all-event stadium, movie houses and a large water park and funfair. He tasked officials to build new parking structures, renovate the Kalma train station, and study how to improve public transportation in the area.
Kim again adjusted the deadline to allow for these course corrections and moved the target date for the whole resort, not just the water park, to October 10, 2019, the Foundation Day of the Korean Workers' Party.
By November, preparations for a new water park were afoot at the southern end of the resort. Moreover, by the end of December, several buildings were nearing completion, many of which had been redesigned to display more unique attributes. New buildings were still being added while landscaping and beautification efforts were underway, installing formal gardens and beach-side parks. The faux-island resort hotel replaced the Olympic-size swim and dive pools at the sports complex area, with a series of over-the-water cottages lining part of a newly-formed lake.[6]
This rapid, large-scale development was punctuated by diplomatic efforts in 2018, including three summits with Chinese leader Xi Jinping (March, May and June), two inter-Korean summits (April and September) and the first ever summit with a US president in June. In his August and October 2018 visits to Wonsan, Kim positioned the progress and future success of the Wonsan-Kalma tourist area as an empowering project defiant in the face of "hostile forces" impeding the people's happiness through "vicious" and "brigandish" sanctions.[7]
April 2019: Progress Turns to Plateau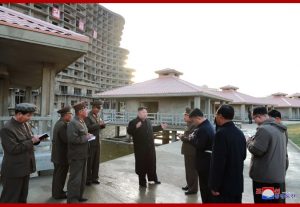 Kim Jong Un returned to the resort in April 2019—his fourth visit in less than a year—and liked what he saw, noting that prior shortcomings had been addressed, and commenting how the street formation looked "elegant artistically" and that the area was now "spectacular."[8] Pleased with the design, Kim praised builders for working through the winter "changing the appearance of the construction site beyond recognition" and turned his attention to the resort's accessibility.[9] He told project managers there was a need for a tram line on the promenade, bicycle baths, electric cars, floating piers, and park benches.
As a result, the opening of the resort was pushed back yet again, this time to April 15, 2020. State media reported the postponed deadline, reinforcing the notion of quality over speed, explaining builders should not push forward the construction "in haste," but take until the next Day of the Sun to "perfectly finish it."[10]
Imagery from May revealed once again dramatic and remarkable changes in the wake of Kim's April visit. The marina and associated buildings appeared to be nearing completion and the paving of the main quay area had begun. Several stories were added to multiple high-rises, building exteriors were nearing completion, promenades and streets appeared finished, and beautification efforts continued throughout the site.
Figure 5. Dramatic and remarkable changes in construction projects, May 2019.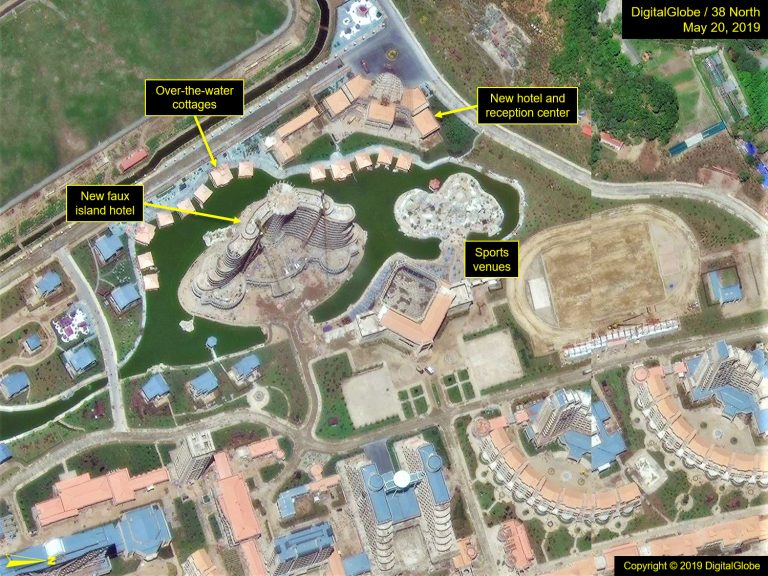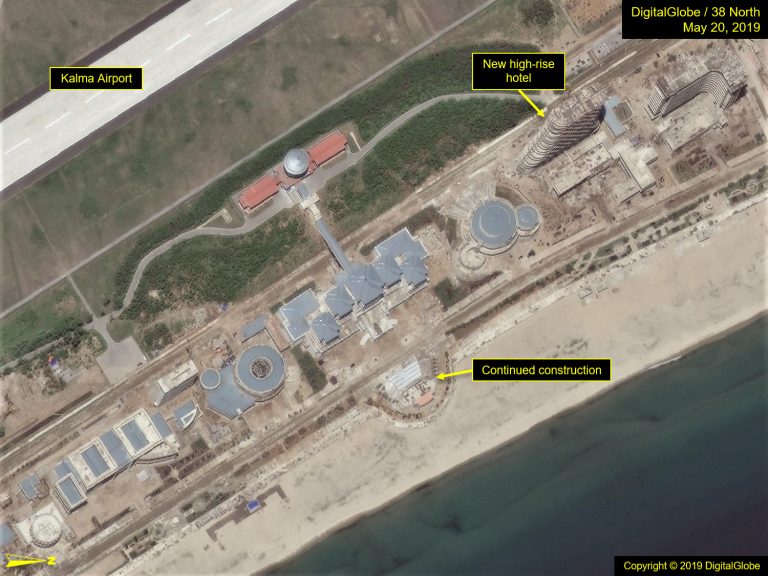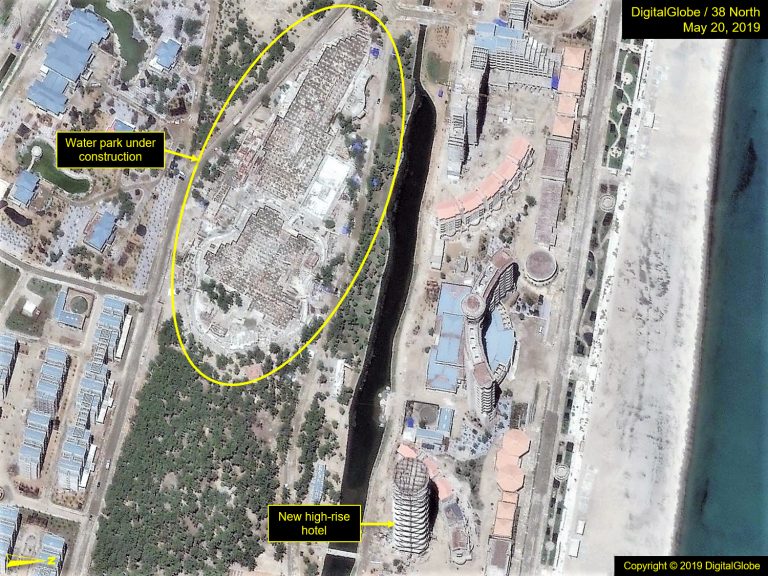 By late September, all of the tower hotels along the beach appeared to be either complete or nearing completion with finishing roof work and landscaping efforts underway.
Despite this progress, Kim did not return to inspect the beach resort in 2019, even though he was reportedly in the area on occasion, including to watch the Combat Flight Contest in November. Relations with the US had been rocky since the failure to reach an initial agreement at the Hanoi Summit in February 2019, and despite a couple subsequent interactions, working-level talks had been unsuccessful in moving the relationship forward. The optimism of 2018 for better external relations to lead to near term economic opportunities had faded and both US-DPRK and inter-Korean relations had returned to the status quo.
Pivot to Pyongyang
From late September 2019 to March 2020, the pace of construction significantly slowed at Wonsan. Despite no formal announcement delaying the opening of the Wonsan Beach Resort, it was clear the deadline would not be met.
While sanctions are believed to have hindered the sourcing of necessary finishing materials, the new year brought with it a new problem: the emergence of a pandemic. Once confirmed that COVID-19 had spread outside of China, North Korea quickly responded with drastic decisions. Unlike other countries that employed more gradual containment measures, North Korea shut down its borders, suspending all cross-border traffic and trade, flights, and tourism, accompanied with several anti-epidemic quarantine measures for both incoming and domestic audiences.
Work continues at the site, although on a relatively minor scale compared to the past two years. The size of the workers' villages has decreased, with resources and personnel presumably diverted to other major construction projects such as the Pyongyang General Hospital—an ambitious undertaking to build a multi-tower complex within 200 days. While some finishing work has been observed at Wonsan in recent months, significant work remains, especially on the leisure facilities and Kim's requested parking and transportation-related amenities.
Reports have placed Kim Jong Un in the Wonsan area several times this year, but he has neither returned to the beach resort nor addressed the missed deadline. He did, however, issue one statement on April 27 thanking various workers and offices by name for their contributions to the construction of the Wonsan-Kalma project, including preparing materials, boosting morale, and providing first aid in the field. State media still occasionally reports on Wonsan, noting ongoing interior work and mass planting of flora underway in March, and a May report that the electric cars Kim had ordered had been received.[11][12]
Given the current political environment and ongoing pandemic, Kim's attention may not return to Wonsan in the near term. In fact, Voice of Korea recently reported that builders from the beach resort have been diverted to help with flood damage rehabilitation efforts in Phangyo County of the Kangwon Province, presumably slowing resort construction efforts even further for the time being. While Kim has invested a lot of personal time and energy in the success of this project, focus on its completion is unlikely to resume until prospects improve for large-scale tourism.
Figure 6. Near complete construction of some major projects, while significant work remains, September 2020.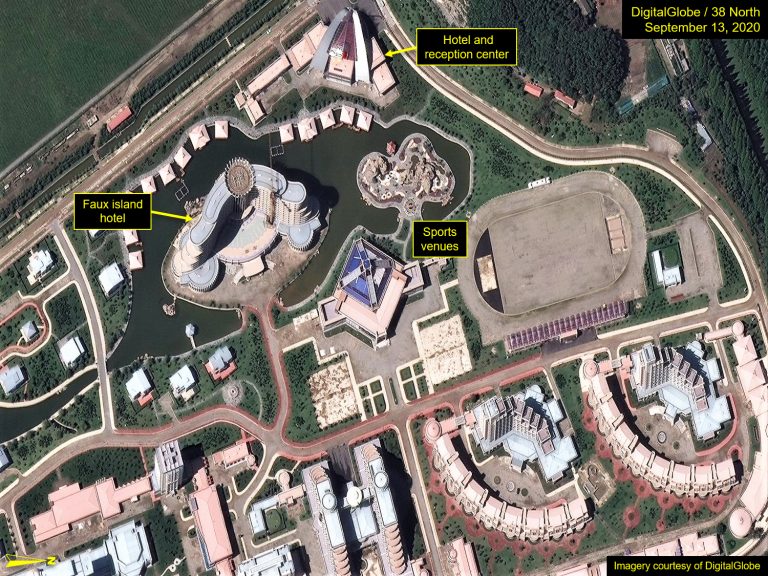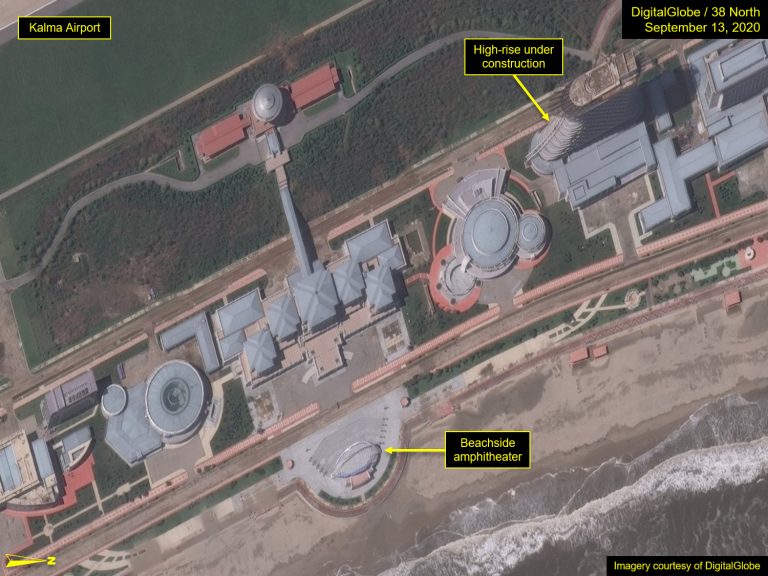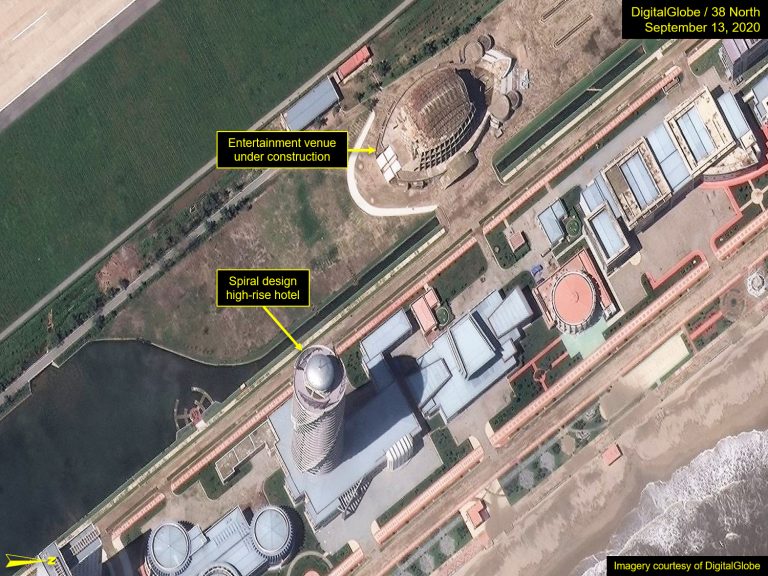 Conclusion
The frequency of Kim Jong Un's site visits (or lack thereof) to a particular place is an obvious indicator as to the priority it holds, especially in the context of the times. Due to limited resources, usually only one or two major construction projects on the scale of the Wonsan Beach Resort are undertaken at any given point in time.
While speed has been a major indicator of success for previous projects, Kim has shown an emphasis for aesthetics and quality, modifying deadlines to accommodate course corrections.
Furthermore, he has proven to be hands-on for high priority projects, and demonstrated a certain level of trial and error until the outcome matches his expectations. In doing so, he does not blame the workers when the project falls short of his vision. Instead, he consistently lavishes praise on the workers and their dedication to the project.
The Wonsan Beach Resort has suffered setbacks due to drastic changes in the country's external environment and urgency for completion has faded for now. But as COVID containment measures start to ease the prospects for tourism rise again, Kim's time and attention to this project will likely return as well.
Looking Ahead
Kim Jong Un's site visit patterns and practices provide some insights into what his priorities are and how those might shift according to the times. The Wonsan Beach Resort is a good example of these shifting priorities and a push for more than just speed.
Things to Watch
When does Kim Jong Un's attention turn back to Wonsan/what triggers that shift of resources?
What sites does Kim frequent more, are there certain sectors that are visited more frequently?
What are the conditions under which Kim prioritizes speed versus quality or aesthetics? Do greater patterns emerge?
If Kim is averse to criticizing workers, who does he blame when projects under his supervision do not meet his expectations?
---
The Stimson Center and the National Geospatial-Intelligence Agency partnership uses unclassified imagery and data to produce new, timely, and accurate reporting on the North Korean economy. For more info, read the Tearline Project Explainer.
To read more, visit NGA's Tearline article or download the Tearline app from the Apple Store or Google Play.
This content also syndicates to the Office of the Director of National Intelligence's website intelligence.gov, which is a transparency effort to better explain certain strategic and humanitarian IC missions to the public.
---
---