Rehearsals Fill Kim Il Sung Square on Saturday
Commercial satellite imagery reveals thousands of people at Kim Il Sung Square on Saturday morning apparently practicing for an upcoming event. Those in formation are spelling out "결사옹위," which means to defend with one's life.
At least one parade is expected to take place around the Eighth Party Congress in January and training has been observed at Mirim Parade Training Ground. Political messages displayed with the kind of red placards seen in today's image are common during this kind of event and require practice to perfect timing and accuracy.
Figure 1. Maxar satellite image of central Pyongyang on December 26, 2020.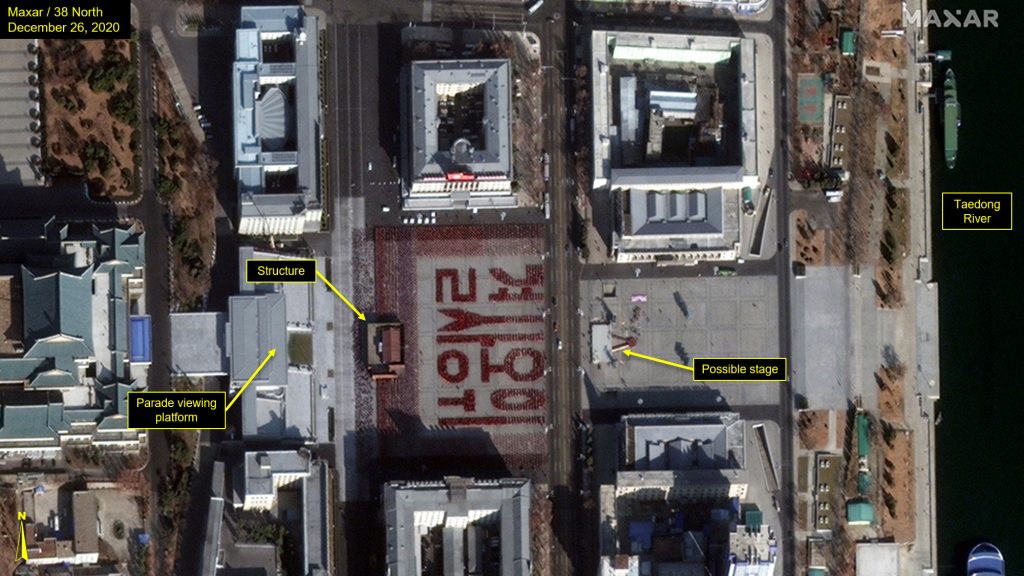 A temporary unidentified structure, previously noted on the western side of the square, remains in place surrounded by a high barrier. Its purpose is still unknown, but rehearsals are taking place around it.
On the eastern side of the square, a second structure has appeared. This may be a stage for the annual New Year's Eve concert that draws massive crowds to the square. However, whether the concert will take place again this year or whether the stage is related to Party Congress events is unclear. Last year, the stage was built on the other side of the road from this location.
Figure 2. New Year's Eve celebrations on December 31, 2019.